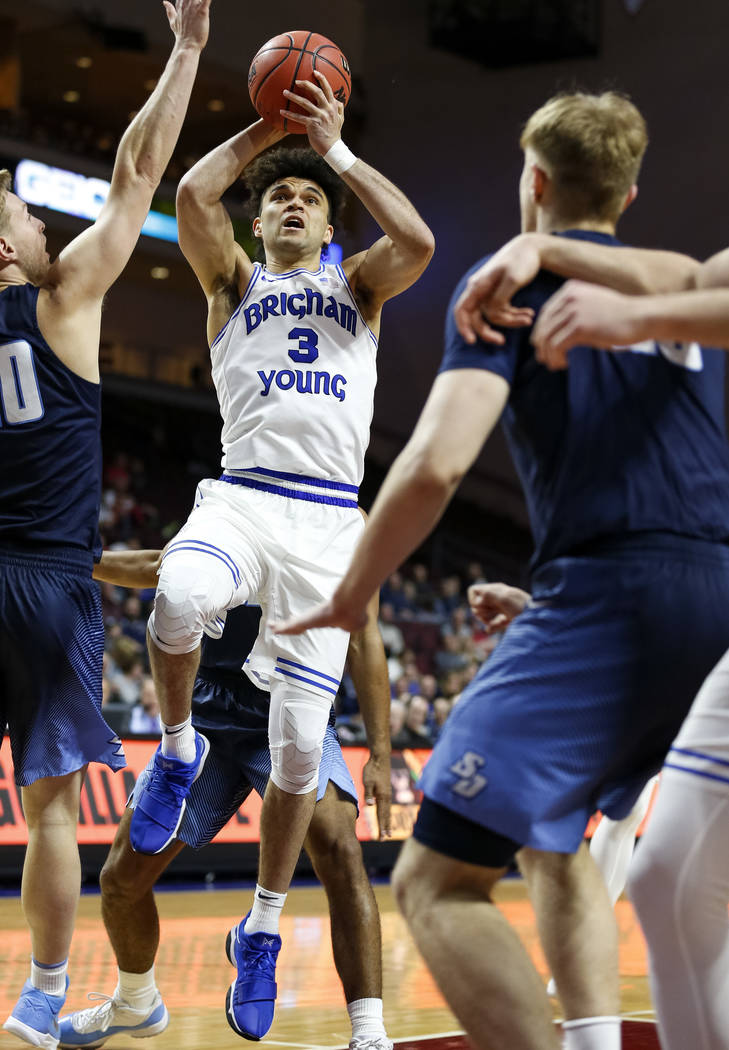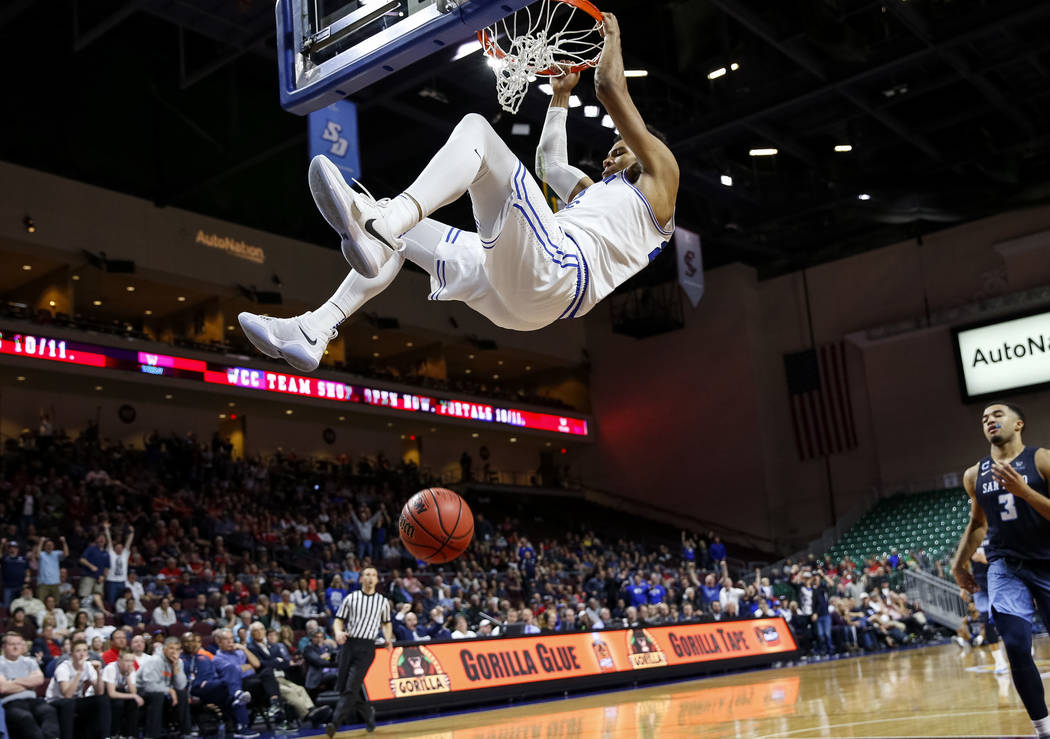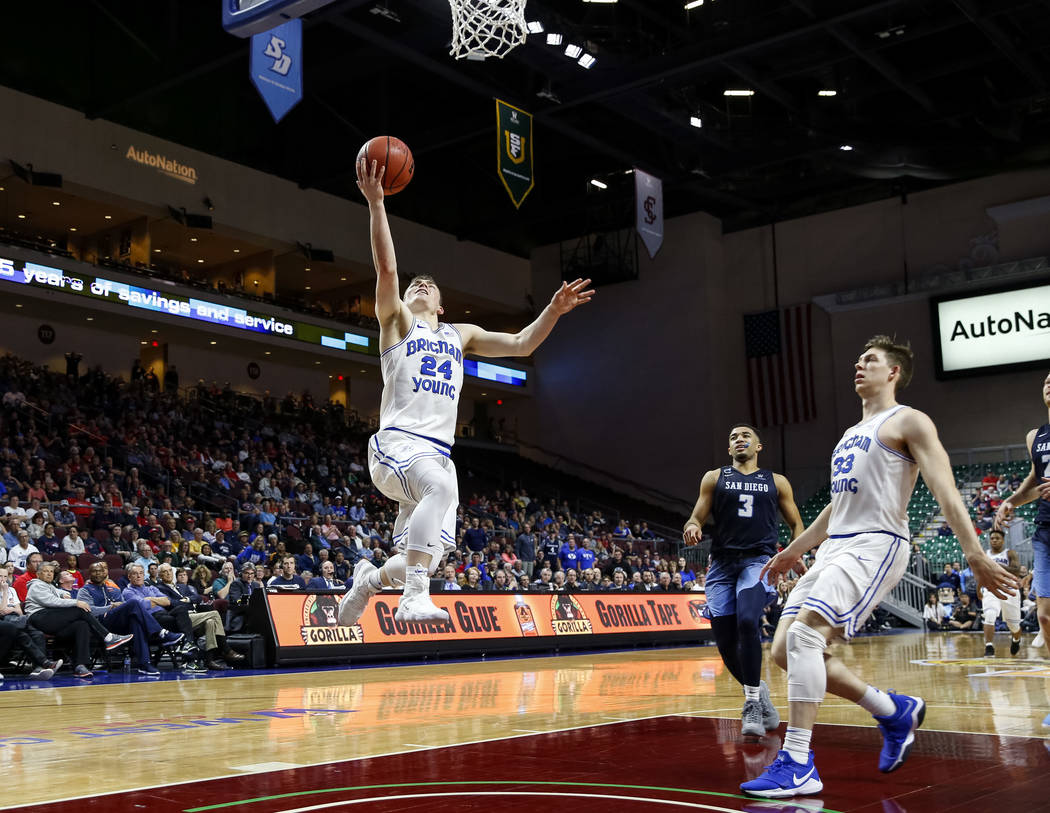 Sam Scholl's face turned red after trying to prevent the tears from falling from his puffy eyes.
He tried his hardest not to cry during his first podium interview as the acting coach of San Diego, but the emotions from a turbulent week got the best of him.
Scholl and the Toreros fell short against Brigham Young 85-79 in a back-and-forth West Coast Conference quarterfinal game Saturday night at Orleans Arena. It was San Diego's first game since Lamont Smith, the team's third-year coach, was placed on paid leave following his arrest on domestic abuse charges.
"I didn't mean to do this on the first time," Scholl said as his voice cracked. "We just love these (players). All our emotion is because of them, with what they fought through this week. How they trusted each other, and how they trusted us."
It was supposed to be a joyous lifelong achievement for Scholl, 40, to make his head coaching debut, but he couldn't put himself first. Not when his players needed him.
Olin Carter III probably had the toughest week after the death of his grandmother.
"This young man sitting next to me had some other family things that happened and looked how he played tonight," Scholl said about Carter, who scored 20 points.
Carter carried the Toreros during their second-half rally, a fitting performance after his teammates lifted his spirits throughout the week. The junior guard hit an NBA-range 3-pointer to erase BYU's 17-point lead with 3:28 left.
"My teammates really came around me and made everything better," Carter said. "They know I was pretty emotional, and they picked me up and made sure they didn't leave me behind and brought me with them. I love them for that."
BYU got its large lead thanks to the hot shooting of Elijah Bryant, who scored a game-high 27 points. But San Diego limited Bryant to one missed shot during an eight-minute stretch before he fouled out.
The Cougars made their free throws in the final minutes to pick up their leading scorer and advance to Monday's semifinals.
"We lost; they beat us," Scholl said. "They just made a couple more plays. We weren't going to use what happened this week as an excuse."
Contact Gilbert Manzano at gmanzano@reviewjournal.com. Follow @GManzano24 on Twitter.
Saturday's men's quarterfinal scores
No. 3 BYU 85, No. 6 San Diego 79
No. 4 San Francisco 71, No. 5 Pacific 70
No. 1 Gonzaga 83, No. 8 LMU 69
No. 2 Saint Mary's 69, No. 10 Pepperdine 66
Monday's semifinal games
Women's
No. 1 Gonzaga vs. No. 5 San Francisco, Noon (TheW.tv)
No. 6 San Diego vs. No. 7 Pacific, 2 p.m. (TheW.tv)
Men's
No. 1 Gonzaga vs. No. 4 San Francisco, 6 p.m. (ESPN)
No. 2 Saint Mary's vs. No. 3 BYU, 8:30 p.m. (ESPN2)
Men's quarterfinal games
No. 3 Brigham Young 85, No. 6 San Diego 79 — Elijah Bryant scored 27 points before fouling out, and his teammates picked him up to advance into Monday's semifinals. Yoeli Childs had 22 points and eight rebounds for the Cougars.
No. 4 San Francisco 71, No. 5 Pacific 70, OT — Jordan Ratinho scored a team-high 20 points to lift the Dons into the semifinals. Pacific's Anthony Townes made a putback basket to beat the buzzer and send the game into overtime.
No. 1 Gonzaga 83, No. 8 Loyola Marymount 69 — After leading by one point at halftime, Gonzaga used a strong second half to punch a ticket into Monday's semifinal matchup against San Francisco. Killian Tillie scored a team-high 24 points for the Bulldogs.
No. 2 Saint Mary's 69, No. 10 Pepperdine 66 — The Gaels avoided an upset loss by erasing a 15-point deficit late in the game. Jordan Ford led Saint Mary's with 19 points.