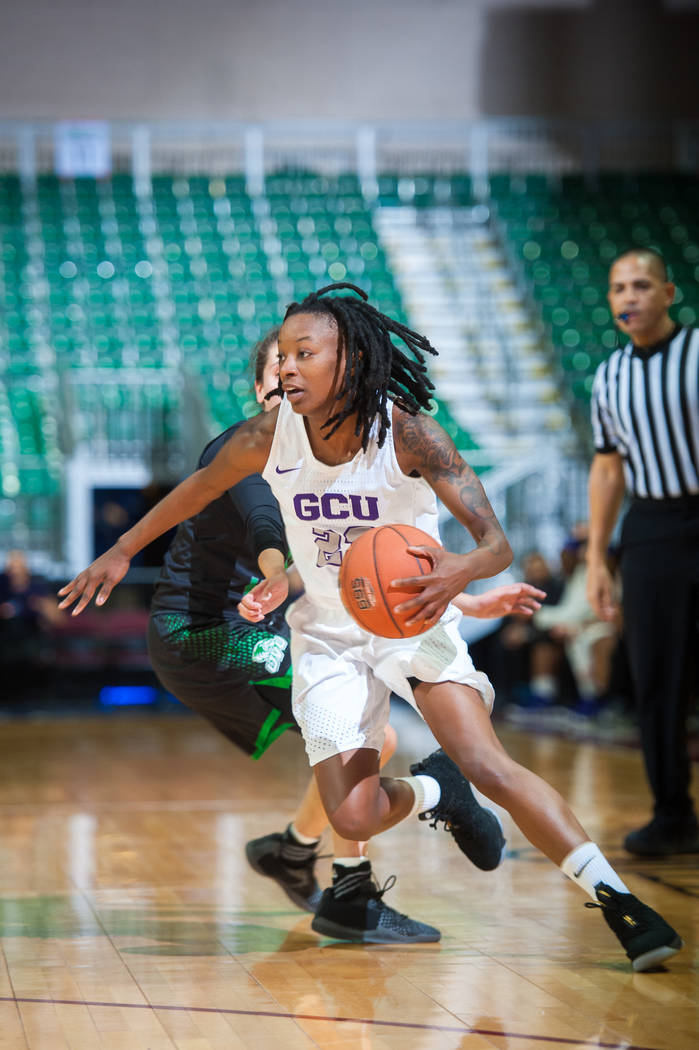 Grand Canyon senior guard Brie Mobley hadn't played in a conference tournament since 2015.
Until Wednesday afternoon.
But she certainly wasn't shaken by the stakes.
Or the stage.
Mobley scored a game-high 19 points and grabbed nine rebounds to lift the Antelopes to a 72-56 victory over Utah Valley in Grand Canyon's debut in the Western Athletic Conference women's basketball tournament at Orleans Arena.
Grand Canyon, which transitioned from Division II to Division I before the 2013-14 season and was barred from postseason play until this season, is two wins from an automatic NCAA Tournament bid. The WAC semifinals are Friday.
Mobley last competed in a conference tournament in 2015 with UNC-Wilmington before transferring to Grand Canyon. She isn't taking the opportunity for granted.
"It's been a couple years since I've been on this type of stage, but I was ready for it," she said. "I was excited to get back to it."
Mobley was the WAC Newcomer of the Year last season and earned first-team all-conference honors this season after posting 17.7 points, 7.4 rebounds and 4.0 assists per game from the two-guard position.
She showcased her all-around game versus Utah Valley and keyed the Antelopes with her aggression and playmaking on the perimeter.
Senior Jessica Gajewski added 17 points and nine rebounds for Grand Canyon, and senior August Touchard had nine points, seven rebounds and four assists.
"It's definitely a special feeling to get this first W," Bouchard said. "We're playing for each other, but we're also playing for the GCU community. It gives it a little extra touch."
First-year Antelopes coach Nicole Powell, who played at Stanford and 11 years in the WNBA, said the seniors have guided the team all season and set their sights on the tournament from the start.
"The lights are brighter, the court is shiny … but we've been talking about it all year," Powell said. "Our goals haven't changed."
WAC women's tournament first-round games
No. 3 Grand Canyon 72, No. 6 Utah Valley 56 — Brie Mobley posted 19 points and nine rebounds, and Jessica Gajewski scored 17 to lift the Antelopes to their first-ever WAC tournament victory.
No. 2 Cal-Bakersfield 70, No. 7 Texas-Rio Grande 59 — Jazmine Johnson had a game-high 23 points, and Malayasia McHenry scored 21 to propel the Roadrunners.
No. 1 New Mexico State 84, No. 8 Chicago State 60 — Gia Pack posted a game-high 29 points, WAC player of the year Brooke Salas scored 27, and the three-time defending tournament champion Aggies rolled to a decisive victory.
No. 4 Seattle 75, Missouri-Kansas City 64 — Kallin Spiller had 28 points and 14 rebounds as the Seahawks rolled over the Kangaroos. McKenzi Williams added 14 points and Kamira Sanders had 13 for Seattle.
Contact reporter Sam Gordon at sgordon@reviewjournal.com. Follow @BySamGordon on Twitter.