Harkless' career day powers UNLV to OT MW tournament win
Updated March 9, 2023 - 6:33 am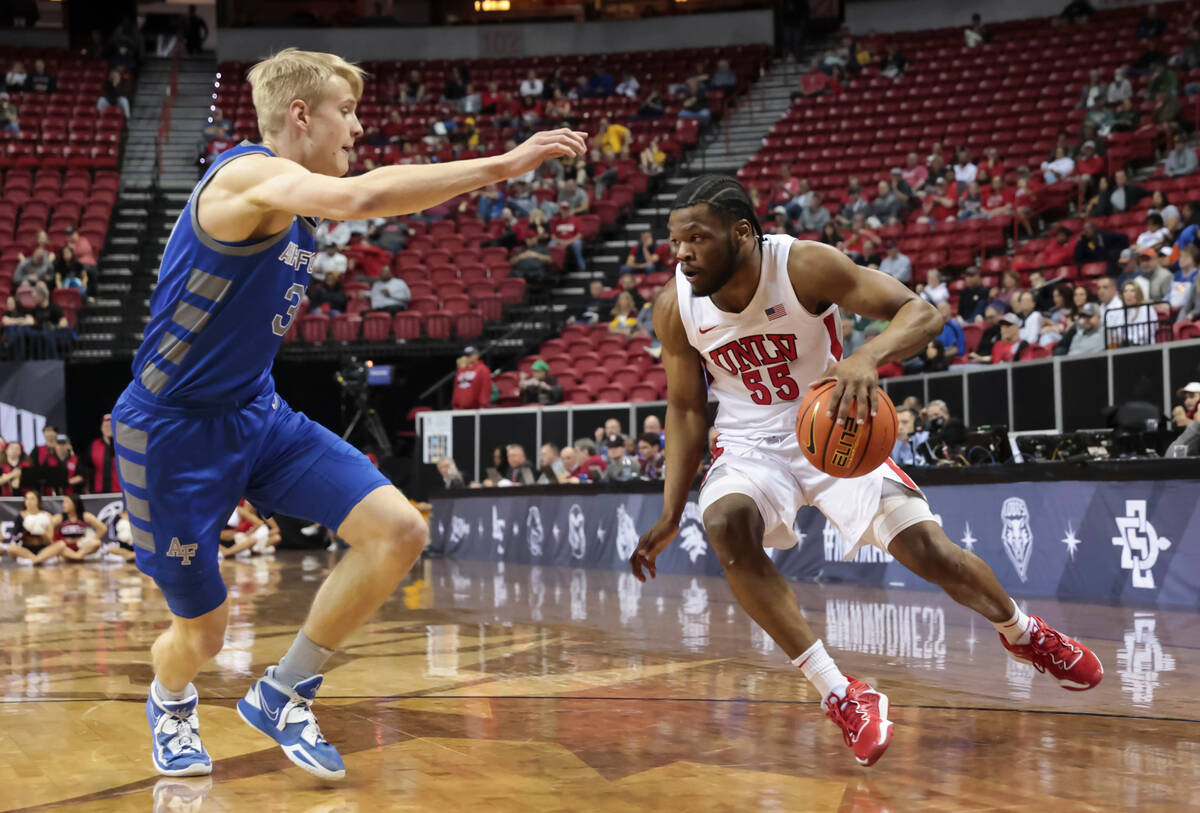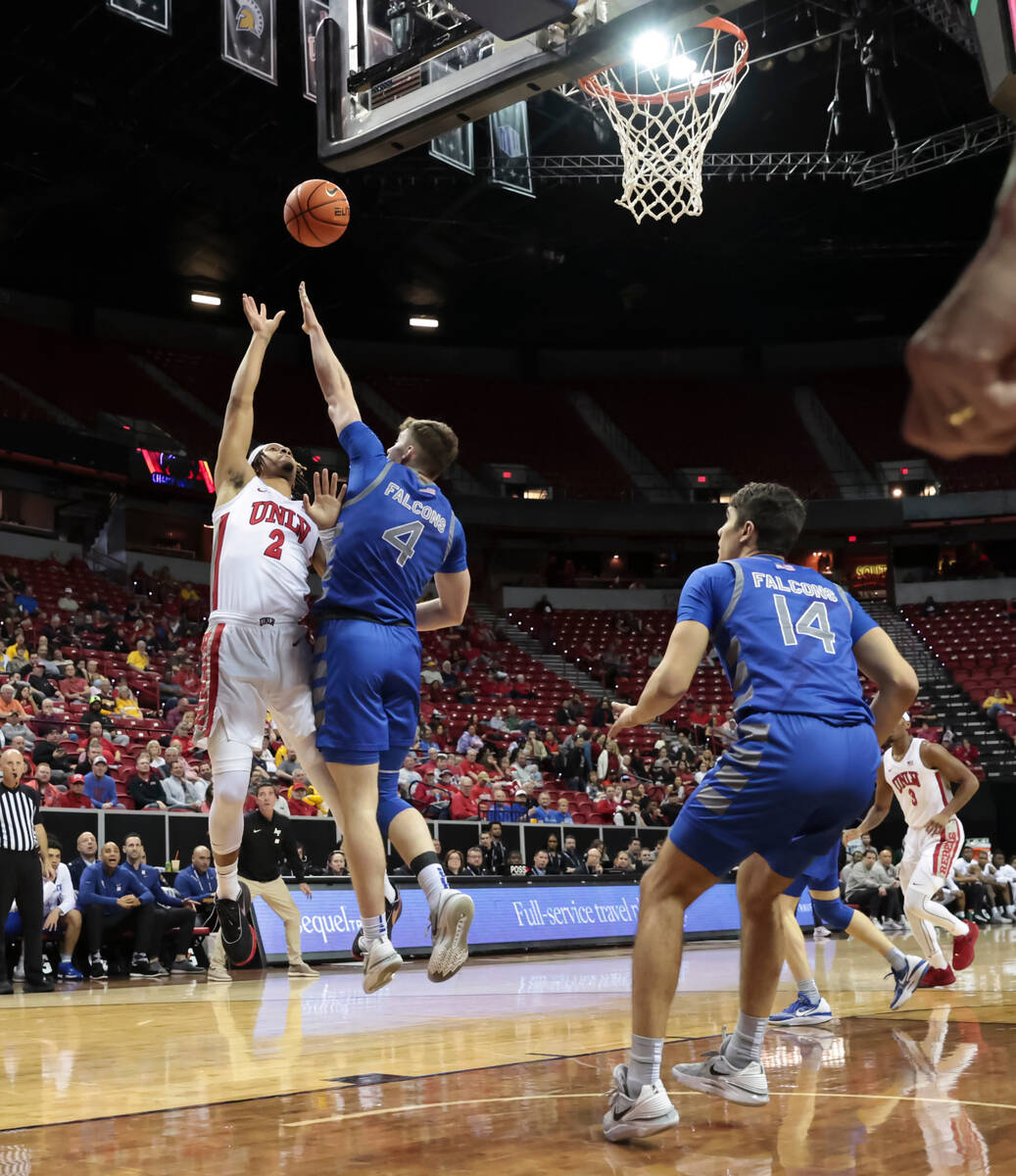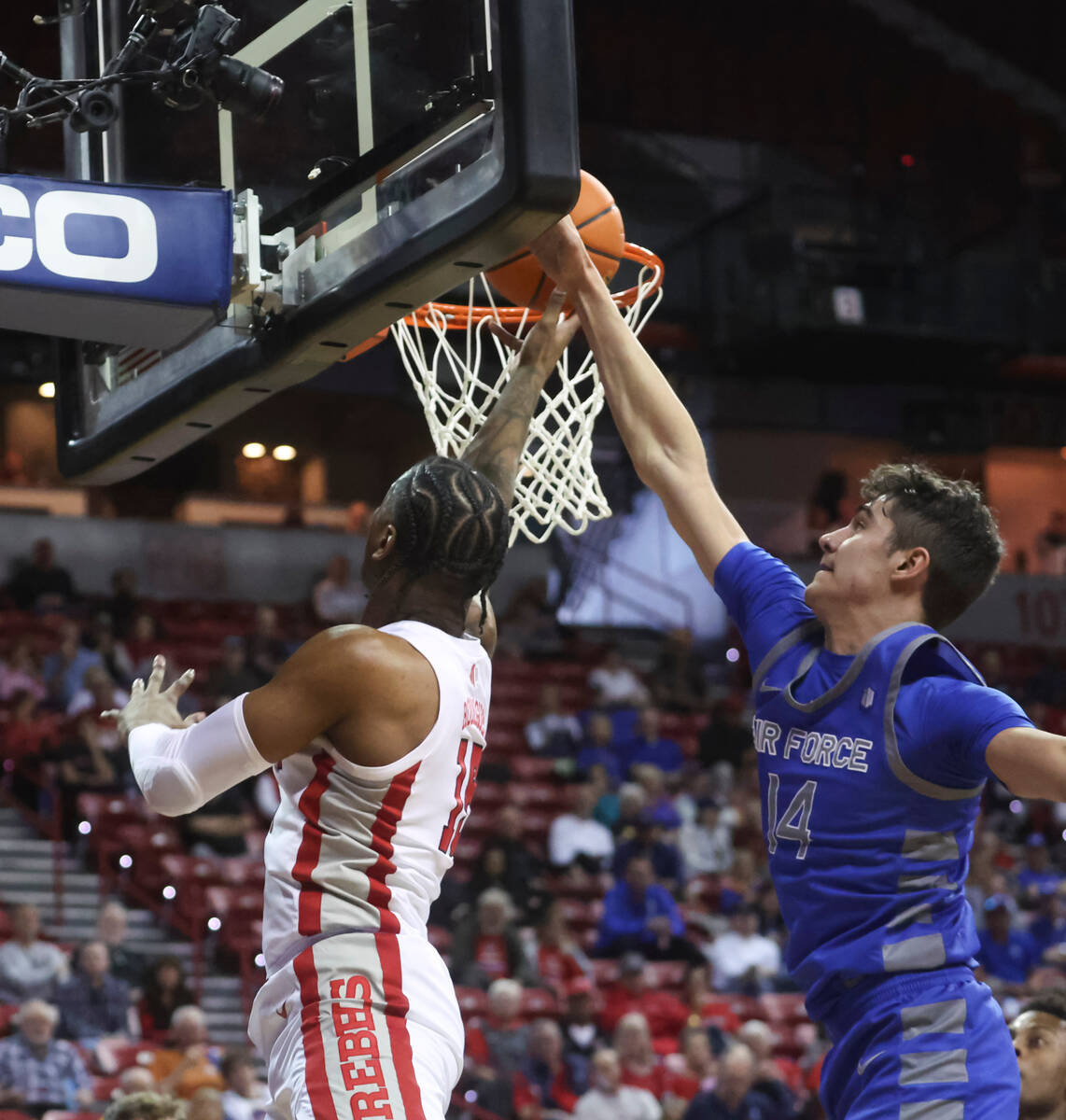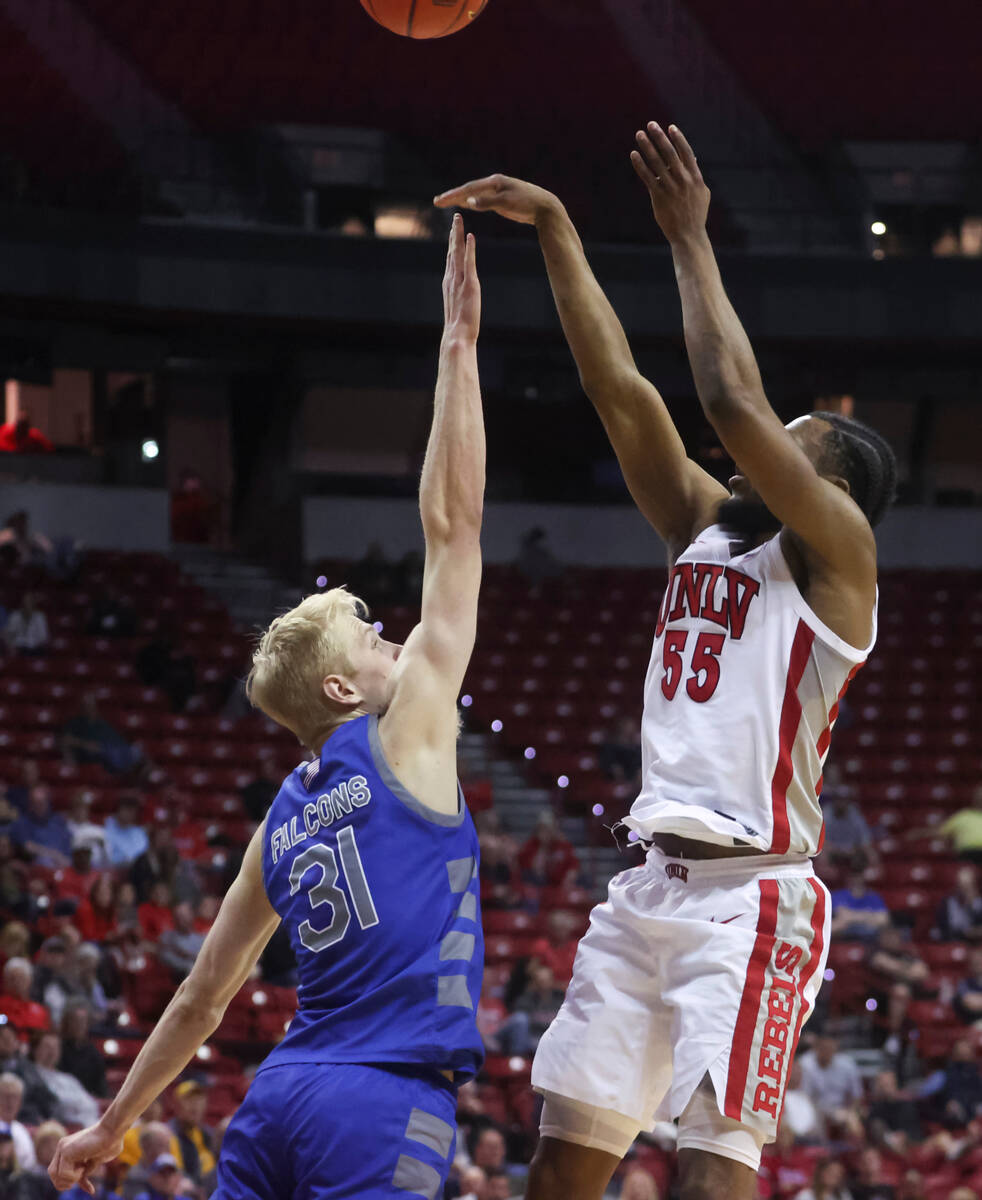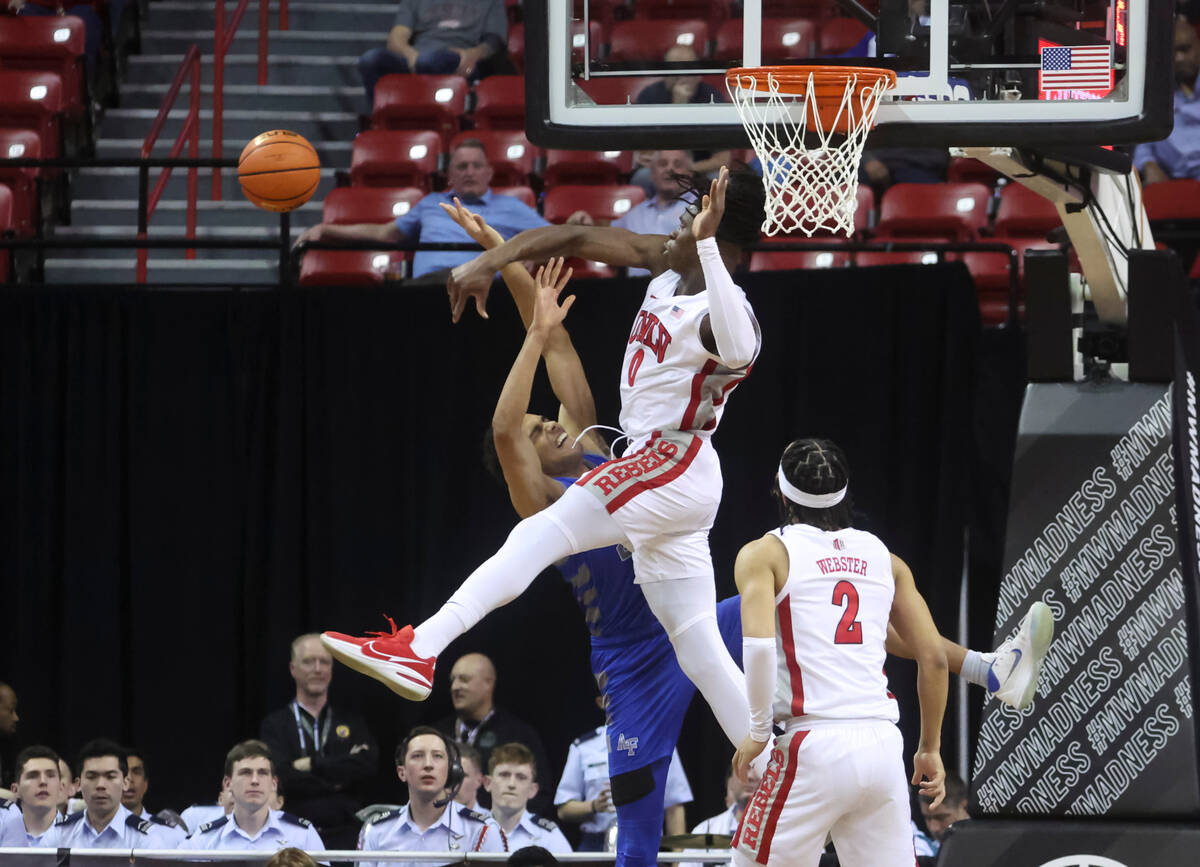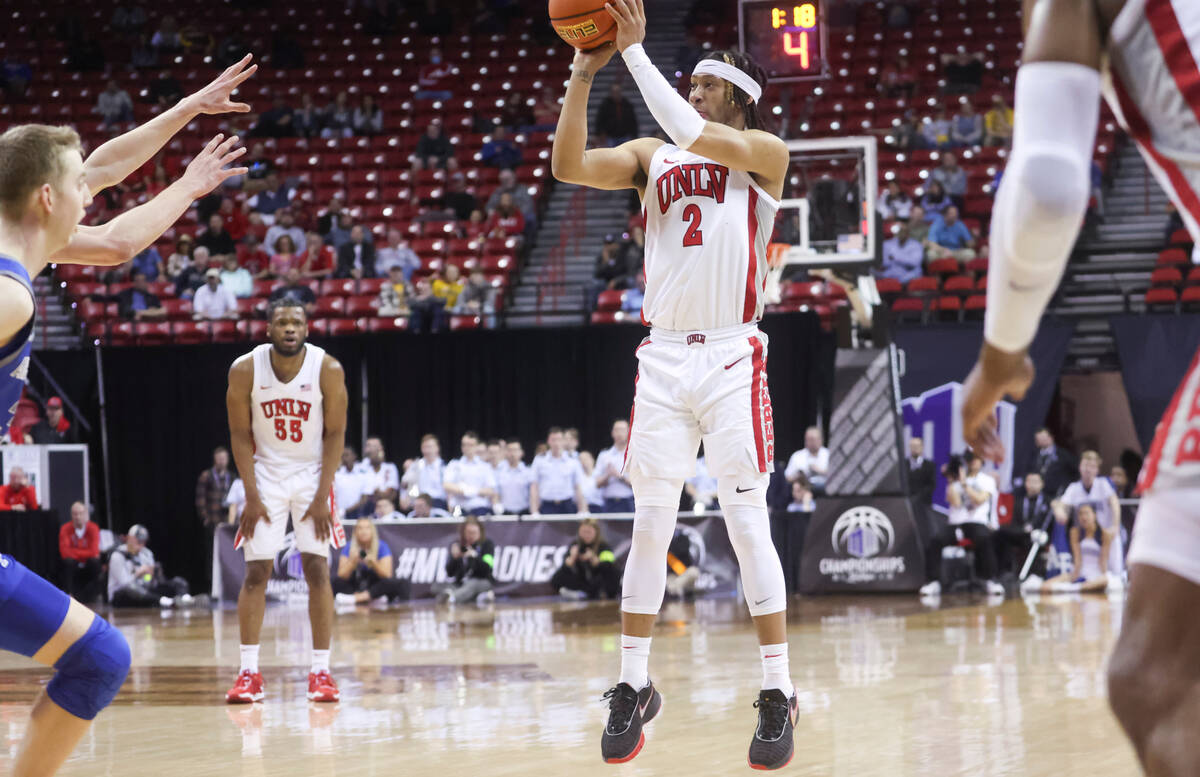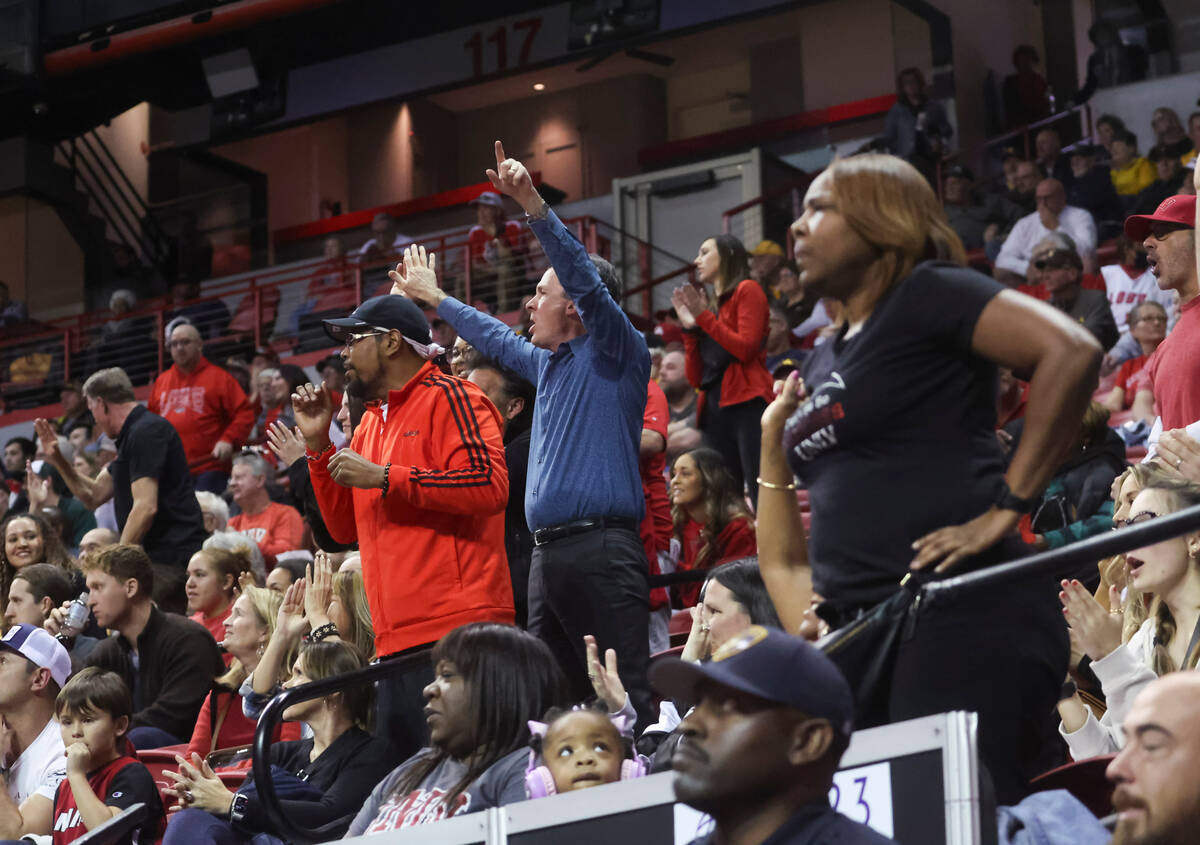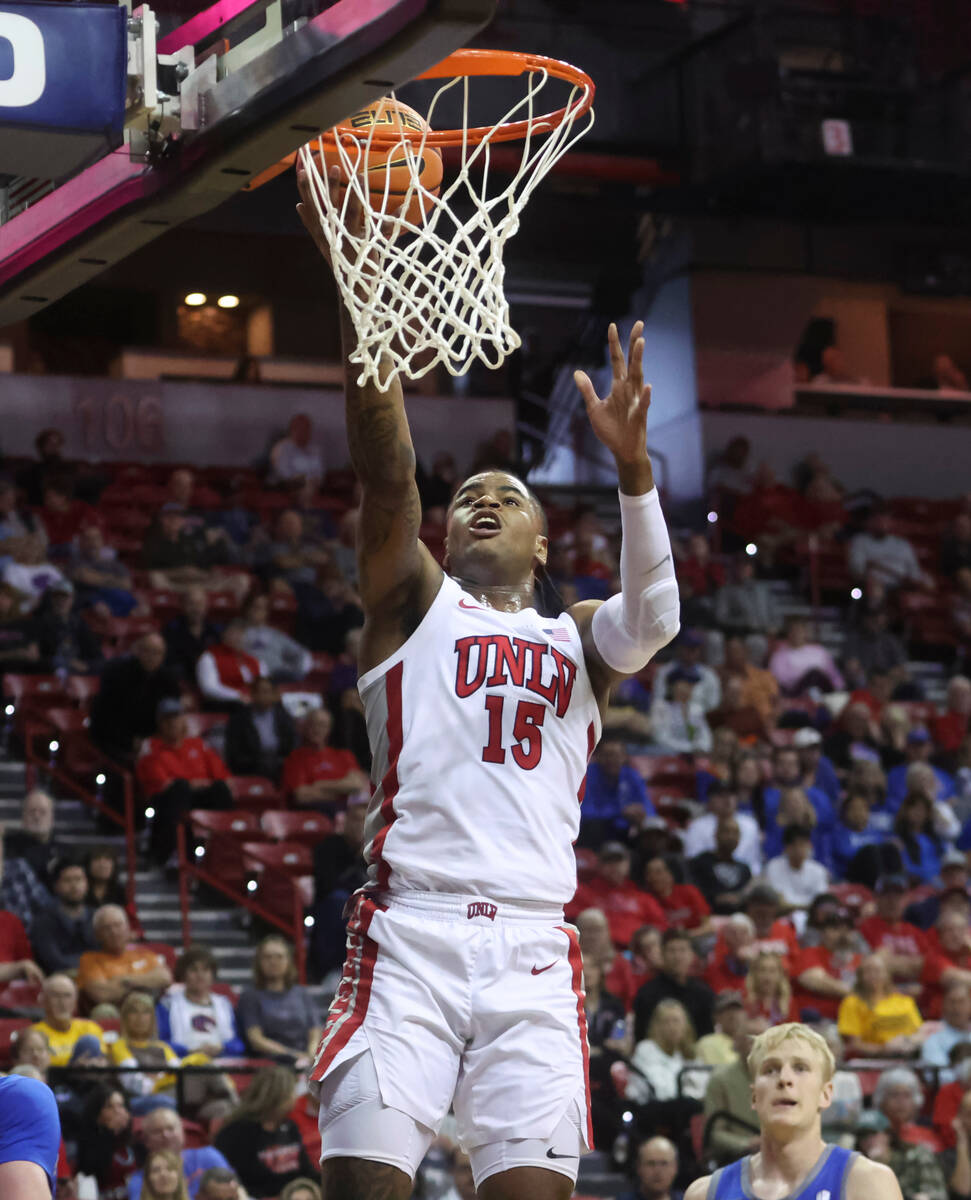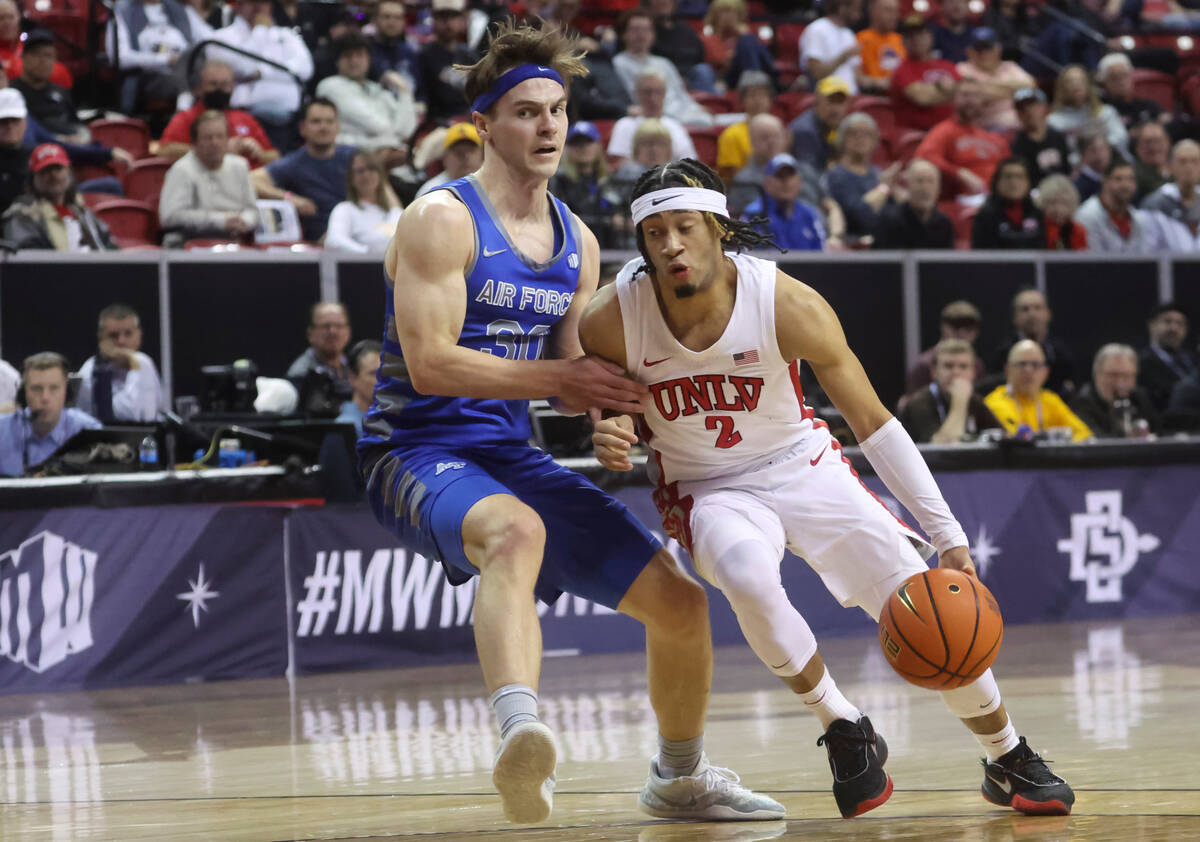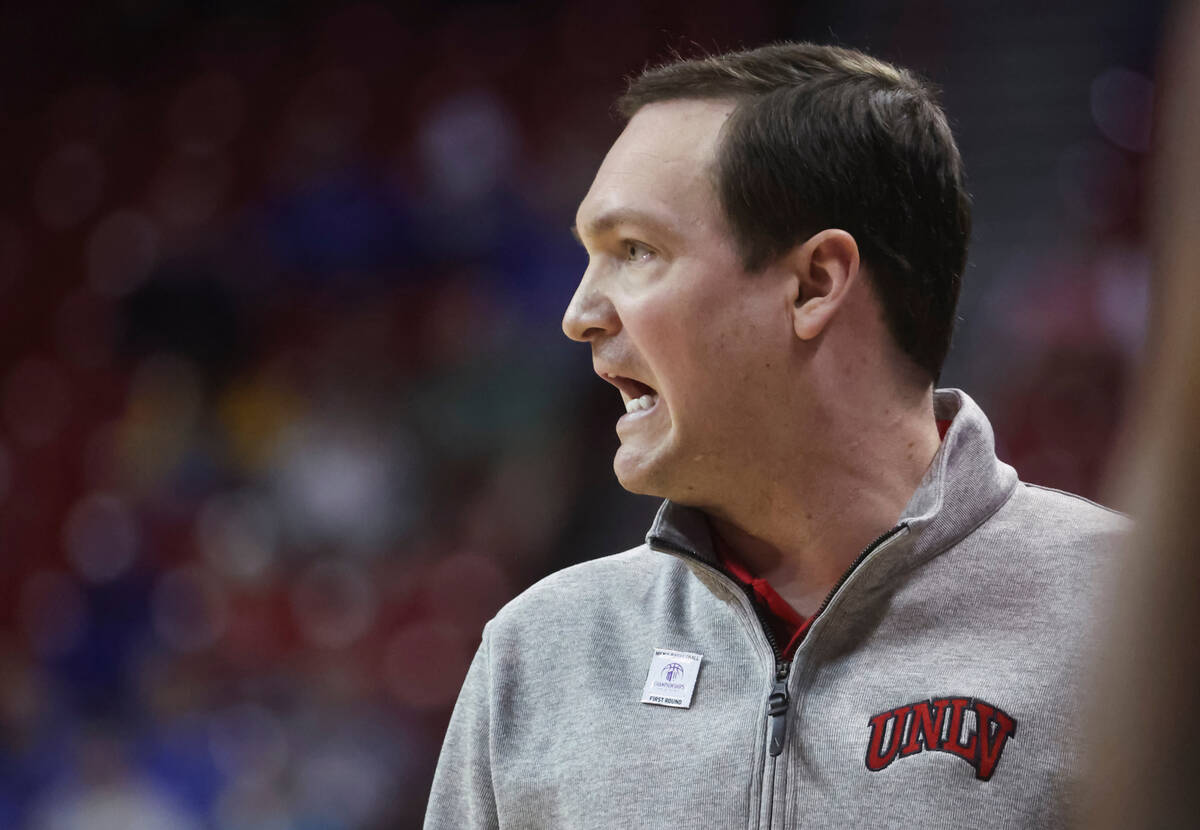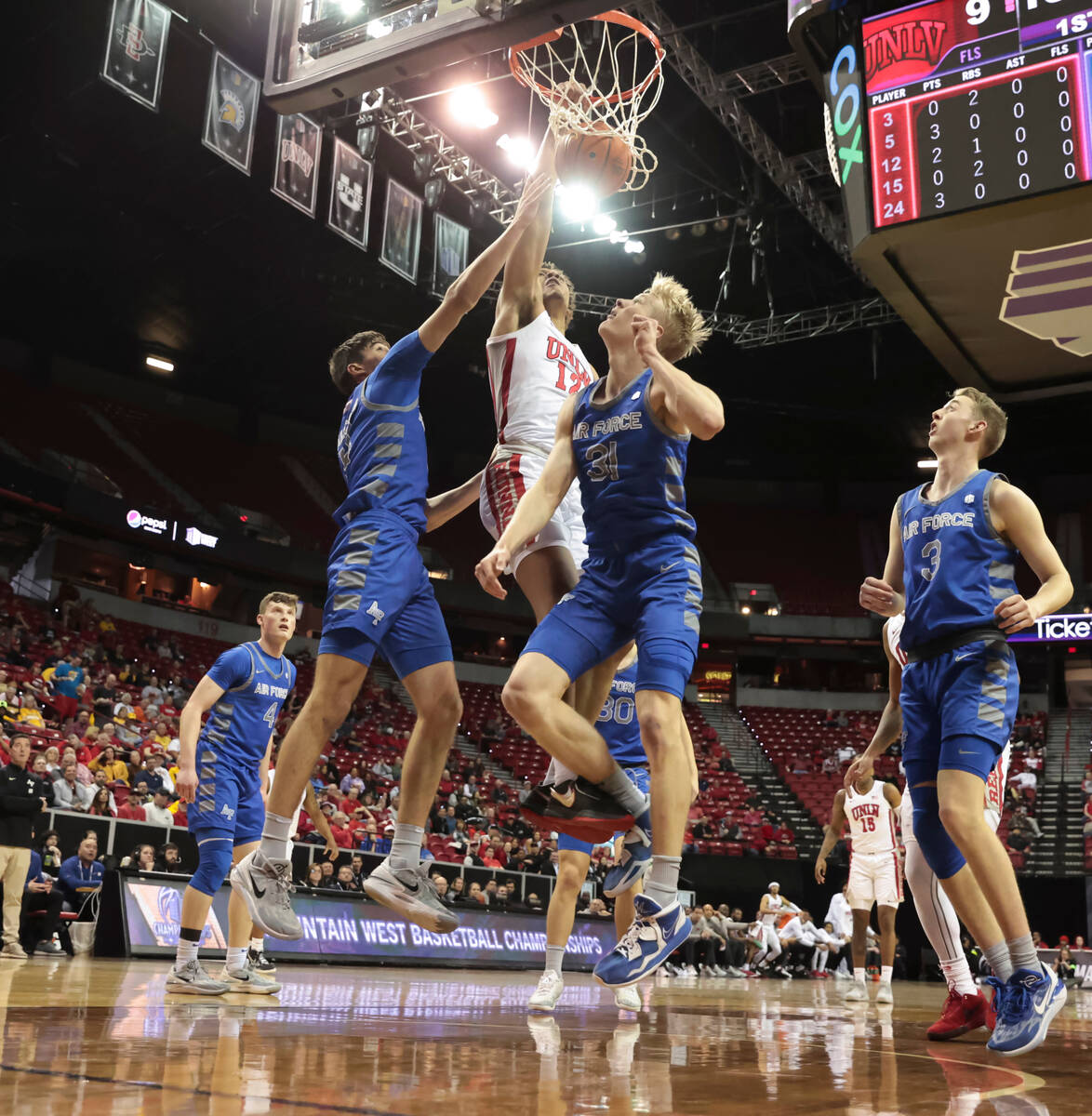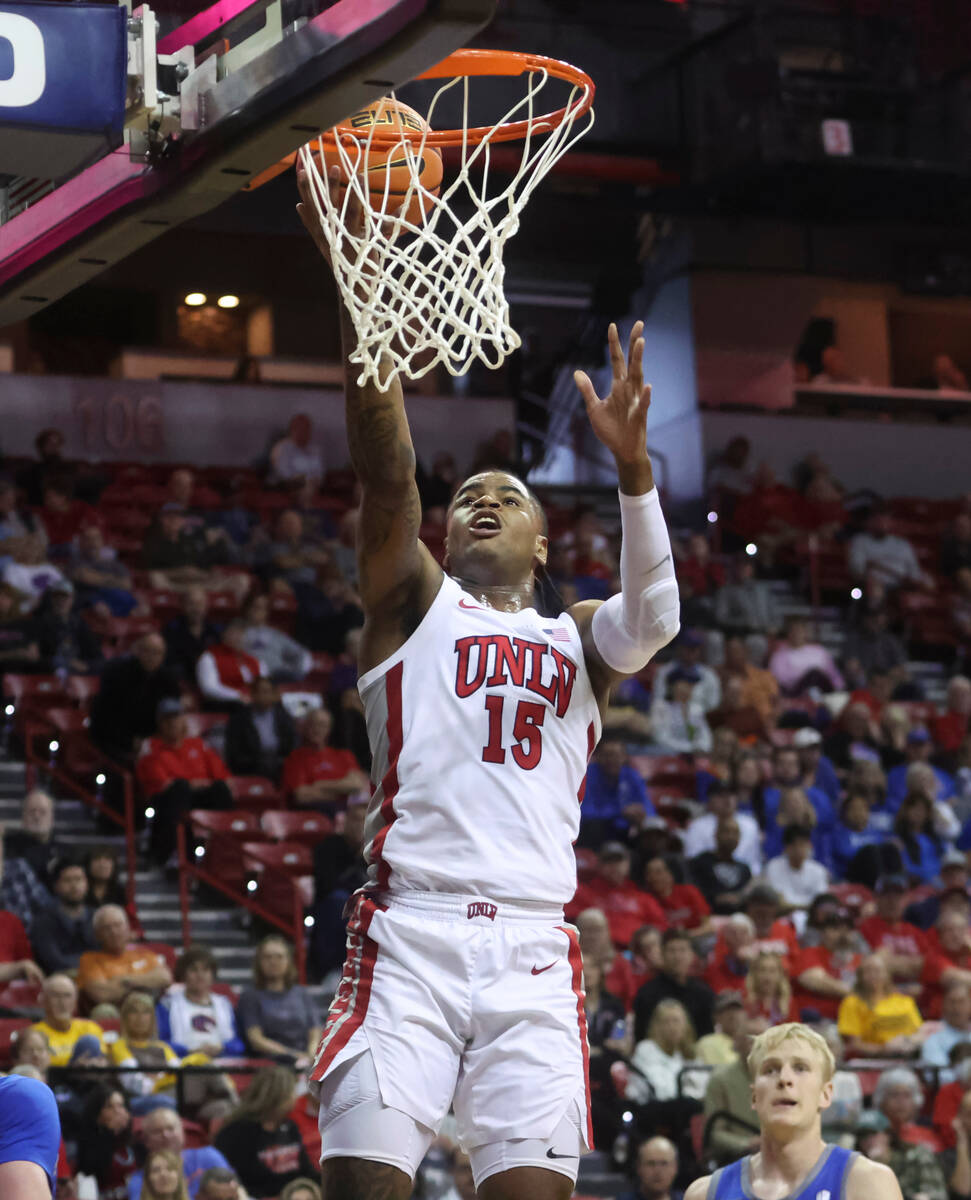 EJ Harkless took over, and UNLV is still alive in the Mountain West tournament.
The fifth-year guard scored a career-high 35 points, including 29 in the second half and overtime, to lead the No. 7-seeded Rebels to a 78-70 victory over No. 10 Air Force in the first round Wednesday at the Thomas & Mack Center.
UNLV (19-12) advances to face No. 2 Boise State (23-8) in the quarterfinals at 6 p.m. Thursday.
"He's been a great scorer all season," UNLV senior Luis Rodriguez said. "When in doubt, EJ gets a bucket. It's good to have a player like that."
Harkless got some key help from Rodriguez late to seal the victory.
Harkless, who led the Mountain West in made foul shots this season, stepped up to the free-throw line with the Rebels leading Air Force (14-18) by five with 1:11 left in overtime.
He made his first shot, but missed the second. However, as the ball bounced off the rim, the lone hand of Rodriguez rose above the crowd. He batted the ball back out to Harkless, and the Falcons were forced to foul him again.
This time, Harkless sank both free throws, securing the victory.
Harkless praised Rodriguez for giving him a second chance.
"Those are the winning plays we need everybody to make," Harkless said.
Rodriguez registered his second consecutive double-double with 10 points and 11 rebounds, and senior Justin Webster added 12 points on 5-of-11 shooting.
Rebels coach Kevin Kruger earned his first conference tournament victory.
"Really proud of the guys for fighting and staying with it," Kruger said. "They clearly understood our concern as a staff about how a game with Air Force can turn into a rock fight."
Both teams struggled offensively for a majority of the game. UNLV, playing without sophomore guard Keshon Gilbert due to a one-game suspension, went just 9 of 29 from the field in the first half. Kruger said the movement-focused offensive and defensive principles utilized by Air Force make the Falcons a particularly difficult matchup for UNLV.
Most of the Rebels' success came in transition. UNLV forced 17 turnovers that it turned into 21 points, and a Rodriguez layup with 11:04 remaining in the second half capped an 11-2 run to take a seven-point lead.
However, the Rebels weren't able to sustain their push, and a parade of Air Force free throws erased the UNLV buffer.
Harkless was one of the only effective players on offense in the second half, scoring 18 points and making eight free throws.
UNLV also got some good minutes from senior forward Victor Iwuakor. His rim protection proved invaluable. He had five blocks in 22 minutes, but his biggest play came with three seconds remaining and the game tied, as he knocked the ball out of the hands and off the body of Air Force's Carter Murphy to prevent a final shot.
In overtime, Harkless continued to dictate the Rebels' offense. He scored 11 of the team's 21 points in the period before sealing the game at the free-throw line and setting up a meeting with the Broncos.
The Rebels lost both games against Boise State during the regular season — 84-66 at home on Jan. 11 and 73-69 on the road Feb. 19.
"It's a blessing to stay alive," Rodriguez said. "Anything can happen in March, so just to be part of a team that's giving ourselves a chance to win another big game — that's why I came here. That's why EJ came here.
"Just happy we got it done today, and we're ready for another one tomorrow."
Contact reporter Andy Yamashita at ayamashita@reviewjournal.com. Follow @ANYamashita on Twitter.
Up next
What: Mountain West quarterfinals
Who: UNLV vs. Boise State
When: 6 p.m. Thursday
Where: Thomas & Mack Center
TV: CBS Sports Network
Radio: KWWN (1100 AM, 100.9 FM)