'Huge Vegas pride': UNLV transfer Trey Woodbury returns home for NIT semifinals
Updated March 28, 2023 - 11:56 am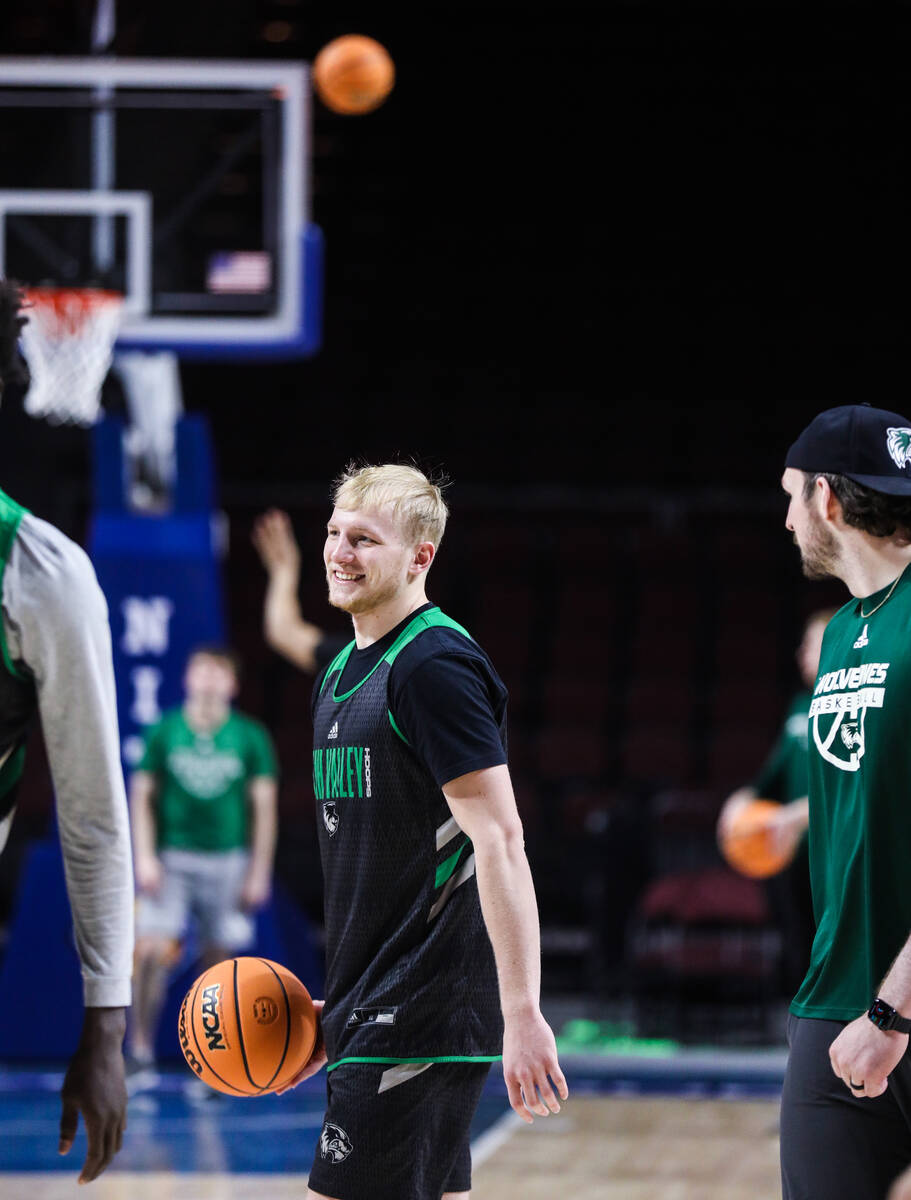 Utah Valley star and former UNLV guard Trey Woodbury's collegiate career was destined to end at Orleans Arena.
He's just happy it wasn't with the heartbreak of a few weeks ago on the same court.
The Wolverines squandered a 23-point second-half lead and lost a Western Athletic Conference tournament semifinal game to Southern Utah on a wild final sequence that ended their dream of playing in the NCAA Tournament.
Woodbury, a Las Vegas native who had 29 points, eight rebounds and six assists, looked around the locker room and realized he didn't want his career to be over yet.
"I love this team," he said Monday. "I've never been as close with guys as I am with these guys. After the SUU game, it just hurt so much feeling like it was over. We were sitting in the locker room looking at each other thinking how could this be it? Then this whole thing unfolds. It's been so crazy and fun, and I'm glad it's going out like this."
Woodbury was referring to a run through the National Invitation Tournament that has seen Utah Valley (28-8) beat New Mexico, Colorado and Cincinnati to advance to a Tuesday semifinal against Alabama-Birmingham (28-9) at Orleans Arena. Wisconsin (20-14) and North Texas (29-7) will meet in the other semifinal. The winners will play Thursday in the championship game.
Woodbury is averaging 17.3 points, 7.0 rebounds and 7.0 assists in the NIT. The former Clark High standout expects about 20 friends and family members at Tuesday's game in an arena in which he has played numerous times.
"Every time I get a chance to play here and step on the court, it's like a lot of good memories and emotions flowing," the 6-foot-4-inch senior said.
"I have huge Vegas pride. All my basketball memories are from Vegas, the people I grew up with, and those who taught and coached me are from Vegas. So this city is everything to me. Every time I come back, I get a little rejuvenated."
He never really wanted to leave. Woodbury was a top 100 recruit who signed with UNLV despite offers from programs in larger conferences. Then-coach Marvin Menzies stuck by Woodbury even through some tumult at the end of his high school career, but an injury early in his freshman season impeded his development. He averaged 1.4 points in about six minutes a game in 2018-19.
When Menzies was fired and T.J. Otzelberger was hired, Woodbury reaffirmed his commitment to staying. But there didn't appear to be a place for him on the roster, and he was soon in the transfer portal.
"I didn't want to leave UNLV, necessarily," said Woodbury, averaging 13.6 points, 5.7 rebounds and 4.6 assists while shooting 40.6 percent on 3-pointers this season. "That was my hometown school. But when I met these guys, and I met the people at UVU and got a chance to visit UVU, I realized this was going to be a great place for me."
The move allowed him to find a family atmosphere in Orem.
"He's my brother, my dog, all over the above," teammate Justin Harmon said. "He's a special person, leader, point guard, best friend, brother, always just looking to make the next person better. That's what I love about him. He is everything you could think of: Funny, goofy, great teammate for sure."
Contact Adam Hill at ahill@reviewjournal.com. Follow @AdamHillLVRJ on Twitter.
Up next
Who: Wisconsin vs. North Texas, 4 p.m.; Utah Valley vs. Alabama-Birmingham, 6:30
What: NIT semifinals
When: Tuesday
Where: Orleans Arena
TV: ESPN, ESPN2
Lines: North Texas -1½, 115; UAB -3, 151½