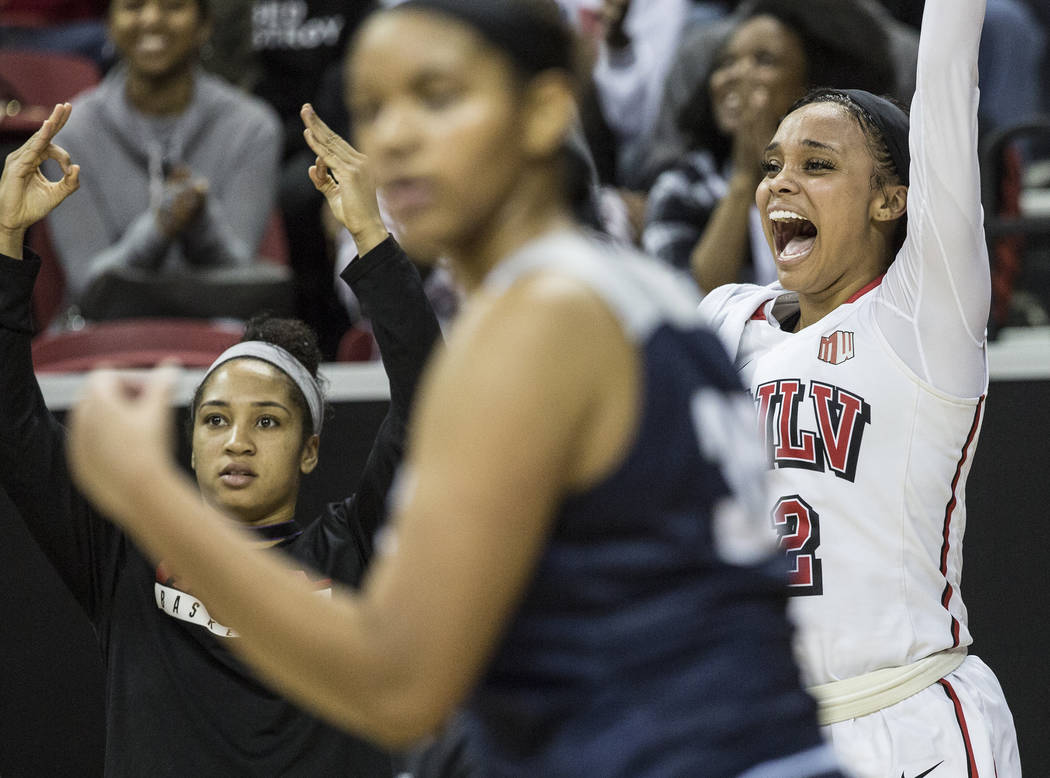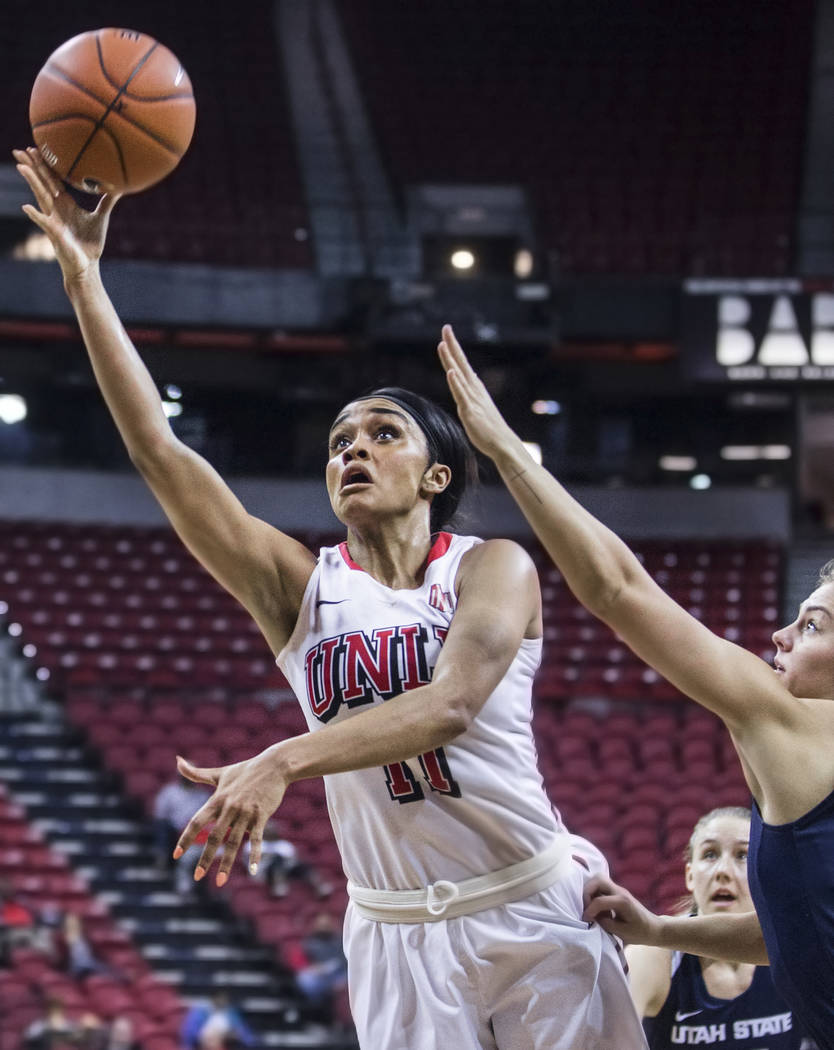 UNLV was seeking payback Tuesday night at the Mountain West women's basketball tournament.
The Lady Rebels will be again Wednesday.
Brooke Johnson and Dakota Gonzalez each scored 17 points as UNLV clobbered Utah State 68-43 in a quarterfinal game at the Thomas & Mack Center, one week after losing to the Aggies on the road.
The 25-point margin of victory was the team's largest in a Mountain West tournament game.
The No. 3-seeded Lady Rebels (22-9) will meet seventh-seeded Fresno State (17-14), which defeated UNLV last year in the conference tournament, in a semifinal game at 9 p.m. Wednesday. The Bulldogs beat Wyoming 58-48 on Tuesday.
No. 1-seeded Colorado State (24-7) will meet No. 4 Boise State (23-7) at 6 p.m. in the other semifinal. The winners will play at noon Friday for the automatic berth into the NCAA Tournament.
UNLV split two close games against sixth-seeded Utah State (17-14, 9-9) in the regular season. And after the first quarter, after which the Aggies led 14-11, it looked as if this game also might be tight.
But the Lady Rebels then got hit, especially on 3-point shots.
Johnson led the way, hitting four 3-pointers in the first half, as UNLV outscored Utah State 22-9 in the second quarter to take a 33-23 halftime lead.
The junior guard hit 6 of 8 field goals, including 5 of 6 on 3-pointers, for the game.
"There's games I've gone full force and missed quite a few shots, and there's games I haven't taken any shots and been overly passive," Johnson said. "Tonight I tried to find that balance and take a shot when I was open, and once I hit one, I was feeling comfortable enough to take another one and pass when I needed to."
There was no letting up in the second half for the Lady Rebels, who hit 46.3 percent (25 of 54) from the field for the game, including 10 of 22 on 3-pointers. They shot 36.7 percent from the field in the regular season.
"I just felt like we had one of our best complete games of the season," coach Kathy Olivier said. "We had so many options out there, and when our defense plays with that kind of intensity and that kind of effort, our defense creates our offense and it kind of opened up the game."
The Lady Rebels finished with 13 steals, eight by Gonzalez, who added five rebounds and four assists.
"I don't think we put our best foot forward defensively in the first two games that we played against them," Gonzalez said. "We definitely came into this game understanding that, but not letting it be something that hindered us. We used it as motivation to come out and have that defensive intensity."
Paris Strawther (14 points) and Dylan Gonzalez (12) also scored in double figures for UNLV.
"This team has so many options, and that's what makes us a good basketball team," Olivier said. "It's not just one player, it's several players. To have four players in double figures, and to play that kind of tenacious defense is pretty much what the Lady Rebels are all about."
Now they will get a chance to avenge a loss to Fresno State in last year's semifinals.
"We used those feelings that we had in that loss last year throughout this entire season," Dakota Gonzalez said. "Coming up with Fresno, having that in mind of last year, we're going to come up with that same mindset and (stay) together."
Contact Betsy Helfand at bhelfand@reviewjournal.com. Follow @BetsyHelfand on Twitter.
IF YOU GO
What: Mountain West women's tournament
Where: Thomas & Mack Center
When: Semifinals, 6:30 and 9 p.m. Wednesday; championship, noon Friday
Tickets: UNLVtickets.com