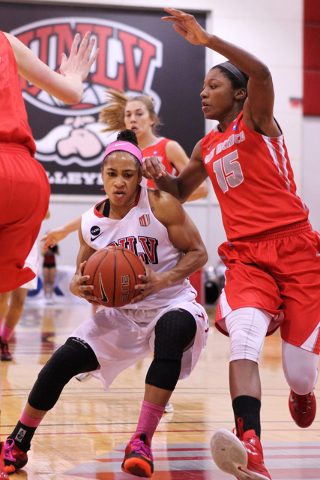 UNLV was a tiebreaker away from having a day off Monday and a bye in the first round of the Mountain West women's basketball tournament.
But coach Kathy Olivier said the coaching staff tried to push that possibility out of its mind.
"Whatever the seed was going to be, we (were) going to say, 'We love this spot. Let's run with it," Olivier said.
So, by virtue of playing — and losing — an extra game against conference leader Colorado State, the Lady Rebels lost their tiebreaker with New Mexico and will host Air Force at 7 p.m. Monday at the Thomas and Mack Center.
UNLV is 16-13 overall and 9-9 in the conference, meaning the only chance it has at an NCAA Tournament berth is winning the conference tournament.
But the Lady Rebels have three wins in their past five games — including Friday's regular-season finale — and sophomore Nikki Wheatley said she thinks the team is playing well.
"I feel like we've really picked it up," she said. "We made a big jump from the beginning of the season to the end of the season as far as playing together better, so I feel like that was the one thing. Talent-wise, we have the talent. We just need to work on moving the ball more, and I feel like we've fixed that throughout the season."
The Lady Rebels have beaten Air Force, the bottom seed, twice this season. But the Falcons (1-28) played UNLV close in both games.
UNLV won 60-56 in January in Colorado and 62-51 at home in February.
"I know they don't have a lot of wins, but they never give in," Olivier said. "They fight the whole time, and they have some good shooters, so we can't look past it and we're going to have a battle in that first game, for sure."
Air Force is in its first season under coach Chris Gobrecht, and Olivier said the Falcons seemed more settled the second time UNLV played them.
"I think she's more comfortable with her team," Olivier said. "You can tell the team's more comfortable with her. They're playing with a flow. I think it's a great first-round matchup. You look at the conference and every matchup that first round is going to be tough."
In a conference full of parity, Olivier said she thinks any team from the third seed to the ninth could beat any of the others.
If the Lady Rebels defeat Air Force, they will meet third-seeded Boise State (19-10, 12-6) at 8:30 p.m. Tuesday in the quarterfinals. The teams split the season series 1-1.
UNLV was eliminated by Boise State a year ago, 62-44, in the conference tournament quarterfinals. Just four players on the Lady Rebels' roster played in that game.
"You can't come in thinking, 'I'm going to turn it on (in the) second quarter, the third quarter,'" said Wheatley, who played in the game. "From the start button to the end button, you have to play your best basketball because otherwise it might be too late."
And though the roster is comprised primarily of underclassmen, Olivier said her team isn't young anymore.
"We're playing very motivated and with purpose," sophomore Brooke Johnson said. 'We all know what we're up against and we're ready to take on that challenge."
In other first-round games Monday, San Diego State and Wyoming will meet at 2 p.m., and Utah and UNR will play at 4:30. The quarterfinals are scheduled for Tuesday, the semifinals Wednesday and the championship at noon Friday.
Betsy Helfand can be reached at bhelfand@reviewjournal.com. Follow on Twitter: @BetsyHelfand.