Lady Rebels' rally falls short against Fresno State in MW semifinals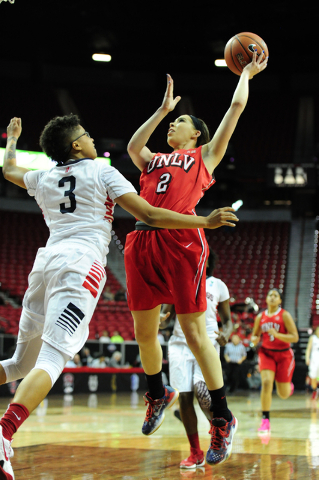 After getting outscored by 11 points in the second quarter, a loss seemed inevitable for UNLV.
Except nobody told them that.
The Lady Rebels created a game out of one that looked primed for a blowout, battling their way back to a two-point deficit late in the fourth quarter after trailing by as many as 20 points.
But for the third time this season, UNLV fell just short of defeating Fresno State, losing 66-60 in the Mountain West women's basketball tournament semifinals Wednesday night at the Thomas & Mack Center.
The Bulldogs (21-10) will play Colorado State (29-1) at noon Friday for the Mountain West tournament title, with a trip to the NCAA Tournament on the line. The Rams defeated New Mexico 60-42 in the first semifinal.
The Lady Rebels finish the season 18-14, but coach Kathy Olivier had good things to say about her team.
"Not one single player thought 'It's over,'" she said. "That's saying a lot about them as individuals."
The game looked effectively lost in the second quarter after Fresno State began with an 8-0 run and ended with a 7-0 run.
For the second straight game, top scorer Dakota Gonzalez sat in the second quarter because of foul trouble.
"I'm mad at myself because I took out a very passionate and great scorer," Olivier said. "I thought that kind of turned the game when I took out Dakota with her second foul. And that second quarter really ended up being the deciding factor."
Staring at a 13-point halftime deficit, the Lady Rebels chipped away at the Bulldogs' lead, outscoring Fresno State in the third and fourth quarters.
And with 27 seconds left, after Gonzalez missed a layup, her sister, Dylan, put back a rebound, cutting the Bulldogs' lead to two points before Alex Furr iced the game with two free throws.
"You should have heard them in the huddle. Sometimes you have to coach that," Olivier said. "They wanted it. They expressed themselves. They stayed together. They didn't get down."
Nikki Wheatley led the Lady Rebels with 13 points. Dakota Gonzalez and Aley Rohde each scored 10 but shot a combined 8-for-26.
"No. 4 (Bego Faz Davalos) on their team, defensive player of the year, she's a great shot blocker," Rohde said. "I think that altered my shot a little bit, maybe affected it somewhat. It was frustrating, but I think it was definitely something I probably could have (taken) my time a little more on."
Unlike its past two tournament games, UNLV was outrebounded 42-35.
Faz Davalos, the conference's top rebounder and shot blocker, made her presence felt at both ends, finishing with 13 points, eight rebounds and four blocks. Toni Smith had 18 points and 12 rebounds for the Bulldogs.
The Lady Rebels, who played in the conference semifinals for the first time since 2009, will graduate just two players, and with most of their core comprised of sophomores, they are positive about the direction they're headed.
"At the end of the day, we know we have young guys willing to step up and basically fill those roles, so we're excited about our future," Dakota Gonzalez said.
Betsy Helfand can be reached at bhelfand@reviewjournal.com. Follow on Twitter: @BetsyHelfand