Mountain West beat writers size up teams entering league play
December 29, 2015 - 10:25 am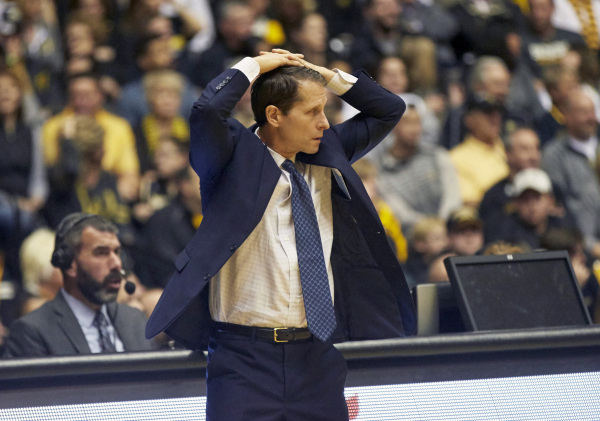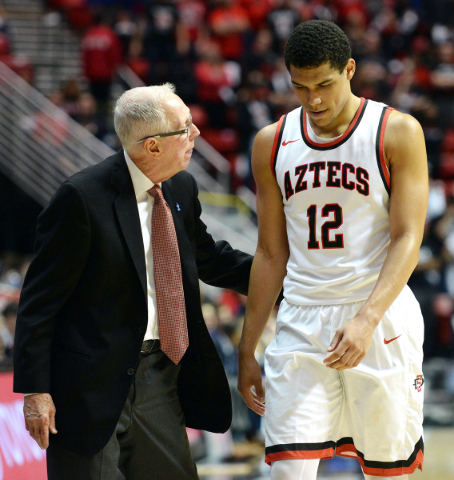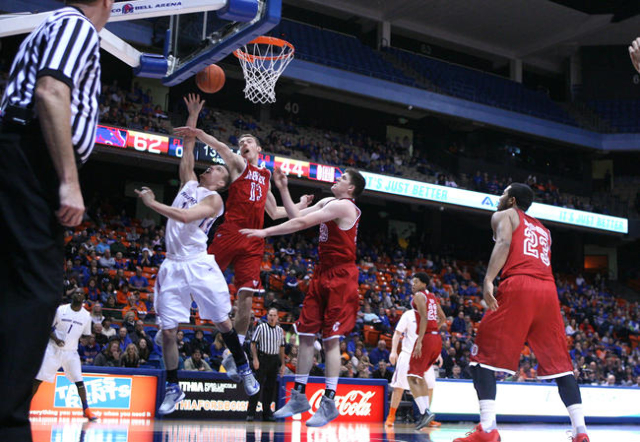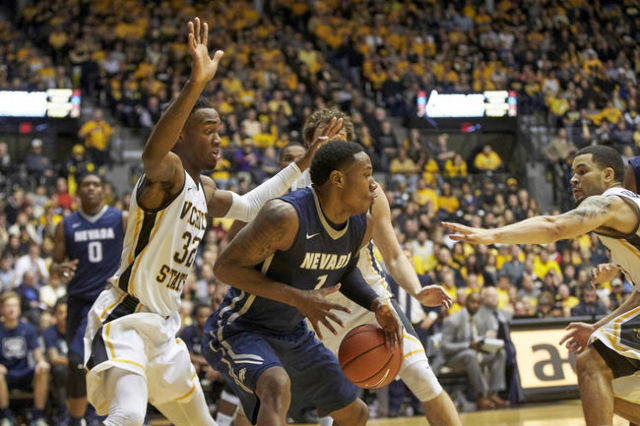 With the Mountain West men's basketball conference play beginning Wednesday, the Review-Journal peeked into the MW writers' notes exchange network and looked at how beat writers around the league evaluate the teams they cover.
AIR FORCE (9-4)
The good: Hayden Graham has grown into Air Force's best player since Michael Lyons graduated in 2013. He developed an inside game offensively last year when his 3-point shot abandoned him (17 percent). This year that touch is back (41 percent) to go along with the junior forward's newfound ability to get to the rim, and he's developed into the team's best rebounder (8.5 per game). Between Graham, fellow junior Zach Kocur (9.5 ppg) and sophomore guard Trevor Lyons (14.8 ppg), Air Force has a legitimate Division I trio to build around.
The bad: Inside depth is a serious issue. Sophomore forward Ryan Manning was lost to a torn ACL, leaving Air Force without its most athletic big man. Senior center Zach Moer stands 6-foot-11 and has shown encouraging flashes, but he's prone to injuries and turnovers, so he's not one who should be counted on to play 35-plus minutes per game.
Nonconference recap: The Falcons took on their most difficult schedule in years, losing to Southern Illinois, Colorado, Ohio State and Army – teams with a combined 35-11 record. They beat New Mexico State and won road games at Denver and UC Davis. It wasn't a spectacular run to 9-4, but it left Air Force with an RPI that ranked No. 3 among Mountain West teams and coach Dave Pilipovich hopes it prepared the Falcons for the grind of conference play.
Outlook: As usual, Air Force's hopes come with a lot of "ifs." If Kocur can shake a shooting slump and return to the player who hit 48 percent from 3-point range last year… If Moer stays healthy and can turn into an at-times dominant inside presence… If Kyle Broekhuis can provide productive, active minutes at the No. 4 spot… If the offense can adjust to new rules that shortened the shot clock, making it more difficult to work the defense for easy backdoor looks… If those things happen, Air Force can compete in the top half of the conference. If they don't…
Player most worth the price of admission: Graham. As usual, this Air Force team lacks NBA-type talent, but Graham is a smooth lefthander with a toughness handed down from his longtime NFL safety father. He can do a little bit of everything and is the player that makes this team go.
— Brent Briggeman/The Gazette (Colorado Springs)
BOISE STATE (8-4)
The good: The Broncos have not let anyone upset them after losing their season opener at Montana. Their 74-72 win over then-No. 24 Oregon on Dec. 12 will be a big boost and helps negate the surprising loss to the Grizzlies. Once again, Boise State has put together a heck of an offensive team with four players scoring in double figures (junior forward James Webb III, senior guard/forward Anthony Drmic, junior forward Nick Duncan and senior guard Mikey Thompson). Boise State is shooting 46.6 percent as a team.
The bad: There are still some reasonable questions about the team's depth and its defense. Sophomore guard Chandler Hutchison has been excellent off the bench, but the rest has been inconsistent at best, including touted freshman guard Paris Austin, whose defense has led coach Leon Rice to sit him more than he initially had hoped. Defense has improved during the team's five-game winning streak, but opponents are still a combined 43 percent from the field.
Nonconference recap: The toughest November in school history was meant to help build RPI and prepare the team for the challenge of league play. Though Boise State didn't get wins over Arizona (twice) and Michigan State, it played about 35 solid minutes in all three matchups. The loss at Montana hurts, but beating Oregon was just what the team needed. It wraps up nonconference play Wednesday against UC Davis.
Outlook: The buzz on the Broncos faded a bit after their 3-4 November, but they have been solid ever since, beginning to get a grasp on their rotation, leaning on their star players. Barring any injuries to their starters, the Broncos should once again be among the top two or three teams in the league, especially if their defensive strides continue. Their offensive firepower isn't going anywhere.
Player most worth the price of admission: Webb. A potential NBA prospect, he's done a good job of not focusing on his own hype and has continued to be the Broncos' most exciting player in a long time. He's scoring 14.8 ppg and pulling down 8.5 rpg, finding ways to score despite a dip in his 3-point shooting this year.
— Dave Southorn/Idaho Statesman
COLORADO STATE (7-5)
The good: Junior college transfer Emmanuel Omogbo, 6-foot-8 and 210 pounds, is providing some needed size and muscle inside to complement 6-7, 234-pound senior forward Tiel Daniels. Omogbo has three double-doubles and is averaging 12.3 points and 8.2 rebounds a game. He's shooting 50.4 percent from the floor and 78.7 percent from the free-throw line, making him far more dangerous than Daniels, a 52.0 percent free-throw shooter. Omogbo is a critical addition to a guard-heavy team that is shooting 39.2 percent from 3-point range and scoring 84.2 points a game. The team's top four guards have all made 20 or more 3-pointers.
The bad: The Rams lost leading scorer Gian Clavell, a senior guard who was averaging 20.8 points a game to a season-ending injury. Clavell was already playing with a torn labrum in his shoulder, then broke a bone in his left hand prior to a Dec. 19 game against Kansas State. His quick and accurate shooting were a big reason the offense was scoring at such a high clip through the first 10 games. His spot in the lineup is being taken by Antwan Scott, a sixth-year senior who suffered a season-ending injury early last season, his first with the Rams after transferring in from Grambling State.
Nonconference recap: The Rams were all over the board, winning their season opener at Northern Iowa a week before the Panthers knocked off then-No. 1 North Carolina, and playing tough in a 61-56 loss to Kansas State with just an hour's worth of practice after learning Clavell was lost for the season. They also beat good Oakland and Loyola Marymount teams but blew double-digit halftime leads in losses to UTEP and Colorado, had to go two overtimes to get past Abilene Christian and lost at home to Long Beach State and at Northern Colorado. Their RPI, as high as No. 2 during the first two weeks of the season, had fallen to No. 195 – 10th among the Mountain West's 11 teams – through Saturday's games.
Outlook: It's hard to say how the Rams will handle the loss of Clavell, although they seemed to be doing okay in the first two games. They're not going to score as many points without him, but that might actually make them better. The Rams had a tendency to try to simply out-shoot teams at the start of the season, but have stepped up their defense and rebounding in their past two games. … There's enough scoring and talent for this team to finish among the top three or four teams in the MW, but only if it gets back to the basics of defense and rebounding that are hallmarks of coach Larry Eustachy's best teams.
Player most worth the price of admission: Prentiss Nixon. Freshman guard plays with tremendous effort and energy while making the kind of hustle plays fans can't help but applaud. He's stepped up his contributions substantially in Clavell's absence, scoring 27 points in the past two games and adding five assists in his last outing.
—Kelly Lyell/Fort Collins Coloradoan
FRESNO STATE (9-4)
The good: The Bulldogs have been clobbered on the boards in some MW games over the past three seasons – they were a minus-18 in games against and at Colorado State last season and in 2014, minus-17, minus-14 twice. But with the addition of junior college transfers Torren Jones and Cullen Russo, and development of Karachi Edo and Terrell Carter, the Bulldogs are a plus-6.9 through 13 games. They were minus-1.5 in nonconference games a year ago and over the past three seasons they have been minus-3.2, minus-2.9 and minus-3.6. And, they have had 10 or more offensive rebounds in nine games – last season they had 10 or more just seven times in 32 games. Fresno State also has been more efficient at the offensive end, pushing its pace of play over the past five games with Marvelle Harris, the preseason player of the year in the MW, playing some at the point guard down the stretch. The Bulldogs have scored an average of 74.8 points against Division I opponents, up from 61.2 a year ago.
The bad: The health is decent and everyone is eligible, which has not always been the case for coach Rodney Terry. But Bulldogs have been prone to some stretches of poor basketball, particularly at the defensive end, and their consistency of effort has been lacking, which is troubling for an older team led by seniors who have played a lot of college basketball in Harris, Cezar Guerrero and Julien Lewis. They have had trouble staying in front of the ball and in three of their four losses defending the paint – in the second half of a loss to Evansville, 10 of the Purple Aces' 15 baskets were layups or dunks and another on a short jumper in the lane. In their first six games against Division I teams they allowed opponents to hit 39.6 percent of their shots in going 5-1 and in their past five games that is up to 44.8 percent in going 2-3, which is not the way they want to be trending going into conference play. "We've been a really aggressive man to man defensive team over the years that we've been here, and we have to get that mentality back and just really hone in on it," Terry said.
Nonconference recap: Fresno State is 9-4 and off to its best start since opening 11-2 in 2006-07, but it has missed chances to secure a resume/confidence/interest building win. The Bulldogs played terribly in a loss at Cal Poly when confounded by this thing called a zone defense, which they had actually seen a lot of in their games to that point and still failed to attack with any proficiency. They also were within 71-70 with 2:57 to play at Arizona and lost 85-72, they were within 72-68 with 1:51 to play at Oregon after trailing in the second half by 18 and lost 78-73 and they got beat by Evansville 85-77 in their best chance to make an impression on their home floor against a credible opponent. Two of the nine wins are against lower division opponents and the win-loss record of the seven Division I teams that they have beaten is 36-47 including 0-12 Delaware State and 2-9 Pacific. Fresno State obviously has played well in stretches, but is a difficult team to gauge at this point.
Outlook: There are several things that point to Fresno State as a legitimate contender in the conference coming off a 10-8 finish a year ago, though it is in a prove-it mode given their lack of consistency just like a lot of teams. Can it get there? The rebounding can make a big difference for a team that is at its best generating offense off of its defense and getting out in transition. The Bulldogs also are much deeper than they have ever been in four-plus seasons under Terry and have bigs that can be productive players at both ends of the floor. Jones is averaging 11.3 and 8.2. Edo has four double-doubles and is averaging 8.9 and 7.6. Last season, Harris was the Bulldogs' leading rebounder from the two with 5.0 per game. Fresno State also got a boost when Jahmel Taylor became eligible Dec. 20. The transfer from Washington will give them a credible threat from the 3-point line off the bench, which they have lacked in hitting only 33.2 long-range shots.
Player most worth the price of admission: Harris has played to billing in his senior season, averaging 18.4 points with 4.5 rebounds, 4.6 assists and 1.8 steals per game. Fresno State hasn't quite figured out how to navigate late-game situations, but when it gets into MW play there's a pretty good chance everything will go through Harris.
— Robert Kuwada/Fresno Bee
NEVADA (8-4)
The good: The Wolf Pack has nearly matched its win total from last season already, so there's been plenty of good developments. Nevada finished second to last in the NCAA in 3-point shooting last year at 26.6 percent, but is at a more respectable 33.2 percent this season. The team is averaging 80.6 points per game, up 20 points per game from 2014-15, thanks in part to playing at a faster pace. Nevada has held foes to 38.1 percent shooting, which ranks second in the MW. Guards Marqueze Coleman and D.J. Fenner have scratched out more from their big potential, and post player Cameron Oliver is one of the top freshmen in the nation. Nevada leads the MW in rebounding margin (plus-6.3) and blocks (7.1 per game) while increasing its assists per game and cutting down its turnovers per game. The Wolf Pack also is forcing three more turnovers per game than last year. This team is improved in virtually every area.
The bad: The biggest headline from the first half of the season was the loss of All-MW center AJ West, who quit the team citing "personal reasons." West was the only Wolf Pack player to average double figures in points last season, and he led the nation in offensive rebounds while ranking in the top 10 in blocks. He lost minutes under first-year coach Eric Musselman and had fallen out of the starting lineup. His loss will hurt when Nevada plays the MW's bigger teams. The Wolf Pack's depth is an issue. The team only has nine active scholarship players and only six of them log more than 10 minutes per game. Nevada's key players are logging big minutes and playing at a faster pace than previous season, so it could get worn down during the grind that is conference play. Of the Wolf Pack's top six rotation players, only three shoot better than 39 percent from the field. This team is still offensively challenged.
Nonconference recap: The Wolf Pack's eight nonconference wins are its most since the 2012-13 season, Nevada's first in the MW. The Wolf Pack went 9-5 in nonconference that year before going 3-13 in the MW, a fate the team hopes to avoid. Nevada's strength of schedule of 282, per ESPN, was the second easiest in the MW (ahead of only San Jose State), so it's hard to tell if the improved record is inflated by the schedule. Nevada played three top-100 RPI teams – Hawaii, Oregon State and Wichita State – and lost to each. It had only one win over a top-200 team, beating Coastal Carolina, which has an RPI of 155. On the plus side, the Wolf Pack's scoring margin of plus-9.3 is the third best in the MW behind UNLV and Boise State, but Nevada will have to prove its improvement isn't based in large part on a soft schedule.
Outlook: Nevada won't be the pushover it was last season, when it went 9-22 overall and 5-13 in conference play. This team is far better on offense and defense. Coleman is playing his best basketball, Fenner has increased his offensive output, Oliver is a star in the making and senior Tyron Criswell and freshman Lindsey Drew are key glue players. This team is thin, especially in the frontcourt with the loss of West, but should compete for a .500 record in league play and could push for a top-half finish in the league if things break right. The Wolf Pack is far from a favorite to win the league, but it plays hard and should spring a few upsets. It has a chance in its MW opener, at New Mexico, to turn some heads early.
Player most worth the price of admission: Coleman is one of the most improved players in the nation – he's averaging 17 points per game on 45.5 percent shooting after 6.6 ppg on 38.9 percent shooting in his first three years at Nevada – but the correct answer to this question is Oliver, an athletic freak who is guaranteed to give you at least one jaw-dropping dunk per game. Musselman said Oliver is an NBA-level athlete with NBA-level strength. He also has a polished jump shot. The one-time Oregon State commit is averaging 10.3 points, 6.8 rebounds and 2.4 blocks per game while shooting 51 percent from the field. He has to become more consistent, but it's easy to see why Oliver is a frontrunner for MW freshman of the year.
– Chris Murray/Reno Gazette-Journal
NEW MEXICO (7-6)
The good: The Lobos clearly have talent back on the rosters after that disappointing 2014-15 season. Most around the program believed the best three players on last year's team were in street clothes sitting out (Cullen Neal due to a high ankle sprain and Elijah Brown from Butler and Tim Williams from Samford due to NCAA transfer rules). In nonconference play, that was proven and then some. The offense and defense are both better than last year and the non-conference slate showed the talent to contend with the top tier in the league is certainly back in the program.
The bad: Talent isn't the only part of the equation in college hoops. While New Mexico had the best record, KenPom, Sagarin and RPI ratings in the league entering a Dec. 19 home game against lowly Rice, things changed in a hurry. The Lobos, leading by 16 points over the Owls with seven minutes left to play, crumbled with showboating and self-inflicted errors that culminated in Williams calling a timeout the team didn't have in a tie game with 0.1 seconds left, leading to a game-deciding technical foul shot for Rice. Their first taste of adversity snowballed in Hawaii from Dec. 22-25 at the Diamond Head Classic when the Lobos went 0-3 with high turnover rates, very little defense and two blowout losses, including one by 30 to BYU, the largest margin of defeat for New Mexico since Ritchie McKay was coaching in the 2006-07 season. In a 23-point loss to Washington State, Neal, the high scoring, high assist, high turnover point guard was benched by his coach and dad, Craig Neal, for the second half after he continued to turn the ball over. After each loss in Hawaii, Craig Neal was critical of players, something he often did a year ago after losses, much to the displeasure of a very uneasy fan base.
Nonconference recap: A close road win at New Mexico State and a road loss at Purdue, in which the Lobos put a scare into the Boilermakers until the final three minutes, were probably as impressive several blowout home wins to solid teams like Northern Iowa, Oral Roberts and Loyola-Chicago. All in all, the Lobos navigated through nonconference very impressively until the final week before league play tagged them with four losses in a row.
Outlook: Is the true identity of this team the one that navigated through five weeks of non-league play looking like a potential title contender? Or the one that had a horrific six day span to close out the non-conference? Hard to say just yet, but it's clear that at their best, there is no reason why the Lobos, especially with nine games in the Pit, can't be a top four team again in the Mountain West.
Player most worth the price of admission: Elijah Brown. The 6-foot-4 guard who transferred from Butler (and, yes, is the son of former Cleveland Cavaliers and Los Angeles Lakers coach Mike Brown) has been better than anyone not named Elijah Brown expected. Most thought he was just a shooter, but he's proven to be much more. He's averaging 19.6 points per game (third in the MW), 5.8 rebounds and 2.9 assists while also getting to the free throw line 6.4 times per game and hitting 84.3 percent at the charity stripe. He has been the league player of the week twice and already has two games of more than 30 points scored.
— Geoff Grammer/Albuquerque Journal
SAN DIEGO STATE (7-6)
The good: If you saw the first half against East Carolina, the second half against California or the entire game against Nicholls, you saw one of the nation's best defensive teams suddenly figuring out how to score, too. Athletic freshmen Jeremy Hemsley (13.2 ppg) and Zylan Cheatham (6.3 rpg) lead the Aztecs in scoring and rebounding, and this is rapidly becoming their team. Sophomore Trey Kell (37.2 percent on 3s) has shown signs of regaining his perimeter stroke. When they get help from the upperclassmen, they can play with anybody in the nation.
The bad: If you saw the games against Arkansas-Little Rock, San Diego and Grand Canyon, you saw a team that can be beaten by anybody in the nation. Sophomore Malik Pope has gone from No. 8 on ESPN's list of 2016 NBA Draft prospects to in danger of playing his way out of the rotation (5.2 points, 28 percent shooting). Seniors Winston Shepard (8.8 ppg, 5.3 rpg) and Skylar Spencer (4.2 ppg, 4.8 rpg) have been so inconsistent they were yanked from the starting lineup for eight games. And rebounding and taking care of the ball, staples of past Aztecs teams, have been liabilities at times.
Nonconference recap: The only signature win was 72-58 against then-No. 14 Cal at the Las Vegas Invitational, but the Bears fell out of the rankings and have been merely average since. Losing to Utah, West Virginia and Kansas – all ranked at the time – is excusable, but Little Rock, San Diego and Grand Canyon (all in San Diego) are not. The result is six nonconference losses (their most since 2004-05, when they finished 11-18) and a triple-digit RPI that puts their six-year streak of NCAA Tournament appearances in serious jeopardy.
Outlook: The Aztecs are essentially playing for three games in March at the conference tournament, likely their only way into the NCAAs. That probably means heavy minutes to further develop Hemsley, Cheatham and freshman walk-on Ben Perez (8.0 ppg in the last four games). They still are good enough to win the Mountain West, but a team that has not won more than two games in a row this season will have to discover a modicum of consistency. The start of the conference schedule is easier than the end. The final four games: at Wyoming, Boise State, at New Mexico, UNLV.
Player most worth the price of admission: Cheatham. The 6-foot-9 forward with a 41-inch vertical has already shown flashes of NBA potential, and he'll only get better with more minutes. No one plays harder on this, or maybe any, team. But the real highlight is what happens when he gets a breakaway.
–Mark Zeigler/San Diego Union-Tribune
UNLV (9-4)
The good: The Rebels possess a lot of talent and potential. It's a team with a high upside. But those statements were made the past few years, too, and the picture never developed. This team can be different because of better leadership from junior forward Ben Carter and sophomore guard Patrick McCaw. Also, two seniors, Ike Nwamu and Jerome Seagears, start in the backcourt. It's a more experienced team that coach Dave Rice is putting on the floor in his fifth season. McCaw leads the team in scoring (14.4 points per game), assists (55) and steals (39) while shooting 40.6 percent from 3-point range. UNLV has a reputation for melting down in January, February and March, but this team should be more stabile.
The bad: There is no true point guard. Seagears, a Rutgers transfer, is a shooting guard who's trying to play the point. McCaw and freshman Jalen Poyser also run the point at times. The Rebels continue to struggle with their half-court offense, and that problem could surface in slower-paced league games. Defensive rebounding is another soft spot that was exposed in a few costly December losses.
Nonconference recap: By beating Indiana and Oregon, teams ranked in the top 15 at the time, UNLV put two solid lines on its NCAA Tournament resume. The Rebels enter Mountain West play with a 9-4 record for the third consecutive season. Three of the losses – by two points to UCLA in the Maui Invitational, by six points at Wichita State, by 12 points at Arizona – were acceptable. What tarnishes the nonconference season is a 66-56 loss to Arizona State on Dec. 16, when the Rebels were outscored 41-19 in the second half on their home floor. That was unacceptable, and it might be a result that haunts UNLV in March.
Outlook: A strong case can be made that UNLV goes into league play as the favorite. But that's also because the other contenders have been weak. The Rebels have not won a regular-season title in the past 15 years and last won the conference tournament in 2008. For this team to rise above underachievers of the past, 7-foot freshman Stephen Zimmerman Jr. needs to show his potential. Zimmerman, averaging 9.5 points and 7.5 rebounds in 11 games, has been limited by an illness and injuries. He is expected to return from a thigh injury in time for Wednesday's conference opener against Fresno State.
Player most worth the price of admission: Freshman forward Derrick Jones Jr. is one of the top dunkers in college basketball. Jones is averaging 10.5 points and shooting a team-high 58 percent from the field in a reserve role. He's a highlight waiting to happen, but he's also becoming a better all-around player.
— Matt Youmans/Las Vegas Review-Journal
UTAH STATE (8-3)
The good: Senior guard Chris Smith has become a leader, and seems to improve his game each time out. He already has two double-doubles and leads the team in scoring (14.3 ppg) and rebounding (6.3 rpg), while shooting 50.9 percent from the field. Smith also is second in assists (2.4 apg) and was just named the MVP of the Global Sports Hoops Showcase. Tulsa transfer Lew Evans has added a spark off the bench. The forward, who has started three games, is averaging 9.5 points and 6.1 rebounds an outing. Forward Jalen Moore, who is the most experienced Aggie, continues to be a solid contributor, with 14.2 points, 6.0 rebounds and 2.3 assists a game.
The bad: With the departure of big man David Collette two days prior to the season opener, the Aggies are still trying to deal with the loss of the 6-foot-10 third-team all-league center who quit the team. That void has been filled by a committee, including sophomore Elston Jones, Evans, freshman Quinn Taylor and senior transfer Grayson Moore. Jones is the only true center, and recently injured his shoulder, which limited him to just a few minutes in the team's annual pre-Christmas tournament. All four have had some solid performances, but are undersized and not consistent.
Nonconference recap: Given the fact a major cog in the offense and a big presence on the defensive end just walked away a few days before the season opener at in-state rival Weber State, Utah State has to be happy with a 8-3 record at this point. Road wins at Weber State (73-70) and Missouri State (69-68) and a home victory over North Dakota State (76-62) makes one think the Aggies can compete. However, there have been some poor outings against some good teams in losses to Duke (85-52), BYU (80-68) and at home to UC Irvine (73-63). Utah State currently has an RPI of 127.
Outlook: Following the win against North Dakota State, attention was quickly turned to the Mountain West. Having been picked third in the preseason poll with Collette still on the team, the current Aggies still believe they can compete and be among the leaders of the league. It will be vital that they continue to outrebound opponents — currently plus 4.4 in rebounding — and be more consistent on the offensive end. Shooting percentages have been up and down so far. Defensively, USU has been pretty solid even without shot-blocking Collette. There are enough offensive weapons to compete and be in the top three or four in the MW.
Player most worth the price of admission: Jalen Moore. The 6-9 junior forward is already well liked having grown up in the valley, and is the son of former Aggie great Jimmy Moore. Add the big afro from the 1970s, the ability to fly in for spectacular dunks or pull up and swish 3-pointers, Moore is definitely a crowd favorite. He has struggled a bit with his shot, but has found the range the past few games.
— Shawn Harrison/The Herald Journal (Logan, Utah)
WYOMING (7-6)
The good: Guard Josh Adams, the only senior on the roster, has emerged as a player of the year candidate in the MW. Adams is second in the nation in scoring (26.9 ppg) and total points (323). At 6-foot-2, Adams leads the Cowboys in nearly every statistical category possible, including rebounding (5.4 rpg). Junior guard Jason McManamen (12.8 ppg) is emerging as a consistent scorer, and one of the team's better defenders.
The bad: Wyoming doesn't have the rim protectors it had last season with senior forwards Larry Nance Jr. and Derek Cooke Jr. The result is a rebounding margin of minus-6.9 per game and only 31 rebounds per game — both among the bottom in the country. The Cowboys have been among the nation's best in terms of scoring defense, but have allowed 72.3 points per game this season, which is ninth in the 11-team MW.
Nonconference recap: Road wins at Denver and New Mexico State were solid, and an overtime home loss to California was certainly not a bad one. But Wyoming lost at home by 10 to Southern and by one on a neutral court at Montana State. Wyoming ended the nonconference with back-to-back losses to Marshall and Houston at the Global Sports Classic in Las Vegas where they allowed 90 or more points in both games.
Outlook: Adams will continue to be the focal point for this team, but others must step up. Adams also must trust those guys, and not do too much when the team struggles. He combined for 16 turnovers in the losses to Marshall and Houston. True freshman wing Justin James, third on the team in scoring (7.8 ppg), has shown flashes of his potential, as have others. However, Wyoming must do a better job on the boards, and tighten things up defensively if it hopes to make a push for an upper half finish in the league standings.
Player most worth the price of admission: Adams has picked up where he left off after being named the Most Valuable Player of the MW Tournament last season. His 3-point shooting has vastly improved (42.1 percent) and remains one of the most athletic and explosive players in the conference. The only statistical categories Adams does not lead the team in is field-goal percentage, offensive rebounds and blocked shots.
— Robert Gagliardi/Wyoming Tribune Eagle