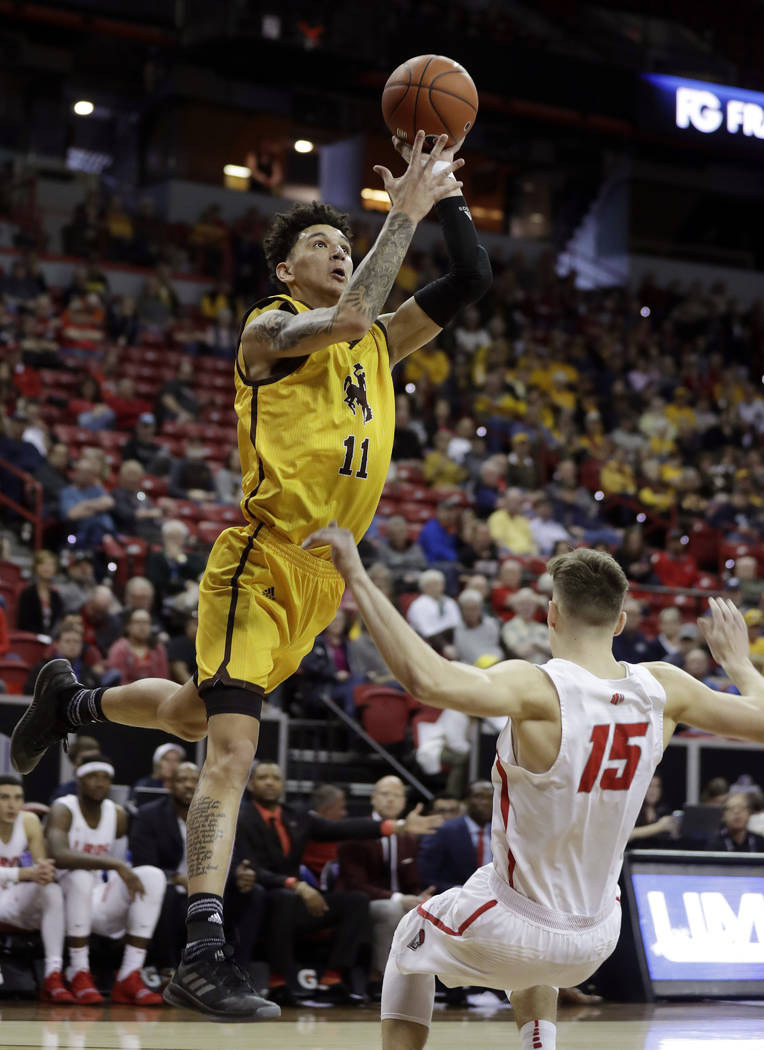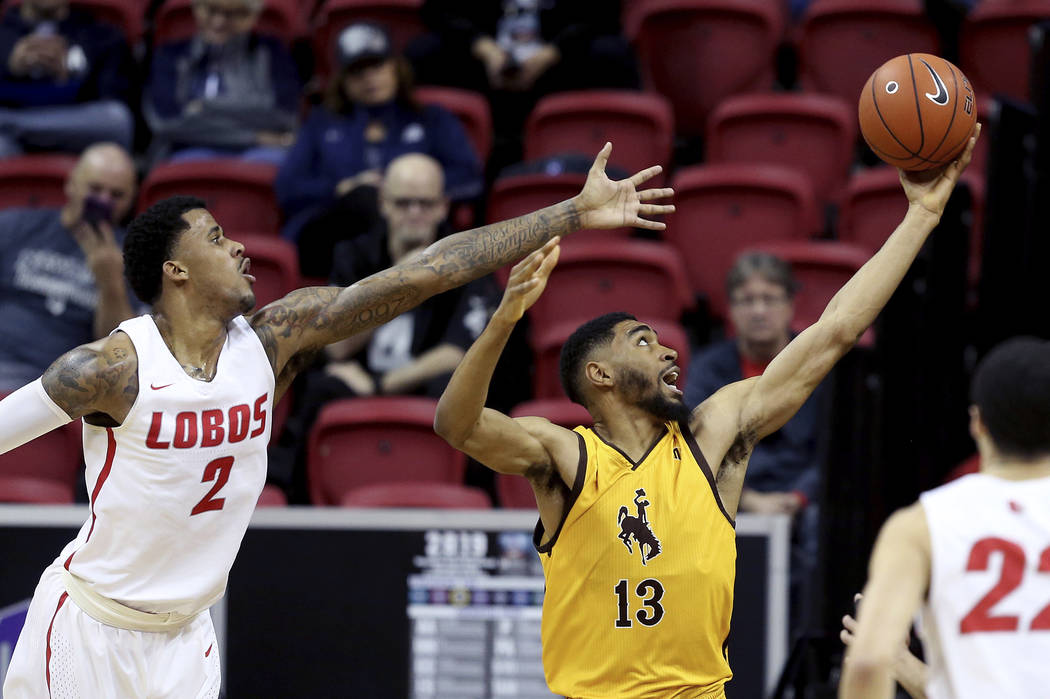 New Mexico was last season's underdog, getting picked ninth in the Mountain West, finishing third in the regular season and making the conference tournament title game.
Everything seemed to go right for the Lobos.
Not so much this season, however. The Lobos were picked third before the season but finished tied for seventh, and on Wednesday in a conference tournament play-in game at the Thomas & Mack Center, their season was slipping away.
But seventh-seeded New Mexico charged back with a 15-point run — 13 in a row by Vance Jackson — and beat No. 10 Wyoming 78-68.
"Our season is on the line, and me personally, I'm pretty sure the rest of the team and our staff, we just don't want to lose," said Jackson, who finished with 26 points, eight rebounds and five assists. "So we've got to do whatever it takes for us to get it done, and that's what happened."
What happened was a 47-34 deficit turned into a 49-47 lead with 9:47 left.
Next up for New Mexico is second-seeded and co-regular-season champion Utah State at 6 p.m. Thursday. The Aggies are this season's Lobos, having been picked ninth in the conference.
New Mexico (14-17) lost both meetings to Utah State, but one was by two points, and a controversial backcourt call helped sway that game to the Aggies.
Lobos coach Paul Weir found himself on a personal apology tour this season after so many losses, something that wore thin with New Mexico's rabid fan base.
"I think if anybody contributed to the negativity, particularly early in the season, it was probably myself," Weir said. "I didn't do a good job of handling probably how our nonconference season was unfolding, and I perpetuated a lot of that, particularly internally."
He said he's been more positive since then, and the Lobos have been more aggressive. They certainly were in beating Wyoming (8-24) and Justin James, who scored 31 points.
Do the Lobos have another run in them like last season?
Weir, even after a difficult regular season, isn't about to count out his team. The comeback against Wyoming showed that others probably shouldn't, either.
"I don't think we come into this tournament thinking anyone here is distinctly better than us," Weir said. "I think they're more consistent than us. I think they're more mature than us. … But I don't know if any of us in that locker room feel as though there's anyone in this tournament that's just flat-out better than us."
Contact Mark Anderson at manderson@reviewjournal.com. Follow @markanderson65 on Twitter.
Game day
Who: UNLV vs. San Diego State
When: 2:30 p.m. Thursday
Where: Thomas & Mack Center
TV/Radio: CBS Sports Network; KWWN (1100 AM, 100.9 FM)
Line: UNLV -1; total 138
Wednesday's results
Boise State 66, Colorado State 57 — Derrick Alston scored 17 points and Zach Haney 16 to lead the eighth-seeded Broncos (13-19). J.D. Paige totaled 25 points for the No. 9 Rams (12-20). Boise State, which shot 51.2 percent, plays top-seeded UNR at noon Thursday.
Air Force 87, San Jose State 56 — Chris Joyce scored 20 points for sixth-seeded Air Force. Seneca Knight's 15 points topped all scorers for the No. 11 Spartans (4-27). The Falcons (14-17) play third-seeded Fresno State at 8:30 p.m. Thursday.