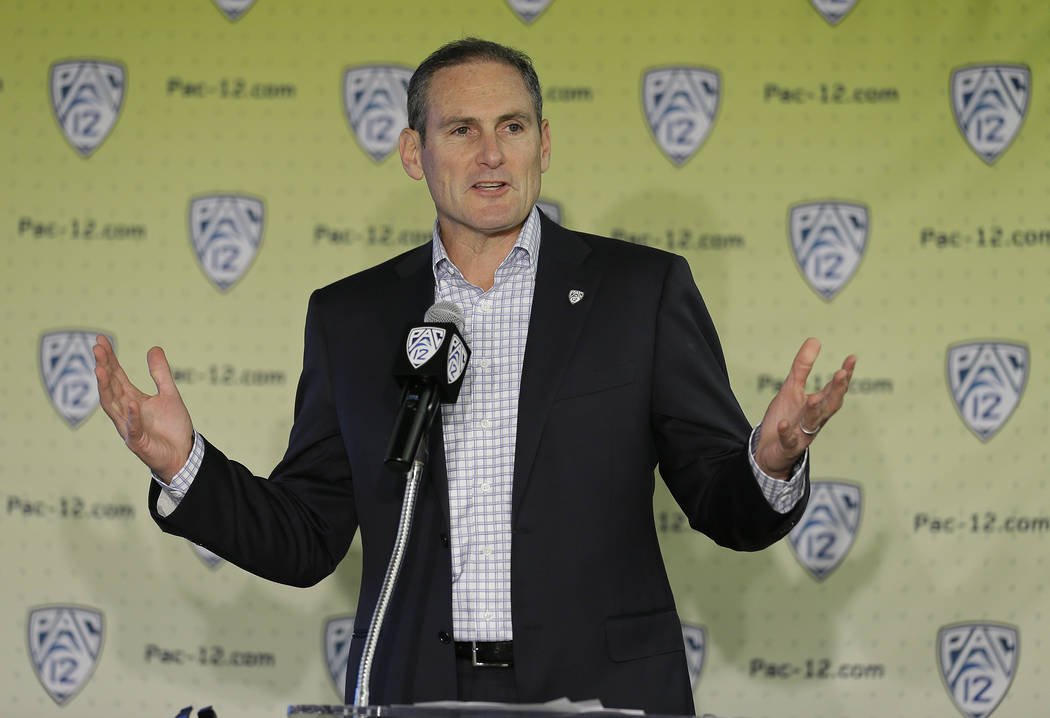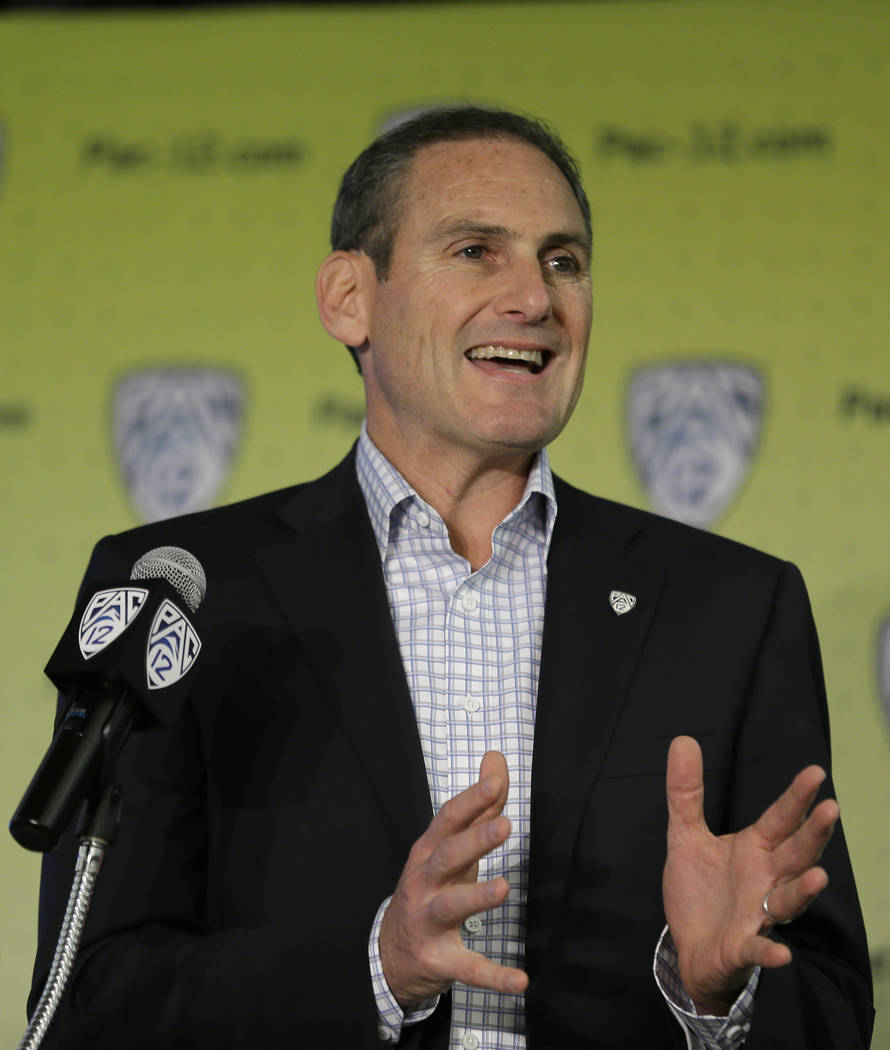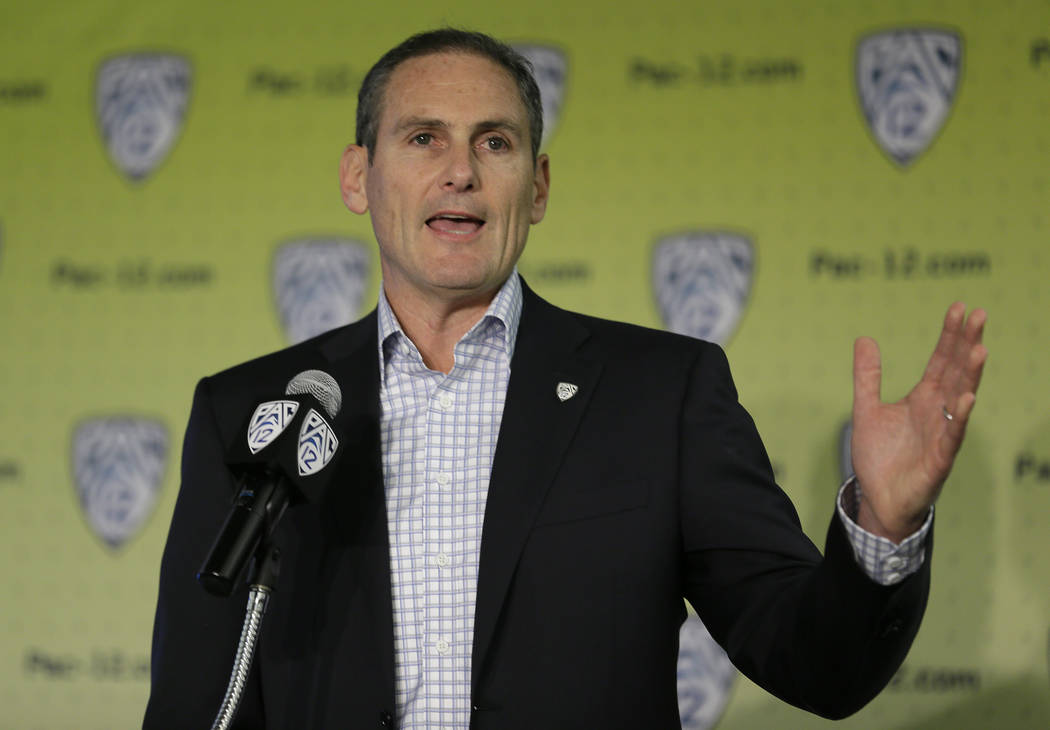 The star power of Washington's Markelle Fultz and UCLA's Lonzo Ball — the top two picks in the 2017 NBA draft — helped the Pacific 12 Conference draw a record crowd last year during its first basketball tournament at T-Mobile Arena.
Leaving the MGM Grand Garden for the bigger and more modern venue on the Strip turned out to be the right move for the four-day event, which had a total attendance of 86,910 in 2017, according to the conference.
"It worked out great," Pac-12 commissioner Larry Scott said. "It probably exceeded our expectations for the first year."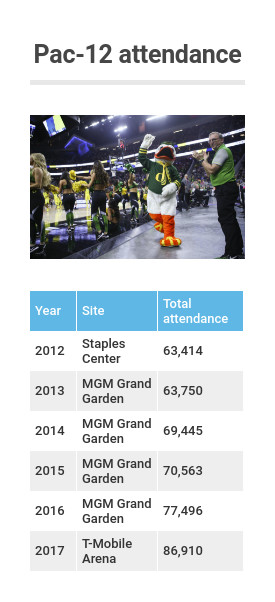 There might not be as many NBA lottery picks on the floor for this year's Pac-12 tournament, but the off-the-court issues surrounding Arizona will provide plenty of headlines throughout the week.
The tournament begins Wednesday at T-Mobile Arena and concludes Saturday night with the championship game.
Last month, ESPN reported that an FBI wiretap intercepted conversations between Arizona coach Sean Miller and ASM agent runner Christian Dawkins, a key figure in the FBI's investigation into charges of college basketball corruption. Miller allegedly discussed paying $100,000 to bring star freshman Deandre Ayton to Arizona.
On Thursday, the university stood behind Miller as he denied the report and returned to coach the Wildcats after missing one game.
"There is no question that these kinds of allegations and investigations surrounding men's college basketball are an unfortunate distraction," Scott said in a statement. "At the same time, there is so much to celebrate in the game from a team and student-athlete perspective, and we anticipate an incredibly exciting Pac-12 tournament in Las Vegas with great teams and important implications for NCAA Tournament qualification."
Scott added: "There are many unanswered questions surrounding the allegations made. We respect the University of Arizona's commitment to fully investigating the matter and to taking appropriate actions based on what is learned. All of our member institutions are committed to a strict code of ethical behavior and conduct."
The Pac-12 tournament has had a successful run in Las Vegas since leaving Los Angeles' Staples Center in 2013 with attendance increasing every year.
Scott said his biggest concern about switching venues last year was the possibility of losing the high-energy atmosphere that the 13,000-seat MGM Grand Garden provided. Sparse crowds and a laid-back environment were issues at Staples Center, the home of the Los Angeles Lakers.
"Dead crowds worried me," Scott said about moving to the 18,000 seats at T-Mobile Arena. "That didn't happen. We had such great crowds, and it still had the energy and vibe that made it special for everyone in the arena, and that carried out on television, too."
The conference's contract with T-Mobile Arena runs through the 2019 season. Scott said he could begin serious talks with MGM officials about an extension as soon as this week.
Reports surfaced last year that the Pac-12 could bring its football championship game to Las Vegas after the 2019 season when the conference's contract with Levi's Stadium in Santa Clara, California, expires. Las Vegas' 65,000-seat, domed stadium is expected to be completed by 2020.
"In the next year, we are going to sit down and evaluate it," Scott said. "We're certainly excited to see a world-class football stadium be built in Las Vegas. There's also one being built in Los Angeles. It's a good time out west."
Contact Gilbert Manzano at gmanzano@reviewjournal.com. Follow @GManzano24 on Twitter.
Pac-12 tournament records set at T-Mobile Arena in 2017
Highest single session: 19,224
Highest quarterfinal session: 18,153
Highest total attendance: 86,910
Source: Pacific 12 Conference