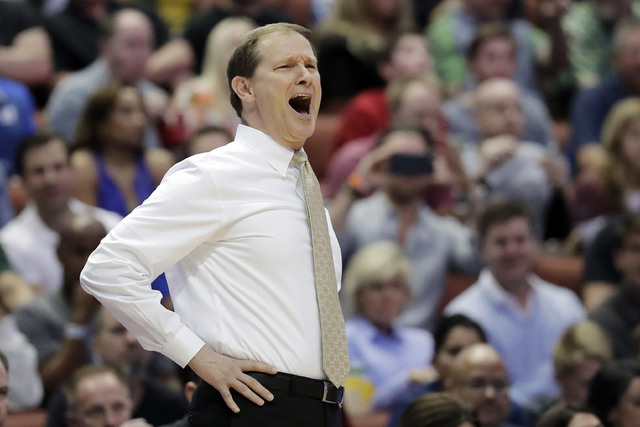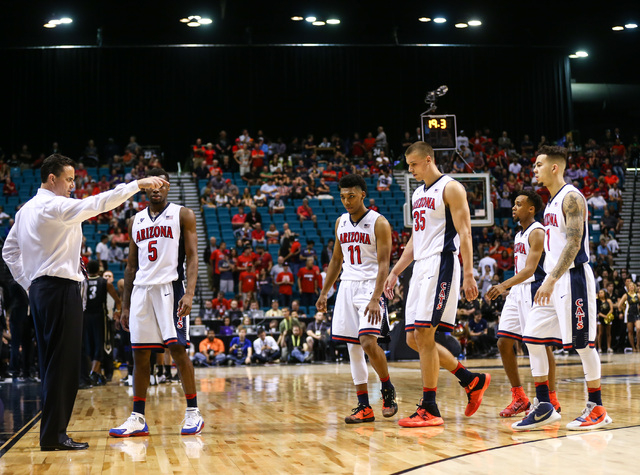 Oregon is the No. 1 seed for this week's tournament. But it's next week's tournament that the Ducks are hoping to be on the top line.
Dana Altman's team would love to be a No. 1 seed in the NCAA Tournament. To do so likely means winning the Pac-12 Conference tournament title Saturday at T-Mobile Arena.
"I think whoever wins the (Pac-12) tournament will be a 1 or a 2 in the West depending on how Gonzaga does," Altman said Monday in Eugene before the No. 5-ranked Ducks (27-4) headed to Las Vegas for their Thursday quarterfinal game against the winner of Wednesday's first-round game between No. 8 Arizona State and No. 9 Stanford. "It's a big advantage to stay in your region. Your fans are able to get to the site easier, and you don't want to have to travel far."
The first- and second-round sites in the Western part of the country are Salt Lake City and Sacramento, California, with the West regional in San Jose, California.
"The more we win, the better for us, so let's look at it that way," Arizona coach Sean Miller said Monday from Tucson as the second-seeded Wildcats (27-4), who are ranked No. 7 in the nation, prepared for their Thursday quarterfinal game against the winner of Wednesday's game between No. 7 Colorado and No. 10 Washington State. "We've been in the West where we've been in the Elite Eight and didn't get to the Final Four.
"I know the history of the tournament at Arizona. Teams in the past have gone to different locations and made it to the Final Four. It's so much more about playing your best and hopefully having a matchup that is good for you."
UCLA coach Steve Alford said the formula for success doesn't change regardless of where the NCAA selection committee places a team.
"I told our guys you're guaranteed two tournaments — one where you're guaranteed one game to play three and the next tournament where you're guaranteed one game to play six," Alford said.
The Bruins (28-3), ranked No. 3 in the nation and seeded third in the Pac-12 tournament, play in the 8:30 p.m. quarterfinal Thursday against the winner of Wednesday's game between No. 6 Southern California and No. 11 Washington.
UCLA, Arizona and Oregon have beaten one another, the Ducks and Wildcats both going 1-1 vs. the Bruins and Oregon beating Arizona 85-58 in their only meeting. The Ducks and Wildcats shared the Pac-12 regular-season title with 16-2 records. UCLA, which has won nine straight, was 15-3.
Altman said he won't worry about things he can't control. If Oregon doesn't get a spot on the top line, he can live with it.
"It didn't have much effect on Villanova last year," he said. "They lost to Seton Hall in their conference tournament, and they won it all as a two seed. You play every game to win and hope like heck things go your way."
Follow our Vegas Madness coverage at reviewjournal.com/VegasMadness and #VegasMadness on Twitter.
Contact Steve Carp at scarp@reviewjournal.com or 702-387-2913. Follow @stevecarprj on Twitter.
IF YOU GO
What: Pacific 12 Conference men's basketball tournament
Where: T-Mobile Arena
When: Wednesday through Saturday
Tickets: T-Mobile Arena box office