Rebels go for banner year
March 13, 2010 - 12:10 am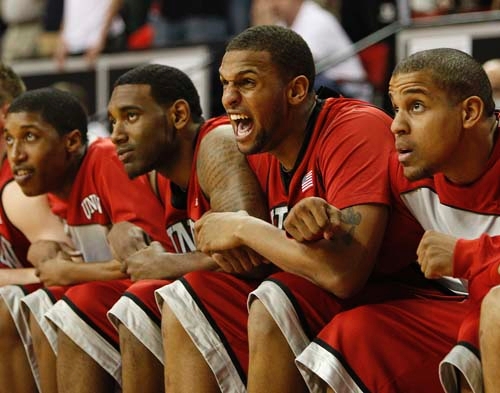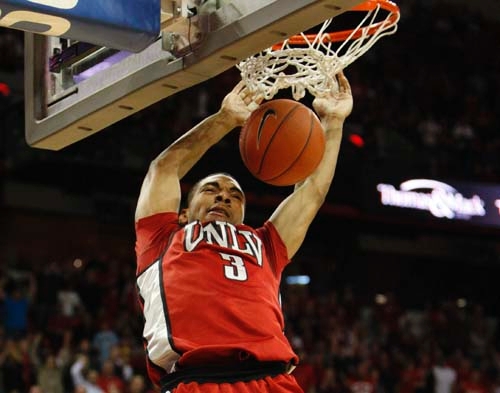 With the game on the line, UNLV junior Tre'Von Willis stepped up and knocked down shot after shot, even with pain shooting through his left ankle.
Willis hobbled off the court with an injury with just under three minutes to go, when everything was in doubt.
"I didn't know for sure if he was coming back," Rebels coach Lon Kruger said.
Willis returned, and his timing was impeccable. He scored six points in the final minute to lift UNLV to a 70-66 victory over No. 14 Brigham Young on Friday in the Mountain West Conference Tournament semifinals at the Thomas & Mack Center.
The third-seeded Rebels (25-7) advanced to face fourth-seeded San Diego State (24-8) in the championship game at 4 p.m. today. UNLV is a 4-point favorite over the Aztecs, who beat No. 1 seed New Mexico 72-69 in the other semifinal.
A sellout crowd of 18,500 witnessed two heart-stopping games between four teams that appear ticketed for the NCAA Tournament.
"These were two great games tonight for the league … two that go right down to the wire," Kruger said. "If we want to be a big-time league, we need a big-time atmosphere for our tournament, and we've got that."
The UNLV-BYU showdown featured two of the league's elite players, as Willis and Cougars star Jimmer Fredette traded big shots for most of an intense 40 minutes.
Fredette finished with 30 points for the second-seeded Cougars (29-5). But Willis, who scored 18, finished off the game.
After the Rebels squandered a late 10-point lead, Willis drove for a layup to put UNLV on top 65-62 with 58 seconds remaining. He followed by making four free throws, two with 36 seconds left and two with 9 seconds to go.
"He made a tough bank shot, and he's been awfully good for us at the free-throw line late, so we like having the ball in Tre's hands," Kruger said.
Willis shot 5-for-9 from the field, made two 3-pointers, and sank all six of his free throws.
"We always expect Tre to come through for us," said Rebels forward Chace Stanback, who had 17 points and six rebounds. "He's our warrior, he's our leader and we follow him. He's been doing that all year."
Fredette, constantly harassed by the Rebels' defensive pressure, shot 7-for-20 from the field and 12-for-12 on free throws, a night after he made 23 of 24 at the foul line.
"He had to work all night long," Kruger said. "We didn't give him too many easy ones."
Matt Shaw's three-point play put UNLV up 57-47 with 7:54 left. The Cougars scored the next six points to trigger a 14-2 run.
With the shot clock about to expire, Fredette buried a jumper from 25 feet to pull BYU within 59-56 with 3:59 left.
Fredette was fouled by Anthony Marshall on a 3-point attempt, and Fredette made all three free throws to tie it at 59 with 3:14 to go.
Michael Loyd Jr. gave BYU its first lead of the second half, 61-59, on a layup with 2:50 left. Stanback followed by sinking a baseline jumper with 2:40 to go.
"Coach drew up a great play and I knocked the shot down," said Stanback, who shot 6-for-11, including 3-for-8 on 3s.
Sophomore center Brice Massamba made 3 of 4 free throws in the final 1:35 to steady the Rebels, and Willis took over from there.
Stanback scored 11 points to lift UNLV to a 41-34 halftime lead.
Willis spun into the lane and hit a jumper to put the Rebels ahead 27-21. A 3-pointer by Kendall Wallace stretched the lead to 32-24.
BYU closed the gap to four with the help of a Jonathan Tavernari 3-pointer, but Wallace answered with another 3. UNLV closed the half with a 7-2 run, highlighted by Marshall's fast-break dunk.
Both teams were hot from the field in the half, with the Rebels shooting 16-for-26 (61.5 percent) and the Cougars shooting 12-for-26.
Contact reporter Matt Youmans at myoumans@reviewjournal.com or 702-387-2907.
View slide show
UNLV — 70
BRIGHAM YOUNG — 66
KEY: Tre'Von Willis scored six points in the final minute after the Rebels blew a late 10-point lead.
NEXT: UNLV (-4) vs. San Diego State, MWC tournament final, 4 p.m. today, Versus (38), KWWN-AM (1100)