Rebels sidelined in a hurry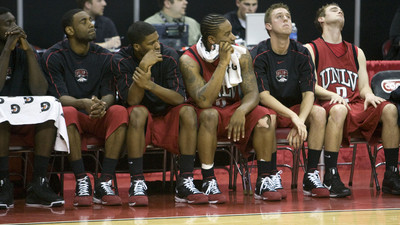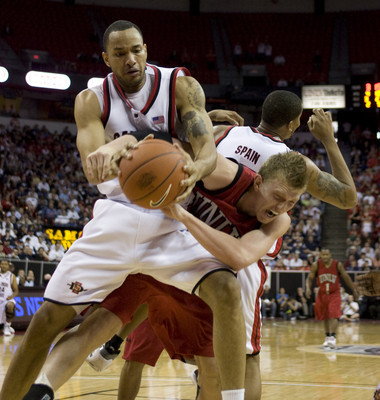 Even on one of senior guard Wink Adams' best days, UNLV was rocked with the worst possible result.
After weeks of courting an unfulfilling destiny, a team that was hyped in the fall for its promise was stung by the reality of another failure Thursday. Adams' last shot to save the season was nowhere near enough.
Lorrenzo Wade had 20 points and 10 rebounds as San Diego State ran the Rebels out of the Mountain West Conference Tournament, winning 71-57, before a crowd of 10,856 at the Thomas & Mack Center.
"At the end of the season, you never want to say, 'I wish I could have done this.' But that's what we're doing now," Adams said.
With the quarterfinal loss, UNLV (21-10) probably will miss the NCAA Tournament for the first time in three years. The Rebels' fate will be official Sunday, if it isn't already sealed.
"All we can do is hope for a miracle," senior Rene Rougeau said as the Rebels began awaiting a highly unlikely reprieve by the NCAA Tournament selection committee.
Rougeau then put everything in perspective: "It has been a disappointment all season."
Adams, who made plenty of career highlights in the MWC tournament, appeared determined to carry the fifth-seeded Rebels as far as he could. He shot 10-for-20 and scored 26 points, including 17 in the first half.
But the fourth-seeded Aztecs (22-8) established control early, withstood Adams' charge and finished a three-game season sweep of UNLV, which was 31-1 in its previous 32 games at the Thomas & Mack.
San Diego State also beat the Rebels 68-66 in overtime on Feb. 3 in Las Vegas and 57-46 on Saturday in San Diego.
"I thought our three performances against UNLV were good, better and this was the best one," Aztecs coach Steve Fisher said. "To come in here and win twice in the same season is significant."
San Diego State advanced to play top-seeded Brigham Young (25-6) in the semifinals at 6 p.m. today.
Wade, a senior forward from Cheyenne High School, shot 7-for-13, sinking 4 of 6 3-pointers. His 3-pointer put the Aztecs ahead 24-11, and they carried a 42-27 lead into halftime.
"It seemed like they were hitting everything," Rougeau said. "I don't think I've ever seen Wade shoot like that."
Adams shot 6-for-12, but the rest of the Rebels made only two field goals in the first half.
"When Wink gets on a roll, they're a totally different basketball team," Wade said.
But aside from Adams' dribble drives to the lane, UNLV's offense was typically stagnant with little ball movement and no inside presence. The Rebels were outscored 36-14 in the paint.
Wade's two free throws extended San Diego State's lead to 49-30 just over two minutes into the second half.
The Rebels mustered one rally, closing to within 59-48 on sophomore guard Tre'Von Willis' three-point play with 11:40 remaining.
While the Aztecs went through a short scoring drought, UNLV tried to capitalize. But senior forward Joe Darger and Adams each missed a 3-point attempt, Adams missed a layup, and Willis missed a short jumper.
"We had opportunities, and we just didn't get a bucket at that point," Rebels coach Lon Kruger said. "It's tough to dig a hole like that and get all the way back."
Wade finally made a jumper with 7:46 to play, and UNLV got no closer than nine points the rest of the way.
Ryan Amoroso, Tim Shelton and Kyle Spain each had 10 points for San Diego State, which shot 28-for-56, including 8-for-15 from 3-point range.
"Defense is really what lost this game," Adams said. "San Diego State did a great job of attacking our defense."
Willis finished with 11 points and 10 rebounds for the Rebels, who shot 18-for-46 overall and 4-for-17 on 3-pointers. Rougeau, sidelined by foul trouble in the first half, had seven points, six rebounds and four blocked shots.
UNLV won the past two MWC tournament titles but fell far short of getting its third, despite Adams' attempted heroics.
"This is probably my best game of the season as far as shooting the ball and getting to the free-throw line, but we lost it," he said. "Everybody wants to make the NCAA Tournament, but we'll just wait and see what happens on Sunday."
Contact reporter Matt Youmans at myoumans@reviewjournal.com or 702-387-2907.
SAN DIEGO STATE — 71
UNLV — 57
KEY: Lorrenzo Wade had 20 points, 10 rebounds and four assists to carry the Aztecs over the Rebels.
NEXT: UNLV, postseason, TBA
Audio Slideshow