Trey Kell sparks San Diego State to Mountain West title, 82-75
Updated March 10, 2018 - 8:07 pm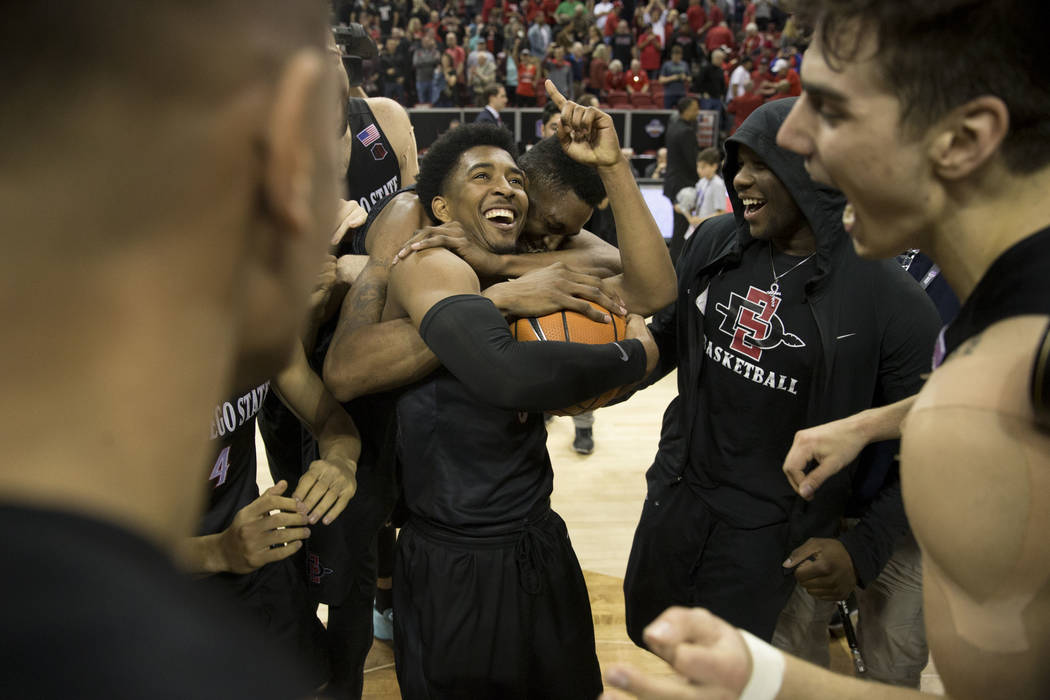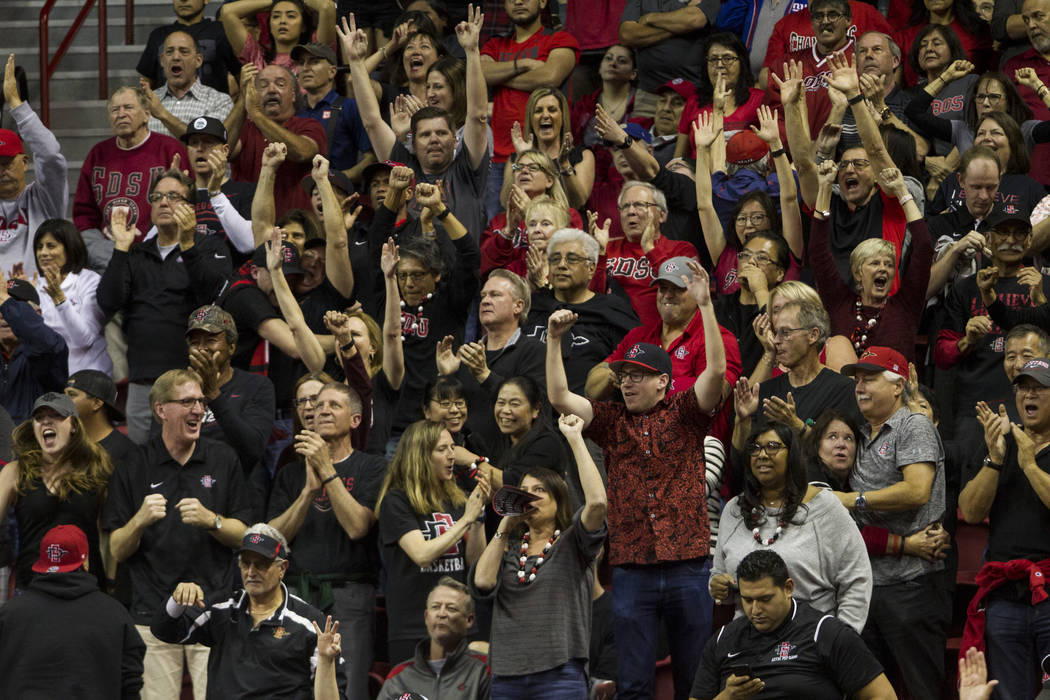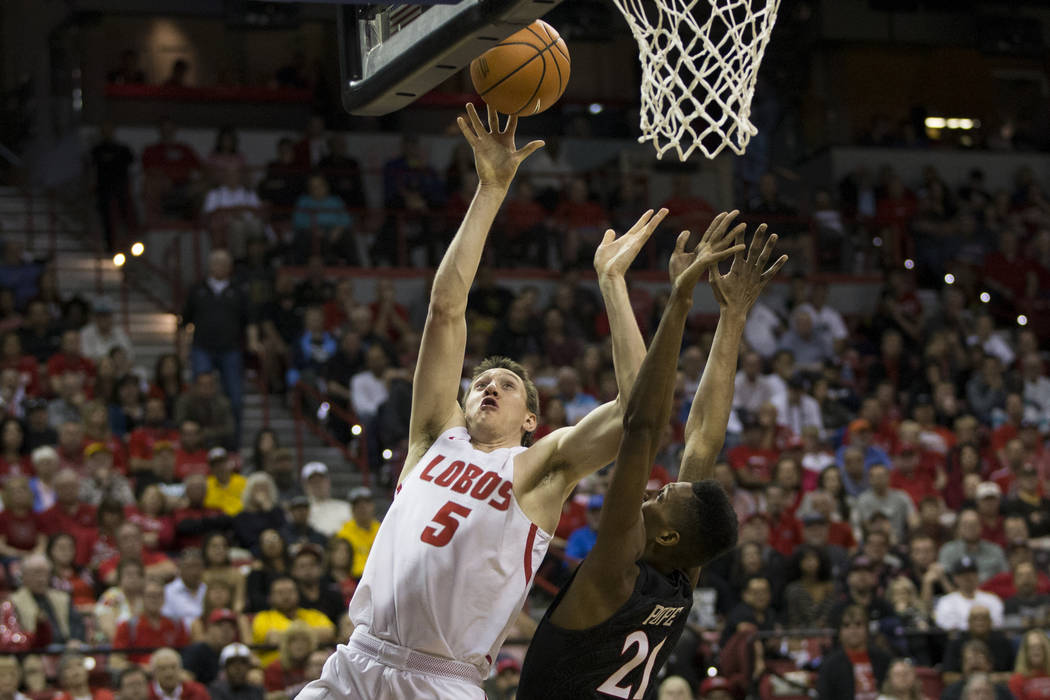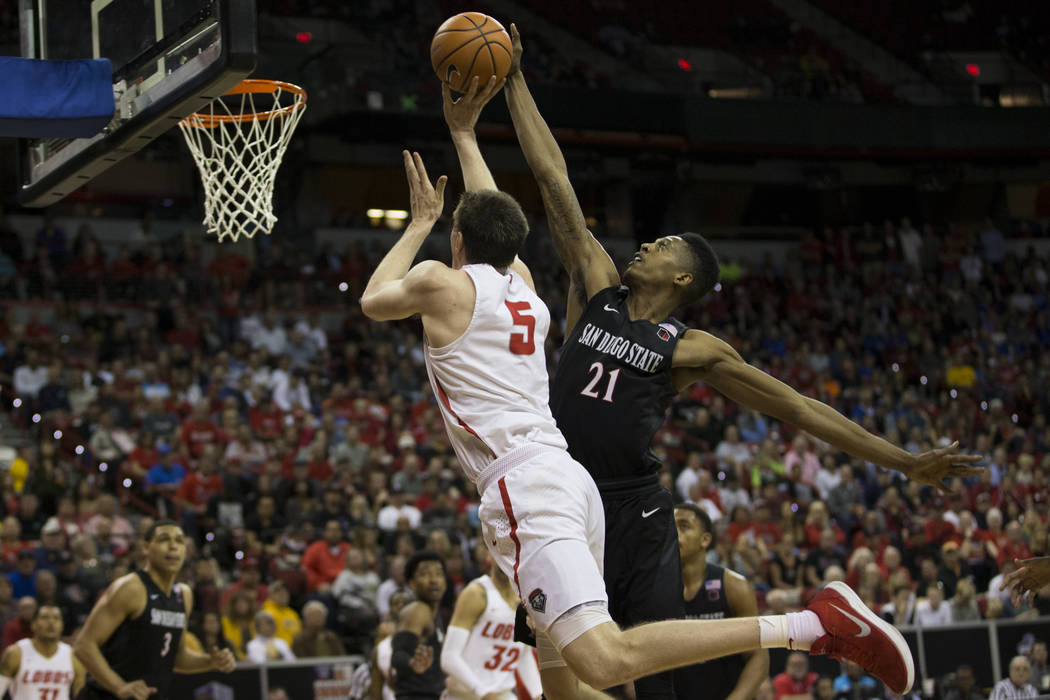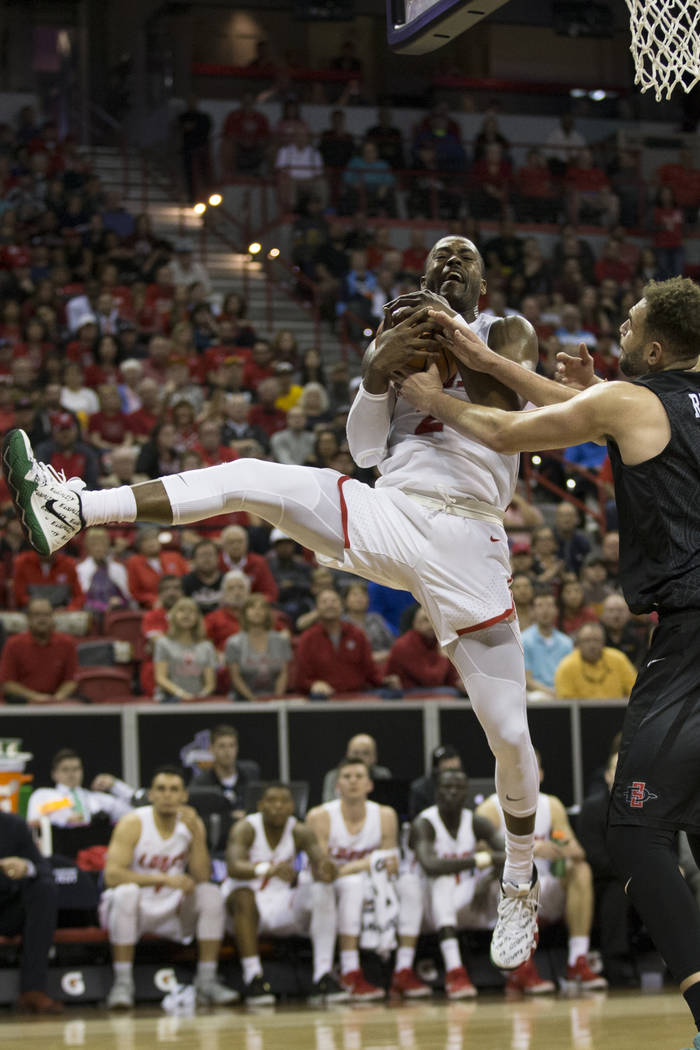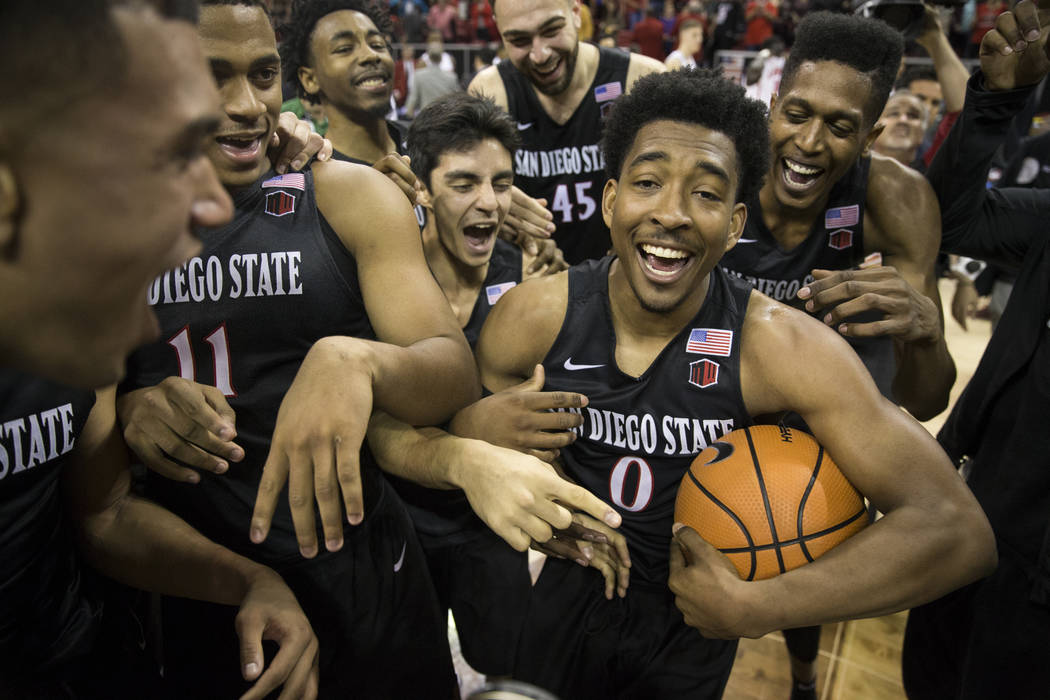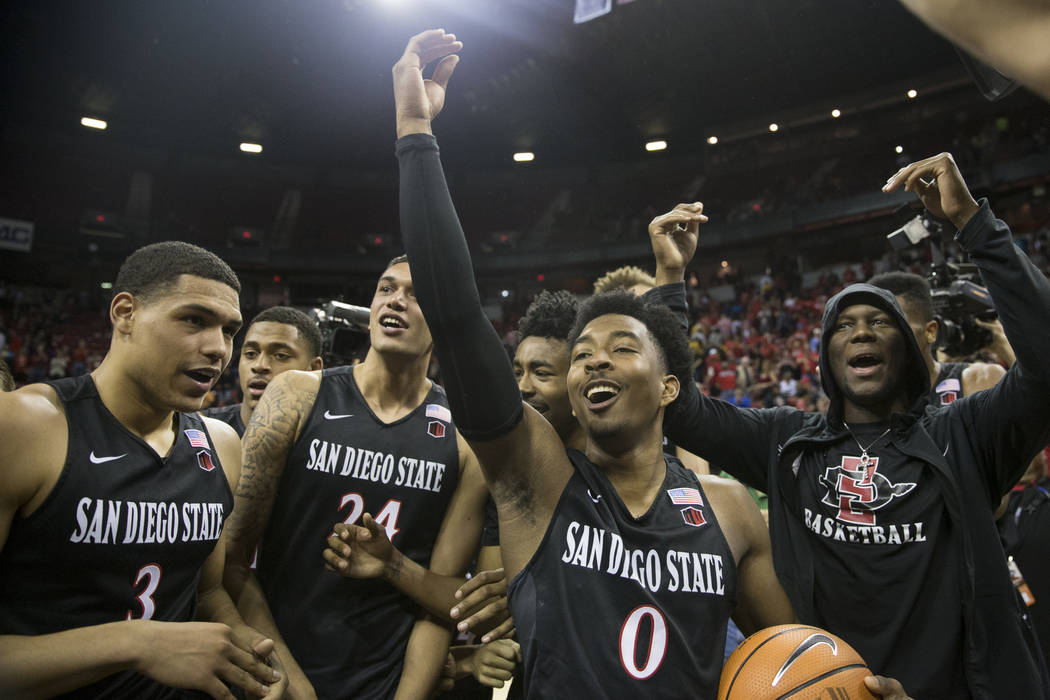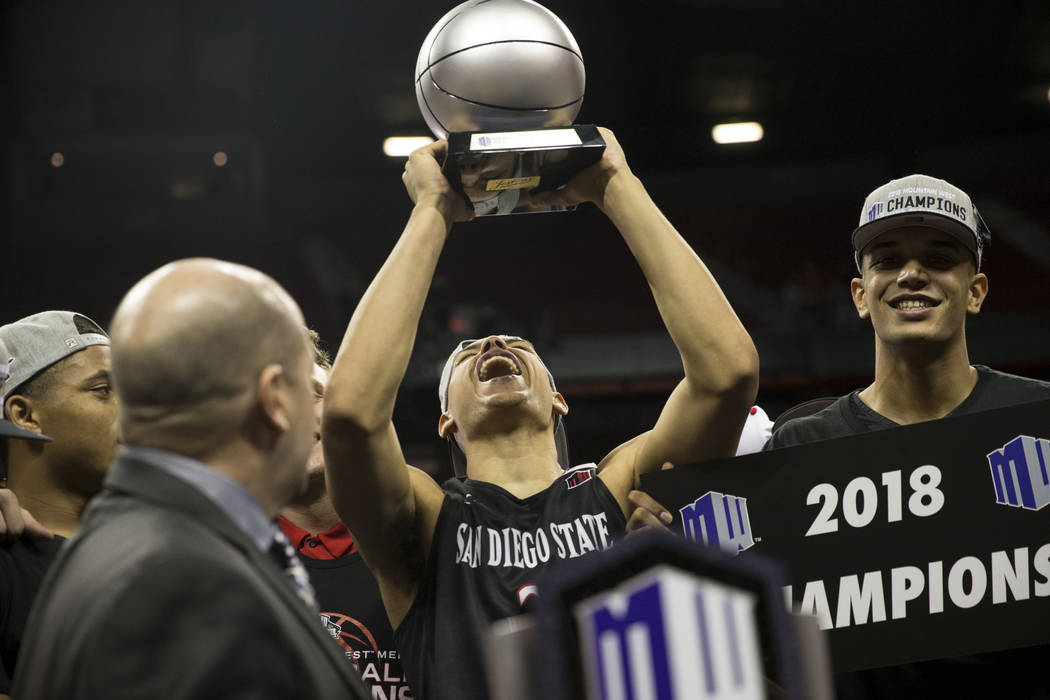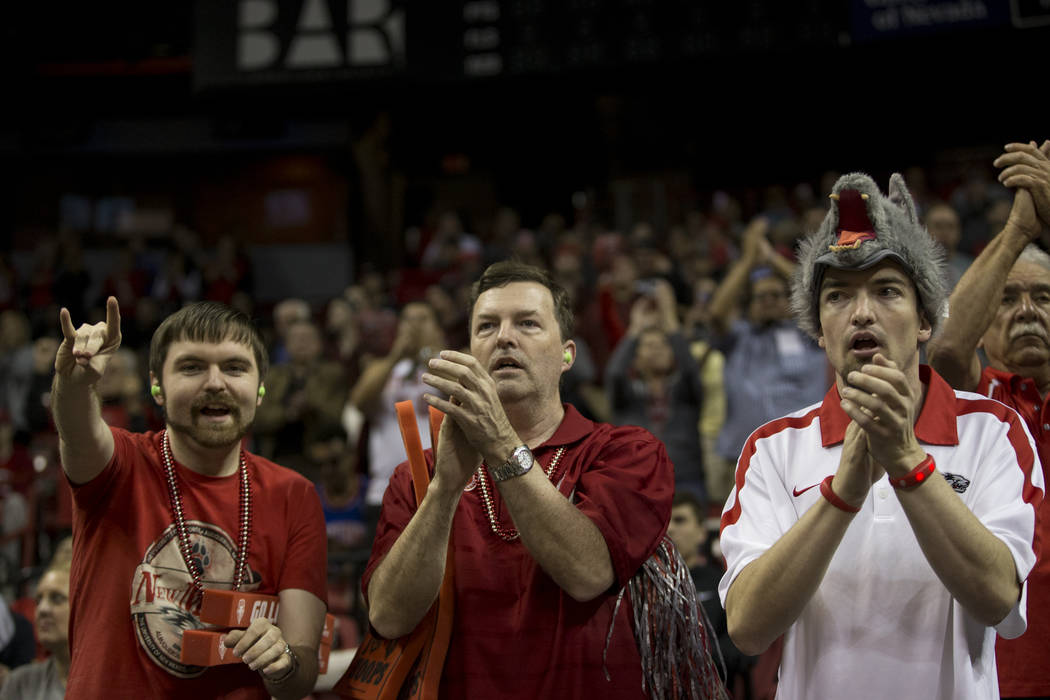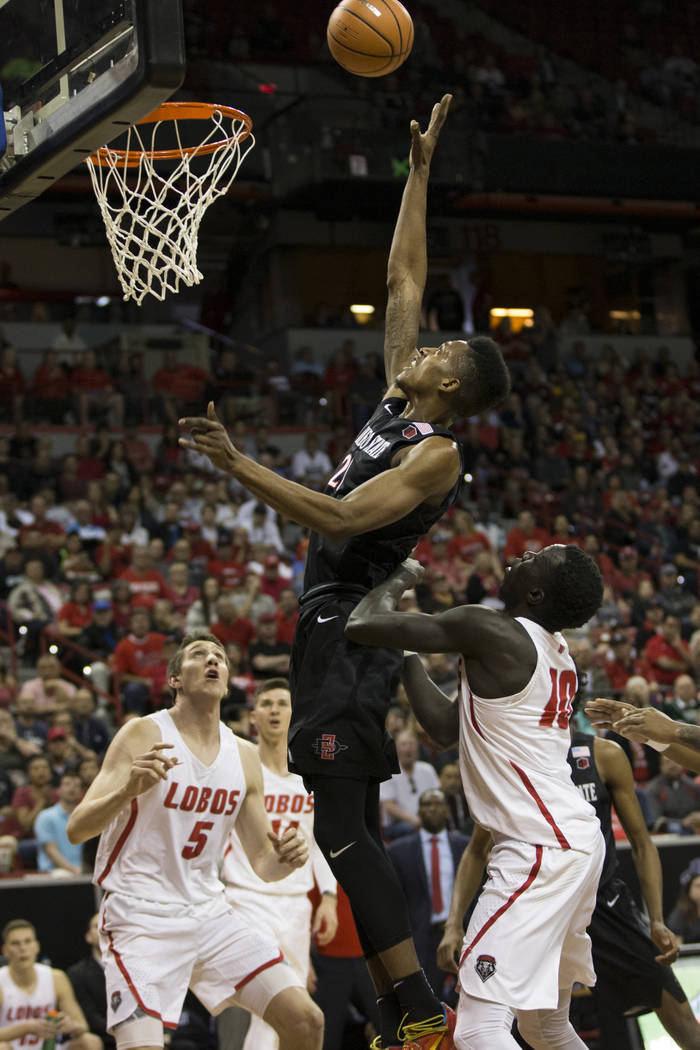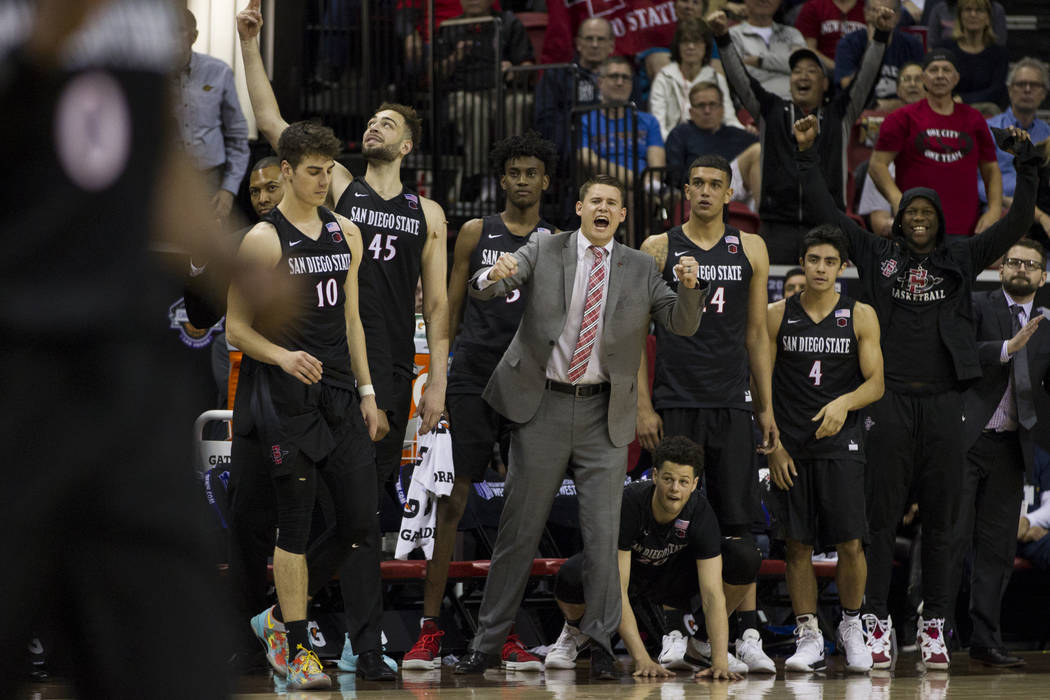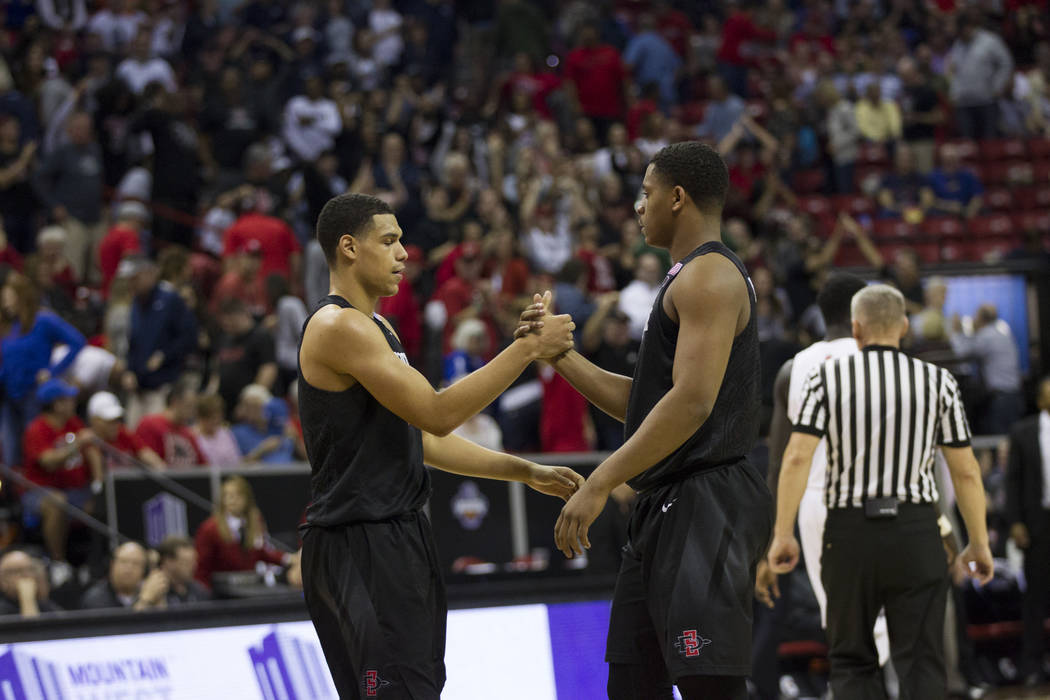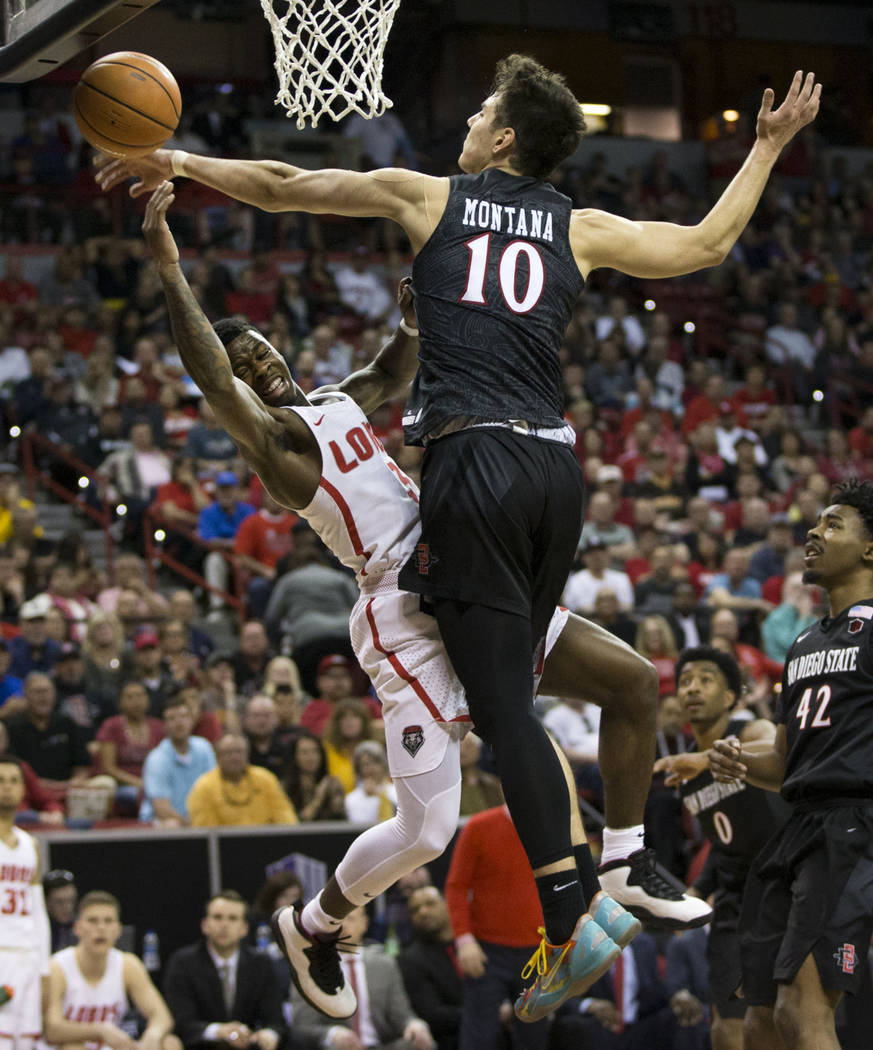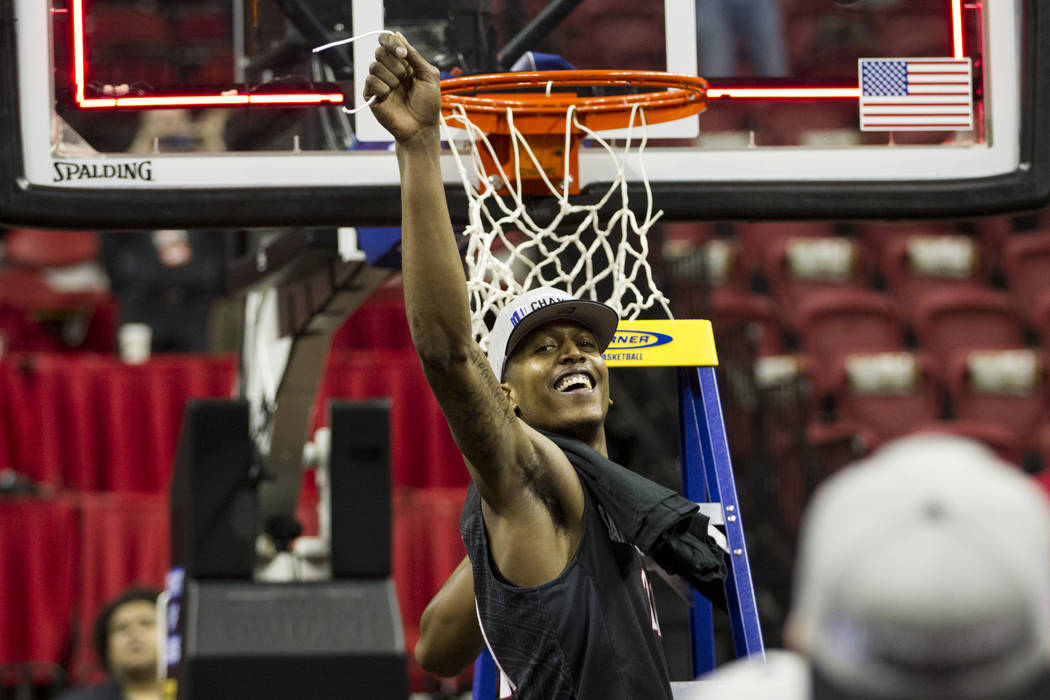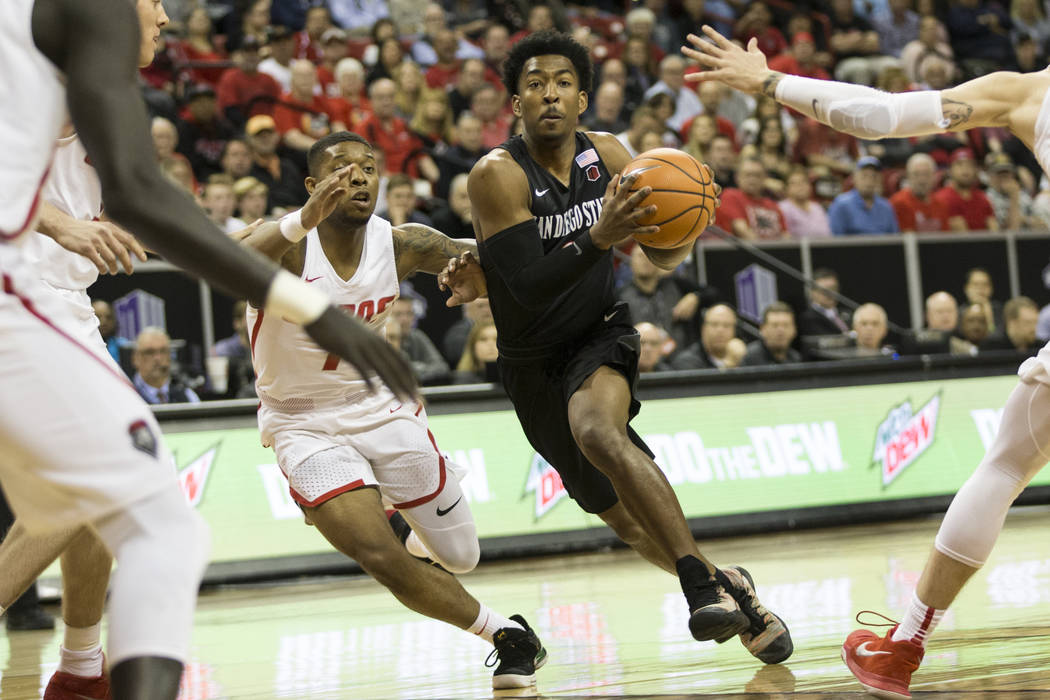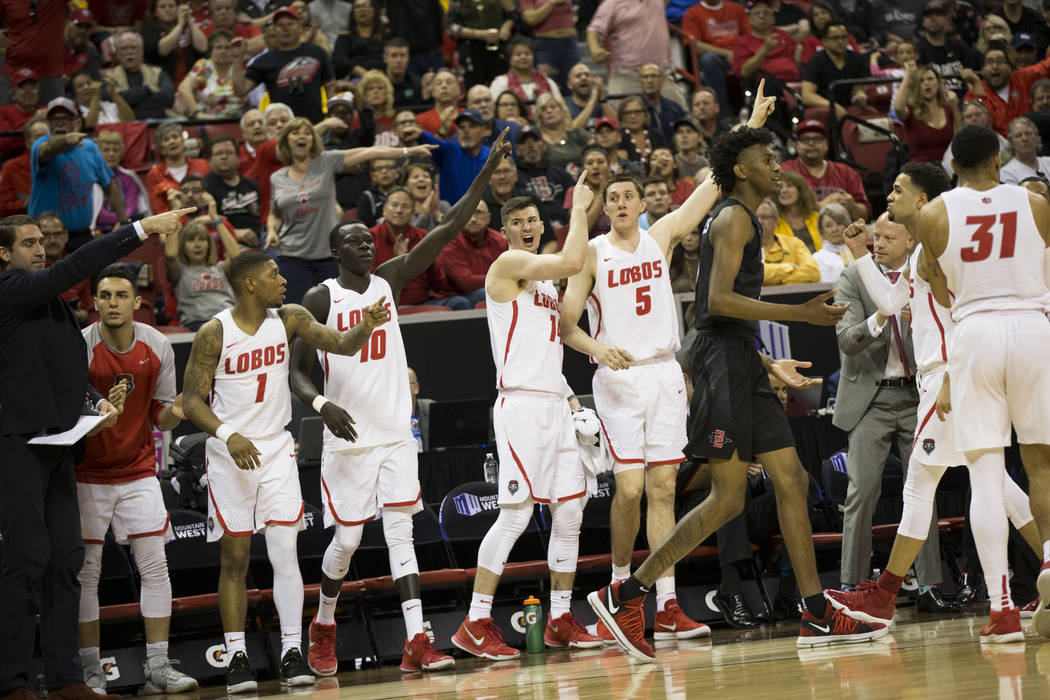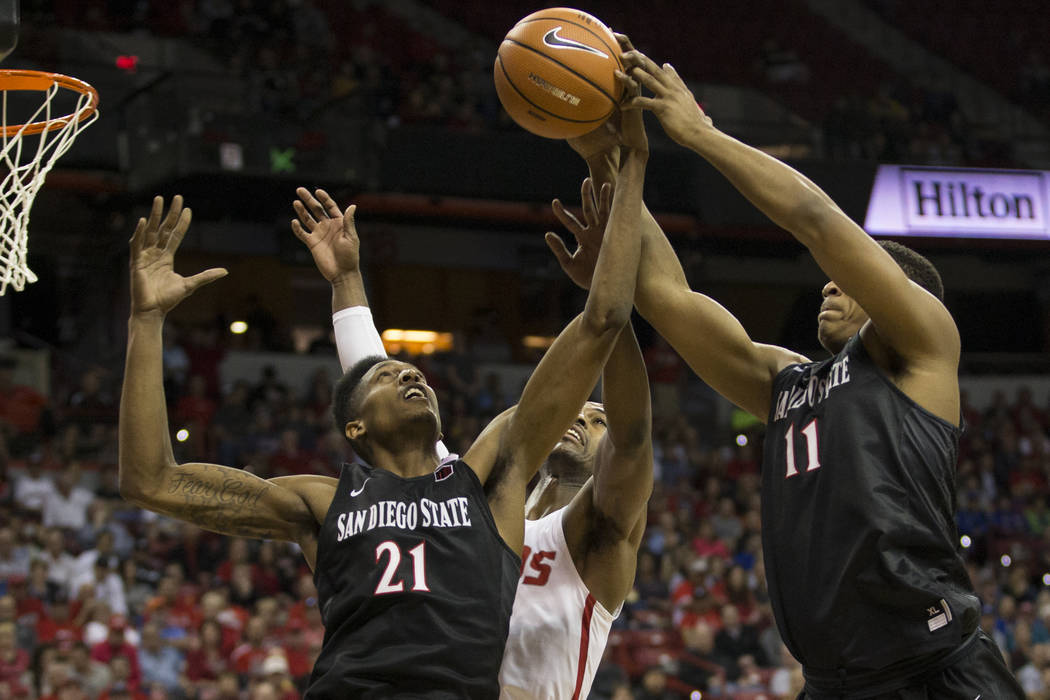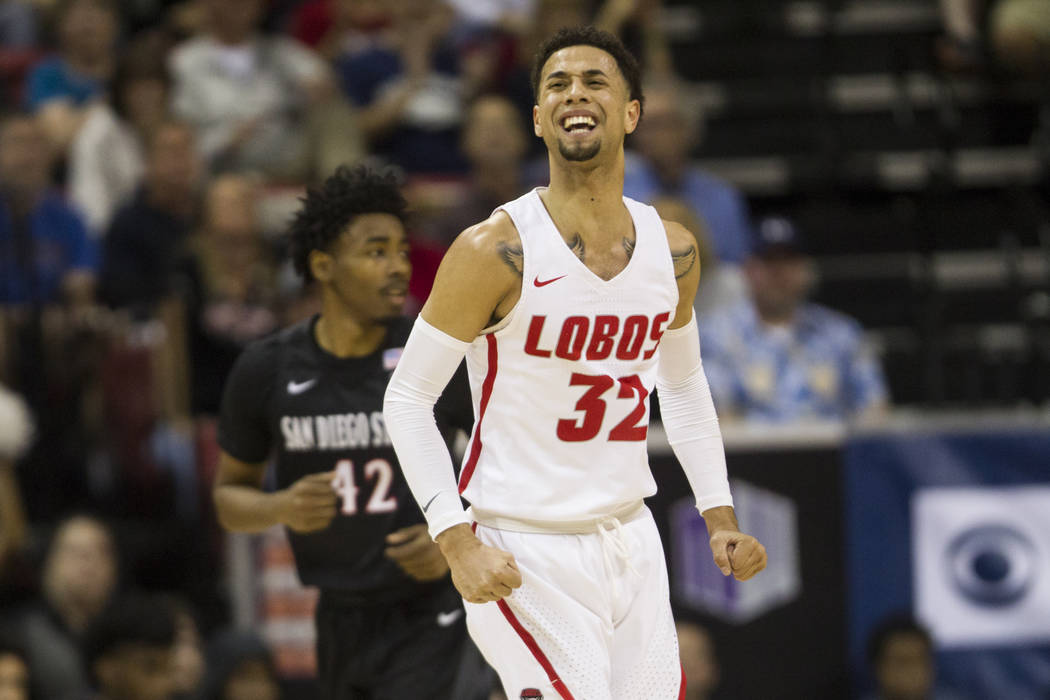 Trey Kell took a hard shot to his lower leg in the second half and began to limp, but demanded to stay in Saturday's championship game.
And then he took over.
Kell scored a career-high 28 points and made several key plays down the stretch, rallying San Diego State to an 82-75 victory over New Mexico for the Mountain West men's title. The victory, before an announced crowd of 8,456 at the Thomas & Mack Center, put the Aztecs in the NCAA Tournament.
Kell scored 11 points in the final 7:20.
"I saw that we were down six or something like that," said Kell, the tournament MVP. "So for me, coming out because of an injury wasn't an option. I didn't want to go home."
Fifth-seeded San Diego State (22-10) won its record fifth Mountain West basketball tournament title and will make its first trip to the NCAAs in three years. The Aztecs head there having won nine consecutive games.
Beating the third-seeded Lobos (19-15), who had won seven straight, wasn't easy. New Mexico led 63-57 before San Diego State went on a 15-2 run. Kell scored seven points during that stretch, and Max Montana's four-point play with 6:19 left put the Aztecs in front for good at 66-63.
Before that run, Kell collided with New Mexico's Antino Jackson with 8:34 remaining.
"It's a new week, a new injury to me," Kell said. "I'm used to it at this point."
Kell also got hurt when the Aztecs visited the Thomas & Mack on Jan. 27. He went down with an ankle injury less than four minutes into UNLV's 88-78 victory.
That was when the Aztecs were struggling to find their way, the loss to the Rebels their fourth in five games. The skid stretched to six in eight games before San Diego State became the conference's hottest team.
"I don't think it's any surprise that our nine-game win streak started when Trey Kell came back into the lineup," Aztecs coach Brian Dutcher said. "This is what I envisioned for Trey all year long, senior guard with the ball in his hands with the game on the line."
Getting Kell back was the most important factor but not the only one.
"We were just tired of losing," San Diego State's Devin Watson said. "We knew we had way too much potential to be losing games like that. And mentally from then to now, I feel like we're on a whole other level."
This has been quite a rookie season for Dutcher, who replaced his mentor, Steve Fisher. Dutcher coached under Fisher for 28 years, first at Michigan and then the previous 18 seasons at San Diego State.
"They're better than (regular-season champion) Nevada," New Mexico coach Paul Weir said. "I think they have the best center in the league (Malik Pope). I think they have the best point guard in the league (Watson). And Trey Kell, (I) obviously think he could be the best two-guard in the league.
"I said in the handshake line (Dutcher's) the coach of the year as far as I'm concerned, the way he managed this season to get his team playing well and get all those kids (to buy in). Their body language has changed drastically to what it was earlier, and you can see a different vibe about them."
Contact Mark Anderson at manderson@reviewjournal.com. Follow @markanderson65 on Twitter.
Mountain West all-tournament team
Jordan Caroline, UNR
Joe Furstinger, New Mexico
Antino Jackson, New Mexico
Trey Kell, San Diego State
Devin Watson, San Diego State
MVP: Kell