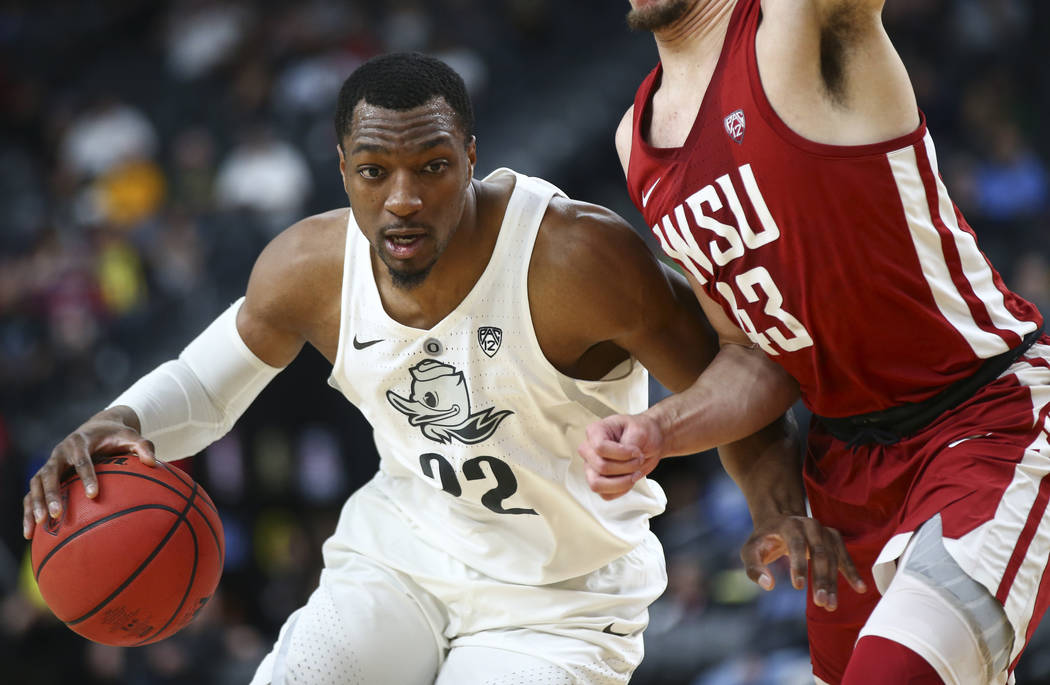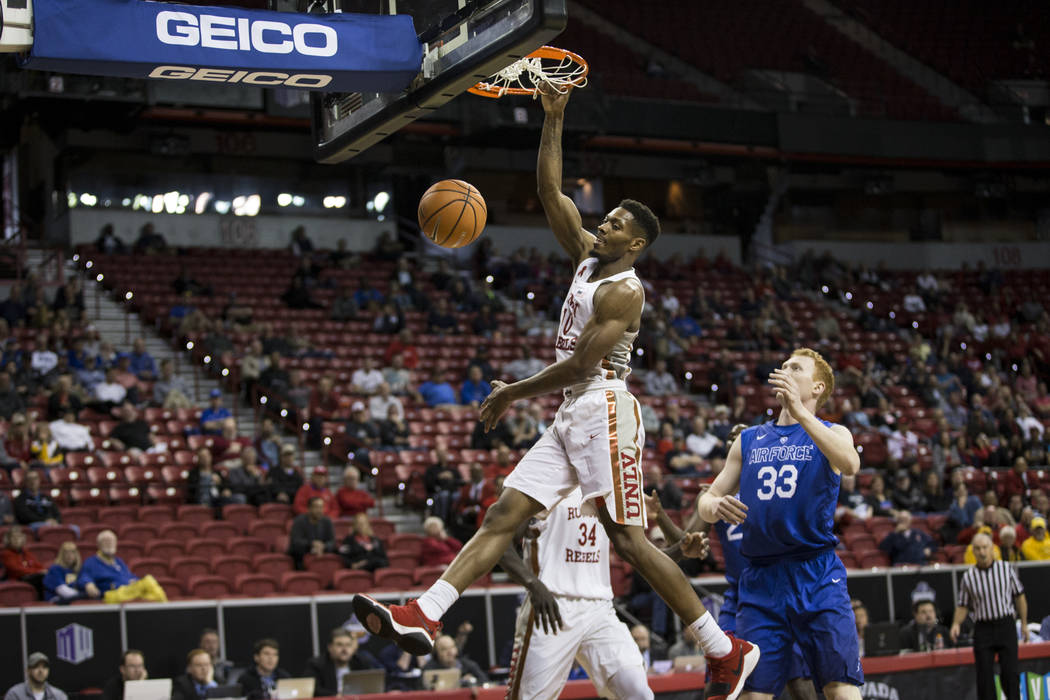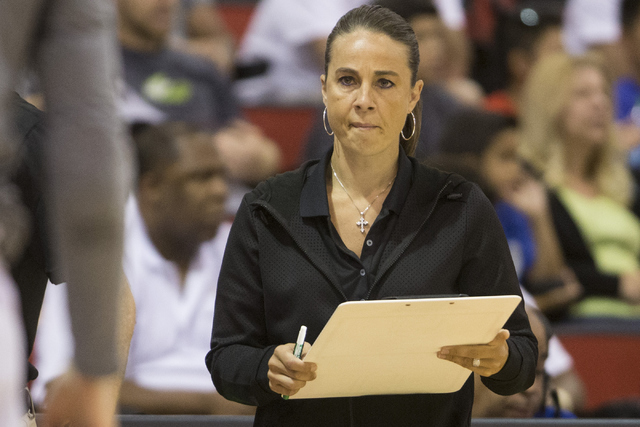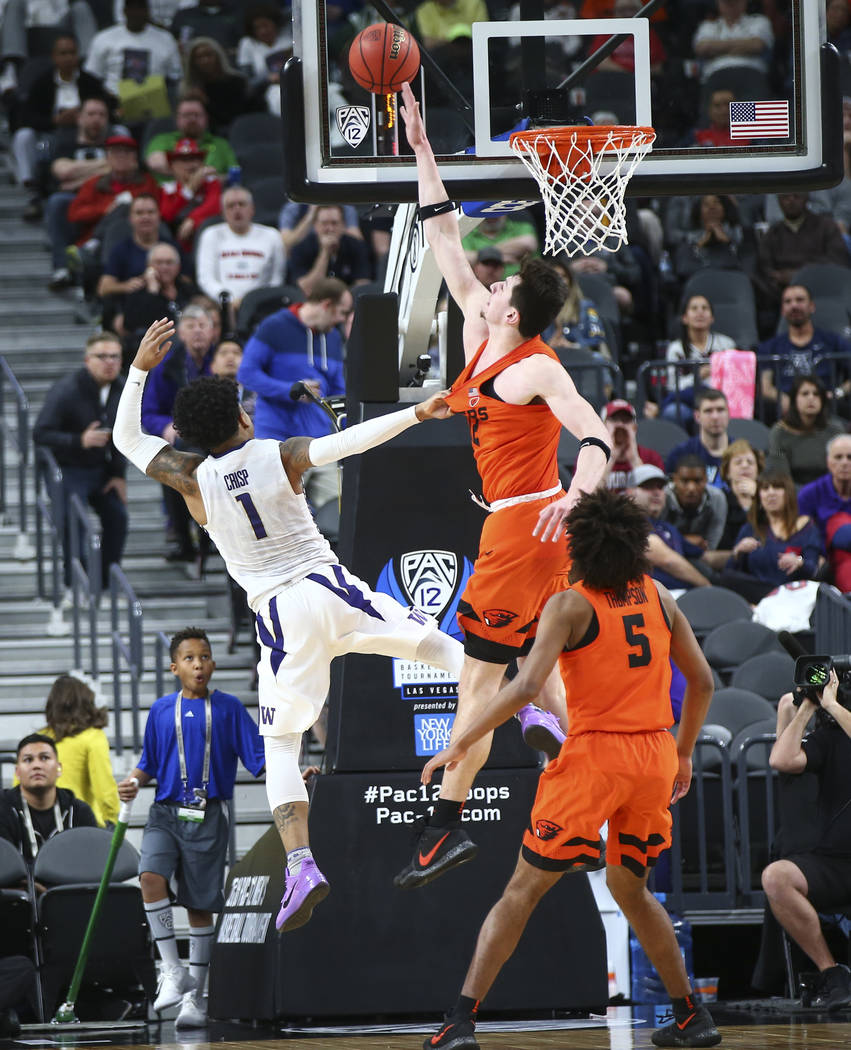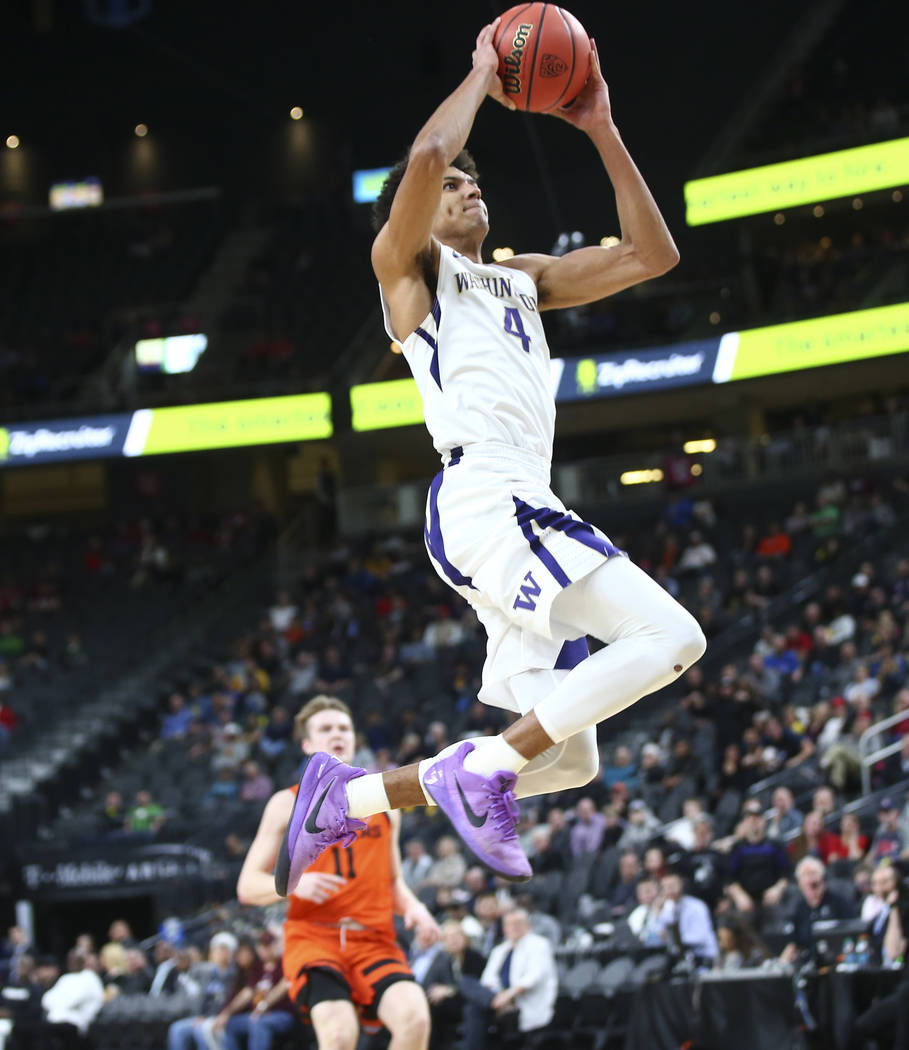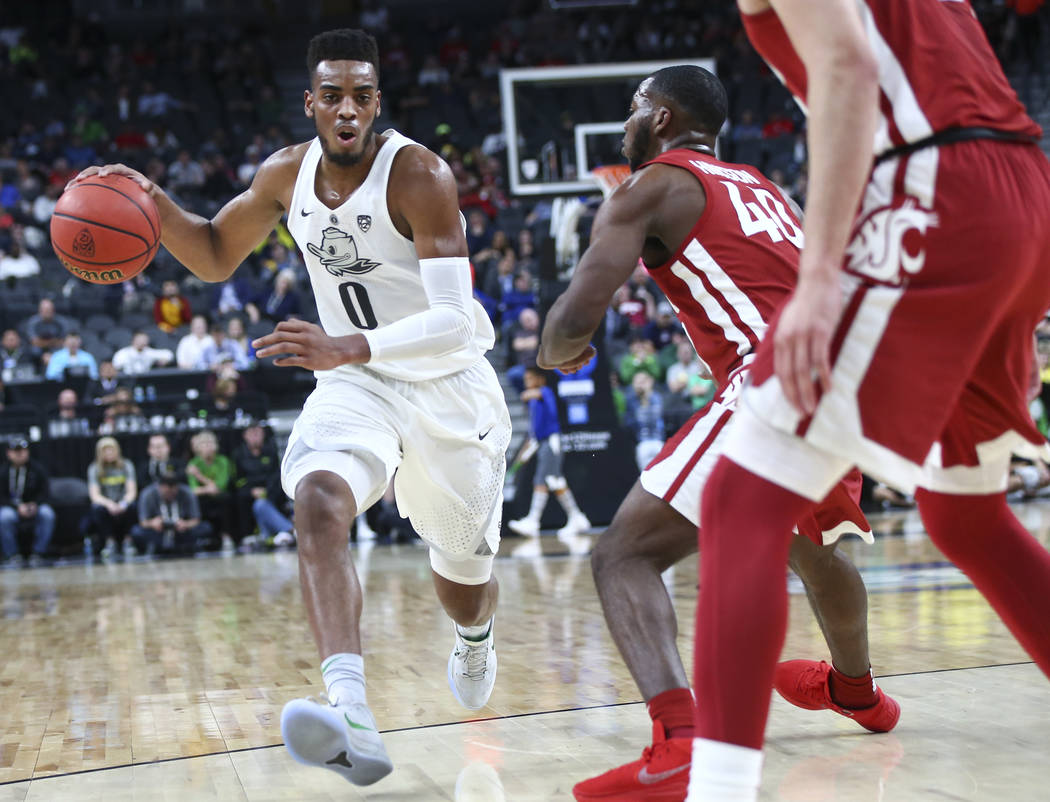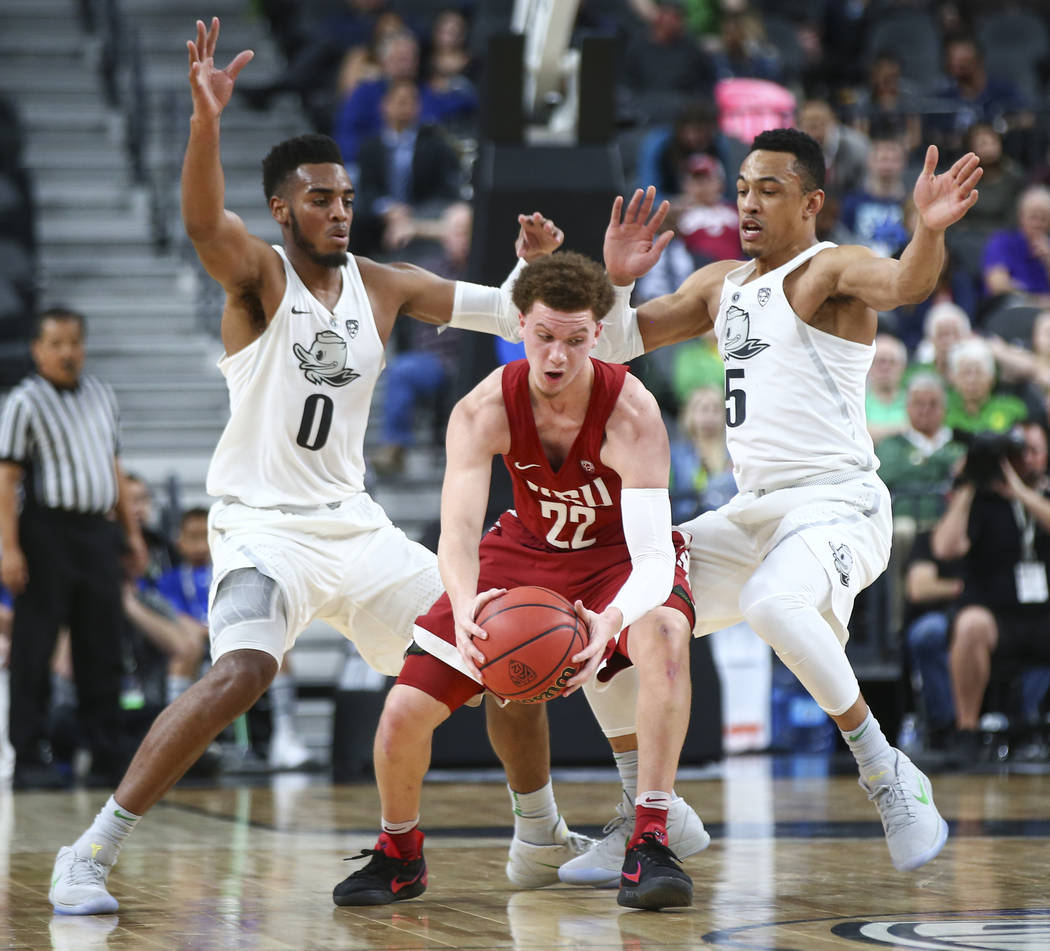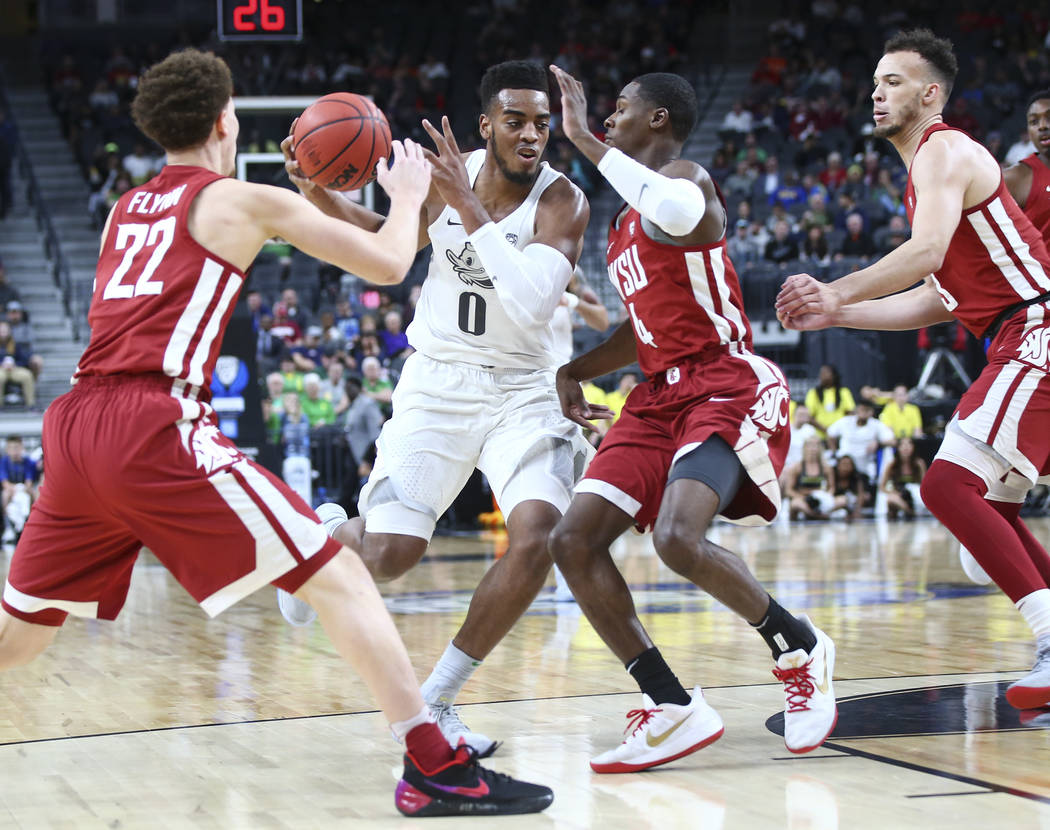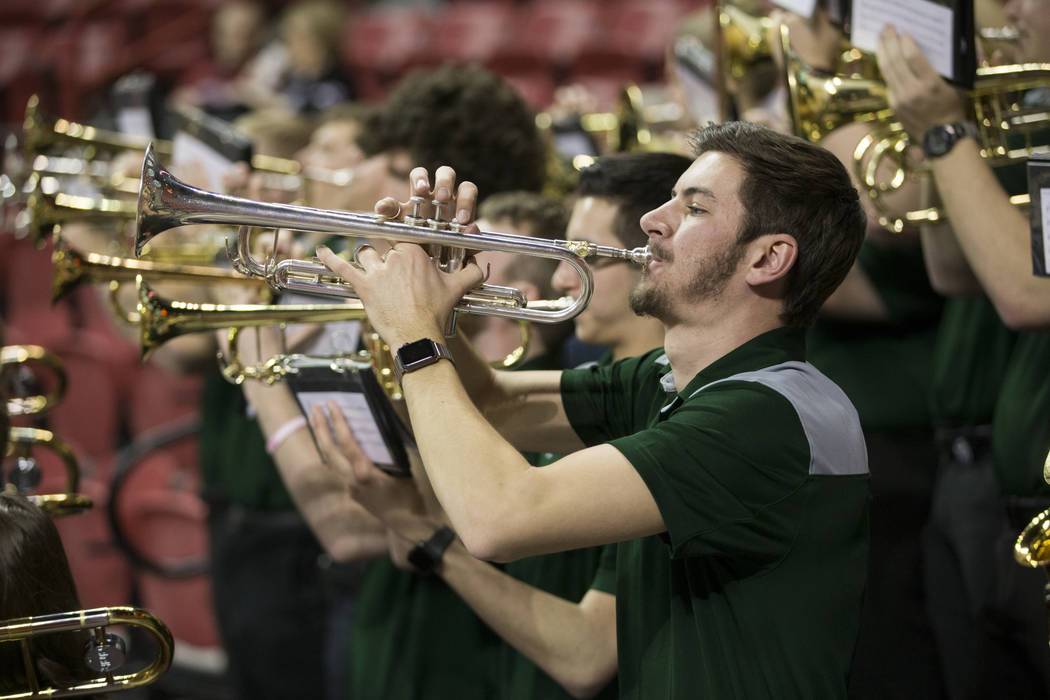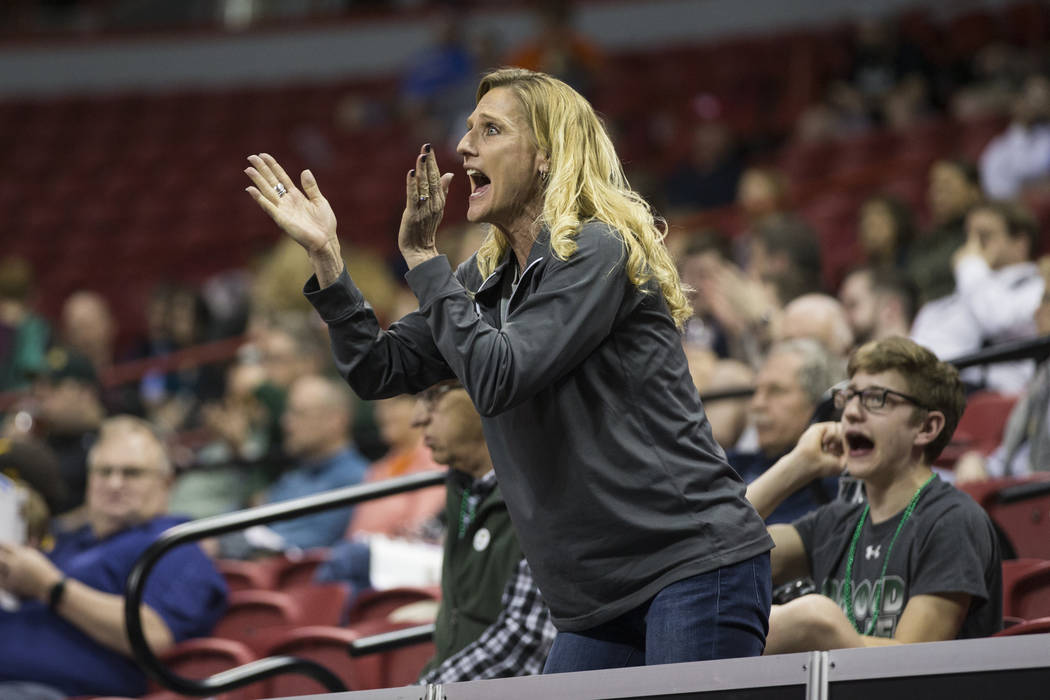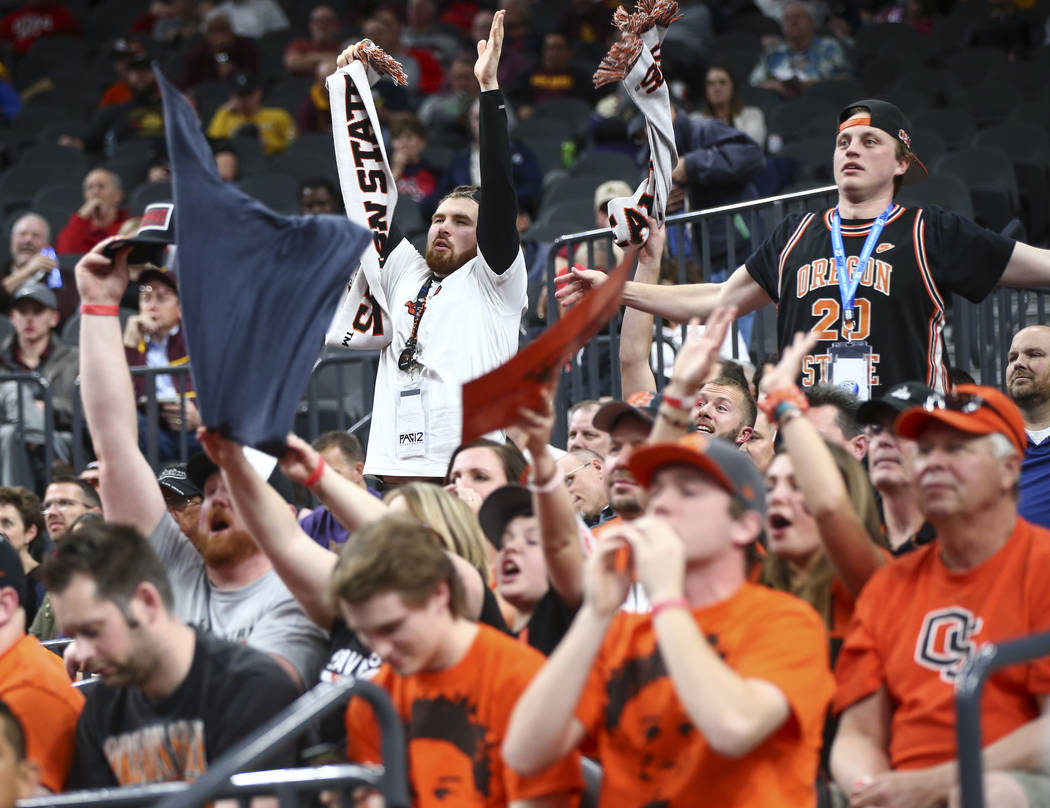 #VegasMadness updates: The Madness is truly getting underway in Las Vegas as the Mountain West, Western Athletic and Pac-12 conference tournaments are all starting Wednesday. Review-Journal reporters are on-scene for all of it.
Oregon avoids upset
Troy Brown's offensive rebound at the free-throw line helped Oregon escape the first round of the Pac-12 tournament with a 64-62 victory against Washington State in overtime.
Brown, a Centennial High product, went to the line after the clutch board and made one of two free throws with six seconds left. The Ducks will play Utah in the quarterfinals on Thursday.
Oregon, a minus 12 ½ favorite, didn't take its first lead until the final minute of the second half. Soon after, Brown made his first field goal of the game after a breakaway dunk on a steal. The Las Vegan started the game 0 for 8 from the field.
Brown scored eight points and grabbed 11 rebounds in his homecoming game.
— Gilbert Manzano
Too close to call
If there were an election to determine the mayor of the Pac-12 Tournament, pollsters may have a difficult time determining the frontrunner.
Former NBA stars Bill Walton and Gary Payton would likely be in a dead heat.
Walton is always a popular figure around this event and was once again stood out from the crowd as he pontificated about basketball and whatever else came to his mind from his courtside broadcast position.
Between games and sessions, the UCLA alum was inundated with picture and autograph requests each time he would get up and walk around the arena.
Payton may have talked even more than Walton even though he was just a spectator watching the action from his seat under the basket.
He was providing running commentary on the games throughout the night session whether there was anybody around to listen or not.
Payton was particularly fired up about his alma mater, Oregon State, slipping by Washington. Fans, coaches and players alike were just excited to stop by for a handshake or brief conversation.
Payton just hung around his seat and held court in his all-black sweatsuit, welcoming visitors throughout the evening.
So far, there have been no babies kissed. The night, however, is still young.
— Adam Hill
Beavers survive in OT
Oregon State defeated Washington 69-66 in overtime to advance to the Pac-12 quarterfinals. The Beavers will face Southern California on Thursday.
Drew Eubanks scored a game-high 19 points for Oregon State, the No. 10 seed in the tournament.
Washington's Matisse Thybulle hit multiple big shots down the stretch and finished with 16 points.
— Gilbert Manzano
Boise State wins, Lady Rebels move one step closer to WNIT autobid
The UNLV Lady Rebels didn't play Wednesday after being stunned 77-73 by UNR in double overtime on Tuesday night in the Mountain West women's tournament, but they moved one step closer to the WNIT autobid anyway thanks to Boise State's 76-51 win over Colorado State.
The Broncos will now advance to the tournament championship game. If they win that, the Lady Rebels, as the top team in the conference to not make the NCAA tournament, lock up the conference's bid to the WNIT. The two teams tied for the regular season title, but the Broncos held onto the conference's top spot by virtue of the tiebreaker, meaning if they didn't win the Mountain West tournament, they'd earn the autobid to the WNIT.
Even so, the Lady Rebels would be highly likely to nab an at-large bid after going 14-4 in conference play.
"I was just in downer mode when I woke up," Lady Rebels coach Kathy Olivier said. "I couldn't even think of the next thing which is WNIT because I was so mad that we're not playing (Wednesday night), so when I was kind of trying to regroup, snap out of it, I was like 'OK, yeah we're getting in.' C'mon, it makes sense. We had a really good nonconference. Our conference is a lot better, way improved and we won that."
— Betsy Helfand
Aggie women, vying for 4th straight WAC tournament title, roll in opener
Three-time defending conference tournament champion New Mexico State waltzed to an 84-60 victory over Chicago State in the WAC women's tournament quarterfinals at the Orleans Arena.
Gia Pack had a game-high 29 points, and conference play of the year Brooke Salas scored 27 for the Aggies, who have represented the WAC in the NCAA Tournament for three straight seasons.
New Mexico State's men are also the top seed in the WAC tournament, and will play none other than Chicago State on Thursday night.
Website lists Most Obnoxious Fans
A Yahoo-sponsored website called Thrilllist.com has published a list of "The 16 Most Obnoxious Fans in College Basketball." It's actually about fan bases, not individual fans.
Vegas Madness is well represented with four among the Not So Sweet 16, at least according to Thrillist and its comments, which are more snarky than a courtside conversation between Spike Lee and Reggie Miller.
— No. 16 Brigham Young
Thrillist: "In an era when most schools are striving to join better and more visible conferences, BYU chose the opposite path. They left the Mountain West for the West Coast Conference where, despite their advantages, they have played third fiddle to Gonzaga and St. Mary's. The recent lull in performance hasn't affected their fans, still loud and annoying, who are like arrogant frat boys without the excuse of booze."
— No. 14 Arizona
Thrillist: "Topped in stupidity only by Penn State's unceasing reminder that they are, in fact, Penn State, Arizona fans do their best imitations of a "Sesame Street" episode by call-and-response yelling: 'U! OF! A!' It's almost hypnotic in its simplicity and volume. The upside of your team making a big play against Arizona is that it stops the infernal chant."
— No. 8 Gonzaga
Thrillist: "Gonzaga, if you didn't know, is in Spokane. What Zag fans don't realize is they're not a big fish in a small pond; they're a big fish in a bathtub. Gonzaga's roster mostly consists of guys from legit programs who transferred so they could see what winning was like by beating up on St. Mary's and Loyola Marymount."
— No. 4 Oregon
Thrillist: "Oregon fans are the basketball equivalent of the kid who drives a Bugatti to school, treats everyone like (expletive), then can't figure out why he has no friends. They've won exactly zero national championships since America's participation in World War II, and yet Duck fans still think Brazilian wood floors and individual TVs in the locker room make it an elite program."
There's much more on all of this, but you'll have to check out the website. I'm almost sure there's a place to contact the authors.
— Ron Kantowski
Becky Hammon to Colorado State?
San Antonio Spurs assistant coach and former Colorado State star player Becky Hammon has been mentioned in media reports as a possible choice to be the next Rams' coach.
It would be a barrier-breaking decision to put a woman in charge of a men's program, but Hammon is a popular figure in Fort Collins, Colorado. She has not commented publicly on whether she is interested in the job.
"It's no different if it was a male head coach," Colorado State junior guard Prentiss Nixon said. "We've got to respect her, listen to what she has to say, listen to her philosophy, play hard when you step on the court. No matter if it's male or female, you still have to go out and play basketball at the end of the day."
— Mark Anderson
Cowboys have few problems with San Jose State
Justin James made all nine shots he took, including three 3-pointers, and scored 24 points to lead No. 6 Wyoming to a 74-61 victory over No. 11 San Jose State.
James was one of four players in double figures for Wyoming (20-12), which made 50.9 percent of its shots.
Ryan Welage scored 25 points and Jaycee Hillsman 24 for the Spartans (4-26).
— Mark Anderson
Cardinal cruise
Stanford had no trouble in the opening round of the Pac-12 tournament.
The Cardinal crushed California 76-58 to move on to the quarterfinals. Stanford, the No. 5 seed, will play No. 4 UCLA at 2:30 p.m. on Thursday.
Reid Travis scored 19 points for Stanford. Darius McNeill led California, the 12th seed, with 19 points.
Stanford led by 27 points in the second half and never trailed.
— Gilbert Manzano
Go ahead and leave
It's been widely assumed UNLV freshman Brandon McCoy will leave after this season for the NBA.
McCoy was the named Mountain West Freshman of the Year by the league coaches and media, and on Wednesday against Air Force, he had 23 points, 12 rebounds and three blocked shots in the Rebels' 97-90 overtime victory.
"And as of tomorrow morning I'm going to start campaigning for Brandon to go to the NBA," Air Force coach Dave Pilipovich said.
— Mark Anderson
Utah State tops Colorado State
Koby McEwen scored 25 points to lead No. 7 Utah State to a 76-65 victory over No. 10 Colorado State in the Mountain West tournament at the Thomas & Mack Center.
The Aggies (16-16) next play No. 2 Boise State (23-7) at 6 p.m. Thursday.
Anthony Bonner (15 points) and Prentiss Nixon (14) led the Rams, who ended their season 11-21.
— Mark Anderson
Colorado moves on
Arizona State's NCAA Tournament hopes might have ended Wednesday in the Pac-12 tournament.
Colorado defeated Arizona State 97-85 in a first-round matchup at T-Mobile Arena. The Buffaloes advanced to the Pac-12 quarterfinals Thursday to face No. 1 seed Arizona.
Colorado, the No. 8 seed, used a 15-1 run in the second half to take control. Las Vegan Tyler Bey had a double-double for Colorado with 14 points and 10 rebounds.
Bey was involved in a late-game skirmish with ASU players after his alley-oop dunk with seven seconds left and the game practically decided. Both teams were handed technicals.
Colorado coach Tad Boyle came out limping after breaking up the players.
The Sun Devils, the once No. 3 team in the nation this season, will now have to wait three days to find out if they'll be dancing in the NCAA Tournament. ASU started the season 12-0 with notable victories over Kansas and Xavier before a free fall in league play.
— Gilbert Manzano
Grand Canyon nabs first postseason win
Grand Canyon coasted to a 72-56 victory over Utah Valley on Wednesday afternoon in the Western Athletic Conference women's tournament at Orleans Arena to score the first postseason win since the school transitioned to Division I status in 2013.
Brie Mobley had 19 points and nine rebounds for the Antelopes.
Grand Canyon had qualified for the NCAA Tournament six times at the Division II level. The school was barred from postseason competition for its first four years as a Division I program.
— Sam Gordon
UNLV survives OT
With a five-game losing streak and a lost lead, UNLV could have fallen apart.
The Rebels instead went on a 12-point run in overtime to seize control and defeat Air Force 97-90 in Wednesday's first round of the Mountain West men's basketball tournament at the Thomas & Mack Center.
No. 8 seed UNLV (20-12) plays No. 1 seed and 22nd-ranked UNR (26-6) at noon Thursday in a quarterfinal game. No. 9 seed Air Force's season ended at 12-19.
The Rebels swept the season series 3-0 from the Falcons.
UNLV led by as many as 13 points in the second half before Air Force rallied to force overtime at 76. The Falcons took their first lead, 79-76, with 4:33 left and again at 81-79 before UNLV's Shakur Juiston's three-point play triggered the winning run.
Brandon McCoy led UNLV with 23 points and 12 rebounds, and Juiston scored 21. Jovan Mooring added 17 points.
Lavelle Scottie finished with 23 points and nine rebounds for Air Force, and Jacob Van scored 20.
— Mark Anderson
Back in Vegas
Arizona State opened the Pac-12 tournament against Colorado Wednesday at T-Mobile Arena.
But it's not the first time the Sun Devils play in Las Vegas this season. ASU won the Continental Tire Invitational in November at Orleans Arena.
The Thanksgiving tournament helped Arizona State climb up the top 25 polls after defeating Kansas State and Xavier, currently the No. 3 team in the country.
Arizona State struggled during Pac-12 competition with an 8-10 record.
— Gilbert Manzano
A true neutral court
There might be 1,000 people at the Thomas & Mack Center for today's 11 a.m. UNLV-Air Force game.
So this is what the Mountain West always wanted — a legitimate neutral court.
If the eighth-seeded Rebels win, they face No. 1 seed UNR at noon Thursday.
— Mark Anderson