Wade's dream game throttles Rebels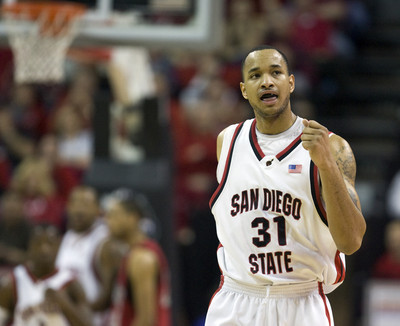 If Lorrenzo Wade could have come up with his dream scenario for his return home for the last time as a collegian, it might look something like this:
Score a bunch of points but not look like a ball hog doing it. Play defense and get a few rebounds. Don't make any knucklehead plays and share the wealth with teammates.
And while you're at it, beat the team that didn't recruit you out of Cheyenne High School and squash its NCAA Tournament dreams in the process.
The 6-foot-6-inch Las Vegan lived his dream Thursday in the quarterfinals of the Mountain West Conference Tournament. Wade had 20 points, 10 rebounds, four assists and no turnovers in leading San Diego State to an impressive 71-57 win over UNLV at the Thomas & Mack Center.
"It's not about me," he said. "It's about this team winning as many games as we can."
As a senior, it would be easy for Wade to be selfish. The reality was he very much was a team guy against the Rebels, who had no one who could hold him in check defensively or exploit him at the other end.
The Aztecs (22-8) did a great job of sharing the ball and finding the open man, which was why Wade got so many good looks, be it from the perimeter or on his way to the basket.
"When you're really good, and Lorrenzo is really good, sometimes you try to do too much," San Diego State coach Steve Fisher said. "It doesn't mean you're selfish, but it looks like you are.
"I think it boils down to trust. Not just trusting yourself but trusting the other four guys on the floor with you. Lorrenzo has learned to trust his teammates and trust himself."
Wade said he uses Fisher as a role model.
"I've tried to follow Coach Fisher's lead," Wade said. "He's a very unselfish guy."
Wade said to come home and win at the T&M with so much riding on the outcome was special.
"It's pretty big," he said. "We knew coming into the Mountain West tournament this would be a big challenge, that this was going to be a game that had a championship feel to it, especially playing Vegas on their home court.
"We know it says 'Mountain West Conference' on the floor. But we know it's 'Rebel Nation.' "
For Wade and San Diego State, the challenge tonight is the exact opposite of Thursday's test. Can the Aztecs beat a team that beat them twice in the regular season when they play Brigham Young in the semifinals?
"If we maintain our defensive intensity, I believe in the last two to four minutes of a game, we're going to be right in there with anyone in the country," Wade said.
Contact reporter Steve Carp at scarp@ reviewjournal.com or 702-387-2913.