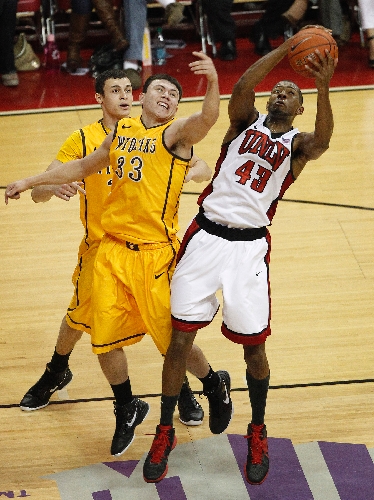 A long wait for Kendall Wallace finally came to an end Saturday night, and the timing of his shining moment was perfect for the UNLV senior.
Wallace sat out the 2010-11 season because of a torn anterior cruciate ligament in his right knee, an injury that contributed to his reduced role as a little-used reserve this season.
The 6-foot-4-inch guard was given an honorary start on Senior Night and made the most of it by saving his best game of the season for his last regular-season appearance at the Thomas & Mack Center.
Wallace scored 14 points to help lift the 17th-ranked Rebels to a 74-63 victory over Wyoming in a Mountain West Conference finale staged before a sellout crowd of 18,577.
"I'll never forget it," Wallace said. "It was kind of like a story book. That's what it's about. Your college career is about making memories, and it's one of the better ones."
UNLV (25-7, 9-5) is the No. 3 seed in the Mountain West tournament and faces the sixth-seeded Cowboys (20-10, 6-8) again on Thursday.
"There's not an easy game in the conference tournament," Rebels coach Dave Rice said. "Every team is tough."
Wyoming won the first meeting 68-66 on Feb. 4 in Laramie, but UNLV's seniors were out for revenge in the rematch.
Before the game, Wallace, Oscar Bellfield, Brice Massamba and Chace Stanback were honored as the departing senior class.
Massamba finished with a career-high 15 points, and Bellfield totaled seven points and nine assists. Stanback was held scoreless for the first time all season.
"I didn't even know I had a career high," Massamba said. "It's special."
The spotlight belonged to Wallace, who scored in double figures for the first time as a senior. He hit 3 of 4 3-pointers and sparked a key rally in the second half.
Wallace made a 3-pointer and converted a four-point play midway through the second half. He fouled and knocked into the bench after the second 3, igniting a wild celebration as the Rebels went up 57-47 with just under 11 minutes to play.
"I felt a sense of relief when I saw a couple shots going in," said Wallace, who was averaging 2.8 points going into the game. "I felt like I had a monkey on my back. I was just thankful for the opportunity."
The 6-foot-10-inch, 245-pound Massamba was knocked off his feet by an elbow from 5-9, 160-pound JayDee Luster with 4:17 remaining. Massamba traded words with the Cowboys' diminutive point guard before they were separated. After a video review by officials, Luster was assessed a technical foul.
Wallace entered the game and made both free throws to extend the UNLV's lead to 69-57.
"Our guys pull so hard for Kendall. It could not happen for a better teammate," Rice said. "He's made so many shots in so many big games throughout his career, and this was a huge game for us."
Sophomore forward Mike Moser finished with game highs of 17 points and 12 rebounds to lead the Rebels, and junior guard Anthony Marshall added 12 points.
"Kendall has been so positive through this whole thing," Moser said. "Brice has carried us in the middle the whole season."
Hot shooting from Francisco Cruz and strong interior play by Adam Waddell kept the Cowboys close most of the way. Cruz made all four of his 3s and had 16 points.
San Diego State and New Mexico are the league's co-champions, with the Aztecs earning the top seed by virtue of their tie-breaking sweep of Texas Christian.
The Rebels improved to 16-0 this season at the Thomas & Mack, where the league tournament will be held. But Rice told his players to enjoy Saturday's game before thinking ahead to next week.
"It all started with our seniors. The only thing that matters today is sending our seniors out on a positive note," Rice said.
"We're going to have great years ahead, and we're always going to remember these four seniors and the contributions they made."
Contact reporter Matt Youmans at myoumans@reviewjournal.com or 702-387-2907.
UNLV — 74
WYOMING — 63
KEY: Brice Massamba had a career-high 15 points, and Kendall Wallace scored a season-high 14 on Senior Night for the Rebels.
NEXT: UNLV vs. Wyoming, 8:30 p.m. Thursday, MWC tournament, Thomas & Mack Center, CBSSN (333), KWWN (1100 AM, 98.9 FM)
Mountain West Conference Tournament
Men's bracket
Women's bracket