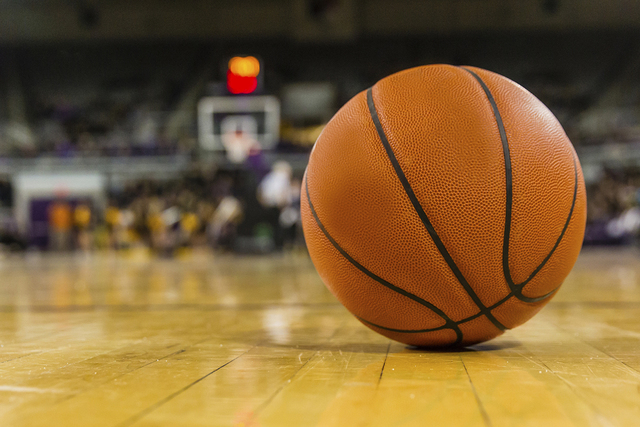 The talk of the Western Athletic Conference men's basketball season has been the emergence of Grand Canyon University, the small Christian private school from Phoenix.
No one expected Dan Majerle, the former Phoenix Suns standout, to lead the Antelopes to 25 wins, including a signature victory at San Diego State in December.
To put perspective on the 52-45 victory over the Aztecs, UNLV has lost its last eight games against San Diego State, the king of the Mountain West.
Majerle and the 'Lopes have gained national attention and will be WAC contenders for many years to come, and maybe an NCAA Tournament cinderella down the line.
Grand Canyon (25-6, 11-3), however, will have to wait on being bracket busters.
The Antelopes, who tied for second in conference play, aren't eligible to compete in the postseason and won't be participating in the WAC tournament, which starts Wednesday at the Orleans Arena.
The same goes for the women's basketball program, which would have been the third seed.
All sports at Grand Canyon (except for men's volleyball) will be eligible for postseason play in 2017-18 because of the four-year probation period that universities receive when making the transition from Division II to Division I.
The men's tournament would have been a three-team battle with Grand Canyon, but now it's expected to come down to regular season champion New Mexico State and second-seed Cal State Bakersfield.
"Grand Canyon is obviously a great team and they've done a great job over there building that program and as soon as they get the opportunity to play in the WAC tournament they're going to be a team you got to deal with it," Cal State Bakersfield head coach Rod Barnes said.
Barnes and the Roadrunners can relate with Grand Canyon. Cal State Bakersfield jumped to the Division I level in 2010 and were without a conference for three seasons.
The 'Runners joined the WAC in 2013 and have improved every season under Barnes.
Cal State Bakersfield (21-8, 11-3) set new Division I highs this year for wins in a season and best conference finish.
"When I took the job (five years ago), I was hopeful we'll get in a league," said Barnes, who was named WAC Coach of the Year on Tuesday. "We got the invitation to get in the WAC. I thought it would change our whole program and it has. Everyone wants to be playing for a chance to play for a championship and everyone wants a chance to play in the NCAA tournament."
The Roadrunners split the season series with Grand Canyon, but came away winless in close battles against New Mexico State.
New Mexico State (22-9, 13-1) needed two overtimes to win at Cal State Bakersfield and took an eight-point victory at home.
The Aggies are led by WAC Player of the Year Pascal Siakam, a sophomore forward who averages 20.7 points and 11.7 rebounds per game.
The Roadrunners have a balanced attacked with Aly Ahmed and Kevin Mays, who were named to the All-WAC First Team.
The New Mexico State men's and women's teams are automatically in Friday's semifinals for winning the regular season titles.
In the women's touranment, the Aggies (24-4, 13-1) are gunning for their second straight conference championship.
New Mexico State is led by Moriah Mack, Sasha Weber and Las Vegan Tamera William.
William, who graduated from Centennial High, has started every game during her junior season and is averaging 7.2 points per game.
"(William) is one of our top defensive players," said New Mexico State coach Mark Trakh, who was named WAC Coach of the Year for a second consecutive year. "She played well last year (in Las Vegas). She loves playing at home."
The Aggies were riding a 15-game winning streak before losing the regular season-finale on senior night to Rio Grande Valley last weekend.
"We're humble right now," Trakh said. "Any team can beat us. We're going to get everyone's best shot. We have to be at our best for three days."
Contact Gilbert Manzano at gmanzano@reviewjournal.com or 702-383-0492. Follow him on Twitter: @gmanzano24