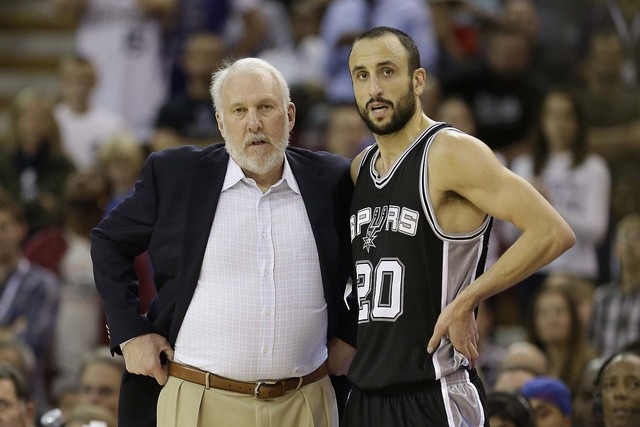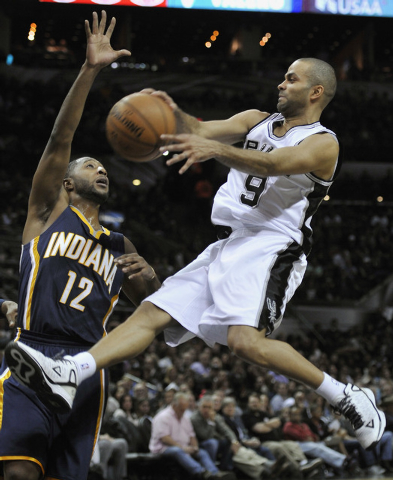 SAN ANTONIO — With Gregg Popovich resting after a medical procedure, Manu Ginobili had a throwback game while playing under former coach Ettore Messina for the first time in 13 years.
Ginobili had 21 of his 28 points in the second half and the San Antonio Spurs won without coach Popovich, rallying for a 106-100 victory over the Indiana Pacers on Wednesday night.
Popovich missed the game after undergoing what the team is calling a minor medical procedure. He is expected to miss Friday's home game against Sacramento, too.
Messina took over for Popovich, becoming the first European-born coach to run an NBA team in the regular season.
David Blatt, who is in his first season as head coach of the Cleveland Cavaliers after a successful career in Europe, was born in Boston.
Messina served as Spurs head coach in the a 121-90 loss to the Phoenix Suns on Oct. 16 in the preseason when Popovich opted to stay at home.
"I am terribly scared," Messina said of his regular season debut. "I am average scared. Not scared at all. You pick up the (one you want).
"I'm trying to think what Pop would have said to you. I haven't thought about (being the first European-born coach in the NBA) honestly. You try to stay focused on what you have to do that's it."
"It's just great to see (Manu) get his legs underneath him; get an opportunity to make some shots," Spurs veteran Tim Duncan said before teasing his fiery coach. "I think he's going to talk to somebody about not having Pop here anymore and letting coach Messina let him play like that."
After struggling with various leg injuries over the past few seasons, Ginobili resembled the high-flying star that played for Bologna in 2001 under Messina before joining the Spurs.
Ginobili helped the Spurs go on a 16-2 run in the fourth quarter in rallying for their fifth straight victory.
"I told Manu, 'I owe you another win in my career," Messina said. "He was unbelievable. He was all over the place, not only basketball wise, but his effort and his desire was contagious."