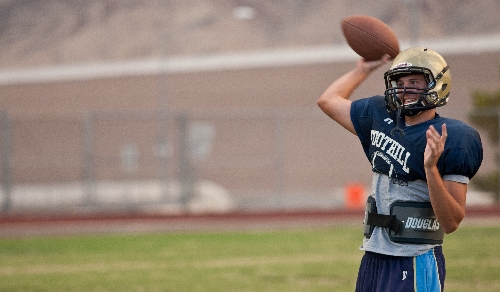 Drew Doxtator knows he's in a good situation.
Foothill's junior quarterback could be a handoff machine at another school. But instead, he's running the spread offense for the Falcons.
"It's a lot better than having to run a full run offense where you only get to throw the ball 11 times," Doxtator said. "Now I get to pass the ball 11 times a quarter, instead."
Doxtator put up good numbers last season, and he's a big reason expectations remain high for the Falcons this fall.
"Our quarterback's pretty good, and having a year under his belt, he has that experience," Foothill coach Marty Redmond said. "He's a pretty composed kid."
As a sophomore, Doxtator completed 57.4 percent of his passes for 2,687 yards and 37 touchdowns. He threw only six interceptions in leading the Falcons to a 9-3 record and a spot in the Sunrise Region title game.
And now in his second year as a starter, Doxtator is able to advance the offense even further.
"I'm more comfortable this year," Doxtator said. "We're getting more and more advanced with the offense."
Having a comfortable quarterback is extremely important in Foothill's offense.
"We definitely started ahead of the curve a little bit at that position, because that's kind of where it all starts for us," Redmond said. "If the quarterback doesn't know what's going on, we can't run our offense. I definitely feel like we're ahead of where we were scheme-wise last year."
The Falcons return only two offensive starters: Doxtator and receiver Tyler Morris. But Redmond thinks this team can be just as potent as it was last season, when the Falcons averaged 32.6 points.
Morris, who has committed to San Diego State, also is a standout safety.
"Our biggest concern is wearing him out," Redmond said. "We've got to find ways to actually get him off the field, because he's going to be a two-way player for us and a big player for us also on special teams."
Though the team lost the rest of its starting skill players, Morris isn't the only big-play threat. And Redmond thinks those other players could be key, especially if teams focus on Morris.
"He's a big, physical kid, and he's a matchup problem for a lot of teams," Redmond said. "But we have other skill guys, so if you're going to try to double him and try to take him away, we have other guys that can make big plays. Some people are going to have to choose what they're going to try to do."
Redmond is excited about senior running back Rickey Dixon, who didn't play last season.
"He's going to surprise some people this year," Redmond said. "He has good speed, and he's really football smart. That will help us a lot having him in the mix. He's really explosive and can score from anywhere as well."
The defense doesn't get as much attention, but Redmond thinks improved athleticism could help on that side of the ball.
"We are so much more athletic, so we don't think we're going to give up big plays like we did sometimes last year," he said.
And the players have plenty of motivation after a 37-35 loss to Liberty in the Sunrise final that ended the Falcons' season.
"We have our doubters out there," Morris said. "We're out to prove them wrong. If we work hard like we do every year, hopefully we'll be in the same spot we were last year and come out on top."
Doxtator said: "It left us hungry for more. We wanted to get over the top and succeed.
"It's a huge motivation."
Contact prep sports editor Damon Seiters at dseiters@reviewjournal.com or 702-380-4587.
In-depth high school sports coverage
AREA TEAMS ON TV
Two games involving area teams will be televised this week.
Tonight's Cheyenne at Desert Pines game will be the first "Thursday Night Lights" game of the season (Cable 12) at 8 p.m.
Friday's game featuring Our Lady of Good Counsel (Md.) at Bishop Gorman will be shown on ESPN2 (Cable 31).
LAS VEGAS REVIEW-JOURNAL