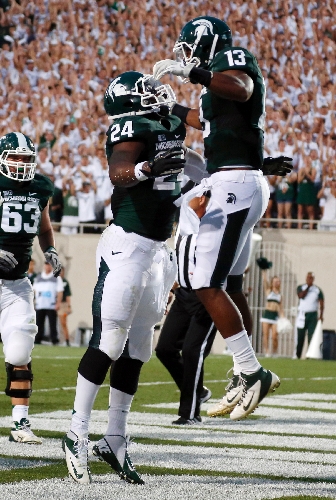 EAST LANSING, Mich. – After 44 carries, six receptions and more yards than the entire Boise State team, Michigan State's Le'Veon Bell was too tired to say much.
"I had no idea how many carries or yards I had. It was the most I've had in my collegiate career," Bell said. "But I've still got a lot of things to work on to get better."
Bell's first game as the Spartans' featured running back was an exhausting one, but his second touchdown of the game – from 5 yards out with 8:12 remaining in the fourth quarter – was enough to give No. 13 Michigan State a 17-13 victory over No. 24 Boise State on Friday.
Bell ran for a career-high 210 yards, helping the Spartans overcome four turnovers.
The Broncos drove to the Michigan State 42-yard line midway through the fourth quarter, but Joe Southwick's pass on fourth-and-2 was broken up.
The Spartans (1-0) then ran off the final 6:32.
Boise State (0-1) was sluggish in its first game after losing standouts Kellen Moore and Doug Martin from last season's explosive offense. The Broncos' only touchdown came on Jeremy Ioane's 43-yard interception return in the second quarter.
Bell became Michigan State's top running back when Edwin Baker left to enter the NFL Draft. His 44 carries more than doubled his previous career high of 20, and the junior also set career marks with six receptions for 55 yards.
Perhaps his biggest highlight didn't even lead to any points. In the third quarter, with Michigan State facing third-and-16 from its own 4, Bell ran to the right, then spun away from a couple of tacklers en route to a 35-yard gain and an improbable first down.
"A number of times he made something out of nothing," Spartans coach Mark Dantonio said. "You can't underestimate – 44 touches, and not fumbling the ball, and not coming close to fumbling it. He had some huge plays out there."
The Spartans outgained Boise State 461 yards to 206. The Broncos had won six straight against Bowl Championship Series-conference teams.
"We've got to do better in the red zone and we've got to be able to run the ball better," Boise State coach Chris Petersen said. "If we do those two things, we'll be OK on offense."
Michigan State leaned on Bell, especially after new starting quarterback Andrew Maxwell threw three first-half interceptions. Maxwell finished 22-for-38 for 248 yards.
Southwick, replacing Moore at quarterback, went 15-for-31 for 169 yards with an interception.
■ No. 21 Stanford 20, San Jose State 17 – At Stanford, Calif., Jordan Williamson kicked a career-long 46-yard field goal and the go-ahead score from 20 yards late in the third quarter as the Cardinal survived a scare from the Spartans.
Josh Nunes threw for 125 yards and a touchdown in his first start in place of Andrew Luck, the No. 1 overall draft pick. But the redshirt junior struggled to move the offense, and it almost cost Stanford (1-0).
The David Fales-Blake Jurich quarterback combo gave the Cardinal fits until De'Leon Eskridge fumbled in San Jose State (0-1) territory. That set up Williamson's tiebreaking kick, giving the redshirt sophomore a small stroke of redemption after he missed three field goals in a 41-38 loss to Oklahoma State in the Fiesta Bowl.