Betting contest leader takes a bad beat
November 28, 2013 - 11:22 pm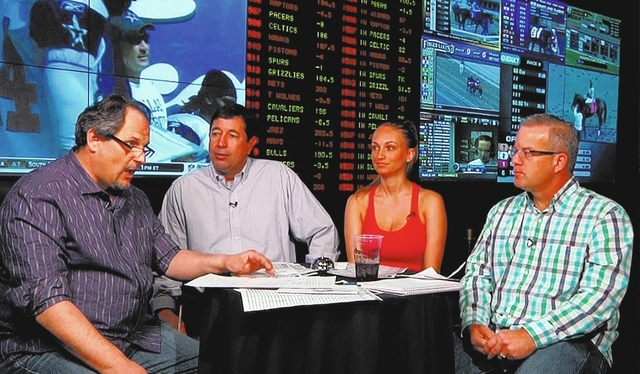 Even the hottest handicappers sometimes take the worst of it, as Richie Baccellieri knows after recently being struck by poor luck.
After the first round of the Friday Football Showdown, a $25,000 contest presented by the Las Vegas Review-Journal and staged weekly at the Golden Nugget sports book, Baccellieri was the No. 1 seed with a 6-1 record against the spread.
After recording another 6-1 record in the second round, Baccellieri has been bounced from the bracket.
"I would certainly be disappointed if I was in Richie's shoes and still feel bad for him," said Paul Stone, the handicapper who eliminated Baccellieri last weekend. "He's been near perfect and could have been 7-0 last week."
Stone (VegasSportsAuthority.com) also went 6-1, winning his head-to-head matchup with Baccellieri by virtue of a tiebreaker.
Baccellieri, a former bookmaker at Caesars Palace and the Palms, appears on "The Linemakers" on SportingNews.com. He was knocked out of the contest despite posting the top overall record (12-2) in the 16-handicapper field.
"The guy goes 12-2 and he's out of the contest," Golden Nugget sports book director Tony Miller said. "You can't ask him to do much more."
The semifinal round starts today at the Golden Nugget with top-seeded Scott Pritchard (11-3) opposing No. 4 seed Frank Betti (6-8). Stone (9-5) faces professional sports bettor Ron Boyles (7-6-1) on Dec. 6.
The contest is staged in a multimedia format, with videos and picks posted on reviewjournal.com and a live broadcast at 2 p.m. on ESPN Radio (1100 AM, 98.9 FM). Each contestant paid $1,500 to enter, and the Golden Nugget added $1,000 to the prize pool. The winner makes $20,000, with the second-place finisher collecting $5,000.
Two handicappers face off each Friday, and each makes seven selections against the spread from all college and NFL sides and totals posted on the Golden Nugget board. The seventh selection — designated as the Best Bet — is the first tiebreaker.
Baccellieri (RichieBwins.com) was ousted on the fifth tiebreaker. He lost with UCLA as a 2½-point underdog to Arizona State. The Bruins missed a 37-yard field-goal attempt late in the fourth quarter and fell 38-33, handing Baccellieri a double shot of bad-beat medicine.
"In a match-play, bracket-like format, whether it's golf, tennis or a handicapping contest, these things happen," Stone said. "One guy's maybe been the best over some period of time but either had an off day or ran into a hot opponent. I was fortunate to have a strong week and obviously needed every bit of it.
"I was already 4-0 early Saturday afternoon, and at that point, Richie was just 1-0, so I'm cautiously optimistic. But he just kept putting up winner after winner. Even at the time, in my mind, I was comparing it to Marvin Hagler and Thomas Hearns. I was throwing everything I had, and he just kept coming straight at me."
Stone, a Texas-based handicapper and former sports writer, has used college sides and totals for all 14 of his contest plays, turning his back to the NFL side of the board.
"I just don't have much interest in the NFL. College football is my favorite sport, and I devote the vast majority of my handicapping process to it this time of year," said Stone, who tied for first in the 2011 Leroy's College Football Challenge.
Pritchard (PritchardsPicks.com) has been a Las Vegas handicapper and professional sports bettor for more than 30 years. Betti (LasVegasAdvisor.com) is another pro.
The initial field included two-time LVH SuperContest winner Steve Fezzik, two-time Cantor Football Showdown runner-up Bryan Leonard and veteran oddsmaker Kenny White.
But the experienced and respected group flopped in the first round, compiling a combined 46-63-3 ATS mark. The results improved in the second round (35-20-1) to raise the overall record to 81-83-4.
For the public bettors who take delight in watching professional handicappers pale in the spotlight, the early results from the contest might have been amusing. But the contest has turned serious leading up to the Dec. 13 championship round.
"My expectations for the field would be somewhere between 55 to 60 percent winners. That would be great," Miller said. "At first, people were laughing.
"But now, a lot of people are following it, and it's really picked up the last few weeks. People come in and ask, 'What are the picks?' "
Contact reporter Matt Youmans at myoumans@reviewjournal.com or 702-387-2907. Follow him on Twitter: @mattyoumans247.