2018 NFL betting breakdown: Week 9
November 2, 2018 - 7:55 pm
Updated November 2, 2018 - 8:14 pm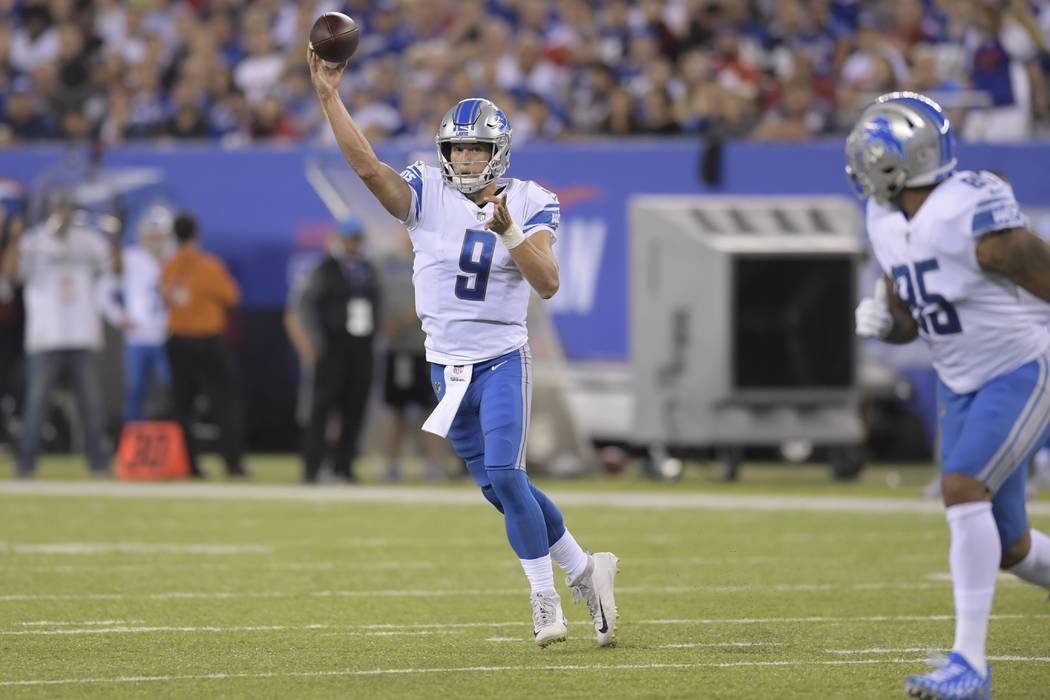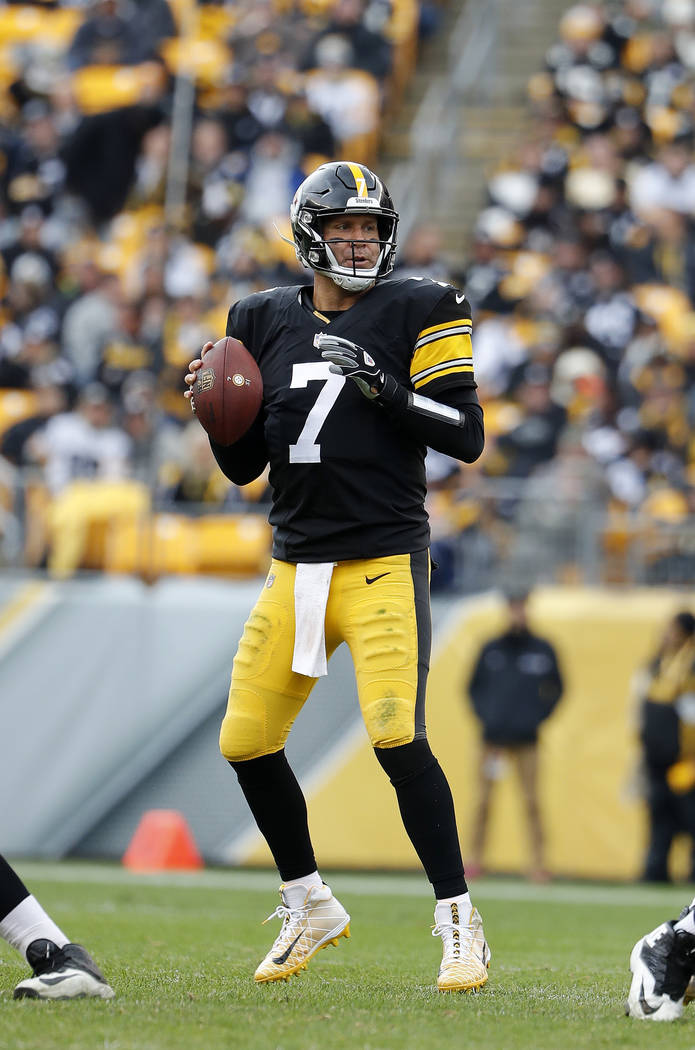 Lions (3-4) at Vikings (4-3-1)
Time: 10 a.m.
Line/Total: Vikings -5, 49
Analysis: Minnesota has the better defense, but statistically its performance is down from last season, allowing 60 more yards per game. Detroit has the better quarterback — Matt Stafford versus Kirk Cousins — and the more productive ground game. But that rushing attack (110 ypg) will be challenged by a Vikings defense allowing 92 ypg. The result might be determined by whether the Vikings' poor rushing offense (87 ypg) can take advantage of Detroit's poor rushing defense (145 ypg).
By the numbers: The Lions have struggled to score in recent meetings with the Vikings, scoring 17 points or fewer in six of their past nine games and no more than 23 points in any of them. Yet Detroit is 3-1 straight up and against the spread in its past four against Minnesota.
Pick: Vikings 24, Lions 21
———
Chiefs (7-1) at Browns (2-5-1)
Time: 10 a.m.
Line/Total: Chiefs -8, 51
Analysis: After their loss to Pittsburgh last week, the Browns fired offensive-minded coach Hue Jackson and offensive coordinator Todd Haley, raising the question of just how in sync the offense will be Sunday. The Kansas City offense continues to produce at a high level while avoiding turnovers. And the Chiefs defense just played its two best games, allowing fewer than 6.0 yards per play for the first two times this season.
By the numbers: The Chiefs lead the NFL in scoring at 36.2 ppg. … Cleveland's first five games were decided by five points or fewer, with three going into overtime. But two of their past three games have been decided by 15 and 24 points — both losses — with the other a three-point OT loss.
Pick: Chiefs 31, Browns 16
———
Steelers (4-2-1) at Ravens (4-4)
Time: 10 a.m., KLAS-8
Line/Total: Ravens -3, 47½
Analysis: This is a rematch of the Ravens' 26-14 victory Sept. 30, one of just six regular-season meetings between the two since 2008 decided by more than four points. Other than a handful of games in which either was injured, the Steelers have been quarterbacked by Ben Roethlisberger and the Ravens by Joe Flacco during that time, yet only three games have produced more than 43 total points. Both teams rank in the top eight in defensive yards per play allowed this season.
By the numbers: This is the 25th meeting between the Ravens and Steelers since 2008. Pittsburgh is 12-12 SU, 10-11-3 ATS with 12 overs, 10 unders and two pushes.
Pick: Steelers 21, Ravens 20
———
Buccaneers (3-4) at Panthers (5-2)
Time: 10 a.m.
Line/Total: Panthers -6, 54½
Analysis: Tampa Bay returns to Ryan Fitzpatrick at quarterback after Jameis Winston struggled following his return from suspension. The Bucs have played hard all season, with their only poor effort a 48-10 loss in Chicago. Their other three losses are by three, five and three points. After back-to-back wins over the Eagles and Ravens, a dull effort from the Panthers would not be a surprise.
By the numbers: Tampa leads the NFL with 376 passing yards per game but is 31st in pass defense, allowing 318 ypg, which partially explains why the Bucs are 6-1 to the over.
Pick: Panthers 31, Buccaneers 28
———
Jets (3-5) at Dolphins (4-4)
Time: 10 a.m.
Line/Total: Dolphins -3, 44
Analysis: The Jets continue to be plagued by injuries and a lack of depth to compensate for them on both sides of the football. Miami has shown that its 3-0 start provided false hope to the fan base. The Dolphins have an unsettled quarterback situation and a defense that ranks near the bottom of the NFL, allowing 6.4 yards per play. Miami won the first meeting 20-12 in Week 2, and the teams have split their season series in seven of the past 10 seasons.
By the numbers: Miami has allowed three consecutive opponents to average more than 7.0 yards per play. … The Jets' offense has averaged fewer than 6.0 yards per play in seven of eight games.
Pick: Jets 23, Dolphins 20
———
Falcons (3-4) at Redskins (5-2)
Time: 10 a.m., KVVU-5
Line/Total: Redskins -1½, 48
Analysis: Atlanta returns from its bye that followed wins over the Buccaneers and Giants. The Redskins have won three straight overall and three in a row at home after losing their home opener to the Colts. Atlanta's edge on offense is offset by Washington's much better defense. Both offenses have excelled at avoiding turnovers.
By the numbers: Washington has significant edges in the rushing game on both sides of the ball. The Redskins average 128 rushing yards, and the Falcons allow 113. Washington allows 80 rushing yards a game, and Atlanta runs for 83 yards per game.
Pick: Redskins 27, Falcons 16
———
Bears (4-3) at Bills (2-6)
Time: 10 a.m.
Line/Total: Bears -10, 37½
Analysis: The low total reflects the limitations of the Buffalo offense while recognizing the continued fine play of the Bills' defense. Chicago has the NFL's third-best rushing offense (138 ypg) and third-best rushing defense (83 ypg). Buffalo's pass defense has been a strength, holding three of its past four foes to fewer than 160 net passing yards, with Tom Brady the only quarterback to pass for more than 300 yards.
By the numbers: Buffalo has scored 13 or fewer points in five straight games and is averaging 10.9 points, last in the league. … The Bills allow an NFL low 10.2 yards per pass completion.
Pick: Bears 20, Bills 16
———
Texans (5-3) at Broncos (3-5)
Time: 1:05 p.m.
Line/Total: Broncos -1, 46½
Analysis: Houston has won five straight after starting 0-3. Denver started 2-0 but since has dropped five of six. A key intangible surrounding this matchup is the trade of wide receiver Demaryius Thomas from Denver to Houston. It makes sense that this gives Houston a major edge with Thomas sharing his knowledge of the Broncos' offense with a good Houston defense. The Texans' DeShaun Watson is a more dynamic quarterback than Case Keenum.
By the numbers: Denver played Kansas City last week, and after facing the Chiefs, teams are 7-0 to the over.
Pick: Texans 24, Broncos 20
———
Chargers (5-2) at Seahawks (4-3)
Time: 1:05 p.m.
Line/Total: Seahawks -1, 48
Analysis: The Chargers have won four straight and the Seahawks four of five. Seattle has one of the NFL's best home fields, and this is only their third home game this season. In the first two, the Seahawks handily defeated the Cowboys and lost to the Rams by two points.
By the numbers: The Chargers average 13.2 yards per pass completion, and the Seahawks allow only 10.5 yards per pass completion.
Pick: Seahawks 27, Chargers 21
———
Rams (8-0) at Saints (6-1)
Time: 1:25 p.m., KVVU-5
Line/Total: Rams -1, 59½
Analysis: The Rams survived another scare in their win over Green Bay last week. But they are 1-3-1 ATS in their past five games. The Saints have won six in a row after losing their opener to Tampa Bay, covering the past five and by more than a touchdown in four of them. This game could determine home field for a potential playoff meeting.
By the numbers: The Rams have scored at least 33 points in six games, and the Saints have held five foes to 24 points or fewer, including each of the past four. … The Rams have rushed for 135 yards in six games, and the Saints have held six straight foes to 93 or fewer rushing yards, with only Tampa Bay topping 100, with 112. Dating to 1988, the largest total for an NFL game was 61½ in 2000, when the Rams defeated the 49ers 34-24.
Pick: Saints 34, Rams 30
———
Packers (3-3-1) at Patriots (6-2)
Time: 5:20 p.m., KSNV-3
Line/Total: Patriots -5½, 56½
Analysis: The Packers had a chance to defeat the Rams last week, but a lost fumble on a kickoff late in the game deprived Aaron Rodgers of that chance in a 29-27 loss. The Patriots had a rather dull win Monday night at Buffalo, settling for four field goals in a 25-6 win. Both offenses have decent running games to complement the passing of Rodgers and Tom Brady.
By the numbers: Green Bay is outgaining foes by an average of 71 yards, and New England is being outgained by 1 yard a game, but the Patriots average 4.9 more points than the Packers.
Pick: Patriots 34, Packers 30
———
Titans (3-4) at Cowboys (3-4)
Time: 5:25 p.m. Monday, ESPN
Line/Total: Cowboys -5½, 40½
Analysis: The Titans have lost three straight. The Cowboys have played an interesting schedule that has featured alternating results with road losses followed by home wins. That pattern would call for a home win Monday. This line is pricey, especially when considering that two of the Titans' three defeats during their losing streak have been by one point.
By the numbers: Dallas' games have averaged 37.6 total points and Tennessee's 33.2. … Both teams are 5-2 to the under, with only five of their 14 games producing more than 37 points.
Pick: Cowboys 21, Titans 13
More Betting: Follow all of our betting coverage online at reviewjournal.com/betting and @RJ_Sports on Twitter.
— Andy Iskoe is a handicapper with TheLogicalApproach.com.