2018 NFL Week 1 betting breakdown
September 8, 2018 - 5:41 pm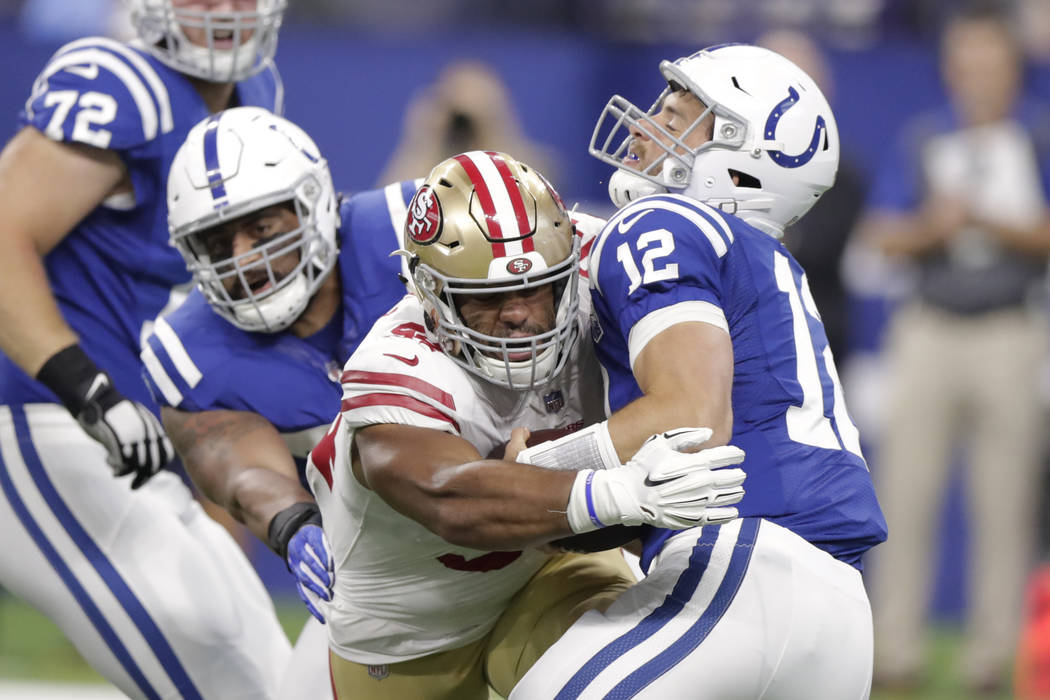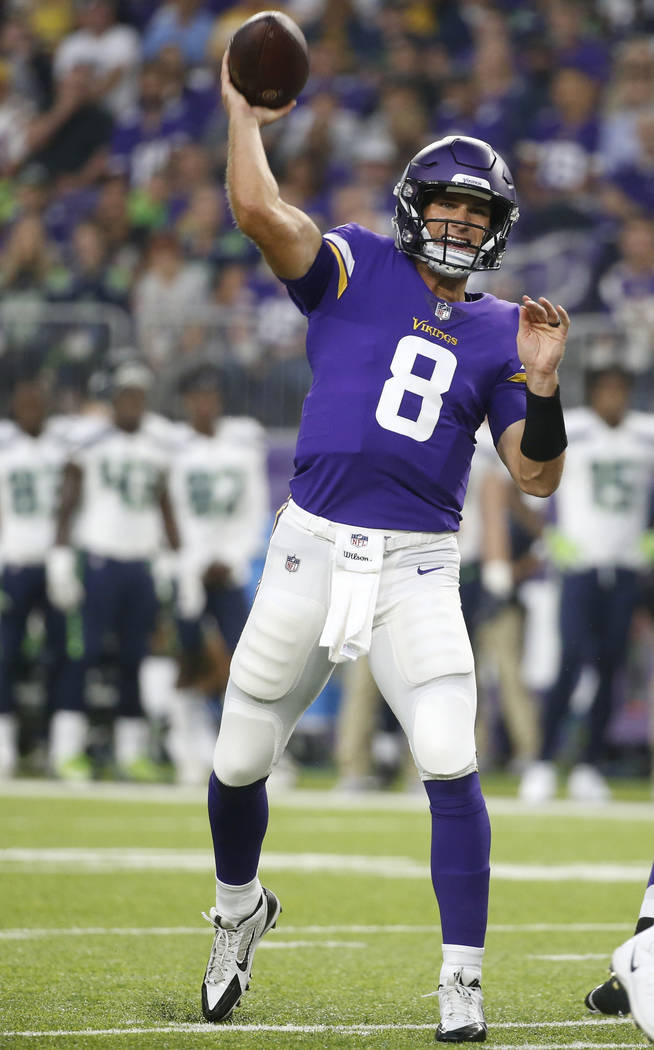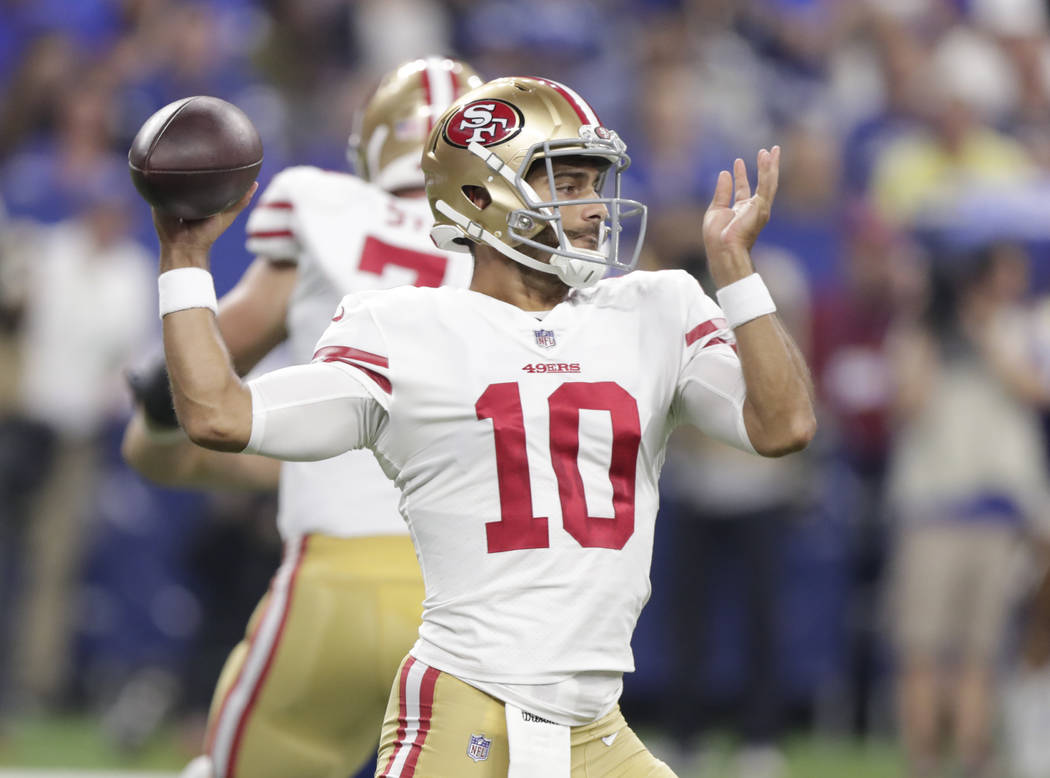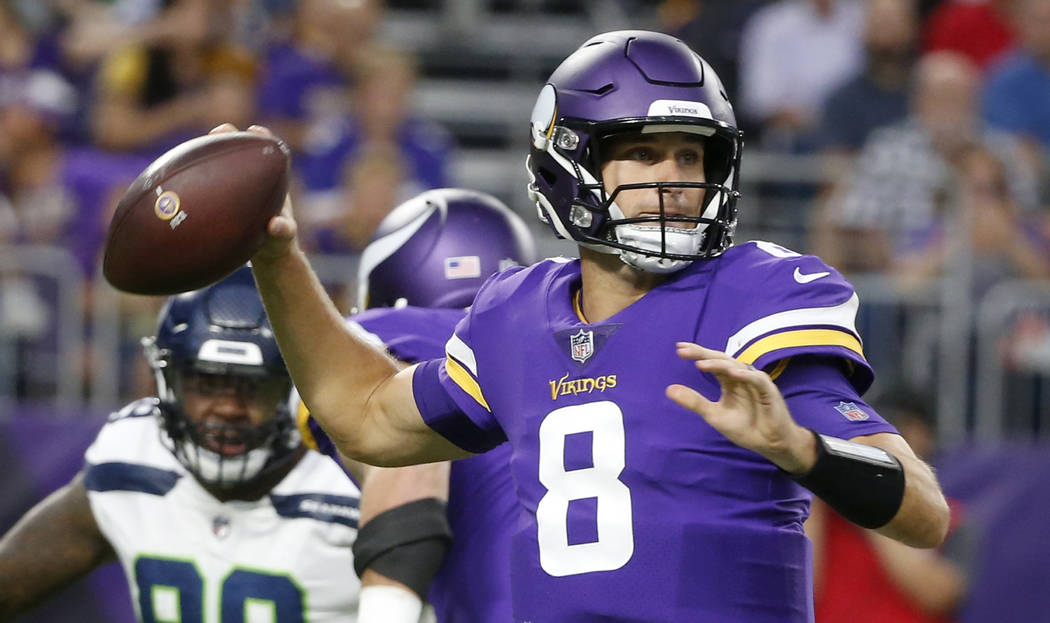 NFL BETTING BREAKDOWN
Eric Parkila, Sportsmemo.com
Steelers (0-0) at Browns (0-0)
Time: 10 a.m.
Line/Total: Steelers -4, 40½
Analysis: There has been a lot of hype around the Browns entering the season after going 1-31 the last two seasons. Pittsburgh will be without an offensive weapon in running back Le'Veon Bell, who is in a contract dispute. Former Steelers offensive coordinator Todd Haley is the new offensive coordinator in Cleveland and could be the key.
By the numbers: The Steelers are 5-5 against the spread in their last 10 games at Cleveland. … The Browns were 0-16 last season, losing by an average of 11 points per game.
Pick: Steelers 21, Browns 20
49ers (0-0) at Vikings (0-0)
Time: 10 a.m., KVVU-5
Line/Total: Vikings -6½, 46
Analysis: The Vikings should be ready to get back on the field after last season ended a game shy of the Super Bowl. The addition of Kirk Cousins at quarterback will make the Vikings more consistent on offense while maintaining one of the league's top defenses. The 49ers finished the season on a 5-0 run after making the move to Jimmy Garoppolo at quarterback. But the offense has little in the way of playmakers after losing Jerick McKinnon for the season to a torn ACL.
By the numbers: Garoppolo was 3-0 in road games with an average winning margin of 10.7 points. … Cousins did not top 300 yards passing in his final six games with Washington.
Pick: Vikings 24, 49ers 14
Bengals (0-0) at Colts (0-0)
Time: 10 a.m.
Line/Total: Colts -2½, 48
Analysis: The Colts are hopeful that improvements made to the offensive line, specifically the addition of rookie Quenton Nelson at left guard, will keep quarterback Andrew Luck upright. Luck has not played since 2016 after suffering a shoulder injury. But he's listed as the probable starter, and the Colts are a much better team with him in the lineup. Aside from the quarterback position, the Bengals are better on offense with A.J. Green at wide receiver, Tyler Eifert at tight end and Joe Mixon at running back. If the Bengals' front four can keep Luck from getting comfortable, Cincinnati can come away with a road win.
By the numbers: The Bengals are 0-5 straight up and 2-3 ATS in their last five games at Indianapolis. … When Luck was healthy in 2016, the Colts averaged 27 points per game.
Pick: Bengals 27, Colts 24
Bills (0-0) at Ravens (0-0)
Time: 10 a.m.
Line/Total: Ravens -7½, 39½
Analysis: Nathan Peterman is not only still in the league but also Buffalo's Week 1 starting quarterback. Time will tell how short the leash will be on Peterman before the franchise hands the keys to rookie Josh Allen. Peterman is not going to win games, but the goal will be to manage them. A heavy dose of LeSean McCoy will be necessary to keep the Bills in this one.
By the numbers: Peterman has appeared in five games in his career, throwing for two touchdowns with a 48 percent completion rate. … The Bills are 0-3 straight up and 1-2 ATS in their last three games at Baltimore.
Pick: Ravens 26, Bills 10
Jaguars (0-0) at Giants (0-0)
Time: 10 a.m.
Line/Total: Jaguars -3, 42½
Analysis: This game features two quarterbacks who like to throw the ball to the other team in Blake Bortles and Eli Manning. Jacksonville loses Allen Hurns and Allen Robinson, who missed the 2017 season with an injury, but replaced them with Donte Moncrief. Giants receiver Odell Beckham Jr. got a big contract after playing four games in 2017, and rookie Saquon Barkley was crowned king of running backs after his first carry of the preseason.
By the numbers: The Jaguars have lost their last three games at New York but covered two of them. … The three games have been decided by an average of 4.7 points.
Pick: Giants 21, Jaguars 20
Buccaneers (0-0) at Saints (0-0)
Time: 10 a.m.
Line/Total: Saints -9½, 49½
Analysis: Ryan Fitzpatrick is a serviceable backup with starting experience. Fitzpatrick is filling in for suspended Jameis Winston. Fitzpatrick is not short on weapons with wideouts DeSean Jackson and Mike Evans and tight ends O.J. Howard and Cameron Brate. Drew Brees is a future Hall of Famer, but the Saints quarterback is also 39. What he is losing in physical ability, he makes up for with experience and intelligence.
By the numbers: The Bucs allowed a league-high 260.6 passing yards per game last season. … The Saints ranked fifth in passing yards per game with 268.7.
Pick: Saints 31, Buccaneers 21
Texans (0-0) at Patriots (0-0)
Time: 10 a.m.
Line/Total: New England -6, 50½
Analysis: The Patriots again are the preseason favorites to win the Super Bowl. Texans quarterback Deshaun Watson was running all over the NFL last season before suffering a season-ending injury in practice. Tom Brady will be without Julian Edelman to start the season, but the Patriots always seem to find someone else to step up.
By the numbers: The Patriots are 3-2 ATS in their last five openers. … The three New England wins were by an average of 3.7 points.
Pick: Patriots 28, Texans 24
Titans (0-0) at Dolphins (0-0)
Time: 10 a.m.
Line/Total: Titans -1, 45
Analysis: Jay Cutler has retired to become a reality TV star, so the Dolphins are Ryan Tannehill's team again after the quarterback was sidelined with an injury last season. Miami needs to fill the void on the defensive line after Ndamukong Suh left for the Rams. The Titans have a new coach in Mike Vrabel.
By the numbers: The Dolphins failed to score more than 20 points in 11 games last season. … Tennessee QB Marcus Mariota threw for more than 300 yards twice last season.
Pick: Dolphins 20, Titans 17
Chiefs (0-0) at Los Angeles Chargers (0-0)
Time: 1:05 p.m., KLAS-8
Line/Total: Chargers -3½, 48½
Analysis: The post-Alex Smith era begins for Kansas City with Patrick Mahomes at quarterback. Mahomes is more of a gunslinger than Smith and has plenty of speedy receivers. The Chargers seem to be bitten by the injury bug each season, and 2018 will start the same way.
By the numbers: The Chargers are 1-6 ATS against the Chiefs at home, with their last cover in 2012. … The Chargers are 3-7 ATS with Andy Reid as Kansas City's coach.
Pick: Chiefs 31, Chargers 27
Seahawks (0-0) at Broncos (0-0)
Time: 1:25 p.m.
Line/Total: Broncos -3, 42
Analysis: Seattle has question marks all over the roster, beginning with its defense. After losing Richard Sherman to the 49ers in free agency, cornerback Byron Maxwell was lost for the season with a hip injury and free safety Earl Thomas missed the preseason with a contract holdout. The Broncos will look to Case Keenum to revive an offense that scored 18.1 points per game last season.
By the numbers: Seattle has not been to Denver since 2010, when they lost 31-14 as a 3-point underdog. … Denver has won its last five home openers by an average of four points.
Pick: Broncos 23, Seahawks 21
Cowboys (0-0) at Panthers (0-0)
Time: 1:25 p.m., KVVU-5
Line/Total: Panthers -3, 42
Analysis: Dallas and Carolina were in the top five in rushing attempts per game last season. Expect to see more of the same with the Cowboys' Ezekiel Elliott and the Panthers' Christian McCaffrey.
By the numbers: The Cowboys are 3-1 straight up and ATS in their last four games as an underdog at Carolina. … The Panthers were 2-4 as home favorites last season.
Pick: Panthers 24, Cowboys 23
Redskins (0-0) at Cardinals (0-0)
Time: 1:25 p.m.
Line/Total: Cardinals -1½, 43½
Analysis: The wrong team is favored, as the Redskins replace QB Kirk Cousins with Alex Smith. Aside from the time he spent with Kurt Warner, Larry Fitzgerald has not had a consistent quarterback. Injury-prone Sam Bradford isn't the answer, and rookie Josh Rosen is waiting. Running back David Johnson's return will help Bradford. But, besides Fitzgerald, the Arizona receiving corps is not going to scare anyone.
By the numbers: The Cardinals were home favorites twice last season, going 1-1 ATS. … The Redskins were 9-7 ATS last season, 3-3 ATS on the road. … Washington was outscored 27.1-19.5 last season on the road.
Pick: Redskins 17, Cardinals 10
Bears (0-0) at Packers (0-0)
Time: 5:20 p.m., KSNV-3
Line/Total: Packers -7, 47
Analysis: Much has been made of the Khalil Mack trade, and it can be argued the NFL's 2016 Defensive Player of the Year will face the best passing division in the NFC North. The Bears defense has the potential to be good and improve upon their 2.6 sacks per game from last season. With a healthy Aaron Rodgers back for the Packers, the defense should see the field less often and improve upon the 348.9 yards per game it gave up last season. Look for Chicago QB Mitch Trubisky to grow in his second season with better offensive weapons.
By the numbers: Chicago was 9-7 ATS last season but 2-3 ATS against the NFC North and 3-5 ATS as an away underdog. … The Packers were 3-1 ATS as home favorites.
Pick: Packers 28, Bears 24
Jets (0-0) at Lions (0-0)
Time: 4:10 p.m. Monday, ESPN
Line/Total: Lions -6½, 45
Analysis: Sam Darnold, 21, is set to become the NFL's youngest starting quarterback. On the road. On "Monday Night Football." Add in that the five offensive linemen who will protect Darnold never have taken a snap together and you have a recipe for disaster. Detroit brought in former Patriots defensive coordinator Matt Patricia as the head coach.
By the numbers: New York finished 9-6-1 ATS last season but 1-4-1 ATS as a road underdog. … The Lions were 3-1 ATS last season as home favorites.
Pick: Lions 27, Jets 10
Rams (0-0) at Raiders (0-0)
Time: 7:20 p.m. Monday, ESPN
Line/Total: Rams -4½, 48½
Analysis: The Rams defense allowed 20.9 ppg last season and added Ndamukong Suh to help Aaron Donald on the defensive line. Coach Sean McVay seemed to be the quarterback whisperer Jared Goff needed. Jon Gruden is back on the sidelines for the Raiders after a decade absence. Will the Raiders' offense thrive with Derek Carr and Amari Cooper? How will the defense that struggled last season do after losing Mack?
By the numbers: This is the third meeting between these two teams in Oakland since 2006. The Rams went 2-0 ATS as an underdog in the previous two games. Oakland went 1-0-1 ATS as a home underdog last season.
Pick: Rams 26, Raiders 21
More betting: Follow all of our sports betting coverage online at reviewjournal.com/betting and @RJ_Sports on Twitter.