AFC betting capsules: Are Raiders a contender or pretender?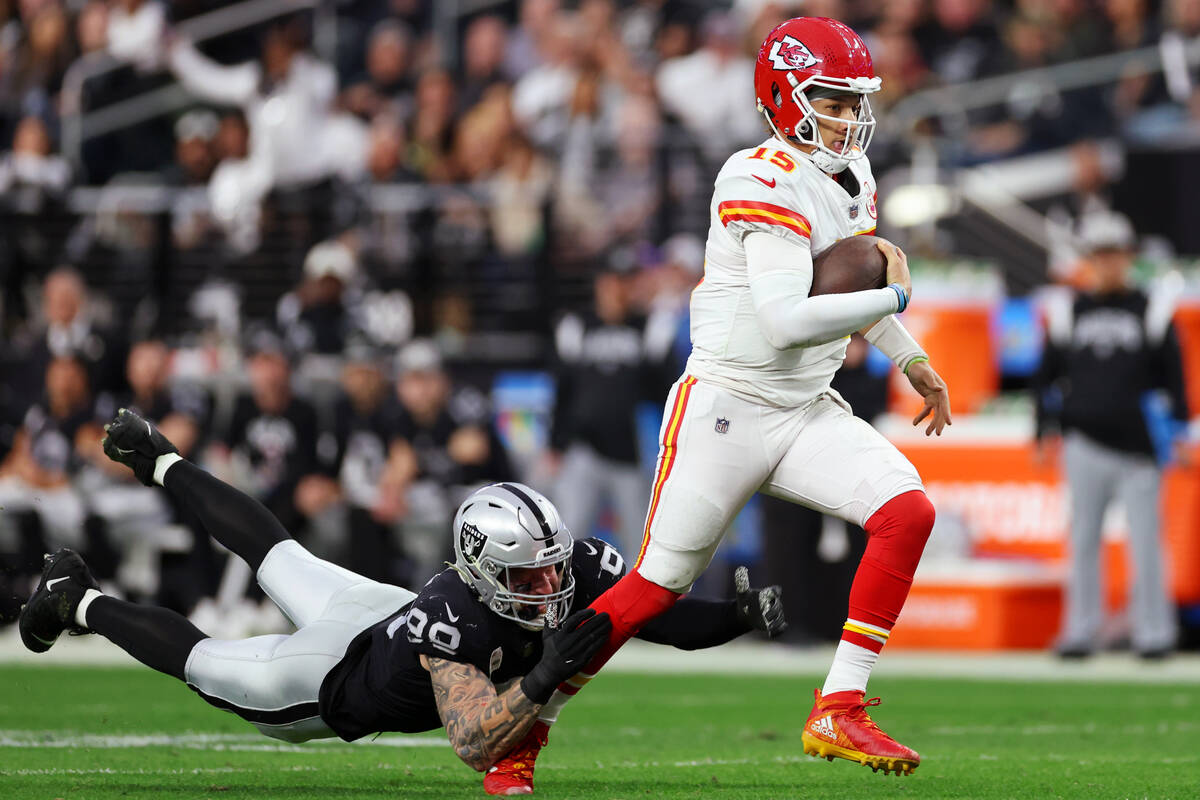 "Dr. Alan" Dumond is a two-time top-five finisher in the Westgate SuperContest.
The Wizardraceandsports.com handicapper analyzes all 16 AFC teams, designating each squad as a contender or pretender. The site is offering discounted monthly and season-long packages.
AFC WEST
Kansas City Chiefs: No Tyreek Hill. No Tyrann Mathieu. No problem. The Chiefs kept rolling along despite losing those two Pro Bowl players as they erased a double-digit halftime deficit to the Eagles in the Super Bowl en route to winning their second Lombardi Trophy of the Andy Reid-Patrick Mahomes era. The Chiefs have won seven straight AFC West titles, hosted five consecutive AFC championship games, appeared in three Super Bowls and won two of them. Now they'll try to become the first team to repeat as champions since the Patriots went back-to-back in 2004 and 2005. The Chiefs lost five starters from last year to free agency, along with offensive coordinator Eric Bieniemy. But as long as Reid and reigning NFL MVP quarterback Mahomes are together, the Chiefs will remain a contender.
Los Angeles Chargers: Coach Brandon Staley guided the Chargers to a 10-7 record last season and their first playoff berth since 2018, only to blow a 27-0 lead against the Jaguars in a 31-30 wild-card loss. New offensive coordinator Kellen Moore will get to work with quarterback Justin Herbert and his dynamic receiving corps. The Chargers also have a new defensive coordinator in Derrick Ansley and will feature the pass rushing duo of Joey Bosa and Khalil Mack. If Staley can cut out the coaching blunders, the Chargers will be a contender.
Raiders: The Raiders took a step back last season under coach Josh McDaniels, regressing from a 10-7 record and a playoff appearance in 2021 to a frustrating 6-11 mark. The Raiders blew four double-digit halftime leads. Quarterback Derek Carr has been replaced by Jimmy Garoppolo, a proven winner. But the big question mark is whether Garoppolo can stay healthy. Running back Josh Jacobs is the NFL's reigning leading rusher, but he's also a concern after holding out for a new contract. Pro Bowl defensive end Maxx Crosby is solid, and rookie defensive end Tyree Wilson is expected to make an immediate impact, but the defense remains a work in progress. With so many question marks, the Raiders are a pretender.
Denver Broncos: Twelve. That's the number of starting quarterbacks the Broncos have had since Peyton Manning retired after helping Denver win the 2016 Super Bowl. Russell Wilson's first season with the Broncos was an unmitigated disaster. He had the worst season of his career and Denver scored the fewest points in the NFL en route to a 5-12 mark. The Broncos replaced coach Nathaniel Hackett with Sean Payton, a huge upgrade. Denver should be stout again on defense and should improve under Payton. But the Broncos will remain a pretender.
AFC NORTH
Cincinnati Bengals: The Bengals followed up their 2022 Super Bowl appearance by going 12-4 and claiming their second straight AFC North crown before falling to the Chiefs in the AFC title game. Quarterback Joe Burrow is the main reason for the Bengals' sustained success. The explosive receiver trio of Ja'Marr Chase, Tee Higgins and Tyler Boyd is one of the best in the league. Defensive coordinator Lou Anarumo has improved Cincinnati's stop unit in each of his four seasons with the team, and rookie defensive end Myles Murphy should make an immediate impact. As long as the Bengals have Burrow, they are a contender.
Baltimore Ravens: The Ravens returned to the playoffs last season, but lost their wild-card game to the Bengals. For the second straight year, quarterback Lamar Jackson appeared in only 12 games due to injury, and he sat out the playoff loss. Despite Jackson's injury concerns and 1-3 record as a postseason starter, the Ravens gave him a five-year, $260 million contract. Coach John Harbaugh brought in new offensive coordinator Todd Monken, and the defense, anchored by linebacker Roquan Smith, should be solid. The Ravens are a contender.
Pittsburgh Steelers: Despite dire preseason predictions last year, coach Mike Tomlin kept his remarkable streak of never having a losing season alive for the 16th straight year. The Steelers went 9-8 in their first season after quarterback Ben Roethlisberger retired. Rookie quarterback Kenny Pickett started 12 games, winning seven of them, and is expected to improve. The defense, led by linebacker T.J. Watt and defensive end Cameron Heyward, held its last seven opponents to 17 points or less and should be solid again. The arrow is pointing up in Pittsburgh. But the AFC North is stacked, so the Steelers will remain a pretender.
Cleveland Browns: The Browns have had 32 starting quarterbacks since the 2000 season. Cleveland hopes that Deshaun Watson can give the long-suffering franchise stability and a legitimate chance to compete in a stacked division and conference. The Browns have plenty of explosive weapons with wideouts Amari Cooper and Elijah Moore and running back Nick Chubb. The defense, led by defensive end Myles Garrett and cornerback Denzel Ward, should be stout. If Watson regains his Pro Bowl form, the Browns will be a contender.
AFC EAST
Buffalo Bills: The Bills won their third straight AFC East title, quarterback Josh Allen had another stellar season, and Buffalo's undervalued defense gave up the second-fewest points in the NFL. But, once again, the Bills' regular-season success didn't translate into postseason success, as they lost at home to the Bengals in the divisional round. Buffalo rookie tight end Dalton Kincaid from Faith Lutheran should make an instant impact. Coach Sean McDermott has guided the Bills to the playoffs in five of his six years in Buffalo, but the pressure is on to get the Bills back to the Super Bowl for the first time since 1994. Contender.
Miami Dolphins: Coach Mike McDaniel directed the Dolphins to a 9-8 record and their first playoff berth since 2017 in his first season in Miami. But it was a one-and-done playoff exit, and quarterback Tua Tagovailoa wasn't able to finish the season due to injury. His health is the biggest question mark for Miami, which is loaded with skill position talent on both sides of the ball with receivers Tyreek Hill and Jaylen Waddle and cornerback Xavien Howard. New defensive coordinator Vic Fangio is a defensive guru. If Tagovailoa can stay upright for 17 games, the Dolphins are a contender.
New England Patriots: The Patriots used to be described as a dynasty. Now the franchise is defined by decline and dysfunction. New England went 8-9 last season, and reports of organizational strife between owner Robert Kraft and coach Bill Belichick over quarterback Mac Jones, whose play regressed badly last year, made offseason headlines. In an attempt to fix things, Bill O'Brien is back for another stint as offensive coordinator. The "Patriot Way" won't lead to many wins this season. Pretender.
New York Jets: Last year, the Jets won the draft, with cornerback Ahmad "Sauce" Gardner and wideout Garrett Wilson winning the Defensive and Offensive Rookie of the Year awards, respectively. New York improved from 4-13 in 2021 to 7-10. But it still hasn't had a winning season since 2015, and it hasn't been to the playoffs since 2010, the league's longest postseason drought. The Jets won the Aaron Rodgers sweepstakes and will reunite the four-time NFL MVP quarterback with new offensive coordinator Nathaniel Hackett. But the Jets still have to show that they can produce a winning season. Until they do, they will remain a pretender.
AFC SOUTH
Jacksonville Jaguars: NFL famously stands for "not for long," and exhibit A is the Jaguars. Coach Doug Pederson took them from worst to first in his first season, with Jacksonville improving from 3-13 to 9-8 and first place in the division. Quarterback Trevor Lawrence improved dramatically in his second season. The Jaguars lost to the Chiefs in the divisional round, but there's no shame in that. Contender.
Tennessee Titans: The Titans ended last season with seven straight losses as they flushed a 7-3 start and their playoff hopes down the drain. Quarterback Ryan Tannehill returns, with second-round draft pick Will Levis waiting in the wings. Running back Derrick Henry is once again projected to the centerpiece of the offense. Mike Vrabel is a good coach, and we'll look for a bounce-back year from Tennessee. But the Titans are a pretender.
Indianapolis Colts: For the eighth straight year, the Colts will have a new starting quarterback in Week 1 in rookie Anthony Richardson. Indianapolis also has a new coach in former UNLV quarterback and Eagles offensive coordinator Shane Steichen, who replaces Frank Reich. Running back Jonathan Taylor is a question mark after demanding a trade. Indianapolis finished 28th in the league in points allowed. The Colts are a pretender.
Houston Texans: The Texans will start their fourth straight season with a new coach as former 49ers defensive coordinator DeMeco Ryans replaces Lovie Smith. Houston, 11-38-1 the last three seasons, will be bolstered by the Nos. 2 and 3 picks in the draft in quarterback C.J. Stroud and edge rusher Will Anderson Jr. Oddsmakers expect to see some improvement, as the Texans have a season win total of 6½. Pretender.
Contact reporter Todd Dewey at tdewey@reviewjournal.com. Follow @tdewey33 on X.