Baltimore worthy at minus-1½ vs. Bengals
September 7, 2014 - 9:08 am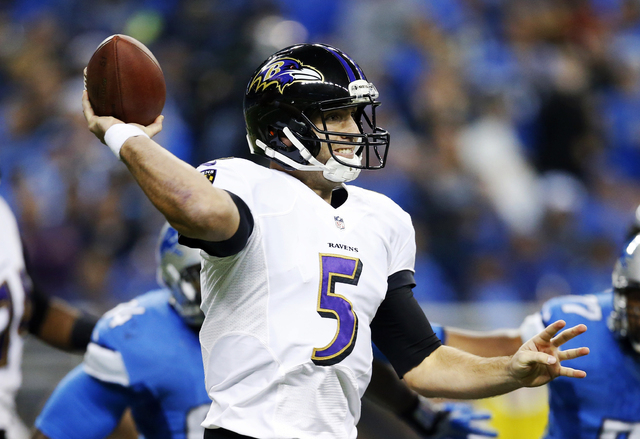 It was no surprise last season when John Harbaugh woke up with a hangover. It was the Super Bowl hangover, and it hit the Baltimore Ravens like it had so many other teams in the past.
Harbaugh coached the Ravens to an 8-8 finish, one season after winning the NFL title.
The Cincinnati Bengals are just trying to win a playoff game, something that has eluded quarterback Andy Dalton during his brief career. Still, the Bengals are perceived as a better team than the Ravens, who are 1½-point home favorites in the AFC North rivals' season opener today.
"This was a game I initially chose the Bengals to win when the lines came out in April, but the more time I had to think, the more Baltimore at home made sense," said Micah Roberts, an analyst for "The Linemakers" on Sportingnews.com and a former Las Vegas bookmaker.
The Bengals are 0-4 in their past four trips to Baltimore and 2-6-1 against the spread in their past nine road games. In this series, the home team has won eight of the past nine meetings.
"Let's face it, the Bengals are awful away from the jungle," Roberts said. "But it's hard not to think they're just one little step away from being elite because of those wipeouts at home, where they went 8-0 ATS last regular season.
"Last season was just a throwaway for the Ravens, as they were the sixth Super Bowl winner in the past 12 seasons to miss the playoffs the following year. Overall, Baltimore is just a healthier, more physically and mentally fit team this year, and they dominated at times during a 4-0 preseason. We'll see a typical Harbaugh team at home, with the defense giving Cincinnati problems."
After Harbaugh and quarterback Joe Flacco missed the playoffs for the first time in six years, the Ravens made several roster improvements, including the addition of wide receiver Steve Smith from Carolina.
Under the total of 43 is the "top play," said Roberts, who picked the Ravens to win, 16-13.
Roberts breaks down the rest of today's Week 1 schedule:
■ New Orleans (-3) at Atlanta: It's pretty clear where the sharp and respected money is, because the line was pushed from pick-em all the way up to minus-3. However, I like the Falcons to step up as home underdogs. I hate to say it, but this is a season-defining game right out of the gate for Atlanta after a tumultuous 4-12 season. I like teams with a quality quarterback that are challenged, especially when at home, and Matt Ryan can get it done. The 'dog has covered seven of the past 10 meetings. Falcons, 27-24
■ Minnesota at St. Louis (-3½): The big story in this game isn't that Sam Bradford isn't playing for the Rams. Their fate now rests with veteran quarterback Shaun Hill, who is capable. But it's not a comforting situation for St. Louis. A big home edge goes to the Rams, but other than that it's a coin flip. Rams, 24-23
■ Cleveland at Pittsburgh (-7): The Steelers have won and covered the past three meetings with Cleveland, and they come in with some momentum after covering seven of eight games to finish last season. The Pittsburgh defense should be vastly improved, and Browns quarterback Brian Hoyer will feel the pressure. Steelers, 27-17
■ Jacksonville at Philadelphia (-10½): The Jaguars are the biggest underdogs of the week, but I think coach Gus Bradley's retooled roster in his second season will change the views of many oddsmakers who have them as the lowest-rated team in the NFL. The biggest reason is stability at quarterback, as Chad Henne has been listed as the starter throughout the offseason. Henne isn't great, but he can manage a game well, and he isn't facing a tough Seattle defense. The improved Jacksonville defense will keep this game close and possibly put the Jaguars in position to win outright, which fetches plus-450 on the money line. For what it's worth, Philadelphia is 6-21-1 ATS in its past 28 home games. Jaguars, 28-27
■ Oakland at New York Jets (-5½): There is a triple-negative here with the Raiders traveling three time zones to New York, playing an early game and doing so with a rookie quarterback. As grim as that sounds, how can you trust the Jets, especially with Geno Smith running the offense? The New York defense was not impressive in the preseason. However, I do like the dynamic of running back Chris Johnson and wideout Eric Decker. Still, it all falls on Smith to make it happen, and I'm not willing to bet he can win by six points or more. Jets, 20-17
■ Buffalo at Chicago (-7): Good luck with this one. The Bears are 1-8-1 ATS in their past 10 at home, while the Bills are 2-8 ATS in their past 10 on the road. I love the Bears' offense, but hate their defense, and in the preseason, their defense looked every bit as bad (391 yards per game allowed) as last season (394). The constant for both teams has been flying over posted totals. Chicago went over in 12 of 16 last season and Buffalo in 10 of 16, so there should be some scoring. The Bills will make it close, but the top play is over the total of 47. Bears, 33-31
■ Washington at Houston (-3): It's obvious by the spread that not many are excited about the Redskins' prospects in 2014. Despite little hype for this game, it should be entertaining and offer plenty of scoring opportunities. Who wants to lay points with the Texans, who failed to cover all six games they were favored in last season? Redskins, 31-27
■ Tennessee at Kansas City (-3): The Chiefs won at Tennessee 26-17 in October, and something doesn't look right with this number. Kansas City is at least 2½ points better than Tennessee on a neutral field, so if we add 3 for playing at Arrowhead Stadium, this line should be about 5½. So the value rests with Kansas City as a short home favorite. Look for a low-scoring game. Chiefs, 26-10
■ New England (-4½) at Miami: I'm still not sure how I feel about the Patriots, and I'm listening to plenty of reasons why I should like the Dolphins. What New England is doing — 11 straight double-digit win seasons — is supposed to be impossible. I can't lay points on the road here while expecting a good effort out of Miami's defense. The total of 47 looks a little high. I'm staying away from the side and taking the under, which cashed in the teams' past four meetings. Dolphins, 23-20
■ Carolina at Tampa Bay (-3): This number has moved dramatically because of a rib injury to Panthers quarterback Cam Newton, but I don't think the line shift is warranted. A lot of people are suggesting Carolina will be down this season, but I don't see that, and it's because of a defense that ranked No. 2 in the NFL behind Seattle. That unit helped keep nine of the Panthers' last 10 games under the total last season. Look for a low-scoring game in Lovie Smith's coaching debut with the Buccaneers. Panthers, 23-10
■ San Francisco (-4½) at Dallas: I hope I didn't do myself a disservice and drop my rating on the 49ers too much. By reading reports through camp and watching San Francisco during the preseason, there was enough to suggest the 49ers are not at their best. Dallas is obviously weak defensively. But the Cowboys came out fired up and covered seven of their first eight games last season, and don't count out Tony Romo and a talented offense. The 49ers will get better, but I think Dallas steals this one. Cowboys, 27-20
■ Indianapolis at Denver (-7½): The last time we saw the Broncos, they allowed 43 points in the Super Bowl. The last two times we saw the Colts, they allowed 43 and 44 points in two playoff games. The Denver defense is vastly improved, but the flow of Peyton Manning's games will continue to see the Broncos get scored on, and this should be no different. The best play is over the total of 55½. Broncos, 38-28