Best bets for the World Cup Round of 16
Updated June 29, 2018 - 7:15 pm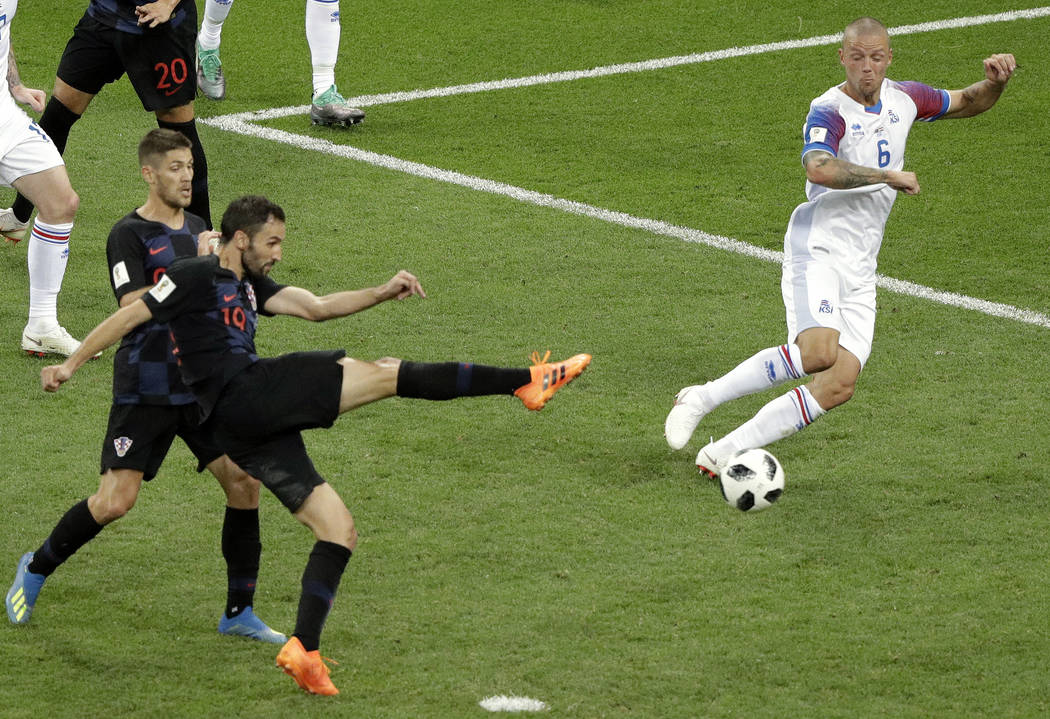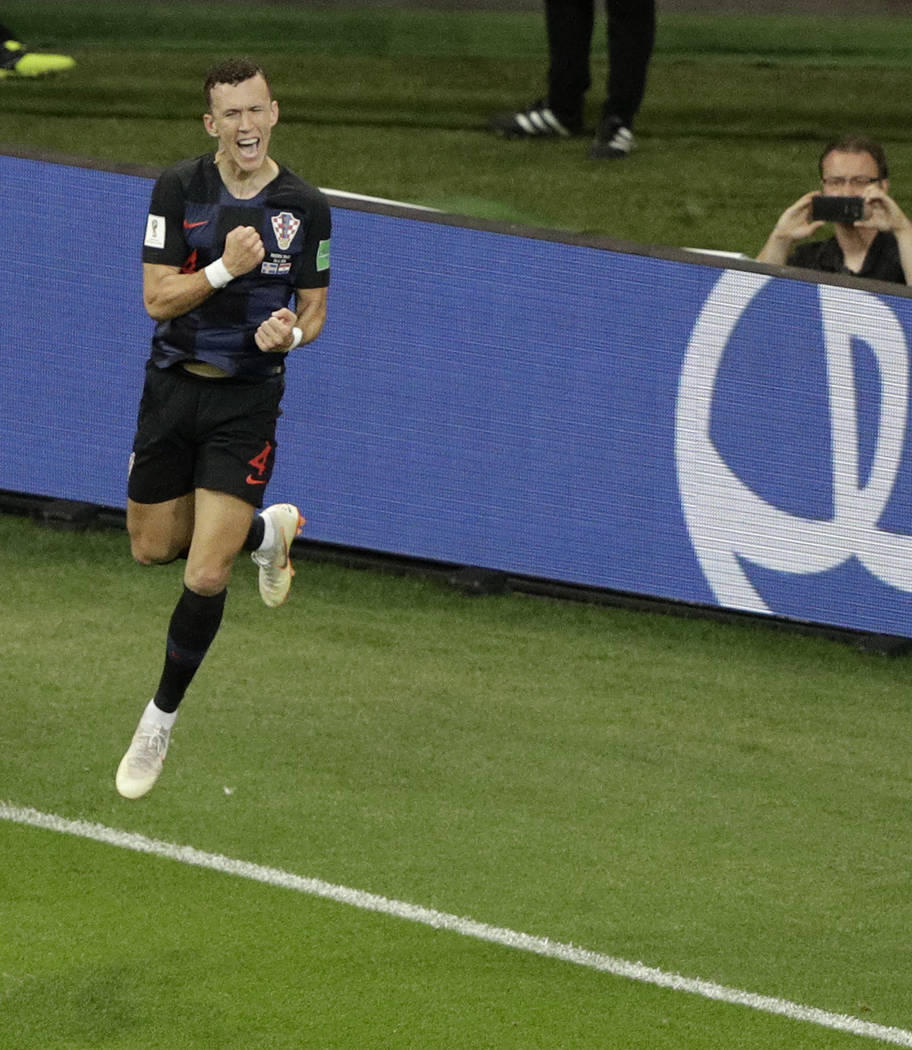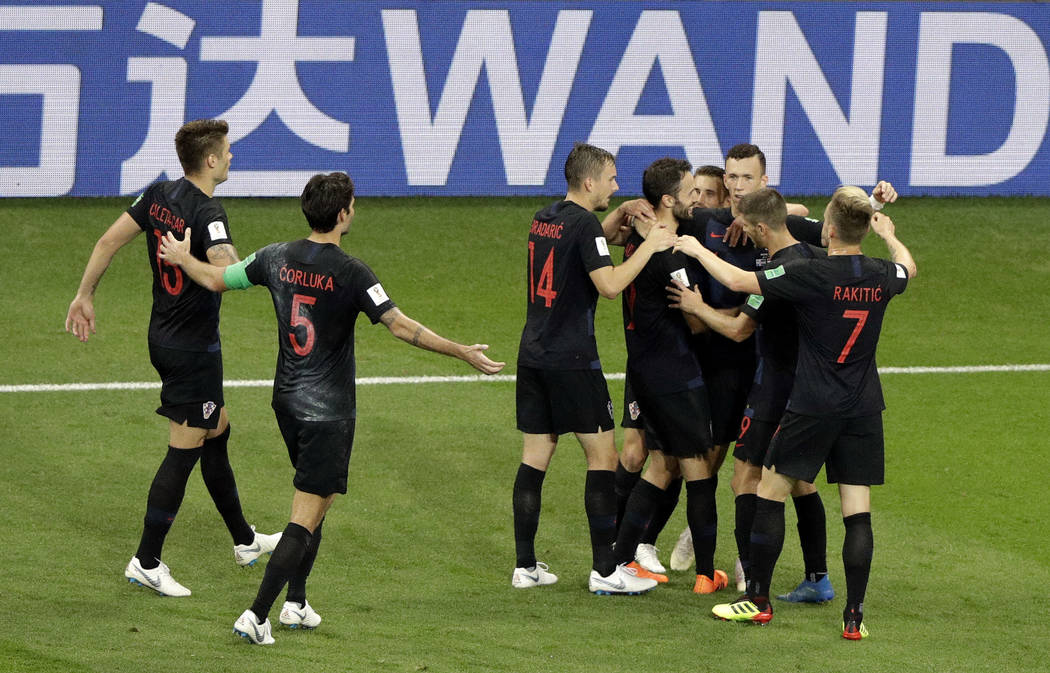 Down to the Round of 16, the World Cup is truly wide open.
For proof, look no further than the South Point bettor who lost a $130,000 wager to make $20,000 on Germany when the defending World Cup champion was eliminated from the tournament in Wednesday's 2-0 loss to South Korea.
"The parity is almost like you see in college basketball now," Westgate sports book manager Jeff Sherman said. "The (NCAA) basketball tournament had the feel of being more wide open than in recent years, and that's how soccer feels.
"It feels like a lot of teams have the ability to win this tournament, where in past World Cups only four or five teams did. You can go deeper this time around."
Croatia to win World Cup (12-1)
Sherman's best bet at adjusted odds to win the Cup is Croatia, which is the 12-1 sixth choice after beating Nigeria, Argentina and Iceland in the group stage by a combined score of 7-1.
The Blazers opened as 60-1 long shots at the Westgate the day after Germany beat Argentina 1-0 to win the 2014 World Cup and were 30-1 sleepers before play began in Russia.
"They don't look like a sleeper anymore. They definitely look live," Sherman said. "If they win their first game (Sunday over Denmark), they'll get Spain. But I'm not sold on Spain, and it still looks like the easier side of the draw.
"The left side is extremely tough."
World Cup doubleheaders are scheduled Saturday to Tuesday, with games starting at 7 a.m. and 11 a.m. daily.
Croatia is a ½-goal favorite (minus 120) over Denmark in Sunday's second game. Spain is a minus 175 favorite over Russia on the three-way line in Sunday's opener and plus 110 as a one-goal favorite.
Uh-oh, Mexico
Mexico, on the loaded left side of the draw, probably would have to beat Brazil, Belgium and France to reach the final. El Tri is a 6-1 underdog to Brazil (minus 210) on the three-way line and minus 105 as a one-goal underdog in Monday's 7 a.m. match.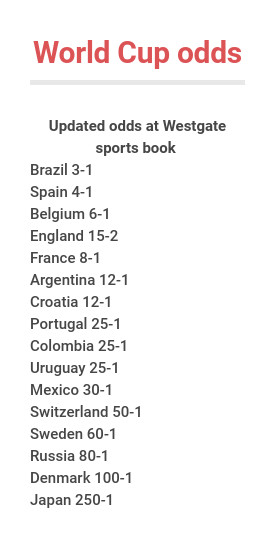 "It's a bad time slot for us," Sherman said. "We'll open the book and phones at 6:30 (a.m.), but if the game was at 11, it would create so much more (betting) handle."
While Mexico faces a brutal path to the final, it already has knocked off Germany, and handicapper Bruce Marshall (Goldsheet.com) said Brazil is "a bit overrated."
"It's so wide open, in these one-game scenarios, any of these teams could win," Sherman said. "Brazil could lose to Mexico. That's not out of the question."
Sweden over Switzerland, Tuesday
Sherman and Marshall each like Sweden to upset Switzerland on Tuesday. Sweden is plus 110 as a pick'em and is a 2-1 underdog on the three-way line.
"Sweden looks dangerous," Marshall said.
Said Sherman: "I don't think there's much separation on that game."
Colombia over England, Tuesday
They also like Colombia over England on Tuesday, but only if James Rodriguez plays for the Colombians. The 2014 Golden Boot winner has been battling a calf injury and is scheduled for an MRI before his playing status is determined.
"If he's in the match, I could see taking Colombia getting a half goal (minus 135) against England," Sherman said. "But I'd wait and find out his status."
Colombia is a 3-1 underdog to England (plus 110) on the three-way line.
"If full strength, Colombia beats England," Marshall said.
The Westgate has expanded its World Cup wagering menu for the Round of 16, adding match props, exact score props, alternate spreads and more.
Contact reporter Todd Dewey at tdewey@reviewjournal.com. Follow @tdewey33 on Twitter.