Bookmakers don't expect restrictions if Raiders move to Las Vegas
January 29, 2016 - 1:00 am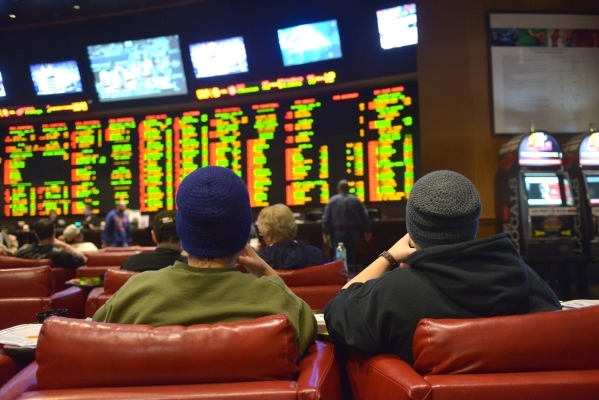 Time and again, NFL commissioner Roger Goodell has stated his opposition to legalized sports betting. But the time might be coming to see if he's willing to change his stance and cross the line in the sand.
If the Las Vegas Raiders become a reality, Goodell's anti-gambling policy will be put to the test and challenged by the state's bookmakers, among others.
"The NFL might say, 'If we come there, you can't book the games,'" MGM Resorts sports book director Jay Rood said. "Under no circumstances should that be allowed. It makes the casino industry appear hypocritical."
The idea of an NFL team playing in the shadow of the Strip is no longer such a far-fetched fantasy. Oakland Raiders owner Mark Davis is scheduled to meet Friday with Las Vegas Sands Chairman and CEO Sheldon Adelson, and the reported topic of their discussion is a proposed $1 billion domed stadium on 42 acres near UNLV.
After the Raiders' hopes to relocate to Los Angeles were shot down this month by the NFL, Davis has looked to San Antonio and Las Vegas as other options.
"Of all the teams to come here, the Raiders would be the perfect fit," William Hill book director Nick Bogdanovich said. "It's a renegade team. We're ready for a franchise. I think they would sell out every game with no problem."
Building a stadium is the first hurdle to clear in the deal. But there are other potential problems.
"As far as the betting process, that's still a tough one," said Jimmy Vaccaro, a veteran oddsmaker at the South Point sports book. "It's such a huge subject. It would be a two-part question: Do you want a team here, and what do you think about betting on that team?"
If the NFL requested any type of betting ban, it would be up to the Nevada Gaming Control Board to approve or deny it. A strong case can be made for a denial.
On his annual trips to London, Goodell has had no problems promoting games at Wembley Stadium, where legal betting shops are located across the street.
"You go play in London, so that would be the plus side of the argument from our side," Vaccaro said.
Goodell and the league's owners also have no problems with daily fantasy sports. The NFL has developed tight business relationships with DraftKings and FanDuel, with as many as 28 teams striking deals with the fantasy websites. But Goodell does have problems with legalized sports betting, and for that the NFL commissioner appears hypocritical.
"Sports betting is becoming more and more mainstream," Rood said.
All eyes in the industry are fixed on New Jersey, which is fighting in the courts to allow sports betting in the state. The case will be heard in February, and the outcome could have a major impact across the country. The days of sports betting being considered taboo are almost history.
"Obviously, the climate is changing and changing fast," Bogdanovich said. "Everyone knows it. It's just a matter of when it happens."
If sports betting spreads to New Jersey and other states — and if the NFL makes an unlikely move into Nevada — it would seem no reasonable case could be made for banning wagering on Las Vegas Raiders games.
In 2001, the Nevada Gaming Commission lifted a long-standing betting ban on the state's college teams. Sports books started accepting bets on UNLV and UNR basketball and football to help exhibit the integrity of regulated wagering.
"If they were to entertain the idea of a betting restriction in the state of Nevada, that would be sending the wrong message," Westgate sports book director Jay Kornegay said. "That would indicate something is wrong with it, and there's absolutely nothing wrong with it. By accepting wagers on the Rebels for the past 15 years, that has been proven. There has not been a problem in 15 years.
"I would not be in favor of a restriction. It would be very hypocritical, not to mention it would be awkward to accept wagers on the local college team and not the local pro team. They are always talking about the integrity of the games, and they want the same thing we do. We want to protect the integrity of the games. A lot of people don't realize it, but we're on the same side."
The NFL just is not on the same page yet with other major professional leagues. NHL commissioner Gary Bettman appears set to gamble on a Las Vegas franchise, and NBA commissioner Adam Silver has stepped up as a vocal proponent of sports betting and its potential benefits for the leagues.
"Things are changing, there's no doubt about it," Vaccaro said. "You would think Goodell would come to his senses. It would be a win-win for the NFL and the city.
"I think the owners of the casinos will welcome it. It's just another attraction that brings 30,000 or 40,000 people to town. Would I like to see it? Yes. But it's still a long shot. It's an absolute monster if we can get it."
The success of an NFL franchise in Las Vegas would be something close to a sure thing.
"I think the city would support the team," Rood said. "Obviously, there's a strong fan base with the Raiders, and their fans would come from everywhere. Fans of the opponent would come to town. Imagine if the Steelers or Cowboys were here.
"I've been a never-say-never sort of guy. I always thought it would be a long way off. But the Raiders don't shy away from controversy."
The Review-Journal is owned by a limited liability company controlled by the Adelson family, majority owners of Las Vegas Sands.
— Contact reporter Matt Youmans at myoumans@reviewjournal.com or 702-387-2907. Follow him on Twitter: @mattyoumans247