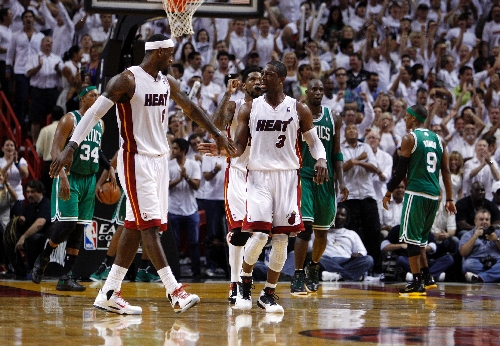 A year after flopping in the NBA Finals in the favorite's role, LeBron James is leading the Miami Heat back in an unfamiliar role. James is the underdog, and it's up to bettors to decide if the result will be different this time.
The early money is siding with the Oklahoma City Thunder, who are minus-170 favorites in a best-of-7 series that opens today. The Thunder, led by league scoring champion Kevin Durant, are 5-point home favorites in Game 1.
All signs point to a series that will produce a hefty wagering handle. James, Dwyane Wade and Chris Bosh return for another shot at a title after the Heat faltered as minus-180 favorites in a six-game loss to Dallas last year. Durant, Russell Westbrook and James Harden arrive as the young guns from the West.
"Obviously, it's the matchup everyone wanted with all the big names going at each other," Cal Neva sports book director Nick Bogdanovich said. "It's going to be a hell of a series. I'm interested to see it.
"I think Oklahoma City is going to win it, but I think the series will go deep. I think all the games will be competitive. It wouldn't surprise me if it's a seven-game series. As bookmakers, we want to book as many games as possible."
Most books in Las Vegas are offering extended menus of propositions. Cal Neva, which has books at Binion's and Tuscany, posted several Game 1 props Monday, including James' total for points, rebounds and assists (45½) and Durant's total for points and rebounds (36½).
The Heat, forced to fight back to beat Boston in seven games in the Eastern Conference finals, could be at a disadvantage in the NBA Finals opener. The Thunder had more time to rest after taking out San Antonio, the West's top seed, in six games.
Oklahoma City's postseason surge has done more to impress bettors. But Miami received a boost with Bosh's return from injury, and James was at his best while averaging 33.6 points in the conference finals.
"I think LeBron is going to dominate," said VegasInsider.com handicapper Micah Roberts, who is siding with the Heat to win the series. "The Heat found themselves in the final two games against Boston. LeBron was assertive and finally took control of the team without deferring to Wade."
Bogdanovich, who picked the Thunder in six or seven games, said, "There is nothing wrong with taking a nice plus-price with James, Wade and Bosh. Everyone talked about the Heat being favored in this series a long time ago. I think that is considered a live 'dog."
Contact reporter Matt Youmans at myoumans@reviewjournal.com or 702-387-2907.