Brees, Saints set to light it up
December 3, 2011 - 9:42 pm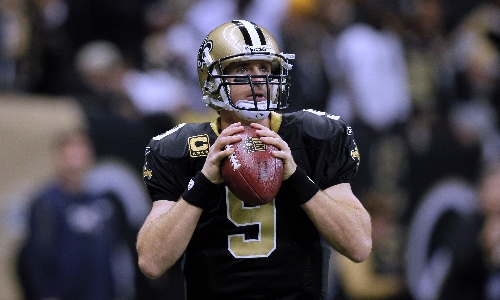 Although quarterback Drew Brees runs the show, he's far from a one-man operation for the New Orleans Saints. It's possible to lose count of the lethal weapons surrounding the passer who pulls the trigger on the NFL's top-ranked offense.
Brees' top targets include tight end Jimmy Graham and wide receivers Marques Colston, Devery Henderson, Lance Moore and Robert Meachem. Running backs Mark Ingram and Pierre Thomas provide balance.
And not to be overlooked is 5-foot-6-inch rocket Darren Sproles, who has rushed for 402 yards, caught 62 passes and totaled 44 kickoff and punt returns.
Brees has completed 70.2 percent of his passes for 3,689 yards and 27 touchdowns for the Saints, who are 8-3 and rising as the top contenders to the Green Bay Packers in the NFC.
New Orleans is set for a prime-time showdown with the Detroit Lions tonight in the Superdome, where the Saints are 5-0 this season while averaging 41.6 points and winning by an average of 23 per game.
"When the lights are on for the Saints, whether it's a Sunday or Monday night, Brees lights it up," Las Vegas handicapper Mike Scalleat said. "The Saints are going to roll."
The Lions (7-4) have lost four of their past six games, and they also have lost defensive tackle Ndamukong Suh to a suspension.
Scalleat, who finished fourth in the Las Vegas Hilton SuperContest in 2007, said New Orleans as a 9-point favorite is his top play.
"Without Suh in there to pressure Brees, he just has too many weapons, and he's one of the three elite quarterbacks in the league," Scalleat said.
The Saints piled up 577 yards of offense Monday in a 49-24 belittling of the New York Giants, and they also topped 500 yards in blowout victories over the Lions in 2008 and 2009.
Scalleat scouts the rest of today's Week 13 schedule:
■ Tennessee at Buffalo (-1½): I don't want to back the Titans on the road. Matt Hasselbeck has been struggling, throwing 10 interceptions and producing few big plays. A four-game losing streak has dropped the Bills to 5-6 and exposed them as a fraud, and they miss injured running back Fred Jackson. But I'll side with Buffalo, which should be able to win by a field goal at home.
■ Kansas City at Chicago (-7): Matt Forte, who has 985 yards rushing and averages 5.0 yards per carry, can carry inexperienced quarterback Caleb Hanie and the Bears' offense. The Chiefs have a dreadful offense with Tyler Palko at quarterback. If Palko can't get the ball to wide receiver Dwayne Bowe, Kansas City will struggle. I'm going with Chicago.
■ Oakland at Miami (-3): The Dolphins are a good 3-8 team. Their defense is playing better, and so is quarterback Matt Moore. I don't like the Raiders in this spot with a long road trip, and running back Darren McFadden is out again. The 7-4 team is the underdog, and you would think Oakland would be favored. The line is saying something. Miami is one of my main plays.
■ Cincinnati at Pittsburgh (-7): The Steelers are looking to sweep this AFC North series for the second straight year, after winning 24-17 in Cincinnati in mid-November. But Pittsburgh has been struggling, and this number is too big. I bet the Bengals at plus-7. Andy Dalton has been solid as a rookie quarterback, and Cedric Benson can run the ball and keep Cincinnati close.
■ Baltimore (-6½) at Cleveland: The Ravens are not a high-scoring team on the road, so I would rather bet this under the total (38) than lay the points. The Browns hardly have an offense. I don't see either team doing much offensively. Baltimore's defense, which leads the league with 38 sacks, has had 10 days to rest since beating the 49ers in an ugly Thanksgiving game.
■ New York Jets (-3) at Washington: I expect a good effort from quarterback Mark Sanchez and the Jets' running attack. Sanchez has big-play receivers, but he has been making too many mistakes, with 11 interceptions and five lost fumbles. The New York defense will be all over Redskins quarterback Rex Grossman. I can't play the home 'dog here. The Jets (6-5) are hanging in the playoff chase, so this is still a big game for them.
■ Atlanta (-2½) at Houston: If the line goes up a little, I'll take the Texans at plus-3. Houston has a strong running game with Arian Foster and Ben Tate, and coordinator Wade Phillips has done a great job with the defense. Rookie quarterback T.J. Yates won't have to do much to keep the Texans in position to win. I don't trust the Falcons on the road.
■ Carolina at Tampa Bay (-3): The Buccaneers have lost five straight games. Their defense is down, ranking near the bottom of the league, and quarterback Josh Freeman is questionable because of a shoulder injury. But Freeman has thrown 16 interceptions, so he's not playing well anyway. I like the way Cam Newton is playing for the Panthers. The rookie quarterback is getting support from a strong running attack and veteran wide receiver Steve Smith. I'm going with Carolina.
■ Denver at Minnesota (-1½): Running back Adrian Peterson is out for the Vikings, and they're a bad team without him. The Broncos are hot, so I will go with Tim Tebow. The rest of the team believes in Tebow. But another key is Willis McGahee, who has three 100-yard rushing games. Denver had 51 rushing attempts last week in a victory over San Diego. Rookie linebacker Von Miller is questionable with a right thumb injury, but the defense is solid. When the home team is favored by less than 3, it means the visiting team is stronger, and this line tells me the Broncos are the bet.
■ St. Louis at San Francisco (-13½): Aside from Steven Jackson running the ball, I don't see the effort from the Rams. On top of that, quarterback Sam Bradford is slumping and questionable because of an ankle injury. I hate to lay 13 points, but I can't recommend the underdog in this one. Off a loss, I'll lean to the 49ers to get back on track.
■ Dallas (-4½) at Arizona: The Cowboys were lucky to beat the Dolphins on Thanksgiving, and I can't play them on the road with quarterback Tony Romo being so erratic. Kevin Kolb is expected to start at quarterback for the Cardinals, but that doesn't matter much. Arizona gets up for Dallas, and it always seems like a battle when these teams meet. I'll give the Cardinals a shot and take the points with a home 'dog that has won three of the past four.
■ Green Bay (-6½) at New York Giants: You never know what to expect from quarterback Eli Manning and the Giants. I don't want to take the points. I put the Packers on a teaser because I don't want to lay the points, either. Green Bay is scoring 34.7 points per game, and the Giants' defense has not been impressive lately. It's a high number, but I'll play this over the total (52½).
■ Indianapolis at New England (-20½): Even if I'm wrong on this game, I can't tell people I like the Colts. How many points are they going to score? Not many. The Steelers are not that strong, so I think the Patriots are the only team from the AFC that can challenge the Packers or Saints. If Tom Brady is on, New England's offense is tough to stop. It's a crazy line, and it's not a strong opinion, but the Patriots should win by more than 20.
COMPILED BY MATT YOUMANS/REVIEW-JOURNAL