Carl Edwards, Kyle Busch top picks at Watkins Glen road course
August 6, 2016 - 10:57 pm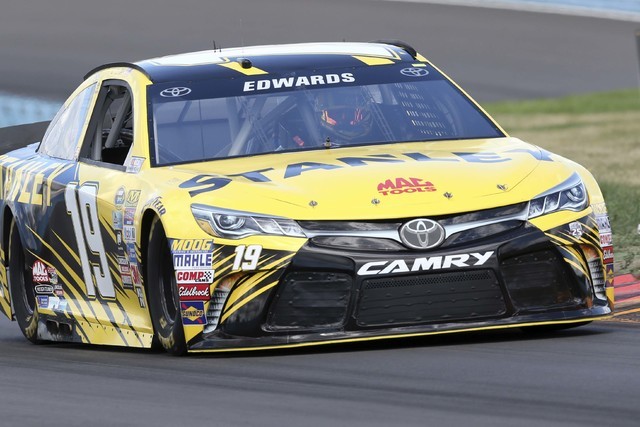 Carl Edwards won the pole Saturday at Watkins Glen International, and track history suggests he's a strong contender to win Sunday's Cheez-It 355, the second and final race this season on a road course.
Edwards also won the pole at Sonoma Raceway's road course in June, then finished fourth.
Edwards, listed at 8-1 odds, was already a strong contender based on his own history on the seven-turn, 2.45-mile road course at which he has an 8.4 average finish in 11 starts. His best finish was third in 2009, but his consistency has been incredible with eight top-10 finishes.
Track history shows the pole winner has won nine times in 33 Cup races. Las Vegan Kyle Busch was the last to do it in 2008.
Starting from the top five has produced 21 of the 33 winners, which makes those starting behind Edwards worthy of a strong look at the betting window. Kyle Larson (30-1) starts second, followed by Sonoma winner Tony Stewart (18-1), Matt Kenseth (30-1) and race co-favorite Busch (6-1).
Among those, Busch is the driver to beat. He's a two-time winner at Watkins Glen with a 10.5 average finish, and he practiced extremely well in both of Friday's 85-minute sessions, with top-five speeds that included having the best 10-consecutive lap average.
STEWART ON A ROLL
When Stewart came back after missing the first eight races this season, he looked as if he was just going through the motions to close out his final season. He didn't have any top-five finishes in his first seven races, but something clicked at Sonoma. He won his eighth career road race there and first victory anywhere since 2013.
The win gave him a career reboot, and he started looking like Stewart circa 2011 when he won the last of his three Cup titles. In his past four starts, he's finished fifth at Kentucky, second at New Hampshire, 11th at Indianapolis and fifth last week at Pocono.
His five wins at Watkins Glen are a track record, and in four of them, he started within the top five. He's the best value on the board at 18-1.
NEW SURFACE AND TIRE
Along with the track being repaved after last season's race, there was a new Goodyear tire compound that never has been used in the series. It's a much harder compound that barely wears out. Las Vegan Kurt Busch said during an interview halfway through the second practice Friday that he was still using the same set of tires that ran all 27 laps during the first session.
The effect will create all kinds of opportunities for teams to scrap four-tire changes during pit stops and gain a few seconds, and positions, by taking two tires while fueling up.
JEFF GORDON CHANCES?
Westgate Las Vegas lists Jeff Gordon at 25-1 odds, the highest he's ever been on any road course in 46 career starts. He's NASCAR's all-time leader with nine road course wins, but he has some factors going against him.
Along with still trying to get into a groove while driving Dale Earnhardt's No. 88 for the third straight week after being retired since November, he has some terrible Watkins Glen stats since winning his fourth and final race there in 2001. That win was also his last top-five finish there. In his past 14 starts, his best finish was ninth in 2007, and he was a career-worst 41st last season.
Sunday's race will be his 800th career Cup start. Only eight drivers have started as many in series history.
BEST LONG SHOT
Chris Buescher won at Pocono last week as a 1,000-1 long shot, and this week he's 500-1. Although he's an accomplished road course racer, lightning — literally — isn't going to strike twice. He starts 25th, and no driver has won starting from a position of 19th or worse at Watkins Glen. But how about Denny Hamlin, who starts sixth and is listed at 30-1.
He's never won a road course in the Cup Series, but he loved his car in race trim during Friday's practices and comes off a career-best second place at Sonoma in June, when he led a race-high 27 laps before entering the final turn too high, opening the door for Stewart.
Look for a strong run from Hamlin on Sunday.
Micah Roberts, a former sports book director, has been been setting NASCAR lines in Las Vegas since 1994. Follow on Twitter @MicahRoberts7.