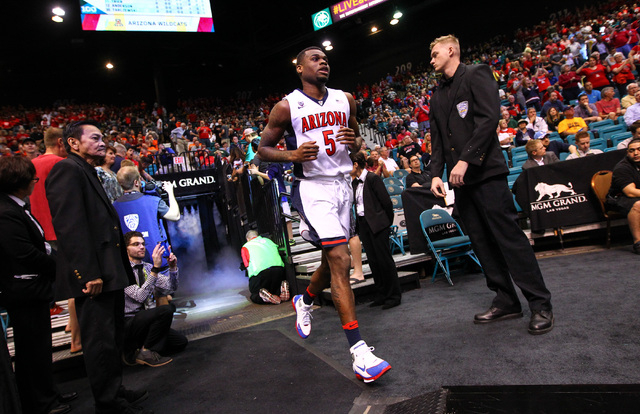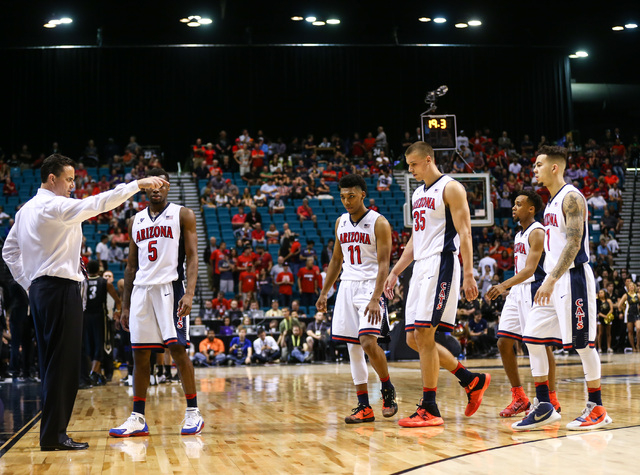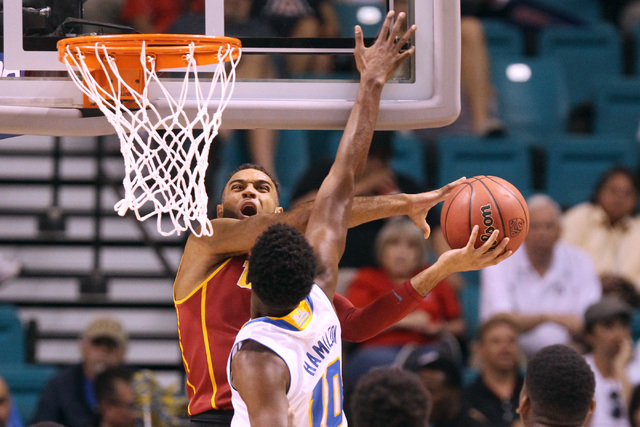 Las Vegas is his hometown, so Julian Jacobs is biased. But in his opinion, college basketball and the Strip are a perfect marriage, and the bond only strengthens each March.
"The fact there are four conference tournaments out here, it creates an exciting basketball vibe for a week, and that's great for Vegas," said Jacobs, a Southern California junior point guard. "I think the players enjoy it."
Jacobs, a Desert Pines High School graduate, played in the Pac-12 tournament this week at the MGM Grand Garden. About a mile away, the Thomas & Mack Center is hosting the Mountain West tournament.
Las Vegas' relationship with postseason college basketball is good — for the players, fans, schools, conferences and seemingly all parties involved. The city hosts four men's conference basketball tournaments and three women's tourneys. The Pac-12 announced Friday it is moving next year's tournament to the new T-Mobile Arena.
But, because of legalized sports wagering, is this madness in Las Vegas still viewed as evil by the NCAA? Is there a reason to fear and loathe putting teams in casino environments to play games within a long jump shot of a sports book?
Evidence is mounting — and momentum is swinging — in favor of Las Vegas, even while the NCAA remains as rigid as the NFL in its opposition to wagering. The NCAA is expected to take up the issue at its national convention in June.
WCC blazes a trail
For 10 days each year, Orleans Arena hosts the West Coast Conference tournament, followed by the Western Athletic Conference tourney. Essentially, The Orleans becomes a temporary home for Lynn Holzman, commissioner of the WCC.
"It's such an awesome environment," Holzman said, while a capacity crowd roared Tuesday during the Gonzaga-Saint Mary's championship game. "Our fans absolutely love this, being here in Vegas."
Holzman, a former Kansas State basketball player, worked in the NCAA front office for 16 years and focused on regulatory and governance issues. She said the organization, maybe 10 or 15 years ago, definitely would have frowned on what is happening here now. However, she added, NCAA President Mark Emmert has visited Las Vegas to witness up close how the conference tournament landscape is evolving.
"I have had conversations with Mark Emmert last year and this year," she said. "He wanted to see how you can do this successfully in a great collegiate environment that happens to be in Las Vegas. These conference championships have proven that you can do this in a way that is not contrary to what the NCAA stands for and its position on sports wagering."
New day at NCAA?
The NCAA has no control over where conferences stage tournaments. But the organization has refused to stage NCAA championships in Las Vegas because of the presence of legal sports betting.
At NCAA.org, there is this statement: "The NCAA opposes all forms of legal and illegal sports wagering, which has the potential to undermine the integrity of sports contests and jeopardizes the welfare of student-athletes and the intercollegiate athletics community."
But, today, the odds of Las Vegas attracting NCAA Tournament games in the near future are better than ever. Emmert discussed the issue in December, saying that after attending the Mountain West, Pac-12 and WCC basketball tournaments last March, he found it hypocritical that an NCAA regional would not be allowed under current rules.
"I think the membership is trying to figure out what's the right way to approach this issue again," Emmert said at the Intercollegiate Athlete Forum in New York. "Where does the membership want to be in this space? How do you manage what often seems to be a hypocritical stance? Let's talk about it."
Holzman said that conversation is on the table now, crediting former UNLV athletic director Jim Livengood for helping to improve the city's perception with the NCAA.
"I do think the tide is turning, and I think (the NCAA is) being very thoughtful and intentional with their discussions, but we've never been in this place before where you could see a change happening," Holzman said.
It helps that the Pac-12 tournament completely sold out this week at the 12,916-seat MGM Grand Garden. The WCC also did well at The Orleans, with sellouts of more than 8,000 for the Monday and Tuesday sessions.
However, the Mountain West has struggled this week, drawing an announced 6,325 for Thursday's evening session and 8,279 for the afternoon games at the Thomas & Mack Center. At The Orleans on Thursday, the WAC drew an announced crowd of 1,472 for three games.
Changing attitudes
Pat Christenson, president of Las Vegas Events, has worked to attract events to the city for 25 years. He sees change taking place all over the map in relation to an acceptance of legal sports wagering.
"It's so hypocritical that you would penalize Vegas for regulating something no other city does," Christenson said. "The issue of gaming, every year, it becomes diluted. Every year, the objection to gaming is less and less everywhere across the country."
It helps when powerful figures, such as NBA commissioner Adam Silver, step forward to promote the benefits of sports betting. Late last year, Silver said legalized gambling "is good for business, I don't want to hide from that."
Another friend of the books is Brent Musburger, who was here to call WCC games Monday and Tuesday for ESPN. Musburger has been a vocal proponent of the sports betting industry for decades. While most commentators ignore what's obvious to viewers, he often makes references to point spreads.
"I don't go overboard about it, but it's always there," said Musburger, who bristled at the notion of the gambling issue being taboo.
"Get your head out of the sand. It's just part of American life. Every street corner has got some kind of gaming going on or you can go buy a Powerball ticket. I just think it's nonsense. I've thought that for a long time."
Musburger was assigned by ESPN to call the Big 12 tournament in Kansas City this weekend, so he begrudgingly left Las Vegas.
"Nobody puts on a show like Las Vegas," he said. "The fans love to come in. Are you going to put the Pac-12 in Los Angeles and have an empty stadium? You're better off coming to Vegas.
"If I didn't have the Big 12 tournament, I would stay right here. This is the capital before March Madness starts. I tell everybody, at least once you have got to come out as a fan and go into those sports books for the first week of the (NCAA) tournament."
Pac-12 boom
The Pac-12 moved its tournament from Los Angeles, where attendance was poor and lacked a vibe, to the MGM Grand Garden in 2013. With crowds surging, the conference has announced a move across the street to the 20,000-seat T-Mobile Arena next year.
According to figures from Las Vegas Events, the Pac-12 tournament total attendance in 2015 was 70,575, and the nongaming economic impact last year for the city was $10.9 million. A major part of the lure, Christenson said, is that this is a premier dining, entertainment and hotel destination.
"It's not just a gaming destination," Christenson said. "I think the experience here sets us apart. You can't really compete with Vegas. I don't know how the schools, the conferences or the NCAA could ask for more. I don't think we are proving ourselves. We have proved ourselves."
The WCC, which relocated its tournament here in 2009, asked that its games not be posted on the board at The Orleans sports book, and the casino accommodated the request. The Pac-12 never made a similar request to MGM Resorts International.
"If you come to Vegas, that comes with the territory," MGM Resorts sports book director Jay Rood said. "I wouldn't think twice about not putting up Pac-12 games. I think that's part of the attraction for the fans."
Players follow the rules
The student-athletes might be drawn into a casino to play blackjack, too, but that's OK for those at least 21 years of age. NCAA rules prohibit athletes from betting on games, and each school offers compliance counseling and gambling education on campus.
"You tell the kids when they come in, 'Stay out of the sports book,' " Musburger said, dismissing the idea the conferences could be courting any inappropriate activity or some sort of scandal by being in Las Vegas.
"It isn't like guys are running around town trying to fix games," he said. "That era is long, long gone."
Jacobs, who helped lead USC to a blowout victory over UCLA on Wednesday night, said of all the potential entertainment distractions in his hometown, the sports books are an afterthought to basketball players.
"We don't really pay attention to the point spread and stuff like that," he said. "You see a ton of people betting on the games you're playing, and it's pretty funny, honestly."
Contact reporter Matt Youmans at myoumans@reviewjournal.com or 702-387-2907. Follow him on Twitter: @mattyoumans247