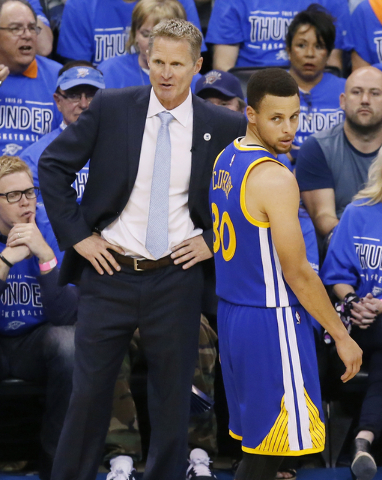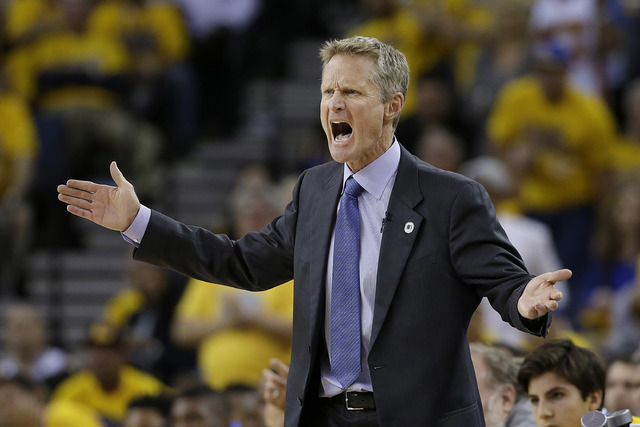 An encore of the 2015 NBA Finals begins when the Cleveland Cavaliers visit the Golden State Warriors on Thursday. Last season, the Cavs took a 2-1 series lead and appeared to have the championship in sight while playing at home in Game 4.
However, a strategic change by Golden State coach Steve Kerr, who switched to a smaller lineup, propelled the Warriors to three straight wins, sealing the title on the road. Kerr inserted 6-foot-6-inch forward Andre Iguodala into the starting five while moving 6-7 Draymond Green to center. Big men Andrew Bogut and Festus Ezeli went from playing a combined 30 minutes or more in the first three games to a total of 17 minutes in the final three games.
Last year, the Cleveland Big Three were reduced to one when Kevin Love was injured in the first round of the playoffs and Kyrie Irving broke a kneecap in Game 1 against the Warriors. The pressure increased dramatically on the city's savior, LeBron James. He did his best playing an unbelievable 45.7 minutes per game while averaging 35.8 points, 13.8 rebounds and 8.8 assists.
What are the 2016 storylines? Will Cleveland fall to 0-for-53 years in winning a major sports title, or will there be a 1964 Browns reunion at the Cavs' celebratory parade? Will LeBron fulfill his self-appointed mission of bringing a championship to Cleveland and its hardcore title-deprived fans?
The team with home-court advantage in the finals has a series record of 22-9 that started in 1985, so that's advantage Golden State. There have been four instances of teams meeting in the finals in back-to-back seasons. Favoring the Cavs, only once did the same team win both years, the 1997-98 Chicago Bulls led by Michael Jordan.
The Warriors' victim in the Western Conference finals, Oklahoma City, had more flexibility in lineups and overall athleticism than Cleveland. The Cavs must maintain good shot selection, something the Thunder fell short in doing at times. Cavs coach Tyronn Lue has said that the Warriors' small-ball doesn't scare him and they will continue to play their bigs. But he added, "If the flow of the game calls for something different, then we'll do something different."
Of course, the Cavs' bigs do not include monolithic Timofey Mozgov because his minutes fell dramatically in the playoffs. Former Findlay Prep star and starting center Tristan Thompson has improved on both ends of the court. His rebounding prowess helps give his team an advantage on the boards.
Since Lue replaced former coach David Blatt in January, there has been an uptick in execution along with getting James and Irving quicker transition buckets. Lue has said that Cleveland is going to "push the pace" against the Warriors. If that is Lue's true intention, it seems like a risky proposition. His team ranked 26th for the season in pace compared with Golden State's No. 2 ranking. While Cleveland improved this season to 11.9 fast-break points per game, up from 10.4, the Warriors' 20.2 mark led the league for the second year in a row.
Many pundits think Cleveland has an advantage with five days of rest compared with two for Golden State. Since the 2002 season going into a new playoff round, teams with three or more days of rest than their foe are 29-16 straight-up and 26-18-1 against the spread. Unfortunately for Cavs' fans, if the better-rested team is on the road like Cleveland, the records are 7-9 straight-up and 8-7-1 ATS.
A team's average margin of victory is a telling stat, especially in sports with a fair amount of games for a large sample size. Cleveland's overall margin of victory improved this season from 4.4 points per game to 6.0, while the Warriors' number improved to 10.8 compared with last season's 10.1.
Three-point shooting has become a massive factor in the NBA. Over the past 15 seasons, the team with the more accurate mark from behind the arc in the finals has won the title every time but once. For the regular season, the Warriors shot 3-pointers at an amazing 41.6 percent clip, with the Cavs knocking them down 36.2 percent of the time, a respectable number that ranked No. 7 in the league.
Golden State also has stronger regular-season numbers guarding shots from 3-point range, giving up just 33.2 percent, second-best in the NBA. Cleveland allowed opponents to hit 34.7 percent of their 3s. But a playoff series or game can have many variables that are significantly different from season averages.
Warriors guard Klay Thompson did an excellent job defensively on Oklahoma City's Russell Westbrook, holding him to 36 percent shooting for the series when guarding him. Cleveland's J.R. Smith did yeoman's work defending Atlanta's long-range threat, Kyle Korver, in a second-round series. It is mandatory for the Cavs to minimize Stephen Curry and Thompson.
Another hope for the Cavs is the addition of 6-11 veteran Channing Frye and his blazing playoff 3-point shooting of 57.8 percent. There is a good chance he will revert to his normal 3-point shooting abilities — 38.3 percent over the past five seasons. Cleveland has shot 43.4 percent on 3-point attempts in 14 playoff games.
Golden State seemed tired in the first five games of the Thunder series. Curry still appeared to be hurting and not 100 percent. I didn't like the cavalier attitude the Warriors demonstrated while going down 3-1. But the Thunder's Westbrook and Kevin Durant couldn't remain disciplined. I think LeBron and his leadership will be able to keep his team in check and under control.
If Kerr goes small-ball again in this series, I don't see it having the same effect as it did last year.
Few athletes have the superhero qualities of James. Add the revenge factor of losing in the finals last year, coupled with James' deep desire to bring a title to his home state, and it is easy to see the Cavs pulling off the upset and having all of Cleveland rocking.
This is the best position the Cavaliers have been in to win a title. While Curry and Thompson are amazing and their 3-pointers can be devastating, this is Cleveland's year.
Jim Kruger is a handicapper for VegasSportsAuthority.com.