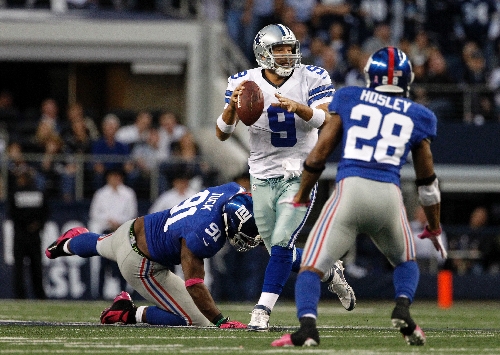 Maybe the Atlanta Falcons deserve more credit for being the NFL's last undefeated team, and maybe Matt Ryan finally is stepping up to join the league's elite quarterbacks.
Or maybe the Falcons' perfection is a reflection of their weak schedule.
Atlanta (7-0) appears to have few tough spots remaining on that schedule, but one arrives tonight. The Falcons are 4-point home favorites over the Dallas Cowboys, who are attracting sharp money despite their tendency to disappoint.
"The line is a little inflated because of the Falcons' record," said SportsXRadio.com handicapper Chuck Edel. "Atlanta has played a soft schedule, beating only one team with a winning record, and that was Denver. I think the Cowboys are better than they have been playing."
Edel has statistics to support his case for the underdog. Dallas (3-4) has outgained its opponents by 636 yards, an average of 90.8 per game. Its defense ranks 11th in the league in yards per play, compared with Atlanta's No. 23 ranking.
The Falcons, who were fortunate to beat Carolina and Oakland on their home field, have faced opponents with a combined record of 18-32.
"Dallas has done it against a tougher schedule," Edel said. "The Cowboys are a better 'dog than they are a favorite, and they are better on the road than they are at home, for whatever reason."
Often flat at home, the Cowboys are 5-0-1 against the spread in their past six road games against teams with a winning record.
The calendar also is working for the Cowboys, who are 17-8 ATS in their past 25 games in November, when quarterback Tony Romo is 19-2 as a starter.
Ryan's 29-4 career record at home is a reason to side with Atlanta, but Edel is riding Romo and the road 'dog.
Edel (pregame.com) analyzes the rest of today's Week 9 schedule:
■ Denver (-3½) at Cincinnati: I think it's the right line, but this is one of those situational games. The Broncos are coming off a big win against the Saints, and they are 1-2 on the road. The Bengals are disappointed coming off the bye. Their coaches were looking at film, and they decided quarterback Andy Dalton was holding onto the ball too long, so hopefully he will be improved. Cincinnati's offense ranks 11th in the league at 5.7 yards per play. The sell-high, buy-low theory fits with Denver here. This is a good spot for the Bengals.
■ Arizona at Green Bay (-10): The Cardinals are horrible offensively, averaging 4.4 yards per play and 15.9 points. The Packers rank 23rd in yards per play and could be missing receivers Greg Jennings and Jordy Nelson. Arizona's defense ranks eighth in yards per play (4.9), and Green Bay is ninth (5.1). Seven of the Cardinals' eight games went under the total. The public perception is the Packers still are a high-scoring team. I like this under 43½.
■ Miami (-2) at Indianapolis: I didn't play this game, but I lean to the Colts, who are 3-1 at home. The Dolphins are coming off a big victory over the Jets in a game that was more important to them. It seems Miami will start rookie Ryan Tannehill at quarterback, but Matt Moore could play.
■ Baltimore (-3½) at Cleveland: I'm going to lay the points with the Ravens. They were embarrassed by Houston, and I think they will be focused for this game. I've been on the Browns, but now the line is a little cheap, and I think they are overrated here. Cleveland beat San Diego 7-6 in bad weather last week. After the bye week, Baltimore coach John Harbaugh will have his team ready. Sometimes in these games I like the home 'dog, but I'm going with the Ravens.
■ Buffalo at Houston (-10½): The line looks pretty accurate. The Texans have a big advantage defensively, where they rank third and the Bills are 31st in yards per play. I could see Buffalo quarterback Ryan Fitzpatrick struggling against the Houston defense. But I don't trust the Texans enough to lay the points.
■ Carolina at Washington (-3): I took 3½ with the Panthers. Carolina is better than its 1-6 record. The Panthers outgained the Bears 416-210 last week but lost on a late field goal. Cam Newton threw for 314 yards against the Bears, and Washington's defense ranks 28th. Sometimes the NFL is a copycat league, and Pittsburgh shut down the Redskins' offense last week and held them to 255 yards. Carolina is starting to pick it up offensively, so I took the points.
■ Detroit (-4½) at Jacksonville: The Jaguars are so bad. They are missing running back Maurice Jones-Drew, they rank 32nd in offense and average only 14.7 points. The Lions have played better after the bye. But I hate laying points with the Lions on the road, so I stayed away.
■ Chicago (-3½) at Tennessee: Since the bye, the Bears have been horrible. They got outgained by Detroit, and Jay Cutler passed for 150 yards. Last week, they got outgained by Carolina, and Cutler threw for 186 yards. Tennessee's defense has improved. The Bears are 2-5 ATS in their past seven games against teams with a losing record. I would lean to the Titans, but I'm not playing the game.
■ Minnesota at Seattle (-4½): Vikings quarterback Christian Ponder could struggle. Minnesota just allowed 36 points to Tampa Bay and now goes on the road. The Seahawks are 3-0 at home. Look what the Seattle defense did against Aaron Rodgers, Tony Romo and Tom Brady. So what's Ponder going to do? I probably will end up making a play on the Seahawks.
■ Tampa Bay at Oakland (-1½): I like this over the total of 46. The Buccaneers' offense has come way up and now ranks fifth at 5.9 yards per play. In their past four games, they scored 36, 28, 38 and 22 points. Five of their seven games went over the total. Tampa Bay's defense ranks 27th, and the Raiders are playing better offensively.
■ Pittsburgh at New York Giants (-3): The team that is thrown off here is the Giants, who have had to overcome everything going on with their family and friends after the hurricane. Plus, they are coming off three big games against San Francisco, Washington and Dallas. It's a huge game for the Steelers at 4-3. The Giants have control of the NFC East. I think it's a great spot for Pittsburgh.
COMPILED BY MATT YOUMANS
LAS VEGAS REVIEW-JOURNAL