Diaz deals severe blow to sports books as well as McGregor at UFC 196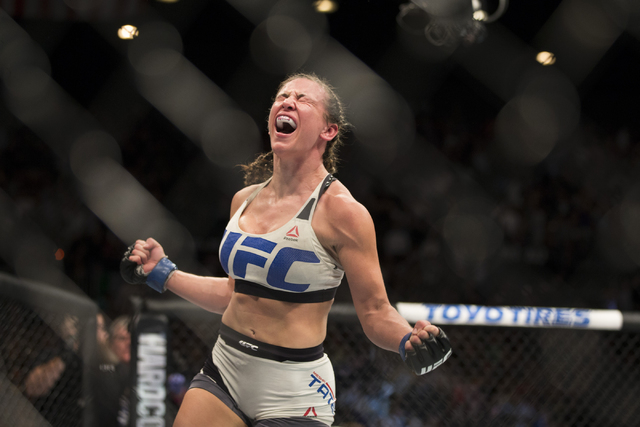 Underdog players cashed in — and most Las Vegas bookmakers were stressed out — after Nate Diaz and Miesha Tate recorded surprising wins Saturday night to headline the UFC 196 card.
Diaz defeated Conor McGregor, the Ultimate Fighting Championship's biggest star, by submission in the second round at the MGM Grand Garden. That upset dealt the most severe blow to the books.
"It was probably our worst UFC result ever, besides the night Ronda Rousey got beat," Mirage sports book manager Jeff Stoneback said. "This one was right up there with that."
McGregor, as high as a minus-550 favorite late in the week, closed at minus-400. Diaz bettors cashed tickets in the plus-350 range. Stoneback said the MGM Resorts books took a few five-figure wagers on Diaz.
Tate was plus-240 in her upset of Holly Holm, who was submitted in the fifth round of a wild women's bantamweight title brawl. That result, Stoneback said, was a "big winner" for the book because of big money showing up on Holm.
"We did win every undercard fight," Stoneback said, "so we were very fortunate to break even on the night after losing that McGregor fight."
An underdog parlay on Diaz and Tate paid about 15-1 odds. William Hill sports book director Nick Bogdanovich said the UFC results meant a "big loss" because of parlays and straight bets on the 'dogs.
In November, when Holm knocked out Rousey in Australia, Las Vegas books took a beating. Rousey opened as a 15-1 favorite, and the line closed much lower after Holm drew heavy action.
Contact reporter Matt Youmans at myoumans@reviewjournal.com or 702-387-2907. Follow him on Twitter: @mattyoumans247.