Dodgers-Red Sox World Series dream matchup for sports books
Updated October 22, 2018 - 7:16 pm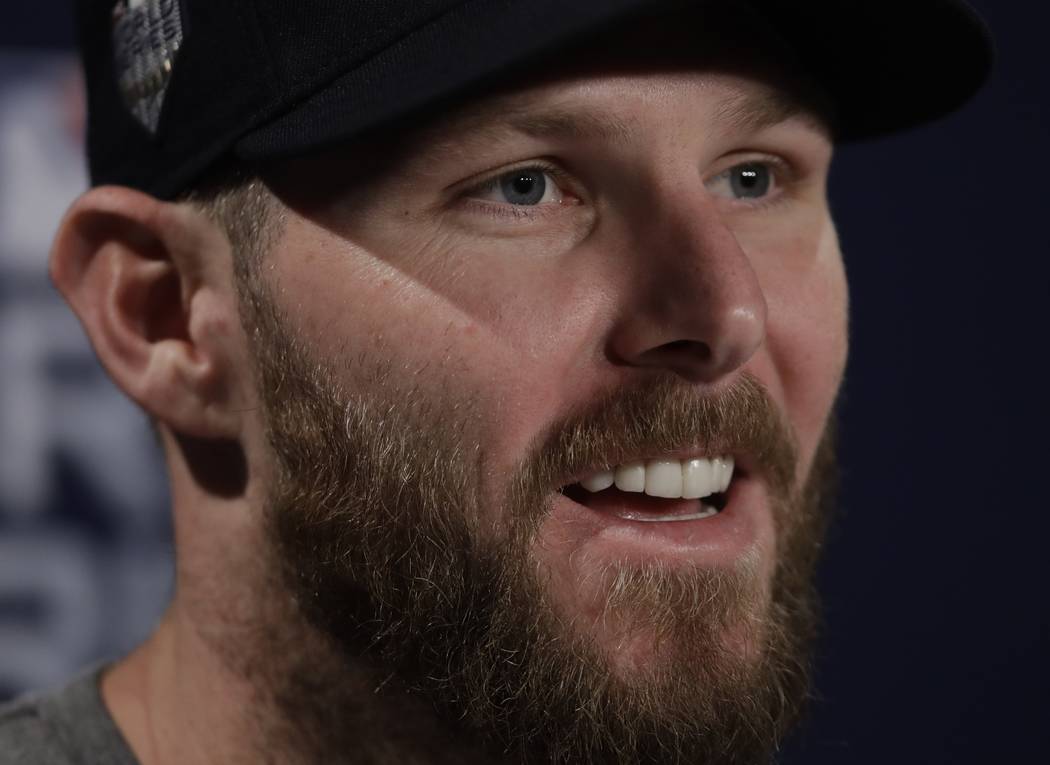 Short of a Dodgers-Yankees World Series, Las Vegas sports books got a dream matchup in the Fall Classic with the Dodgers and Red Sox.
"I think we have the potential for a record handle," Sunset Station sports book director Chuck Esposito said. "It's a great matchup for us. East Coast versus West Coast with two marquee, big market franchises."
Shortly after Los Angeles beat the Brewers in Game 7 of the National League Championship Series on Saturday night, the Westgate sports book opened Boston as a minus 135 favorite to win the World Series.
"Within 15 minutes, we took a six-figure bet on the Dodgers at plus 115," Westgate sports book manager Randy Blum said. "That one bet on the Series price flipped our position. Now we need the Red Sox for almost twice as much as the Dodgers."
CG Technology also needs Boston to win its fourth World Series title in 15 years.
"We actually have a red number to the Dodgers," CG Technology sports book director Jason Simbal said. "A guy bet $15,000 on the Dodgers at 7-1 back in July. We're going to need the Red Sox for the series because of that, plus all the smaller Dodgers bets."
Boston has since moved to a minus 145 favorite to win the series while Los Angeles is a plus 125 underdog to claim its first World Series championship since 1988.
"It's been all Red Sox money so far," Esposito said of the action at Station Casinos.
Kershaw vs. Sale
Game 1 on Tuesday night features a dream matchup for fans with aces Clayton Kershaw and Chris Sale squaring off at Fenway Park.
The pitching matchup wasn't set until Monday afternoon, when the Dodgers announced that Kershaw would be their Game 1 starter.
Boston is a minus 140 favorite behind Sale, who joked Saturday with reporters — some of whom took him seriously — that his brief stomach-related hospital stay during the ALCS was for an infection from a belly button ring.
Kershaw is a plus 130 underdog and the total at the Westgate is 7 (over minus 120).
Dodgers (+130) in Game 1
Handicapper Micah Roberts, who predicted in the Review-Journal that the Red Sox and Dodgers would win their respective pennants, recommends a play on L.A. in the opener.
"I'm going to go with Kershaw just as a bet against Sale, and Kershaw has been at his absolute best in the playoffs," said Roberts (Sportsline.com). "Sale hasn't been all that bad. He just hasn't been as sharp."
Over 7 in Game 1
Roberts also leans to the over in Game 1.
"Just because of those Dodgers' bats. They're going to love Fenway," he said. "Boston has those bats but the Dodgers are an NL team with no (designated hitter) and they hit more homers than Boston. Their whole lineup is stacked."
The Red Sox led the majors in batting (.268) but the Dodgers finished second to the Yankees in home runs, with 235. Boston was ninth with 208.
Dodgers (+125) to win Series
Roberts is sticking with the prediction he made before the LCS that L.A. will win it all a year after it lost the World Series in seven games to the Houston Astros.
"The Dodgers have the better rotation and they certainly have the better bullpen," he said. "They also have that bad taste from last year."
Blum said he leans toward Boston.
"Assuming Sale is healthy," he said. "(Starting pitcher Nathan) Eovaldi has emerged as a great weapon for the Red Sox and now that (David) Price got the playoff monkey off his back, I definitely lean to Boston pitching.
"The Red Sox don't have quite as much depth as the Dodgers but I think they're more talented at more positions and they have the big hitters in Mookie Betts and J.D. Martinez."
Contact reporter Todd Dewey at tdewey@reviewjournal.com. Follow @tdewey33 on Twitter.
World Series betting
Odds posted at Westgate sports book
Series price
Dodgers; +125
Red Sox; -145
Exact result
Dodgers win in four games; 12-1
Dodgers win in five games; 7-1
Dodgers win in six games; 5-1
Dodgers win in seven games; 5-1
Red Sox win in four games; 10-1
Red Sox win in five games; 9-2
Red Sox win in six games; 4-1
Red Sox win in seven games; 9-2