Entity betting could be next big wave in Nevada wagering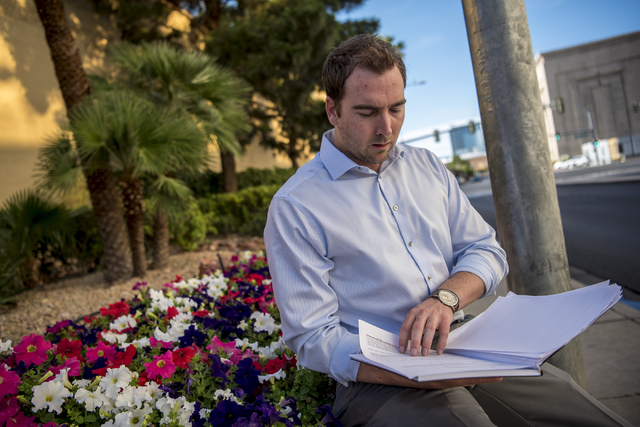 Three years ago, Chris Connelly decided to leave his job in the business world as a commercial construction project estimator. If that sounds boring, that's what he thought, too.
Connelly, a 2008 graduate of San Diego State, left his hometown for Las Vegas and entered the business of sports betting, which can be an adventurous, risky world.
"I've been betting on sports," Connelly said. "That's what I do."
He's doing it in a new way. Connelly is the founder of Contrarian Investments LLC, one of the first established sports betting entities in Nevada. In June, Gov. Brian Sandoval signed into law Senate Bill 443, which authorized business entities to place wagers on behalf of investors from around the world, with investors sharing in the wins and losses.
"Think of it as a mutual fund," said Parikshat Khanna, chief operating officer of CG Technology sports books.
CG Technology executives lobbied lawmakers and worked with the Gaming Control Board to help get the bill passed, and it is the only sports book operator in the state that is accepting wagers from entities. Other bookmakers could follow after taking a wait-and-see approach, yet welcoming large bets from professional entities is not something many Las Vegas bookmakers would seem eager to do.
Still, entity betting is potentially the next big wave in wagering. It could provide a significant boost to the state's sports handle, which was $4.2 billion in 2015 and is projected to approach $5 billion this year.
"It's still in its infancy, so to speak," said Khanna, adding that "people are still putting their heads around" the possibilities of the entity betting business.
"There is a tremendous amount of interest. We are very excited about it. We've always been known to take sophisticated action. That's our reputation, and we pride ourselves on risk management. As long as you are managing risk properly, I think it's a tremendous boost to the volume."
Presumably, not all of the entity action will prove to be sharp, and not all of the entities will win. But Connelly said he has a successful sports betting track record — monitored on various websites for proof — and several interested potential investors.
"The people who are invested, I'm going to produce a return for them," Connelly said. "It's all on me putting in the plays. I'm a numbers guy, and I'm able to spot games where I believe I have an edge. I'm a proven long-term winner. I'm not a salesman. That's not my gig. There is so much cloudiness in the industry with touts falsifying how well they do."
Connelly, who manages the fund for his group and invests in games rather than stocks and bonds, said he will place wagers only on NFL, college football, NBA and college basketball. After kickoff or tipoff, he will notify investors, "This is the side we're on."
Matt Knust of Chicago, one of Connelly's initial investors, said: "I have followed Chris and his success with sports betting for a few years. He has proven to me that he can win, and I expect my investment with him to be on par with his past results. He's quick to answer all my questions, and he's an investor that I can believe in."
The first two approved entities — Ken Murphy Jr. is the founder of Nevada Sports Investment Group, LP, and Matt Stuart founded Bettor Investments LLC — went live with CG Technology on March 31. As of now, there are six live entities. Murphy, who relocated from Houston to Las Vegas in the fall, runs a relatively high-end fund that requires a minimum investment of $25,000.
"It's very similar to a Wall Street exchange," Murphy said. "More sports book operators need to come on board, and I believe they will. I hope that it does grow. Frankly, I know I'm going to win around 60 percent of my games for a lot of reasons."
Murphy made 74 plays through Wednesday that are documented on his website (Sportsentitywagering.com). Connelly said his record is 3-1, with all four wagers on NBA games.
Connelly's entity was registered with the state and approved by CG Technology, and his account is set up through Bank of Nevada as part of what he called a "transparent" system.
Khanna said a minimum of $5,000 is required to open an entity, which is offered for free by CG Technology for up to 10 investors. He said there is a "very small fee attached" to subsequent investors because of the due diligence the book operator must do on each investor.
"You can seek investors throughout the country or even overseas," said Khanna, who oversees the vetting of applications. "Not everybody who applies gets approved. It is an involved process in terms of disclosure, and that takes time. By football season, I would expect more than 30 entities live, and I'm speaking conservatively, too."
The concept and perception of entity wagering is new to most bettors, but the educational movement is underway and the upcoming football season will provide an indication of how big the entity business might get in the future.
"A typical question we get asked is, what are the limits like?" Khanna said. "That depends on the sport. You always are going to get higher limits on NFL than you get on a baseball game. Another question we are asked is, if our entity does exceptionally well, are you going to shut us down?"
Khanna said once a relationship is established with an entity, CG Technology's goal is to only raise limits and not reduce them.
Connelly (Contrarianinvestments.net) said he's "looking forward to the competition" from an influx of new entities expected in the fall.
"I want to be the Warren Buffett of this marketplace," he said, "and show that sports betting is a legitimate investment option."
Contact sports betting reporter Matt Youmans at myoumans@reviewjournal.com or 702-387-2907. Follow on Twitter: @mattyoumans247