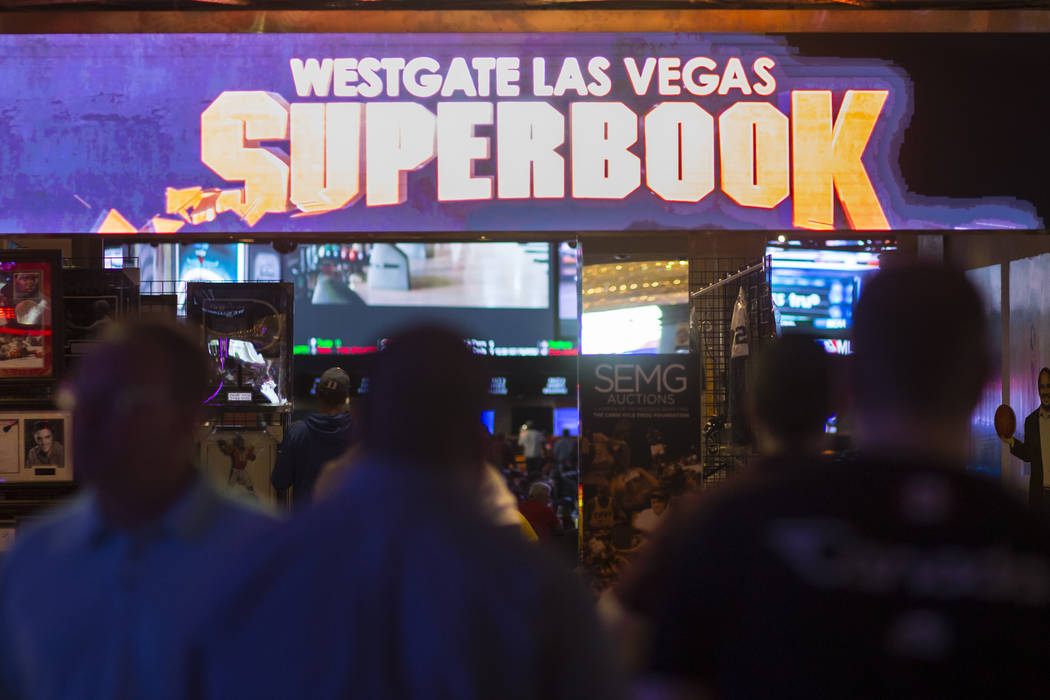 Sports betting has exploded in popularity in recent years, skyrocketing from a $2.4 billion industry in Nevada in 2006 to a $4.5 billion one in 2016, and it shows no signs of slowing.
"If we don't hit $5 billion this year, I'll buy you a new car," South Point oddsmaker Jimmy Vaccaro said.
As the state's sports wagering handle has increased, so have the number of entries in the major football handicapping contests at Las Vegas sports books.
The Westgate SuperContest, the world's most prestigious NFL handicapping contest and the city's longest-running high-end contest, has shattered its record number of entries for the seventh straight year and will crown its first $1 million winner.
As of Wednesday night, there were 2,431 entries in the $1,500-entry SuperContest, which will pay the top 50 finishers from a prize pool expected to be about $3.5 million.
"This contest has become a life changer. You're looking at the winner taking home over $1.2 million," Westgate sports book director Jay Kornegay said. "It's very exciting for everyone, not just the winner. The second-place finisher is not a life changer, but it certainly makes life more enjoyable."
The SuperContest, which has seen a record amount of entries every year since 2010 when there were 345, was won last year by local Starbucks barista Damon Graham, who topped a field of 1,854 entries to collect more than $900,000. Illinois farmer Mark Jorstad won more than $358,000 for second place.
"It was such a great story, and I'm certain that last year's results prompted other casual fans to enter, thinking they could do the same thing," Kornegay said. "That's the beauty of the SuperContest. There's a good mixture of sophisticated bettors and general football fans."
The same mix can be found in the new SuperContest Gold, a $5,000-entry, winner-take-all contest. As of Wednesday night, there were 74 entries vying for a $370,000 cash prize.
In both contests, contestants must select five NFL games against the spread each week using SuperContest lines.
There are two other high-end contests in town in which contestants must select seven games against the spread each week.
In the $2,000-entry Friday Football Showdown at the Golden Nugget, contestants make seven selections from all college and NFL sides and totals. After 12 weeks, the top 16 seeds advance to a single-elimination bracket.
Chris Kozak won the contest and $102,000 last season, when there were 97 entries.
"What we like about it is it's a complete handicapping contest, with sides and totals, college and pro," said Golden Nugget sports book director Tony Miller, who hoped to have 100 entries this year.
William Hill sports book offers the only high-end college football contest in town in its $500-entry College Pick'em. Contestants select seven college games ATS each week off a designated menu of 25 games. The winner took home $40,000 last year.
There were a record 182 entries Wednesday for a prize pool of $91,000, and the top 10 places will be paid.
"We have a good chance at getting 200 entries for a prize pool of $100,000," William Hill marketing director Michael Grodsky said. "Hopefully we'll keep growing it."
Station Casinos offers the ever-popular Last Man Standing contests for college and pro football in which contestants select one game ATS each week until they lose. The entry fee is $25, limit four with fifth free.
Last year, the Last Man Standing pro contest went 14 weeks and the winner pocketed $92,275. The Last Man Standing college contest went 12 weeks and the winner was awarded $51,650.
The South Point offers a $5 Pro Football Kickoff Weekend Jackpot Parlay Card in which contestants select all NFL straight-up winners for $25,000 guaranteed.
Station Casinos and Boyd Gaming also offer free contests in which their rewards club members pick NFL games with no point spreads. Station's Gridiron Glory guarantees $750,000 in prizes, and Boyd's Pick the Pros guarantees $500,000.
Contact reporter Todd Dewey at tdewey@reviewjournal.com. Follow @tdewey33 on Twitter.