Fury-Wilder fight KOs college football games at books
Updated December 3, 2018 - 5:37 pm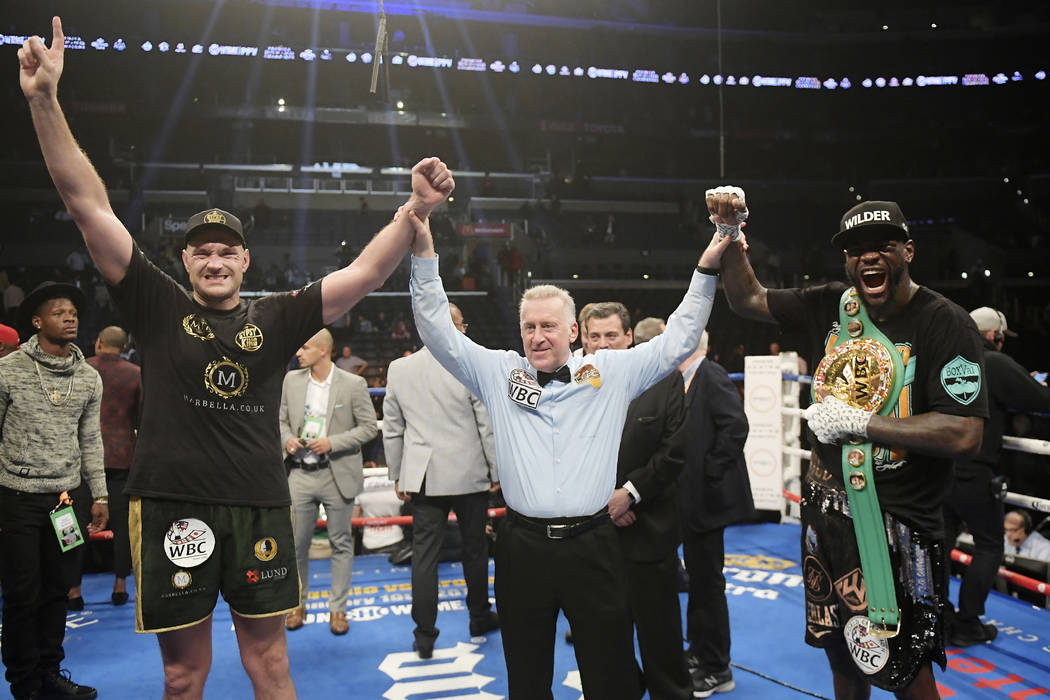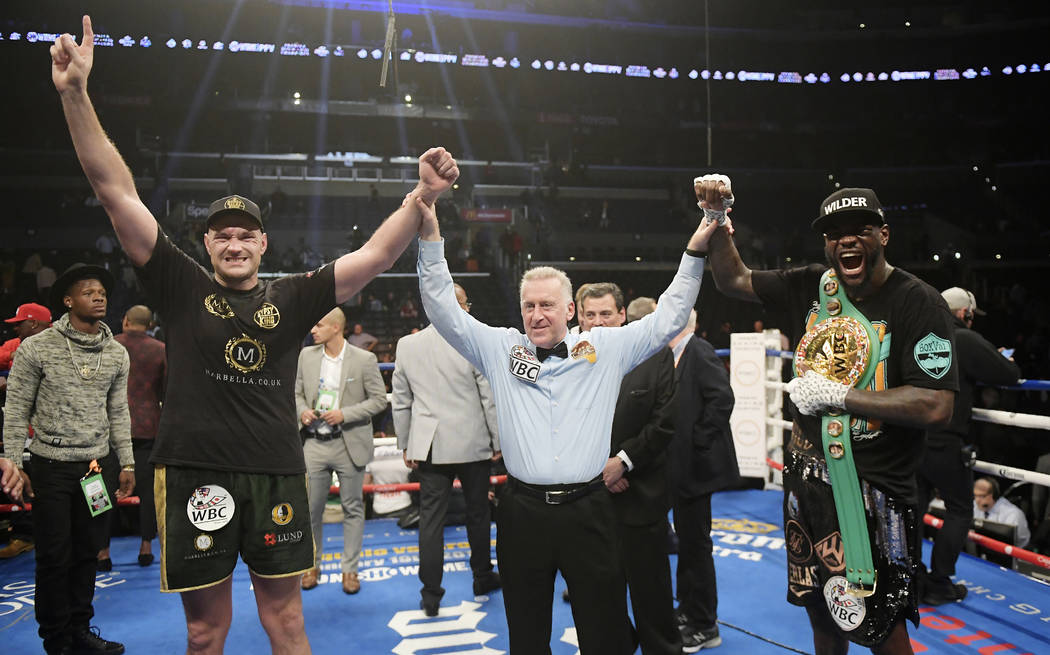 Reports of boxing's demise have been greatly exaggerated.
There was more money bet at Las Vegas sports books on Saturday's heavyweight title fight between Deontay Wilder and Tyson Fury at the Staples Center in Los Angeles than was wagered on any of Saturday's college football conference championship games.
"I didn't expect it to be that busy but it really picked up steam the day of (the fight), just like for a big-time fight here," CG Technology sports book director Jason Simbal said. "It picked up right before the fight and snowballed into a really big fight."
CG Technology, which has eight locations in Las Vegas, took an early $46,500 wager to win $25,000 on Wilder at minus 185 and took a late $45,000 wager to win $20,000 on Wilder at the closing price of minus 225.
Wilder, the 6-foot-7 WBC champion, twice knocked down Fury, the 6-9 Englishman, including once in the 12th and final round. But the fight was declared a split decision draw and bets on both boxers were refunded.
Simbal scored it a draw though many observers believed Fury won.
"It was a great fight. The guy got knocked down twice and yet people still thought he won," he said. "That shows you how crazy of a fight it was."
Westgate sports book director John Murray thought Fury won, though his book needed the other side.
"We booked it to need Wilder. I thought we got lucky there," he said. "Fury should've got that decision."
Fury-Wilder II
The Westgate posted odds on a possible rematch between Fury (27-0-1, 19 KOs) and Wilder (40-0-1, 39 KOs). Fury is a minus 120 favorite over Wilder (Even).
Gurley goes down again
For the second time this season, Rams running back Todd Gurley on Sunday intentionally stopped short of the goal line in an attempt to help his team run out the clock.
When Gurley went down on his own at the 4-yard line against the Packers in October, the Rams ran out the clock to preserve a 29-27 win. But Gurley's decision infuriated his fantasy football owners and bettors who backed Los Angeles as a 7½-point favorite.
Not that Gurley cared.
"Man, forget fantasy," he said with a grin after the game. "Forget Vegas. We got the win, so that's all that matters."
While that was undeniably a smart move by Gurley, his decision Sunday to allow himself to be tackled at the 2-yard line with 2:44 left in the fourth quarter could've proved disastrous. The Rams were leading the Lions by only seven points, couldn't run out the clock and could've turned the ball over.
Fortunately for Gurley, his fantasy owners and Rams bettors, he scored on a 2-yard run with 1:54 left to give L.A. a 30-16 lead and it held on for the cover as 10-point favorites.
$110,000 on Rams
A CG Technology bettor had to sweat out a $110,000 straight wager to win $100,000 on L.A. (-10). After the Gurley drama played out, the Lions marched downfield in the final seconds for a potential backdoor cover.
Detroit was at the Rams' 14 with 17 seconds left when Matthew Stafford's pass to Kenny Golladay was intercepted in the end zone by Troy Hill.
Hunt's impact on odds
The loss of Chiefs running back Kareem Hunt has had minimal impact on Kansas City's power rating and futures odds.
The Chiefs released Hunt, the NFL's leading rusher last season as a rookie, on Friday after video surfaced showing him pushing a woman and kicking her when she was on the ground in an incident that took place last year.
Kansas City closed as 14-point favorites over Oakland on Sunday after the line opened at 15. The Chiefs won 40-33.
"He's probably worth a half point to the line," Simbal said of Hunt. "The team's already so good."
Simbal said Ezekiel Elliott and Gurley are the two most valuable running backs to the point spread, with each worth up to a point each.
CG didn't adjust Kansas City's futures odds. The Chiefs are the 9-2 third choice to win the Super Bowl. The Rams are the 5-2 favorite and the Saints are the 3-1 second choice.
More Betting: Follow all of our betting coverage online at reviewjournal.com/betting and @RJ_Sports on Twitter.
Contact reporter Todd Dewey at tdewey@reviewjournal.com. Follow @tdewey33 on Twitter.
Las Vegas power ratings
Westgate sports book
(From manager Ed Salmons)
(For spread purposes, higher numbers are favorites)
1.; Alabama; 110½
2.; Clemson; 105½
3.; Georgia; 99½
4.; Michigan; 97½
5.; Oklahoma; 96½
6.; Ohio State; 95½
7.; Notre Dame; 94½
8.; Mississippi State; 90½
9.; Penn State; 89½
10.; West Virginia; 89½
11.; Washington; 89½
12.; Iowa; 87½
13.; Texas; 87½
14.; Louisiana State; 87½
15.; Texas A&M; 87½
16.; Miami, Fla.; 86½
17.; Iowa State; 86½
18.; Washington State; 86½
19.; Stanford; 86½
20.: Auburn; 86½
21.; Missouri; 86½
22.; Florida; 86½
23.; North Carolina State; 84½
24.; Purdue; 84½
25.; Fresno State; 84½
Gaughan Gaming
(From sports book director Vinny Magliulo)
1.; Alabama
2.; Clemson
3.; Georgia
4.; Ohio State
5.; Oklahoma
6.; Notre Dame
7.; Michigan
8.; Penn State
9.; Washington
10.; Mississippi State
11.; West Virginia
12.; Iowa
13.; Louisiana State
14.; Missouri
15.; Washington State
16.; Central Florida
17.; Texas A&M
18.; Texas
19.; Utah
20.; Florida
21.; Fresno State
22.; North Dakota State
23.; Miami
24.; Stanford
25.; Auburn