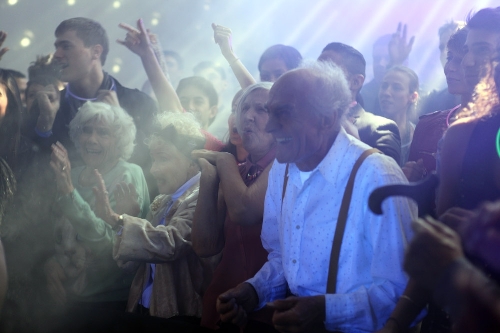 As soon as Kate Upton finally appeared on screen for her cameo in the Mercedes-Benz commercial, a somewhat inebriated gentleman jumped off the couch and screamed with joy.
To be fair, there were probably plenty of guys around the world with the same reaction. This was above and beyond the typical testosterone-driven jubilation one would expect, though.
It was the kind of exuberance only displayed when a desperate man hits a 25-1 shot to save his evening.
Prop bets have become all the rage in recent years. Just about every play in the game decides at least one of the multitude of wagers available on the Super Bowl.
At this particular party, my group of friends has taken this concept to a whole new level. Everyone comes armed with as many $1 bills as their friendly local casino cashier will allow them to exchange bills for, and the bets start flying as soon as someone walks in the door.
In fact, it started early this year. There was a proposition posted on Twitter involving which of the attendees would arrive to the party first.
Once inside, everyone starts throwing the singles around like Pacman Jones at a strip club. Will the next commercial be for beer or cars? Which Harbaugh will they show next? Will a baby be shown before an animal?
Kate Upton guy knew her commercial was coming eventually. So early in the game, he started asking for 40-1 odds on every commercial. One of the other guys knew there was value in booking the wager, so he continued taking $1 from Upton guy on every commercial.
As the game went on, the odds kept getting shorter. When she finally appeared, he had 25-1 from two guys and celebrated his big score without hesitation or considering the fact he had probably spent about $60 to win that $50.
Maybe he was delirious because he had consumed an entire jar of cold Tostitos Queso Dip by himself. That wasn't a bet. He just did it.
Someone tried to bet that he would not be able to keep it down. There was no way he was going to vomit, though.
If your stomach is strong enough to survive whatever that Taco Bell commercial was with the elderly people behaving like club kids, then it's strong enough to survive any edible product.
What was going on in that commercial? The one octogenarian couple came out of a bathroom stall together and appeared either to be making the viewer think that they were engaging in a sex act or doing cocaine in there.
Maybe we were reading too much into it. That's why Kate Upton commercials are better. No thinking.
Twitter seemed to think the Taco Bell ad was the early front-runner for best commercial. Not even close.
The Bar Refaeli commercial was great. Or terrible. You know what, I don't even know what happened in the spot.
Did you see her? Wow.
She is as hot as Solomon Wilcots is freaky. Was anyone else completely freaked out by the size of his hands?
There are catcher's mitts smaller. The only thing that saved CBS and the NFL from the brutal Twitter beating they were taking during the blackout was the side narrative on how ridiculous the comparatively tiny microphone looked when he was giving updates about when the lights would go back on.
Speaking of which, we know they were thrown into a nightmare situation trying to fill broadcast time in front of the biggest live audience in the world, but try as they might, the guys on the telecast added absolutely nothing during that time.
They should have brought Beyonce back out. She was stunning and silenced all the ridiculous critics of her faux national anthem performance from the inauguration.
It wasn't all good for Mrs. Z, though. Photos started circulating on Twitter of a particular angle from the broadcast that appeared to show the same body part that got Janet Jackson in trouble a few years back.
The photo hit the Internet too late, though. I had $4 that said body part would appear during halftime, but paid out on the wager when the performance appeared to go off without the dreaded wardrobe malfunction. Beyonce may take some heat for this. Or maybe not. Society may have progressed since Janet created the national nightmare last time. Doubtful, though.
What Beyonce should really be criticized for is how she treated those two poor former Destiny's Child girls. You know, the ones she dumped just before becoming the biggest pop star on the planet.
She brings them out for like 12 seconds at the Super Bowl and then makes them sing along with her on the songs that made her rich and famous beyond anyone's wildest dreams as a solo artist when she left them in the dust.
Then, probably sent them backstage to continue their duties as her nanny or whatever they are doing these days.
Maybe they were supposed to be working as the electricians at the Superdome.
Contact reporter Adam Hill at ahill@reviewjournal.com or 702-224-5509. Follow him on Twitter: @adamhilllvrj.