Giants were biggest underachievers, D-backs biggest overachievers
October 2, 2017 - 7:17 pm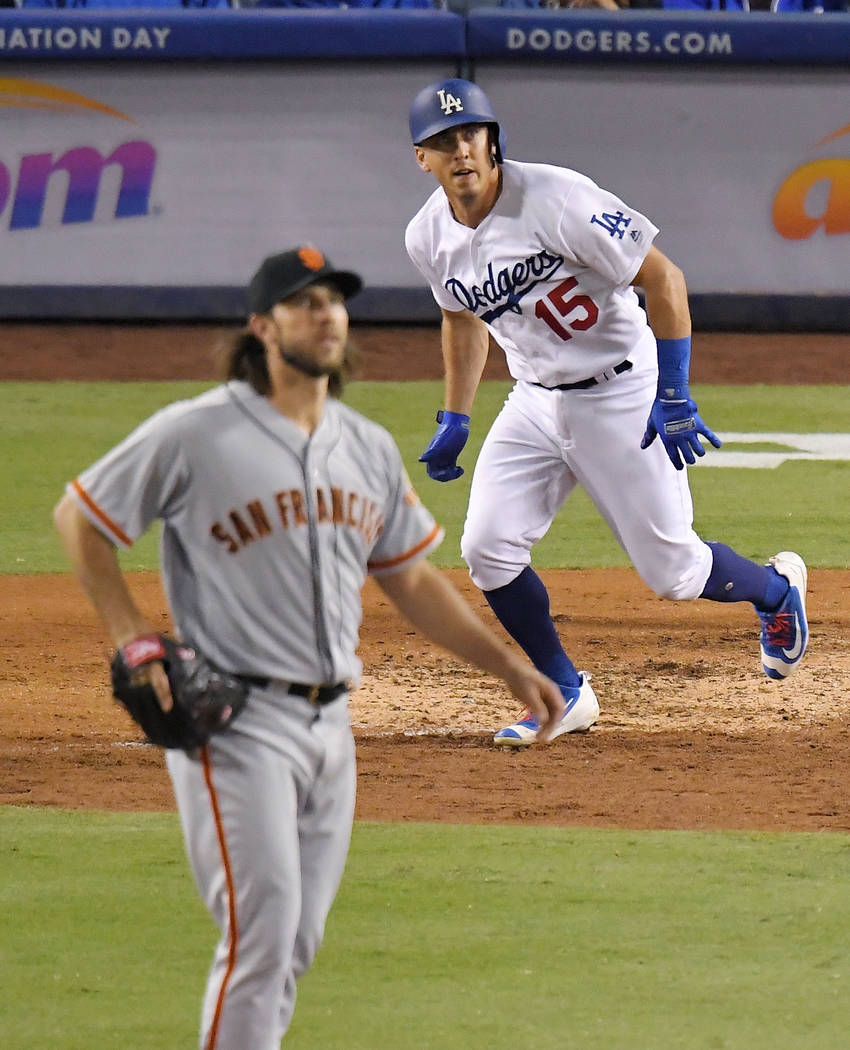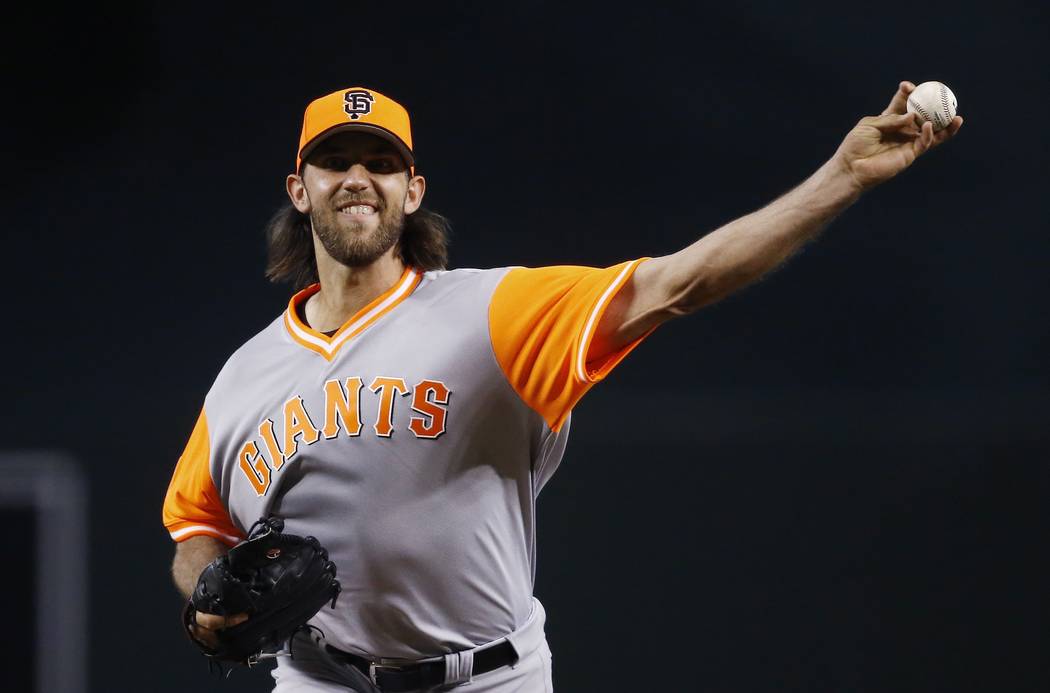 Giants ace Madison Bumgarner set the tone for San Francisco's disappointing 2017 season in April, when he suffered injuries in a dirt-bike accident that sidelined him for three months.
Bumgarner finished with a career-worst 4-9 record, and the Giants finished two losses shy of 100 at 64-98.
"The Giants were a huge disappointment, probably more than anybody else," Sunset Station sports book director Chuck Esposito said.
According to the baseball season win totals posted at Las Vegas sports books, the Giants were by far the biggest underachievers, finishing 24 wins below their opening number of 88.
The injury-riddled New York Mets were next, finishing 19 wins below their win total of 89 at 70-92. The Detroit Tigers finished 17 wins below their total of 82 at 65-98.
"We all thought the Mets would be as good as their health held up on their pitching staff, and it didn't hold up," Esposito said.
Biggest surprises
The Arizona Diamondbacks were baseball's biggest overachievers, surpassing their win total of 77.5 by 15.5 wins at 93-69.
The Milwaukee Brewers were next, eclipsing their win total of 71 by 15 wins at 86-76. But the Brewers didn't make the playoffs, finishing one game out of the wild card and six games behind the Cubs in the National League Central.
Chicago entered the All-Star break at 43-45 before going 49-25 the rest of the way. The Cubs finished 92-70, which was four games under their majors-leading win total of 96.
Close calls
The Los Angeles Angels topped their win total of 79.5 on the final day of the regular season, beating the Mariners 6-2 Sunday to finish 80-82.
"Which is a tribute to the Angels because of the amount of time they played this year without Mike Trout," Esposito said.
The Oakland Athletics eclipsed their win total of 74 by a game at 75-87. The Miami Marlins topped their total of 76 by one game at 77-85, and the Boston Red Sox surpassed their total of 92 by a game at 93-69.
Postseason baseball
The Indians, who led the American League with 102 wins, are the 9-4 favorite to win the World Series at the Westgate sports book. The Dodgers, who led the NL with 104 wins, are the 5-2 second choice.
The Yankees are minus-240 favorites over the Twins in Tuesday's AL Wild Card playoff game, and the Diamondbacks are minus-175 favorites over the Rockies in Wednesday's NL Wild Card game.
"It's not going to surprise me to see the Yankees or Diamondbacks be very competitive in the next round," Esposito said. "It's going to be a very interesting baseball postseason. You can make a case for a lot of teams. The Indians, Astros, Nationals and Dodgers have all been viewed as the best team in baseball at different times this year."
Bad beat
Vanderbilt, a 9-point underdog to Florida, appeared to reward its backers with a back-door cover Saturday when it scored a touchdown with 3:14 left to cut its deficit to 31-24. The Gators were poised to run out the clock if they converted a fourth-and-1 at the Commodore 39 with 1:49 left. But Malik Davis then broke loose for a 39-yard touchdown run to give Florida a 38-24 win and cover and deal Vanderbilt backers a bad beat.
Big bet
Big money-line bets on heavy favorites have become more commonplace in recent years. A South Point bettor on Saturday made an $81,000 money-line wager to win $800 on Ohio State to beat Rutgers.
South Point veteran oddsmaker Jimmy Vaccaro posted the info on his Twitter account, writing "here you go kids guy just bet 81k to win $800 dollars on ohio state money line."
The bettor would have won more than $73,000 by betting on the Buckeyes to cover the 28½-point spread, as Ohio State cruised to a 56-0 win.
Contact reporter Todd Dewey at tdewey@reviewjournal.com. Follow @tdewey33 on Twitter.
Baseball betting
Odds courtesy of Westgate sports book
World Series
Cleveland Indians 9-4
Los Angeles Dodgers 5-2
Houston Astros 5-1
Boston Red Sox 9-1
Washington Nationals 10-1
Chicago Cubs 10-1
New York Yankees 14-1
Arizona Diamondbacks 14-1
Colorado Rockies 30-1
Minnesota Twins 40-1
Season win totals
Team Win total Record Difference
Biggest overachievers
Arizona Diamondbacks 77.5 93-69 +15.5
Milwaukee Brewers 71 86-76 +15
Minnesota Twins 74 85-77 +11
Houston Astros 90.5 101-61 +10.5
Los Angeles Dodgers 94 104-58 +10
Cleveland Indians 93 102-60 +9
New York Yankees 83 91-71 +8
Biggest underachievers
San Francisco Giants 88 64-98 -24
New York Mets 89 70-92 -19
Detroit Tigers 82 65-98 -17
Toronto Blue Jays 85.5 76-86 -9.5
Seattle Mariners 86 78-84 -8
Closest calls
Los Angeles Angels 79.5 80-82 +.5
Miami Marlins 76 77-85 +1
Oakland Athletics 74 75-87 +1
Boston Red Sox 92 93-69 +1
Tampa Bay Rays 78 80-82 +2
Cincinnati Reds 69.5 68-94 -1.5
St. Louis Cardinals 85 83-79 -2
Chicago White Sox 70 67-95 -3
Atlanta Braves 75 72-90 -3
Chicago Cubs 96 92-70 -4