Golden Knights crush Capitals in Review-Journal opinion poll
Updated May 27, 2018 - 5:39 pm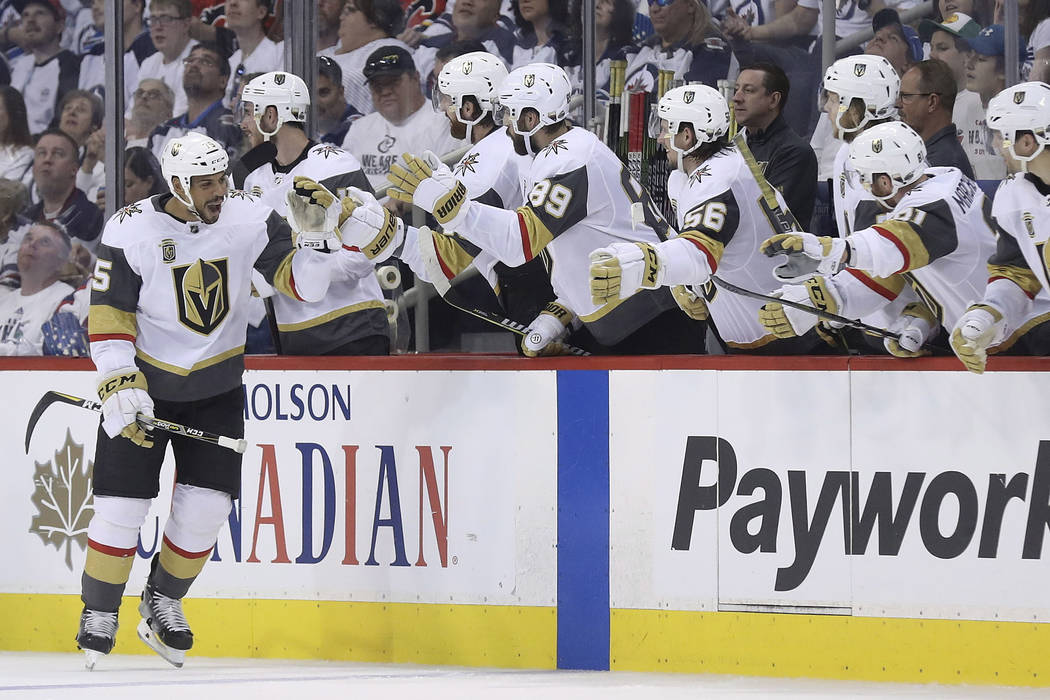 The Golden Knights are minus 150 favorites over the Washington Capitals (plus 130) in the Stanley Cup Final. Here's a survey of opinions from Review-Journal staff members, other media, oddsmakers and professional bettors and handicappers.
Mark Anderson, Review-Journal: Golden Knights in 6
The Knights have beaten all kinds of styles, and their game translates on the road as well as at home.
Bill Bradley, Review-Journal: Golden Knights in 6
Too much Vegas mojo in the air for D.C. team. How else can you explain what's going on? Even against an aggressive Capitals team, Knights continue trend of clinching on the road.
Steve Cofield, ESPN 1100 and SiriusXM's Mad Dog Radio: Golden Knights in 5
The Golden Knights will skate circles around the Capitals, and take advantage of the inferior goalie in the series.
Dave Cokin, ESPN 1100: Golden Knights in 7
The Knights are Murphy's Law in reverse and I learned long ago that stepping in front of an oncoming train is probably not a great idea.
Todd Dewey, Review-Journal: Golden Knights in 5
The hottest goalie and home-ice advantage helps Vegas hoist the Cup to cap one of the greatest sports stories ever told.
Chuck Esposito, Sunset Station sports book director: Golden Knights in 6
It's like a bad dream for Ovechkin when he looks up and sees Marc-Andre Fleury between the pipes. Knights hoist the Cup and Fleury wins the Conn Smythe.
Doug Fitz, Systemplays.com: Golden Knights in 7
The greatest story in the history of pro team sports writes its final chapter.
Mark Franco, FrancoSports.com: Golden Knights in 7
I expect this to be one of the best Stanley Cups ever. The Knights' speed and Marc-Andre Fleury are the difference.
Bernie Fratto, BernieFratto.com: Golden Knights in 7
I covered four Red Wings Stanley Cup champion teams. Vegas has the look, feel and persona of every one of those teams. The fact they go four lines deep with amazing chemistry and a Hall of Fame goalie doesn't hurt, either.
Ed Graney, Review-Journal: Golden Knights in 7
If only because after a life-sized chocolate statue and a Jack Russell terrier pushing national news aside in favor of his own photo op, I'm fascinated at the next level of buffoonery folks can dream up to include Marc-Andre Fleury.
Andy Iskoe, Thelogicalapproach.com: Golden Knights in 6
Although a win on home ice in Games 5 or 7 would be awesome, why not another feat for Vegas that can only be equaled but not topped — clinching all four playoff series with wins on the road.
Jay Kornegay, Westgate sports book director: Golden Knights in 7
This will be a battle and expect a lot of tight games.The Capitals have mojo and let's not forget they won the Presidents' Trophy two of the last three years. Fleury will be the difference once again.
Frank Kunovic, Caesars Palace sports book director: Golden Knights in 4
A sweep so Bryce Harper can watch his hometown team win the Cup in person at Game 4 and I don't have to put a second mortgage on my house to buy tickets to Games 5 and 7.
Allen Leiker, Review-Journal: Capitals in 7
The Capitals have the best player (Alex Ovechkin), their goaltender (Braden Holtby) hasn't been scored on in almost 160 minutes, and they win on the road (8-2 in the playoffs).
Bryan Leonard, Wagertalk.com: Golden Knights in 6
The Vegas defense is much better than that of the Capitals. The rest factor comes into play here as well.
Vinny Magliulo, VSiN, Gaughan Gaming: Golden Knights in 6
This is a well-coached, deep team with speed, a commitment to defend and the best goaltender of this postseason.
Ed Malinowski, Stratosphere sports book director: Golden Knights in 5
Last chapter of this unbelievable story will be completed at home.
Jason McCormick, Red Rock Resort sports book director: Capitals in 7
Fleury stole the series from the Jets and showed why he is the best in the game but Ovechkin finds a way to lift the first Cup of his 13-year Hall of Fame career. By the way, can every game start with a Reaves vs. Wilson scrap?
Daniel Negreanu, professional poker player, @RealKidPoker: Golden Knights in 5
I'd be surprised if Washington can win two games and I'd be thoroughly shocked if they can beat Vegas in this series.
Tony Nevill, TI sports book director: Golden Knights in 5
Caps get one home game. Cinderella drives Brinks truck down the Strip and pays off all winning tickets. Best feel-good story of 2018.
Jay Rood, MGM Resorts sports book director: Golden Knights in 5
Knights will finish the Caps and finish the job. It will be Capital punishment.
Wes Reynolds, @WesReynolds1: Capitals in 6
The Caps remind me of the Colts teams in the late 2000s. Finally slayed their dragon (Penguins) to get to the big stage. Barry Trotz brought his defense from Nashville a couple years ago and can slow down the fast Golden Knights.
Vic Salerno, SportsXRadio.com: Golden Knights in 7
The Golden Knights in double overtime of Game 7. Two hot goalies but in the bitter end Marc-Andre Fleury prevails as Reilly Smith scores the winner on a shorthanded goal.
Ed Salmons, Westgate sports book manager: Golden Knights in 6
Thirty NHL teams should watch Vegas hoist the Cup in total shame.
David Schoen, Review-Journal: Capitals in 6
Washington's 1-1-3 forecheck is more conservative than the president, and the Knights struggled against that style of play in the regular season (see: Minnesota Wild).
Jeff Sherman, Westgate sports book manager: Golden Knights in 7
Have to stick with the hottest goaltender and Conn Smythe favorite Marc-Andre Fleury. In addition, the speed of Vegas and the incredible home-ice atmosphere will be too much for the Capitals to overcome.
Alex B. Smith, AxSmithSports.com: Golden Knights in 5
While it's great to see Alex Ovechkin and the Caps finally break through and reach the Cup Final, I don't see them slowing down this fast, rested Vegas club. "History Will Be Made" to borrow from an old league advertisement. Knights will skate with the Cup at home.
Tom Spousta, Review-Journal: Golden Knights in 5
Caps couldn't beat Fleury when he was with Penguins. He's even better in Vegas.
Paul Stone, @PaulStoneSports: Capitals in 7
It's been a storybook inaugural season for the Golden Knights, but I like the plus money and will take the Capitals to win the Cup.
Ken Thomson, SportsXRadio.com: Golden Knights in 5
Fleury has been masterful and Holtby was outstanding the last two games vs. Tampa Bay. Ovechkin and Kuznetsov are not enough to knock off the most incredible sports story of the 21st century. No superstars, just a true team in every phase.
Dave Tuley, VSiN.com: Golden Knights in 5
Golden Knights were better team all year (and 2-0 in head-to-head meetings) and are arguably even better now. I also like the overs at 5.5.
Robert Walker, USFantasy: Golden Knights in 7
Vegas wraps up a magical and unprecedented season in an epic series the books will remember for a long time.
Picks: Golden Knights 27, Capitals 5
More Golden Knights: Follow Golden Knights coverage at reviewjournal.com/GoldenKnights and @HockeyinVegas on Twitter.