Handicapper expects Golden Knights to fly past Jets in Game 3
Updated May 16, 2018 - 9:08 am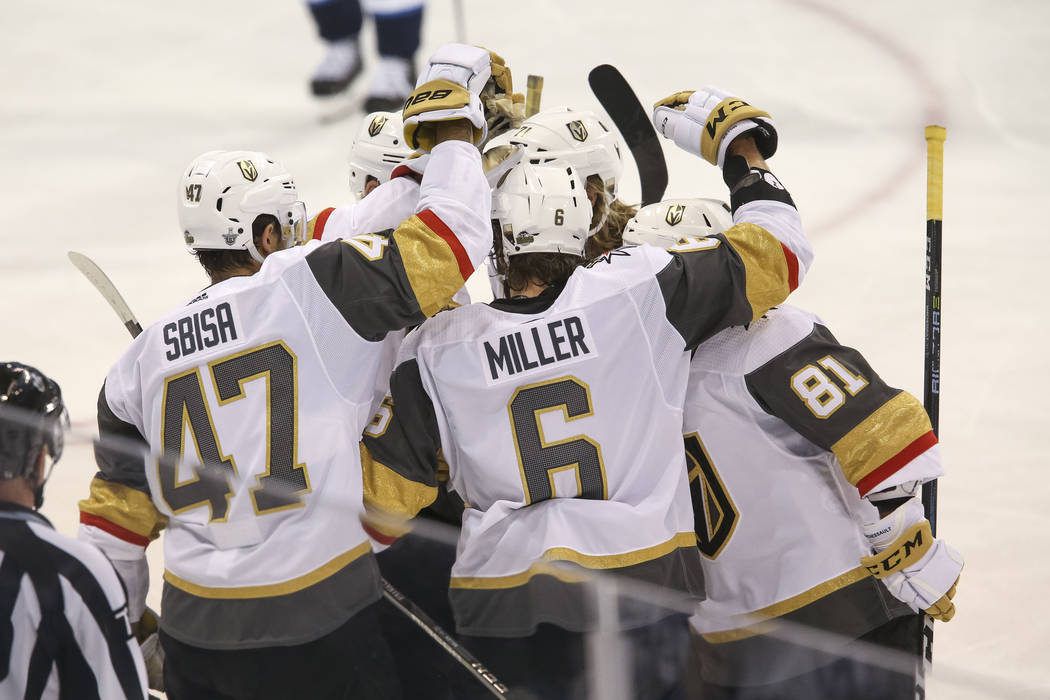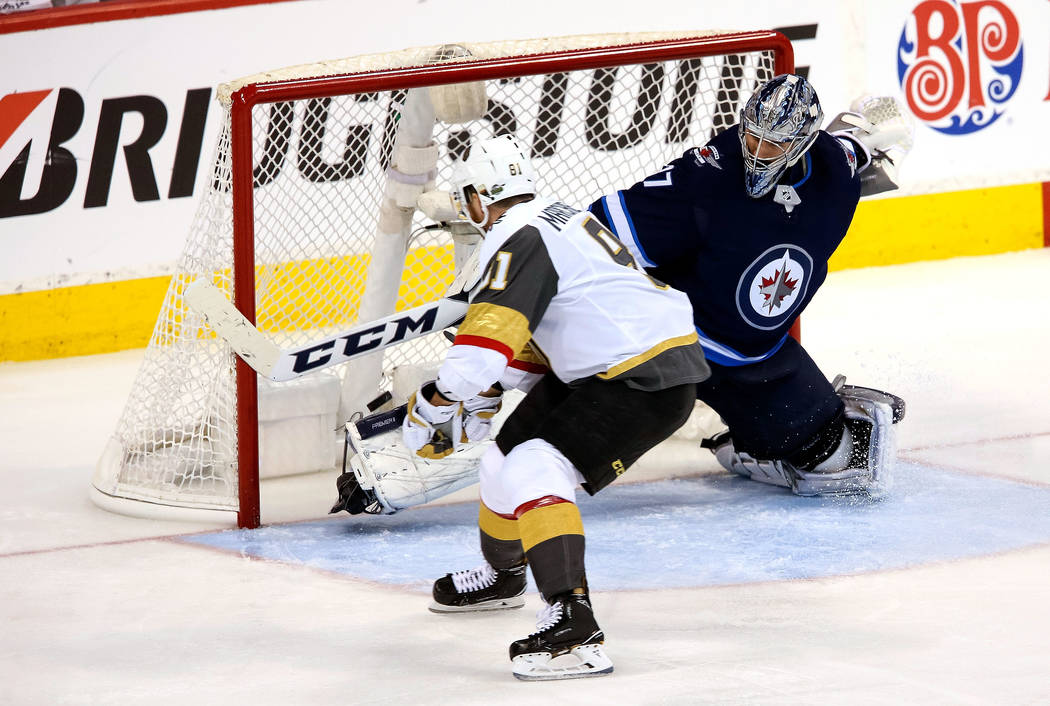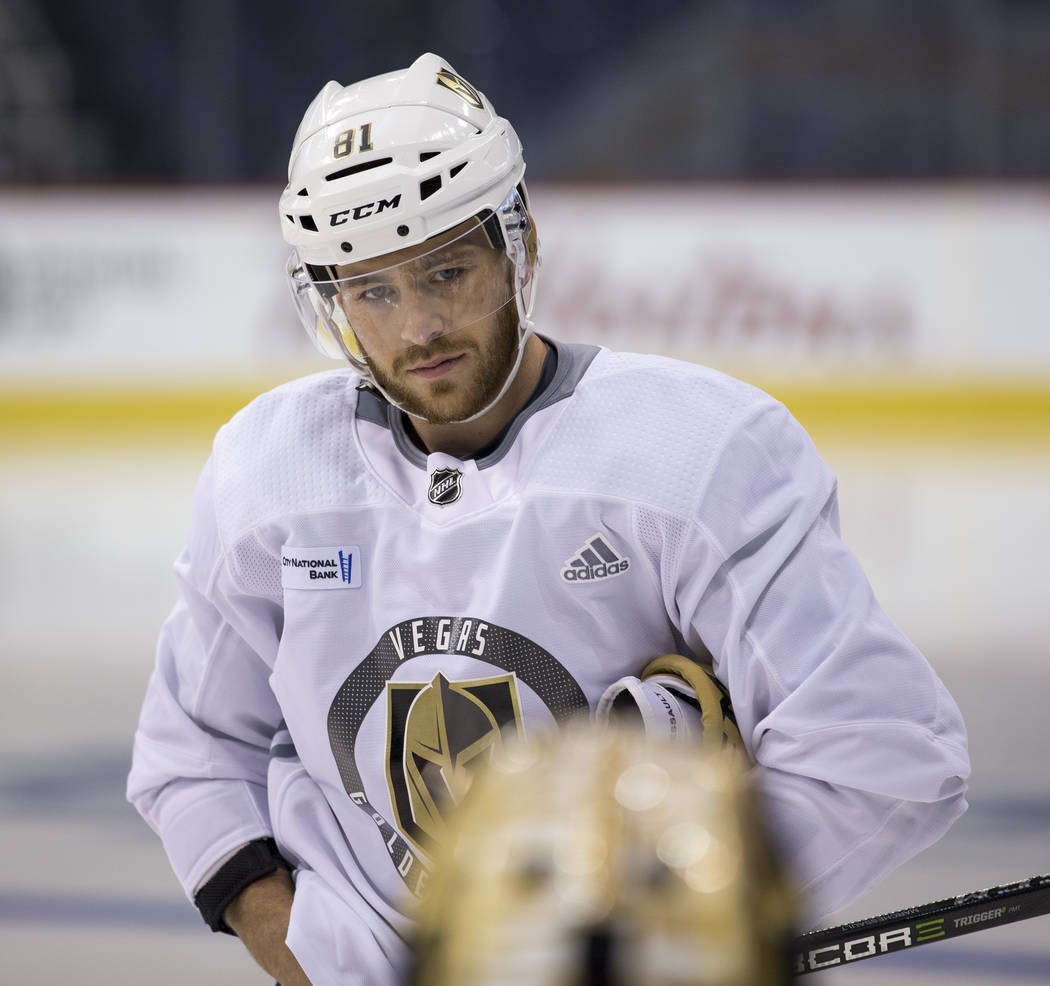 In what might prove to have been a preview of the Stanley Cup Final, the Golden Knights beat the Washington Capitals 3-0 two days before Christmas at T-Mobile Arena.
At the NHL All-Star Weekend more than a month later, Capitals star Alex Ovechkin described the atmosphere at Las Vegas' home rink in glorious fashion.
"It's not a regular rink," he said. "It's kind of like an unbelievable show, you get excited. It's like you're in a nightclub. It's like a party. Everybody dancing over there. It's like, 'Are we in a hockey game or is this like a pool party out there?' They're very, very tough to play against. They jump in right away. They have tremendous skill and tremendous speed. When you're not ready, you're going to be in a tough position."
The Winnipeg Jets will try to crash the Knights' party at T-Mobile Arena on Wednesday night in Game 3 of the Western Conference Final. But handicapper Dana Lane expects the Knights to party on at home and take a 2-1 series lead.
The Knights, 9-3 in the playoffs and 4-1 at home, are favorites ranging from minus 135 to minus 145 at Las Vegas sports books.
"I love the Golden Knights coming home, especially at the (minus 135) price. I think that's pretty reasonable," said Lane (@DanaLaneSports). "It's going to be an absolute insane asylum (at T-Mobile Arena), like it should be. I have no problem taking the Golden Knights because I think they're going to win the series."
After the Knights gave up three quick goals in the first period of Game 1 en route to a 4-2 loss, they've outplayed the Jets, outscoring them 5-2 in the last five periods while tying the series with a 3-1 victory in Game 2.
"They were overwhelmed by the crowd for 10 minutes in Game 1, and after that, if (Jets coach) Paul Maurice was being honest with you, he'd tell you, 'We might be in trouble here,' " Lane said. "Any coach will tell you, if they're being honest, that their goal is to win one game on the road. They've done that, and now they own home-ice advantage, and that's all you can ask for. Three of the next five games are going to be at T-Mobile Arena."
Jonathan Marchessault scored two goals in Game 2 that were assisted by Reilly Smith, and William Karlsson also assisted on Marchessault's goal that helped seal the win at the 8:45 mark of the third period.
"That top line was amazing," Lane said. "Jonathan Marchessault was as good as I've ever seen him this whole year. We always talk about depth, but your best players always have to be your best players.
"This team literally goes three lines deep now, having (Alex) Tuch, (Ryan) Carpenter and (Cody) Eakin."
Lane also has been impressed with Knights coach Gerard Gallant, who continues to make all the right moves during this magical ride.
"He's almost created this atmosphere where if you don't play for a bit, you kind of feel left out," Lane said. "We saw Tomas Tatar sit after playing against the Sharks, then he comes back (Monday) night and scores a goal. When you're not in the lineup for a couple days, you come back with a vengeance. People want to be part of this amazing thing that's going on here."
The total is 5½ (Over minus 120), and the Knights are plus 210 on the puck line (minus 1½). The Knights have won three of their last four postseason games by at least two goals.
Contact reporter Todd Dewey at tdewey@reviewjournal.com. Follow @tdewey33 on Twitter.
Prop bets
Game 3, Golden Knights-Jets
Posted at Westgate sports book
Will either team score in the first 10 minutes?
Yes -125
No +105
Will the game go into overtime?
Yes +280
No -360
Will either team score three straight goals?
Yes +190
No -240
Will the team that scores first win the game?
Yes -250
No +200
Will Patrik Laine score a goal?
Yes +180
No -220
Will Mark Scheifele score a goal?
Yes +180
No -220
Will Paul Stastny get a point?
Yes -150
No +130
Will Dustin Byfuglien get a point?
Yes -110
No -110
Will the Jets score at least one goal in the first period?
Yes -130
No +110
Will William Karlsson score a goal?
Yes +170
No -200
Will Jonathan Marchessault score a goal?
Yes +190
No -240
Will James Neal score a goal?
Yes +220
No -270
Will Erik Haula score a goal?
Yes +230
No -280
Will Reilly Smith get a point?
Yes -160
No +140
Will David Perron get a point?
Yes +115
No -135
Will the Golden Knights score at least one goal in the first period?
Yes -150
No +130
Total shots on goal by Jets 31½
Total goals by Jets
Over 2½ -120
Under 2½ Even
Total shots on goal by Golden Knights 32½
Total goals by Golden Knights
Over 2½ -155
Under 2½ +135
Player to score first goal
William Karlsson 7-1
Patrik Laine 7-1
Mark Scheifele 7-1
Jonathan Marchessault 8-1
James Neal 12-1
Erik Haula 15-1
Reilly Smith 15-1
Kyle Connor 15-1
Paul Stastny 15-1
Alex Tuch 18-1
Nikolaj Ehlers 18-1
Blake Wheeler 18-1
Dustin Byfuglien 20-1
Mathieu Perreault 25-1
Bryan Little 30-1
David Perron 40-1
Cody Eakin 40-1
Shea Theodore 40-1
Colin Miller 50-1
Tomas Tatar 60-1
Nate Schmidt 60-1
Joel Armia 60-1
Ryan Carpenter 80-1
Andrew Copp 80-1
Adam Lowry 80-1
Brandon Tanev 80-1
Josh Morrissey 80-1
Brayden McNabb 100-1
Deryk Engelland 100-1
Pierre-Edouard Bellemare 100-1
Tyler Myers 100-1
Jacob Trouba 100-1
Toby Enstrom 100-1
Ryan Reaves 200-1
Luca Sbisa 200-1
Ben Chiarot 200-1
Field (all others) 40-1