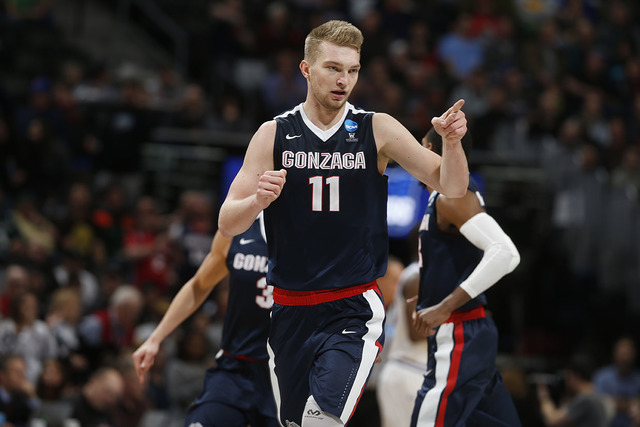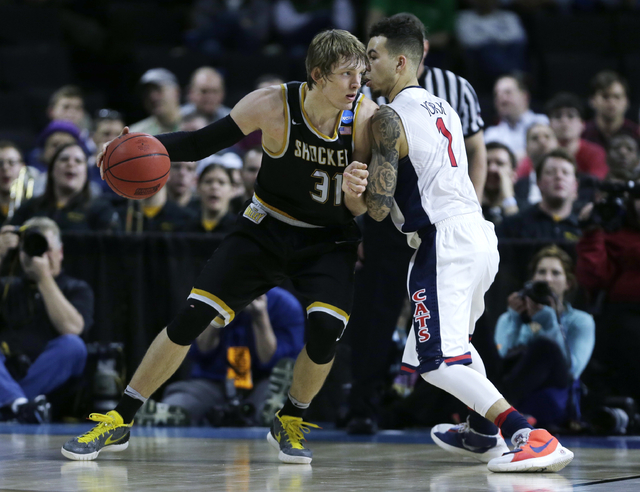 A capsule look at what to expect and who to watch in today's second-round games during the NCAA Tournament:
(3) MIAMI (26-7) vs. (11) WICHITA STATE (26-8)
When, where: 9:10 a.m., Providence, Rhode Island
Line, total: Wichita State -2, 132
Player to watch: Ron Baker. Despite poor long-range shooting performances by Baker and point guard Fred VanVleet, the Shockers annihilated Arizona in the first round. VanVleet missed all four of his 3-point attempts, and Baker went 1-for-6. The senior duo is too good to shoot like that again. Baker has connected on 34.7 percent of his 3s this season. His all-around floor game (13 points, six assists, five rebounds) was solid, and VanVleet had five steals to go with 16 points.
Storyline: The tournament selection committee disrespected Wichita State, the Missouri Valley Conference regular-season champions with a 16-2 record. How about a double-digit seed and a play-in game in Dayton, Ohio? The Shockers responded by slaughtering Southeastern Conference (Vanderbilt) and Pac-12 opponents in the span of three days. Arizona can attest that Wichita State's No. 1 spot in Ken Pomeroy's (Kenpom.com) adjusted defensive ratings is no fluke. The third-seeded Hurricanes, who held off Buffalo 79-72 in the first round, are underdogs. The oddsmakers and the NCAA committee disagree.
Pick: Wichita State 64, Miami 59
(4) DUKE (24-10) vs. (12) YALE (23-6)
When, where: 11:40 a.m., Providence, Rhode Island
Line, total: Duke -6, 146
Player to watch: Grayson Allen. The three guys in stripes certainly watch his every move and protect his airspace. The referees sent Allen to the foul line 17 times in the first round against UNC Wilmington. He made 15 free throws on the way to 23 points. The 6-foot-5-inch sophomore guard is averaging 21.6 points and has 241 free-throw attempts in 34 games. Allen has a shot to play in the NBA. Brandon Ingram, a 6-9 freshman, is set to be a top-five pick this summer.
Storyline: The Blue Devils lack depth, and that will be a problem in many games, but the Bulldogs do not have the talent to take advantage. But this is not a mismatch. These teams met Nov. 25 at Cameron Indoor Stadium, and Duke had a 38-36 halftime edge before pulling away to win 80-61. Yale, led by small-scale stars Makai Mason and Justin Sears, has a six-game win streak after upsetting Baylor. The Blue Devils are 0-6 against the spread in their past six games.
Pick: Duke 74, Yale 70
(4) KENTUCKY (27-8) vs. (5) INDIANA (26-7)
When, where: 2:15 p.m., Des Moines, Iowa
Line, total: Kentucky -3, 155½
Player to watch: Yogi Ferrell. The senior point guard makes the Hoosiers go, and he put on a show in the first round by sinking four 3-pointers, scoring 20 points and recording 10 assists in a 99-74 blowout of Chattanooga. Indiana made 10 of 16 3s, which is no surprise for a team stocked with shooters. The Hoosiers score 82.3 points per game, which ranks 11th in the nation, and Ferrell is the reason. He runs coach Tom Crean's up-tempo offense as a veteran should. But there are two outstanding point guards in this game, the other being Tyler Ulis.
Storyline: Indiana won the Big Ten regular-season title but still drew a 5 seed, worse than expected. The selection committee set up a classic second-round matchup, at least. This is the day's featured game. These rivals stopped playing in 2012, when Kentucky coach John Calipari ended the series after negotiations hit a roadblock. The Wildcats are off an 85-57 victory over Stony Brook in which freshman star Jamal Murray scored 19 points. Now, can Calipari's defense control the Hoosiers' free-flowing attack?
Pick: Kentucky 80, Indiana 74
(4) IOWA STATE (22-11) vs. (12) ARKANSAS-LITTLE ROCK (30-4)
When, where: 3:10 p.m., Denver
Line, total: Iowa State -6½, 145½
Player to watch: Josh Hagins. The Trojans' 6-1 senior guard might not be the best player on the floor, but he's the hottest at the moment. Hagins scored 31 points Thursday in an 85-83 double-overtime victory over Purdue. He drained a 30-foot jumper to tie the score and force overtime, and the box score shows he added seven rebounds, six assists and five steals. After a once-in-a-lifetime performance on the big stage, can he do it again? His team needs him to do it again.
Storyline: First-round Cinderellas are often put to sleep two days later. Is Little Rock legit? The Trojans were getting hammered and had to rally from 14 points down with just more than four minutes remaining. This matchup is a contrast in styles. Little Rock plays solid defense at a slow pace. The Cyclones run and gun. Iowa State got 28 points from Georges Niang in a 94-81 victory over Iona, another running team. Niang is the best player on the floor, but his team has had an inconsistent season.
Pick: Iowa State 74, Arkansas-Little Rock 66
(1) VIRGINIA (27-7) vs. (9) BUTLER (22-10)
When, where: 4:10 p.m., Raleigh, North Carolina
Line, total: Virginia -7½, 130½
Player to watch: Malcolm Brogdon. On a team that wins with defense, the 6-5 senior guard is the go-to offensive weapon. He averages 18.5 points and shoots 41 percent from 3-point range. Brogdon scored a quiet 11 points in the first round, but the Cavaliers did not require a sensational effort from him in an 81-45 rout of 16th-seeded Hampton. Against the offensive-minded Bulldogs, Brogdon must step it up and show why he's one of the elite players in the Atlantic Coast Conference.
Storyline: Butler is one of those teams that captures magic in March. The Bulldogs received a favorable draw and put away a mediocre Texas Tech 71-61 in the first round, with Kellen Dunham hitting five 3-pointers and finishing with 23 points. Dunham and Brogdon are the keys to their teams. Virginia coach Tony Bennett will have his players focused against a dangerous 'dog. With No. 2 seed Michigan State going down in the Midwest, the Final Four forecast has cleared up for the Cavaliers.
Pick: Virginia 67, Butler 62
(1) KANSAS (31-4) vs. (9) CONNECTICUT (25-10)
When, where: 4:45 p.m., Des Moines, Iowa
Line, total: Kansas -8½, 140
Player to watch: Wayne Selden Jr. The Jayhawks can lean on a few veterans. Selden and point guard Frank Mason III are juniors who have plenty of big-game experience in the bank. Senior forward Perry Ellis is the most consistent performer for coach Bill Self. Selden hits 40.5 percent from 3-point range, but he's a hot-and-cold shooter. He scored 14 points in the first round in a 105-79 laugher against 16th-seeded Austin Peay. This will be a serious test.
Storyline: Speaking of magical teams in March, here come the Huskies. As UConn coach, Kevin Ollie is 7-0 in the NCAA Tournament, winning the title in 2014. His team needed a miracle 60-foot buzzer-beating shot to survive en route to winning the American Athletic Conference tournament. Never take the Huskies lightly. Kansas is the top overall seed in the field, but as Michigan State found out, being a popular pick is not always a positive sign.
Pick: Kansas 72, Connecticut 68
(3) UTAH (27-8) vs. (11) GONZAGA (27-7)
When, where: 5:40 p.m., Denver
Line, total: Pick, 139½
Player to watch: Domantas Sabonis. There are only a handful of dominant, skilled big men in college basketball. This 6-11 sophomore is in that group, and this is as tough a matchup as he can face. Sabonis totaled 21 points and 16 rebounds as the Zags overpowered Big East tournament champ Seton Hall to advance. Sabonis (17.5 points, 11.7 rebounds) is flanked by 6-10 senior Kyle Wiltjer (20.5 points, 6.5 rebounds), so this team has the size and skill to stand up to the Utes.
Storyline: Utah typically gets weak guard play and relies mostly on 7-foot Jakob Poeltl on the offensive end. Gonzaga's guards are not a strength, either. This is an intriguing battle between the West Coast Conference tournament champs and a power team from the Pac-12. The Zags were favored as a double-digit seed in the first round, and the oddsmakers are calling this a pick'em. Who can make shots? Sabonis and Wiltjer need to be at their best.
Pick: Gonzaga 65, Utah 64
(1) NORTH CAROLINA (29-6) vs. (9) PROVIDENCE (24-10)
When, where: 6:40 p.m., Raleigh, North Carolina
Line, total: North Carolina -10, 151
Player to watch: Brice Johnson. When the Tar Heels were in trouble in the first round, leading No. 16 seed Florida Gulf Coast by only a point at halftime, Johnson hit the accelerator on both ends and finished with 18 points, eight blocks and seven rebounds. He became the leader of the team when guard Marcus Paige struggled offensively. If North Carolina is going to keep moving forward, Johnson cannot let off the gas pedal.
Storyline: This is the round when No. 1 seeds need to be on upset alert. The Friars are capable underdogs with NBA talents in Ben Bentil and Kris Dunn on the attack. Providence was extremely lucky to escape its tournament opener and is playing with house money.
Pick: North Carolina 88, Providence 77