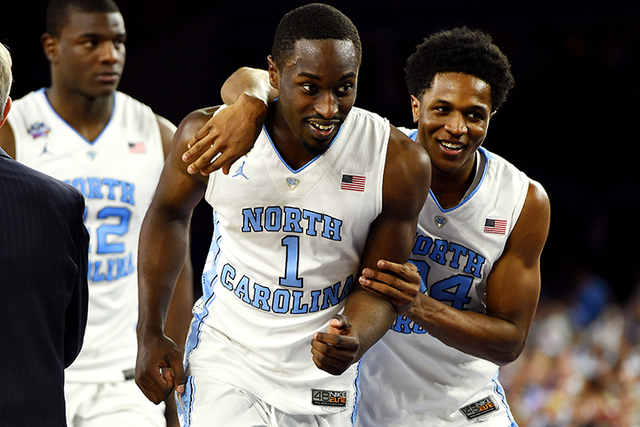 North Carolina is a 2-point favorite over Villanova and the total is 150 in today's NCAA championship game. A survey of opinions from Review-Journal staff members, other media, oddsmakers and professional handicappers:
Brian Blessing, Sportsbookradio.com: North Carolina, 73-69
I like this under 150. Villanova's defense shut down Oklahoma, and the Wildcats might want to shorten the game against the high-powered Tar Heels.
Dave Cokin, SmokinCokin.com: North Carolina, 80-70
If 'Nova shoots like it did Saturday, fuggetaboutit. But I expect a bounce to some extent and will back the Tar Heels to emerge as champs.
Joe D'Amico, Aasiwins.com: North Carolina, 78-70
The deeper, superior front line of North Carolina will own the boards and force Villanova's shoe to drop.
Todd Dewey, Review-Journal: Villanova, 80-76
North Carolina can't shoot the 3, and Villanova can't miss.
Doug Fitz, SystemPlays.com: Villanova, 77-71
Veteran guard play and tenacious defense in the paint will be the difference.
Bernie Fratto, ESPN Radio 1100: North Carolina, 75-71
The Tar Heels' defense, depth and size up front are too much for anybody to handle at this point. Plus, they rebound 40 percent of their own missed shots.
Ed Graney, Review-Journal: North Carolina, 78-72
Roy Williams cuts down net, holds it high and screams: "This one is for every kid who dreams of taking an African American studies class!"
Bruce Marshall, Goldsheet.com: North Carolina, 81-74
Red-hot 'Nova has more than a puncher's chance, but let's see how the Wildcats deal with all of the Carolina size that has dominated foes throughout the tournament.
Tony Miller, Golden Nugget sports book: North Carolina, 74-66
Villanova's dream run comes to an end as North Carolina dominates inside the paint and covers.
Mitch Moss, ESPN Radio 1100: North Carolina, 75-68
North Carolina's athletes will be too much for Villanova to handle.
Ed Salmons, Westgate sports book: Villanova, 75-71
North Carolina has had the easiest five games to a final I can remember in my lifetime. The Tar Heels will finally get tested by Villanova's defense.
Alex B. Smith, AxSmithSports.com: North Carolina, 74-66
North Carolina is in a solid groove on both ends of the court.
Paul Stone, VegasSportsAuthority.com: Villanova, 74-73
Big, athletic North Carolina crashes the offensive boards better than anyone in college basketball, but Villanova defends, gets the loose balls, and does all the little things to bring the banner back to Philadelphia.
Ken Thomson, SportsXradio.com: Villanova, 77-73
Villanova probably has to shoot about 55 percent, rebound well and play a near-perfect game to win.
Matt Youmans, Review-Journal: Villanova, 74-72
No doubt the Tar Heels have more athletes with length, but Villanova coach Jay Wright has a team built on defense and toughness.
Straight-up/ATS picks: North Carolina 9, Villanova 6
Total: Under 10, Over 2, Push 3