Here's what bettors should look for at the Final Four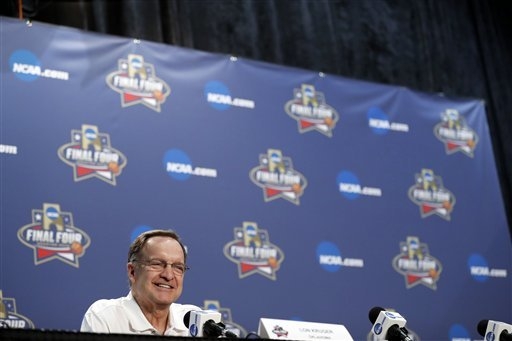 (2) Oklahoma (29-7) vs. (2) Villanova (33-5)
When, where: 3:09 p.m., Houston (TBS)
Line, total: Villanova -2, 145
Player to watch: Buddy Hield. The senior guard lit up Pac-12 Conference champion Oregon for 37 points in the West Region final and is averaging 29.3 points in the Sooners' four NCAA Tournament wins. Hield has shot 19-for-40 from 3-point range in the tournament; during his freshman season, he shot 19-for-80 on 3s. Oklahoma makes a good living with the 3-point shot. Hield, Isaiah Cousins and Jordan Woodard each shoot 42 percent or better from long range. How will the background at NRG Stadium, home of an NFL team, impact shooters? Hield hit four 3s and had 18 points in the Sooners' 78-55 victory over Villanova on Dec. 7 in Honolulu. The Wildcats were a wreck, shooting 4-for-32 on 3s.
Storyline: Oklahoma coach Lon Kruger is back in the Final Four 22 years after he made it with Florida. Kruger, 63, spent seven seasons as UNLV coach and reached the Sweet 16 in 2007. Villanova coach Jay Wright, a Rebels assistant in the early 1990s, knocked off No. 1 Kansas in the South Region final. But the players win games. Ryan Arcidiacono, the Wildcats' senior point guard, is probably as important to his team as Hield is to the Sooners. Arcidiacono has made 11 3-pointers and committed only four turnovers in four tournament wins. He defends, dives for loose balls and embodies the blue-collar toughness of his Philadelphia team.
Pick: Villanova 75, Oklahoma 71
(1) North Carolina (32-6) vs. (10) Syracuse (23-13)
When, where: 5:49 p.m., Houston (TBS)
Line, total: North Carolina -9½, 145
Player to watch: Brice Johnson. In the one-and-done era, it's good to see seniors leading teams to the Final Four. Johnson, a 6-foot-9-inch forward for the Tar Heels, has elevated his scoring average each season, going from 5.4 points as a freshman to 17.1 as a senior. He averaged a double-double this season, also grabbing 10.5 rebounds, and his NBA stock is rising. He's not a big man who feels the need to prove he can shoot from the perimeter. Johnson has totaled 1,686 points in his North Carolina career while never attempting a 3-pointer. He has three 20-point games in this NCAA Tournament. In an 88-74 victory over Notre Dame in the East Region final, Johnson recorded 25 points and 12 rebounds.
Storyline: NCAA investigators should be blowing whistles in this game. Both Atlantic Coast Conference programs are in trouble with the law. Syracuse coach Jim Boeheim served a nine-game suspension this season. North Carolina and coach Roy Williams will wait for the NCAA hammer to drop. But once the ball is tipped, all that matters is basketball. The Orange made an improbable tournament run by perplexing opponents with a 2-3 zone and full-court pressure defense. But the Tar Heels have seen the Boeheim zone and are equipped to beat it. North Carolina won both regular-season meetings by scores of 84-73 and 75-70. Syracuse needs to slow the tempo to prevent a potential blowout.
Pick: North Carolina 74, Syracuse 67