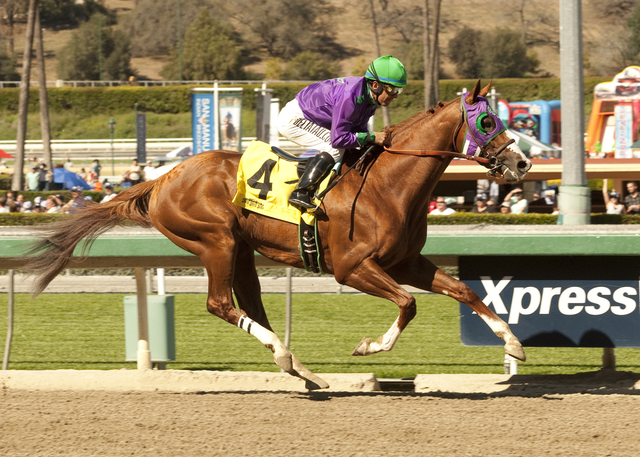 Wynn Las Vegas race and sports book director John Avello handicaps the Kentucky Derby field:
"It's probably the best betting race in the world because the pool is so big. There's always a surprise horse, and people say, 'Where did that come from?'"
Post position, horse, (jockey), morning line odds:
1. Vicar's In Trouble (Napravnik) 20-1
He did draw an unenviable post, but has an experienced jockey and a top trainer in Mike Maker. This horse would really like to get a lead, but that's not going to happen because he's going to get pushed back early. Ferdinand was the last horse to win the Derby out of this post, in 1986.
2. Harry's Holiday (Lanerie) 50-1
This horse should be 100-1. His last race in the Blue Grass Stakes was horrible. The only good thing I can say is his best race was the Spiral Stakes at Turfway Park, where he finished second, but it was a slow race.
3. Uncle Sigh (I. Ortiz Jr.) 30-1
He did not get out of the gate in his last race in the Wood Memorial. All five of his races were at Aqueduct. I think this horse has a distance limitation and is not suited for 1¼ miles.
4. Danza (Bravo) 8-1
In his last race, Danza won the Arkansas Derby, but he has only four starts. If he can run similar to that, he could be right there. What was that TV show, "Who's the Boss?" He might be the boss if he can move up from that last race. If he gets the right trip, don't disregard him.
5. California Chrome (Espinoza) 5-2
The favorite is probably going to be 5-2 at post time. My concern for him is the trip and the track, Churchill Downs. He has 10 races as a 2- and 3-year-old, the most of any horse in the field, but all of the races were in California.
6. Samraat (J. Ortiz) 15-1
This horse has five wins in six starts, and the other was a second-place finish, all in New York. I think this horse is dangerous. I definitely would consider him in gimmicks, and maybe in the top spot.
7. We Miss Artie (Castellano) 50-1
He really doesn't belong in this type of race. He prefers the synthetic surface and does not run well on dirt. He finished seventh in last year's Breeders' Cup Juvenile and was eighth in the Fountain of Youth.
8. General a Rod (Rosario) 15-1
In five starts, he has two wins, two seconds and a third. He had a good performance on the Churchill Downs surface. The main attraction to me is Joel Rosario, who gets the most out of every horse he rides. You need to get something around 15-1 to bet him.
9. Vinceremos (Rocco) 30-1
Throw out his last race on synthetic in the Blue Grass Stakes. He's a strong finisher, but to me, he would have to move way, way up to win this race.
10. Wildcat Red (Saez) 15-1
This is more of a shorter-distance horse. I think 1¼ miles is too much for Wildcat Red, but that being said, I don't think there's a horse in this race who has more heart and guts than this horse. He hates being passed and retaliates when a horse gets close to him.
11. Hoppertunity (scratched)
12. Dance With Fate (Nakatani) 20-1
I would not throw him out, but I would like to see 20-1. He has won three of eight starts with three second-place finishes. He had a poor race in the Breeders' Cup Juvenile on dirt. If he takes to the surface, he could be in the mix.
13. Chitu (Garcia) 20-1
A Bob Baffert-trained horse, he has only four races, but he won three and was second in the other. He shows early speed. He would need to dictate the race, but I don't think that's going to happen.
14. Medal Count (Albarado) 20-1
This horse is creating some buzz in the book. Maybe he's the wiseguy horse of the weekend. The last two races were his best by far. I know he's adapting to the track and likes it. He will grab a little money. I certainly would take a look at him if I'm betting trifectas and superfectas.
15. Tapiture (Santana) 12-1
Everything was looking real positive for this horse before his last race in the Arkansas Derby. It wasn't his day. He can't be overlooked. He's bred for distance, has a top trainer and his three races at Churchill Downs were pretty good.
16. Intense Holiday (Velazquez) 8-1
This horse finished second in the Louisiana Derby. All of the top jockeys have taken turns on this horse. He has two wins in eight starts and is a horse that is getting better. He's certainly in the mix.
17. Commanding Curve (Bridgmohan) 50-1
He likes to come from behind, and this race sets up for a horse like this, but I just don't think he's good enough.
18. Candy Boy (Stevens) 15-1
This horse appears to run on any surface. He ran well at Hollywood Park, Santa Anita and Del Mar. He has Gary Stevens at the helm, and this guy is a master. If Stevens gets his way, this horse has a shot.
19. Ride On Curlin (Borel) 15-1
I think this horse is going to be bet because of Calvin Borel and because people like the name Curlin. He has probably run against better competition than any other horse in this race. I think Borel will come out of the 18th post and shoot inside. Consider this horse in exotics.
20. Wicked Strong (Maragh) 6-1
He's really a true closer. Look for this horse to be flying late. He had an impressive win in the Wood Memorial. He certainly has a good shot.