Kyle Busch looks for elusive first victory at Pocono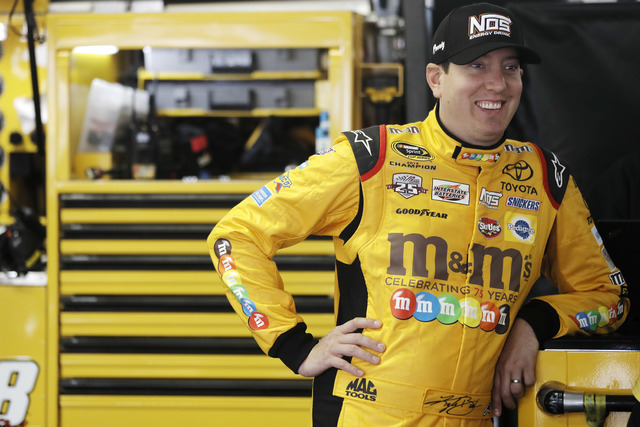 A Joe Gibbs Racing-powered Toyota has won seven of the past eight Sprint Cup races, and after Saturday's final practices at Pocono Raceway's tricky triangle, they appear to be in good shape to win Sunday's Axalta 400. The group of five drivers come heavily armed with horsepower led by Kyle Busch, who has three of those wins.
Busch posted the fastest lap (176.901 mph) during the session and also had the best 10-consecutive lap average, a sign he'll be faster than most on long green flag runs. But a win on the 2.5-mile layout has eluded him, one of only two tracks in the series at which he's winless. Even when he's had the best car, the Las Vegan can't seem to catch a lucky break. In August, he ran out of fuel on the final lap while leading. Teammate Matt Kenseth won the race.
In that race, Joey Logano led a race-high 97 laps and gave up the lead to Busch with three left because he also ran out of fuel. Logano, who won at Pocono in 2012, starts from the second position alongside Penske teammate Brad Keselowski on the front row. Because of where they start, they should give the Gibbs' drivers their toughest competition.
Start position a big deal
Pocono Raceway dropped both its races from 500 to 400 miles in 2012, which has placed an extra premium on start position. There isn't much passing, and there's fewer laps, so getting out front and staying there becomes more important than all tracks except maybe those on the road courses. The all-time numbers support the notion, with 54 of 76 winners coming from a top-10 start position, including the past four. Drivers starting on the front row have won 24 times, with the pole sitter leading the way with 15 wins. It's a good trend for the Penske duo and enough to argue they're the drivers to beat.
First-time winner?
Carl Edwards (2005) and Denny Hamlin (2006) are the only drivers to win in their first attempt on the difficult track with three progressively flatter turns. Hamlin became the only driver to win his first career race at Pocono, and he won his second race there six weeks later — the only wins of his rookie season. Rookie Chase Elliott (20-1) fits the profile of a driver who could join that class. He has the Hendrick Motorsports horsepower to go real fast along the longest straightaway in NASCAR. This is his first Cup race at Pocono, but in his first attempt there in any series, he won an ARCA race in 2013. Also, his car is familiar with success at the track. Jeff Gordon led a track-record 1,040 laps in his career driving the No. 24. Another possible rookie is Kyle Larson (30-1).
No Pocono wins
The Sprint Cup champions from the past two seasons never have won at Pocono. Kevin Harvick (6-1) has gone 30 starts without winning and Busch (8-1) 24. Harvick has been close with two seconds in the past three. Busch's last top five was a second in 2011. Of the two, Harvick, who starts fourth, probably has the best shot of finally breaking through despite Busch's outstanding practice. The past two seasons have seen first-time winners with Dale Earnhardt Jr. sweeping 2014 after no wins in 28 starts. Martin Truex Jr. won last June in his 19th start, and Kenseth won in August in his 32nd attempt.
Race to No. 25
Four active drivers have 27 Sprint Cup wins and will be looking to tie Rex White with 28 for 25th on NASCAR's all-time list. All four also have multiple Pocono wins — Hamlin with four, and Kurt Busch, Kasey Kahne and Edwards with two apiece. Busch last won at Pocono in 2007, but is the series leader with five second-place finishes there. He leads the series with 11 top-10 finishes this year.
Best bets
Logano (8-1), Keselowski (10-1) and Kurt Busch (12-1) offer the best value. Betting against Gibbs has been a bad strategy lately, but the Penske Fords look good for Sunday, or perhaps Monday, because there is a 100 percent chance of rain Sunday.
Micah Roberts, a former Las Vegas sports book director, has been setting NASCAR odds since 1994. Follow him on Twitter @MicahRoberts7