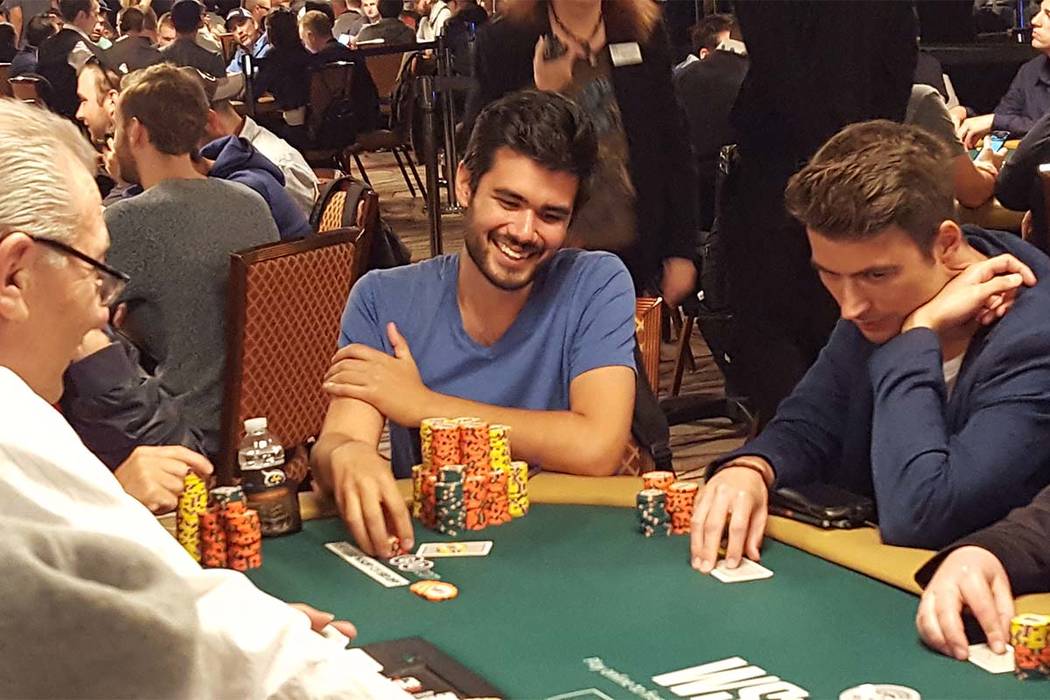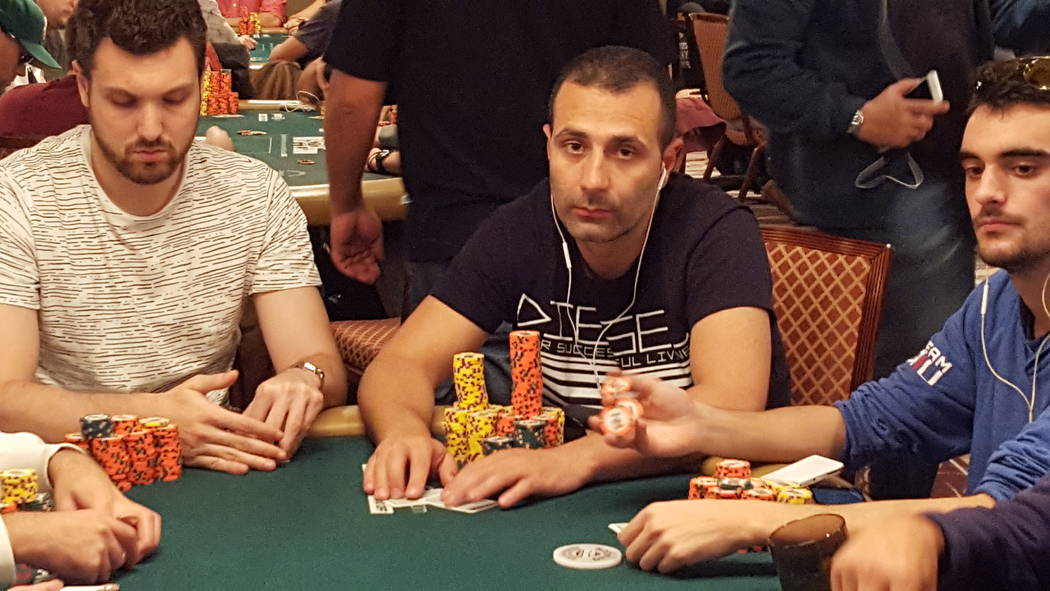 Thirty-four players will start Day 4 of the World Series of Poker Main Event on Friday with more than 1 million chips in a closely contested race.
Patrick Lavecchia of Sellersville, Pennsylvania, has the overall lead with 1.552 million chips when action in the $10,000 buy-in No-limit Texas Hold 'em World Championship resumes at the Rio Convention Center at 11 a.m. Friday.
Poland's Pawel Brzeski currently is second with 1.546 million chips, followed closely by Antoine Saout of France (1.529 million).
"Of course it feels nice to be second in chips, but we still have more than 1,000 people left, so it doesn't mean much," Brzeski told WSOP.com. "But I guess more chips is more life in tournaments. I can lose some flips and still be alive, so that's always nice."
Saout, who finished third in the 2009 Main Event, scored a huge double-up through fellow pro Scott Seiver (KK > AA) during the evening session. An eruption of noise came from the tournament floor when the Frenchman hit a king on the river to move over the 1 million chip mark.
Jeremiah Fitzpatrick of Charlotte, North Carolina, sits fourth with 1.523 million chips, and Derek Bowers of Alliance, Ohio, rounds out the top five with 1.376 million chips.
Several big names, led by Kenny Hallaert, who finished sixth in the 2016 Main Event and has two final tables this summer, are lurking in the top 50. The resident of Hansbeke, Belgium, has 1.258 million chips and opens in 11th place.
Three-time bracelet winner Davidi Kitai of Belgium is in 22nd place (1.116 million), and former bracelet winner Ben Lamb is 32nd with 1.016 million chips. Lamb finished third in the 2011 Main Event worth more than $4 million.
Also, Tom Cannuli is sitting just below 1 million chips and is in 39th place. Cannuli won the $3,333 Online High Roller No-limit Hold'em event this summer for his first bracelet and was sixth in the 2015 Main Event.
A number of notables busted on Day 3, including Adrian Mateos, Mike Matusow, Jason Mercier, Brian Rast and former Main Event champions Johnny Chan, Joe Hachem, Tom McEvoy and Greg Raymer.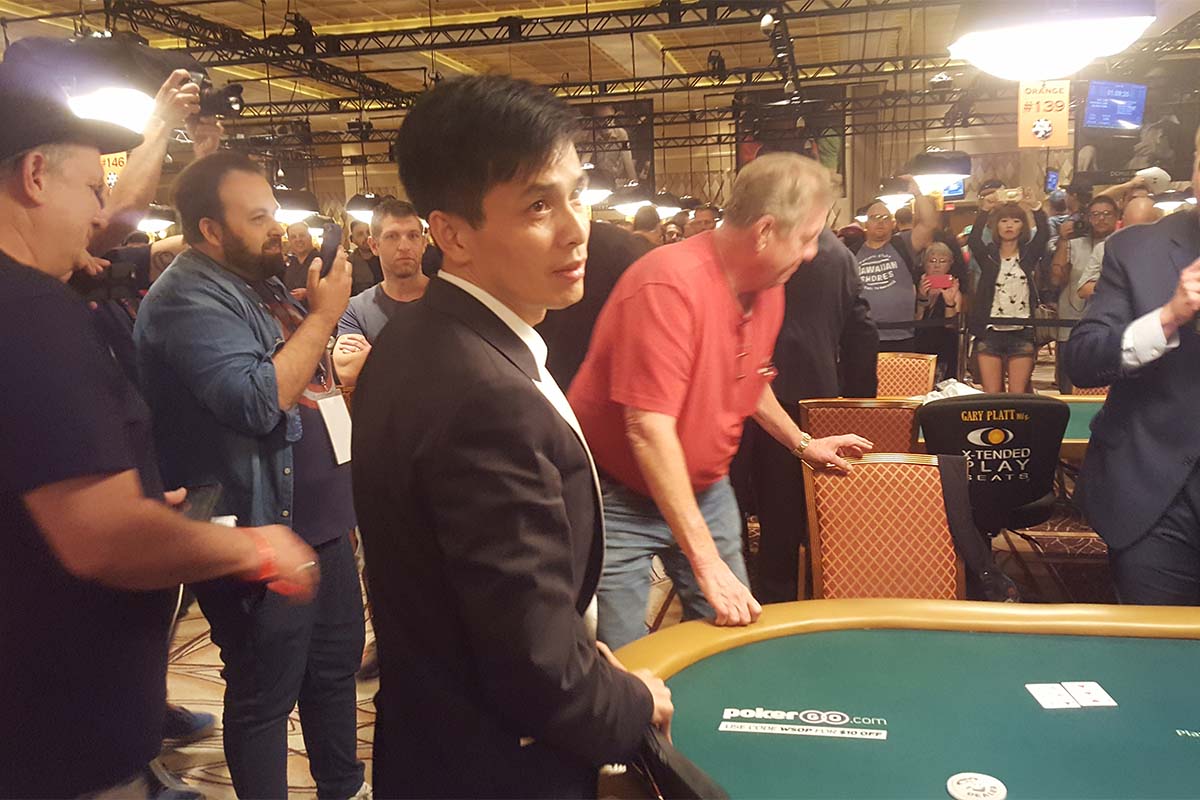 Dolla bills
The remaining 1,084 players are in the money and guaranteed a minimum $15,000 payday after the bubble burst near 1:30 a.m. Friday.
Four players and four tables were all-in early in hand-for-hand play, with the first two surviving. (One was Tex Barch, the third-place finisher in the 2005 Main Event.)
On the third table, Roger Campbell missed his flush and was eliminated. Finally, Quan Zhou's ace-high bluff was no good against the full house of Kitai.
To determine the "Bubble Boy" and winner of next year's free Main Event seat, Campbell and Zhou each were dealt one hand of Hold'em.
Zhou's hand (Q-8) bested the clunker (7-3) that was dealt to Campbell when neither player paired their hole cards.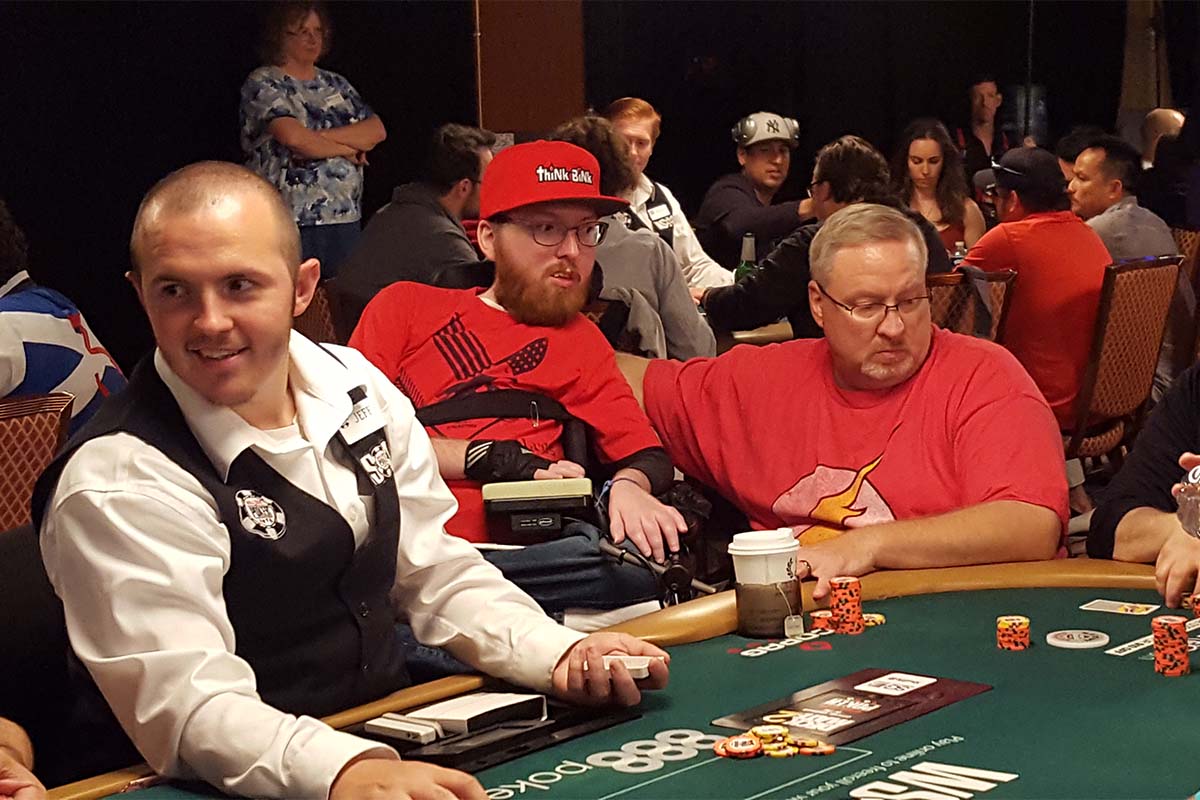 Living the dream
K.L. Cleeton's heartwarming story continues to get better.
Cleeton, who won his seat to the Main Event through a social media contest conducted by poker pro Daniel Negreanu, made the money Friday morning with several supporters cheering him on in the Brasilia Room.
The 27-year-old from Effingham, Illinois, was born with a rare neuromuscular disease called spinal muscular atrophy (SMA) and is in a wheelchair.
His father, Kenneth, handles the cards and chips, but it's K.L. making all the plays.
K.L. Cleeton has been a fan favorite at the Rio since Monday, cracking off-color jokes and yucking it up with many of his favorite online poker pros from Twitch and Twitter.
He will be on a short stack with 126,000 chips (21 big blinds) when play resumes.
Seat open
A player who is banned from all Caesars properties was disqualified from the Main Event after the dinner break Thursday, tournament officials announced.
The identity of the player was not released by the WSOP, but appears to be Joseph Stiers based on Twitter posts.
@PokerNews @WSOP @espn I just got kicked out of wsop main event with 665k for being good at blackjack in Baltimore 3 years ago, ppl help

— Joe Stiers (@Joe_Stiers) July 14, 2017
"@PokerNews @WSOP @espn I just got kicked out of wsop main event with 665k for being good at blackjack in Baltimore 3 years ago, ppl help," @Joe_Stiers tweeted at 7:04 p.m. Friday.
Stiers was banned indefinitely from the Horseshoe Casino Baltimore and all other Caesars properties in 2014 for card counting in blackjack, according to a Baltimore Sun story published online March 29, 2015.
According to a report from WSOP.com, the player went "to great lengths to hide his real identity when registering for this tournament." (Translation: He used a fake ID or player rewards card.)
WSOP spokesperson Seth Palansky declined comment until he spoke with Caesars' legal department Friday morning.
The player's chip stack, which was well above average at the time, was removed from the tournament and his $10,000 buy-in remains in the prize pool.
It is the sixth consecutive year a player has been removed from the Main Event.
CHIP COUNT
1. Patrick Lavecchia (Sellersville, Pennsylvania), 1,552,000
2. Pawel Brzeski (Strzepcz, Poland), 1,546,000
3. Antoine Saout (Paris), 1,529,000
4. Jeremiah Fitzpatrick (Charlotte, North Carolina), 1,523,000
5. Derek Bowers (Alliance, Ohio), 1,376,000
6. Mickey Craft (Elizabeth, West Virginia), 1,345,000
6. Edward Nassif (Ames, Iowa), 1,3450,000
8. Scott Blumstein (Morristown, New Jersey), 1,340,000
9. Artan Dedusha (London), 1,288,000
10. Greg Dyer (Minneapolis), 1,276,000