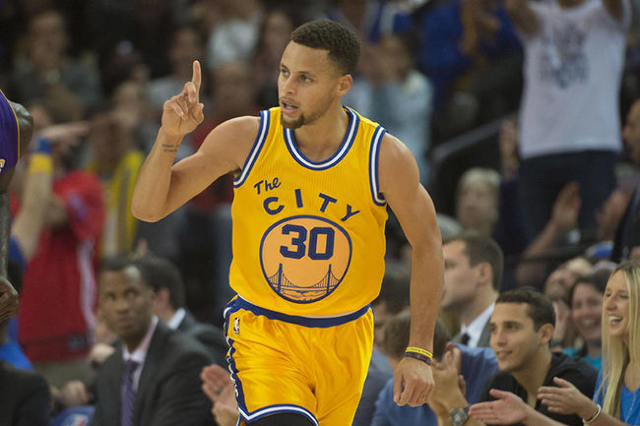 Even critics of the NBA must be entertained by the Golden State Warriors' thrill ride and the shooting exploits of Stephen Curry. Bookmakers are getting swept up in it all, too.
"The Warriors are an exciting team to watch," said Jeff Sherman, oddsmaker at the Westgate Las Vegas. "People like their style of play and they love Curry, so they just want to go with this team rather than against it."
Golden State's undefeated run inspired Sherman to post a proposition last week: Will the Warriors win 73 or more regular-season games? The "No" side opened at minus-700 with "Yes" at plus-500.
A week later, with the Warriors at 20-0, the price to bet "No" has dropped to minus-330 with "Yes" at plus-270.
"It's mostly one-way action," Sherman said. "We are getting a couple bets on the 'No.'"
The Michael Jordan-led Chicago Bulls set the bar high by going 72-10 in 1995-96. No other team ever has won 70 games. Golden State finished 67-15 last season before rolling through the playoffs and winning the NBA title.
Sportsmemo.com handicapper Erin Rynning said he thinks 73 wins is attainable for the Warriors and not just a fantasy.
"I would say it's hard to bet against that right now," Rynning said. "With the exception of the Spurs, it doesn't look like the rest of the NBA wants to step up and compete."
San Antonio has the league's second-best record at 16-4. Other teams expected to be contenders in the Western Conference — the Los Angeles Clippers, Oklahoma City, Houston, Memphis and New Orleans — have ranged from mediocre to bad. Cleveland is barely holding onto the top spot in the East.
It's a marathon season, of course, and not everything will continue to go the Warriors' way.
"Obviously, they will lose some games," Rynning said, "and you're looking for any kind of injury setbacks."
The absence of coach Steve Kerr, who is recovering from offseason back surgery, has meant nothing. Luke Walton has filled in admirably as interim coach.
Curry leads the NBA in scoring (32.0 points per game) and 3-pointers made (102). Golden State ranks No. 1 in scoring (115.3) while ranking high in most defensive categories.
The Warriors are 14-6 against the spread, and Sherman said bettors are backing them "on a daily basis and on the prop."
In the midst of a seven-game road trip, Golden State plays at Toronto on Saturday. Although the Warriors are rolling and showing no signs of slowing, the wear and tear has to take a toll eventually.
"When they get to the latter stages of the season," Sherman said, "you don't want to burn guys out and you're going to have to give some guys some nights off."
In October, oddsmakers set the Warriors' regular-season win total at 59½, and that now appears to be a really low number.
Contact reporter Matt Youmans at myoumans@reviewjournal.com or 702-387-2907. Follow him on Twitter: @mattyoumans247